Comedian Todd Glass will take the stage of Kokopelli's Showroom at the Edgewater, June 30 - July 4, in a comedy show. Tickets are $20, call 1-800-67-RIVER.
Glass began his comedy career at age 16, and has since made numerous appearances in a long list of impressive television shows, including "Jimmy Kimmel Live," "Late Night with Conan O'Brien," "Politically Incorrect" and "The Dennis Miller Show." He has worked with well-known comedians, such as Jack Black, Ben Stiller and Ray Romano, in addition to touring with David Spade. He also gained many fans when he competed as a contestant in NBC's hit show "Last Comic Standing."
Opening for Todd Glass is Tess Drake, self-proclaimed "Juicy Girl," who also appeared in "Last Comic Standing," gaining a huge fan base with her creative comedy.
On Saturday, June 30, dinner and fireworks are a package being offered at Don Laughlin's Colorado Belle poolside on the third floor. The pool area overlooks the Colorado River with an awesome view of the 9 p.m. fireworks. Doors will open at 6 p.m. Tickets are $16.99 for adults and $8.99 for children.
On Wednesday, July 4, the offer will be a fireworks cruise aboard the USS Riverside that will last approximately three hours and include snacks and drinks. Tickets are on sale now for $40 at the USS Riverside Office. For information, call 702-298-2535 ext. 5770.
The Colorado Belle & Edgewater will launch a two-month promotion that debuts in conjunction with the properties' new ACCESS Players Club. The $500,000 Summer Extravaganza promotion, which runs from July 1 through Sept. 3, will reward participating ACCESS Players Club members with $500,000 in cash, prizes and free slot play. A total of $40,000 in cash and free play will be given away weekly. Sixty-eight players will win $100 to $500 in cash or free slot play at each property every week. Drawings will take place every Thursday at the Edgewater and every Friday at the Colorado Belle.
In addition, players will receive five free drawing entries by visiting each property daily. Additional entries may be received for every 50 points earned. All drawing entries will automatically enter players into the Grand Prize Drawings on Labor Day weekend.
Summer Extravaganza's grand finale, a huge Labor Day weekend gaming event, will include Grand Prize drawings. At each property, eight people will receive $1,000 cash and one will win a fully-loaded Infiniti G35 Sedan. The Edgewater will have Grand Prize drawings at 9 p.m. on Saturday, Sept. 1, and the Colorado Belle's drawings will be held Sunday, Sept. 2, at 9 p.m.
On Labor Day, Monday, Sept. 3, ACCESS players at both properties will have the chance to win their share of $50,000 in free slot play. Random drawings will take place from 8 a.m. to 8 p.m. Ten people every half hour will receive $200 in free slot play. In addition, ACCESS Players Club members will earn triple points all day long.
This summer through August, a video poker tournament is being held Sunday through Thursday from midnight to 6 a.m. at the Golden Nugget. First place wins $250, second $100 and third $50. See the 24-Karat Club for details.

TOP OF NEXT COLUMN
Things will heat up at Don Laughlin's Riverside on Thursday, July 12 at 8 p.m. when Australia's Thunder From Down Under, a leading male cabaret revue, performs. Tickets are $25, call 800-227-3849
Since its creation in 1989, the bronzed Aussie men have performed in 15 countries and entertained more than 14 million women. This latest production features many new numbers including trips back to the 50s and 70s. Regarded by millions as a visual spectacular for those who appreciate the fine male form, Thunder is in one fan's words "eye candy" for women of all ages. The show includes Vegas-style costumes, high-tech lighting and sound, award-winning dancing and talented performers.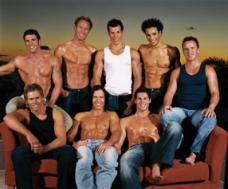 Thunder has always had a "no tipping" policy, which breaks the tradition of other male revues. Their impressive physical shape and great personalities have made Thunder a favorite as guests for television appearances. Most recently, they appeared on The Surreal Life 3 on VH1 and the 2004 World Music Awards on ABC.
Gilligan's Over the Marina is a new restaurant located at the corner of Casino Drive and the Needles Highway. The lounge has an informal d'cor reminiscent of the Robinson Crusoe-like television series and overlooks the Laughlin Bay Marina. The 3,800-square-foot facility opened on June 1. It took more than 40,000 pounds of natural bamboo to make the distinctive thatched roof turrets, and the theme is carried out with lava rock, azurelite blue window treatments, and South Pacific palms. The interior has a bamboo canopy over the bar, and slot machines, plus a semi-circular dance floor.
Since the Ramada Express eliminated its American Heroes Museum and veterans programs, the museum has been relocated to the Desert Lawn Cemetery and the Avi is picking up the monthly (except August) speakers program for the summer. In October, the presentations will increase to weekly speakers.
The next talk will be on July 17 at 1 p.m. featuring Vietnam Veteran Bob Worthington. He has worked with both civilian and government special operation groups, was with the U.S. Air Force Commando, and was involved in Operation Phoenix and participated in Fire Fly combat mission on the Cambodian border.
Los Lobos will perform at the Avi Convention Center on June 30 at 7p.m. The East
Los Angeles rock band began in 1973. Tickets are $25 and $35, call 800-585-3737. on the blues, One of Harrah's employees was recently honored company-wide for her top service as room attendant. Ana Ochoa was presented with the Chairman's Award, the company's highest honor reserved for only the very best employees of Harrah's Entertainment. Over the past year, Ochoa has received 200 comment cards and letters from guests commending her for the outstanding service she delivers on a daily basis. Guests have specifically requested a room on Ochoa's floor knowing they will receive outstanding service.
CONTINUE ON TO...:
>THIS WEEK'S LAS VEGAS NEWS
>LAST WEEK'S LAUGHLIN NEWS
>VEGAS VIEW FULL ARCHIVES
>Return to "Heard Around Town"
>Return to Las Vegas Leisure Guide