On June 26, Paul McCartney, Ringo Starr, Yoko Ono Lennon, Olivia Harrison and Cirque du Soleil founder Guy Laliberté will all take part in a special dedication ceremony in honor of John Lennon and George Harrison.
In May 2006 during rehearsals for LOVE, McCartney and Laliberté discussed how best to recognize Lennon's and Harrison's contributions to the themed show. Subsequently, Cirque du Soleil designers created two plaques that will be unveiled on June 26 and then permanently displayed in the LOVE Theatre lobby at The Mirage.
This event will celebrate the one-year anniversary of LOVE and coincides with the 40th anniversary of the Sgt Pepper's Lonely Hearts Club Band album. Following the ceremony, Larry King will interview McCartney, Starr, Ono Lennon, Harrison and Laliberté for his one-hour broadcast from The Beatles REVOLUTION Lounge at The Mirage. The distinguished guests will then attend a special one-year anniversary performance of LOVE.

The Second City and Jam Theatricals have opened an all-new revue at the Flamingo this month and it is totally hysterical and outrageous. The Las Vegas edition of The Second City is featuring a variety of scenes, songs and improvisations including bad hypnotists, a maniacal helicopter pilot and a rap inspired by the fall of Don Imus.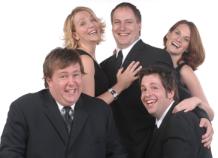 Column Continues Below Advertisement
The five-member cast of The Second City - Las Vegas includes Katie Neff, Craig Uhlir, Shelly Grossman, Ryan Archibald and Paul Mattingly.
In its six years at the Flamingo, The Second City has continued its well-earned tradition for launching the careers of the comedy world's best and brightest. Alumni of The Second City - Las Vegas include current "Saturday Night Live" cast member Jason Sudeikis, "MAD TV's" Frank Caeti, Dan Bakkedahl of "The Daily Show" and Kay Cannon, writer for the NBC sitcom "30 Rock."
Shows are nightly except Wednesday at 8 p.m. with additional 10 p.m. shows on Thursday, Saturday and Sunday. The Tuesday night performance is an all improvised revue called The Second City "Scriptless" and is performed by a separate cast of five improvisers. Tickets for all performances are $44.95, call 702-733-3333.
The Las Vegas Hilton has launched its "Sounds of Summer Concert Series" with a June-September schedule of headliners. For tickets, call 702-732-5755 or 800-222-5361.
Smash Mouth, the ultimate party band with all three co-founding members - Steve Harwell, Greg Camp, and Paul DeLisle will kick into high gear July 6-7. Comedian George Lopez will headline Aug. 3-4, followed by Latin diva Ana Gabriel, Aug. 17-18.
Legendary band Earth, Wind & Fire, renowned for fusing several genres of music and winning six Grammy awards, will return to the Hilton Theater Aug. 23-25, followed by Heart, Sept. 1-2.
Marco Antonio Solis, with more than 30 entries on Billboard's Hot Latin Tracks chart will take center stage, Sept. 15-16, and superstar duo Brooks & Dunn, Sept. 19-22, will round out the concert series.
In addition, "Cool by the Pool" features happy hour entertainment daily from 5:30 p.m. to 8 p.m. with local favorites Tommy Rocker on Mondays; Kenny Owens on Tuesdays; and Lenny Albanese, Wednesdays through Sundays.
REO Speedwagon is ready to hit the road again with their latest album release, "Find Your Own Way Home," which is their first album in more than a decade to include 10 new songs. Packing concert venues for more than three decades, REO Speedwagon will perform at The Pearl at The Palms Friday, Aug. 10, at 8 p.m. Tickets are $49.50, call Ticketmaster at 702-474-4000.
Since the release of REO Speedwagon's first record in 1971, the band has produced 17 critically acclaimed albums including the monumental 10 million seller, "Hi Infidelity," with 13 Top 40 singles, and they've sold more than 40 million albums to date.
Duchess, a bottlenose dolphin at The Mirage Dolphin Habitat, gave birth earlier this month. Both mother and calf appear to be doing well. Shortly after the delivery, the calf swam to the water's surface, took its first breath and began to swim and bond with its mother.
Duchess is one of five adult dolphins at The Mirage. She came to the Dolphin Habitat in 1990. The calf's father is Lightning, a dolphin that arrived at The Mirage in 2006, from Gulf World Marine Park in Panama City, Fla., specifically to breed with the female dolphins at The Mirage.
Duchess and her calf will remain in the Mirage Research and Birthing pool, which is the most familiar and comfortable environment for them. The pool is open to the public and visitors to the Dolphin Habitat can see both mother and calf.
Eric Burdon and The Animals will take the stage with Rare Earth at The Club inside the Cannery in North Las Vegas on Saturday, July 14 at 8 p.m. Tickets for this special twin bill of two of the 1960s greatest musical acts are $29.95, $17.95 and $11.95, call 702-617-5585 or 866-287-4643.
A seminal figure of the 1960s British Invasion, Burdon was a founding member and lead singer of the legendary group, The Animals. A member of the Rock 'n' Roll Hall of Fame, Burdon has charted 25 Top 40 hits including the classic "House of the Rising Sun." "It's My Life," "Don't Let Me Be Misunderstood," "Sky Pilot" and "We Gotta Get Out of This Place."
Formed in Detroit in 1967, Rare Earth was the first white act signed to the Motown Records label. The group's first hit single, "Get Ready," was an enormous success, selling millions of copies and remaining on the charts for almost three years. "Born to Wander" and "I Just Want to Celebrate" are other Rare Earth hits.
VEGAS magazine celebrated its fourth anniversary with a private event and live performance from American Idol runner-up and the pub's June cover model, RCA recording artist and American idol runner-up Katharine McPhee.
The Silverton is another resort hosting outdoor poolside concerts with name headliners.
The July lineup will start off with Cherry Poppin' Daddies on July 7. After introducing themselves with a 1989 four-song CD mixing funkadelica with big band, Cherry Poppin' Daddies released a series of independently-produced records boasting anything and everything an eight-piece with three horns and keys possibly could, including swing, metal, funk and country/Americana. After a brief hiatus from touring, the group began performing anew in 2002. Concertgoers will be able to enjoy free swing dancing lessons in preparation for the show. Lessons will be conducted poolside from 7 - 8 p.m.
Mary Wilson of The Supremes will heat up the night stage on July 14. Between 1964 and 1969, The Supremes were hugely popular and charted 12 No. 1 hits. In all, the trio produced an incredible 33 top 40 hits.
The Police Experience is booked two nights, July 20 and 21. The group is the result of Copeland's international search for musicians who could pull off duplicating, in the most authentic way possible, Asleep at the Wheel, the high-energy country band, will invade the poolside on July 27.
Over the past 30 years, the band's ever-shifting lineup has changed, but they continue to bring big band western swing to the masses. Asleep at the Wheel has also won nine Grammys.
Grammy award winning artist Crystal Gayle whose signature song is "Don't It Make My Brown Eyes Blue" is booked on Aug. 4,
Lou Gramm, lead singer of Foreigner, will appear on Aug. 11. He rose to prominence as the front man for the platinum-selling hard rock combo Foreigner, and later mounted a successful solo career. Now Gramm has returned with a new band and dynamic live show featuring 90 minutes of his own brand of Rock 'n' Roll.
The Grass Roots, one of the most played bands on radio from 1966-1975, will headline on Aug. 18. In their career, The Grass Roots achieved two platinum albums, two gold albums, 13 gold singles and charted singles a total of 29 times. They have sold over 20 million records worldwide.
Tommy James & The Shondells, who were one of the very first groups to produce music videos starting with "Mony Mony" in 1968, will perform on Aug. 25. During 1968 - 1969, Tommy James and The Shondells sold more single records than any artist in the world including The Beatles.
The Original Idols are scheduled to play on Sept. 1 and 2. Tickets for all the 8 p.m. shows range from $10 to $25.
The Flamingo's "X2O" poolside ultra lounge has arrived. Starting at 10 p.m. on Friday June 29, the Flamingo "GO" pool, which is the upper-pool, will be transformed into a full-scale outdoor nightclub for the evening.
You can join celebrity guest Robin Leach at "X2O" and view multiple performances by the sexy girls of Flamingo's topless revue, "X" Burlesque. Adult film star, Sunset Thomas, will make a special guest appearance.
DJ Shortee will spin sets while go-go dancers entertain all night long. An illuminated floating dance floor will sit in the center of the "GO" pool, giving guests a place to dance and a stage for entertainers.
Doors will open at 10 p.m. There will be a $20 cover charge for men and ladies will be admitted free. Admission is also free for guests with a ticket to the Friday June 29 performance of "X" Burlesque. Club attire is required - guests with hats, athletic wear or oversized jeans will not be let in.
Barry Manilow will be performing again at the Las Vegas Hilton on June 26-30, July 17-21, and 25-28.
Bonafide, a popular West Coast reggae band from Montego Bay, Jamaica, will be performing every Saturday night at Club Madrid inside Sunset Station beginning June 30, in addition to their Friday night performances in Club Madrid at Fiesta Rancho in North Las Vegas. Cover charge is $10.
The Webby Awards, hailed as the "Oscars of the Internet" by The New York Times, recently named the MGM Grand's Web site as the Best Corporate Communications Web site of 2007, and it was distinguished as an Official Honoree in the Tourism category. Of the more than 8,000 entries submitted for all categories, there are approximately 100 winners and fewer than 1,200 official honorees.
A murder mystery dinner will be held at Lawry's Prime Rib on Friday, July 13 at 7 p.m. The event will be the premiere of "Dead Again," set in England in the glamorous 1930s with attendees being members of the Trafalgar Country Club. Cost is $89.95.
The Las Vegas Hilton Tennis Clinics are available daily from 9 a.m.-10:30 a.m. with Tennis Director Nick Rainey, former ATP Pro. The clinic is $25 and racquets are available for rent, call 702-732-5009.
With July 7, 2007 just two weeks away, hundreds of couples are planning last-minute getaways to Las Vegas to tie the knot on the luckiest day of the century. Paris has two wedding packages still available. Fourteen couples will simultaneously wed at 7:30 p.m. in the Chappelle du Jardin and the Loire Salon 07-07-07 Wedding Special is also available, call 1-877-650-5021. The next one-of-a-kind date will be 8-8-08.
Another restaurant, Z'Tejas in Summerland has announced a Triple Seven drink for $7.77 to celebrate July 7, 2007. The 8 oz. margarita with additional ingredients will be served the entire month of July.
The VooDoo Beach at the Rio features flair bartending, daily entertainment, poolside Blackjack, specialty cocktails, half-price beer and daily happy hour specials daily through September from 9 a.m. to 6 p.m. The pool deck showcases new furniture, new menu, hammocks and beds. For information, call 702-777-7196.
The Cupcakery, Las Vegas' premier cupcake bakery, due to tremendous success the first year is set to open a second location in September. Baked fresh daily, The Cupcakery features distinctive flavors like lemonberry, kir royale and red velvet, along with season and monthly cupcakes.
CONTINUE ON TO...:
>THIS WEEK'S LAUGHLIN SEGMENT
>LAST WEEK'S LAS VEGAS SEGMENT
>VEGAS VIEW FULL ARCHIVES
>Return to "Heard Around Town"
>Return to Las Vegas Leisure Guide