AVI HOSTS 'SUMMERLAND TOUR 2013' STARRING EVERCLEAR!
Everclear spent much of the summer of 2012 co-headlining the highly-successful Summerland tour, along with four other notable American bands that emerged during the 1990s. This year, "Summerland Tour 2013 - Alternative Guitars" features Everclear with Live, Filter and Sponge in the Avi Grand Ballroom on Friday night, July 5. Tickets are $40 for the 8 p.m. show.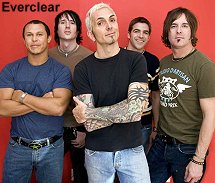 "Invisible Stars" is Everclear's first compilation of new songs in over six years as well as the their first release with E1 Music. The new 12-song set embodies the same qualities of sonic punch, sturdy songcraft and edgy introspection that have long endeared Everclear to its large and loyal worldwide fan base and highlights Art Alexakis as lead vocalist on guitar.
"When I look back at what Everclear has done," Alexakis said, "I see a lot of things that have changed and a lot of things that have stayed consistent. But at the end of the day, I'm still doing the same thing I've always done. It's still guitar-based rock 'n' roll, and I'm still just telling stories."
Live, the York, Pa., legends burst onto the burgeoning alternative scene in 1991 with their major label debut, "Mental Jewelry." Live's sophomore set, "Throwing Copper," solidified their superstar status. In 2008, the band initiated a hiatus; however, 2012 saw them reborn.
Eclecticism has been a hallmark of Richard Patrick's career in Filter, and it's administered with crushing efficiency on "The Trouble With Angels." Patrick's unmistakable scream and unflinching honesty dominate the new album.
Sponge has proven to be one of the Motor City's heaviest hitters after gaining international notoriety with their debut album "Rotting Piñata." Sponge is now touring in support of their latest release -- the five-song EP "Destroy the Boy," which features rousing rock anthems "Before the End," "Star" and "Come in From the Rain," in addition to the title track - a galvanizing anti-child abuse manifesto.
'RICKY NELSON REMEMBERED' RETURNS TO THE RIVERSIDE
Back by popular demand, the show "Ricky Nelson Remembered" featuring Matthew and Gunnar Nelson will return to Don's Celebrity Theater at the Riverside Resort July 2-3 and 5-7. Shows will be at 8 p.m. and tickets are $32.
The Nelson twins are the sons of superstar Rickey Nelson and also grandsons to radio and television icons, Ozzie and Harriet Nelson. The Nelson family is listed in the Guinness Book of World Records as the only family in history to have three successive generations of No. 1 hit makers.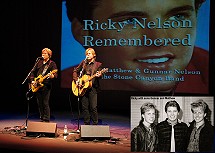 The Nelson brothers' show is filled with their father's hit songs that showcase his life and career. The brothers were 18 when their dad died in a plane crash on his way to perform a New Year's Eve concert in 1985. Going through their dad's things, they found the song list he was using and follow it now. Nelson was a member of the Rock and Roll Hall of Fame and Rockabilly Hall of Fame and amassed 53 hit singles on the Billboard Hot 100 and 19 other top-ten hits.
COMEDIANS WORK WEEKENDS AT THE EDGEWATER
The Edgewater Showroom features two comedians every weekend Friday-Sunday at 7 p.m. The admission cost is $10 and for veterans with a military ID and ACCESS Club card, they receive a $2 discount. On Friday and Sunday, ACCESS Club members who earn 500 base points receive a free show ticket.
The following comedians are on the future agenda: July 12-14 Ron Feingold and Jeremy Greenberg; July 19-21 Barry Neal and Debbie Praver; July 26-28 Billy Ray Bauer and Rich Slaton; Aug. 2-4 Tim O'Rourke and John Crist; Aug. 9-11 Beny Mena and Cooley B; Aug. 16-18 Joey Medina and Mel Kohl; Aug. 23-25 Pete George and Jason Zelt; and Aug. 30-Sept. 1 Kenny Bob Davis and Tim Haldema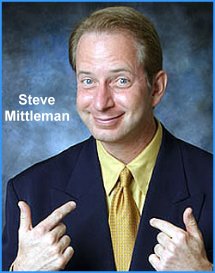 Comedian Steve Mittleman will co-headline with Richard Weiss June 28-30. Mittleman is a nationally recognized talk show guest who has made more than 90 TV appearances, has appeared in more than 50 national commercials including Federal Express and the Coors Beer Man campaign, and played roles in Steve Martin's "Roxanne" and "Out Of Towners." Mittleman is tall at 6'4" and says his height comes from his parents – mom 3'2" and dad 3'2".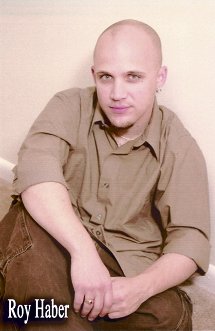 Roy Haber and Chris Zapatier will be the two making people laugh July 5-7. Haber was born in Israel but raised in Kentucky. He's 5'2" but for a little man creates big laughs with his direct and brutally honest humor. He focuses on personal issues, takes an analytical magnifying glass to world events and society in general, and tells stories from his travels. Haber has performed throughout the United States, for our troops abroad, in Canada and with big names such as Jim Breuer, Tommy Davidson, Don Rickles, Kevin Nealon, Tom Arnold, and many more.
WATER TAXIS ARE PART OF THE LAUGHLIN CULTURE
River Passage Water Taxis offer casino-to-casino service. The water taxis stop at the docks at all Laughlin casinos that have docks. The cost is $4 for a one-way ticket with kids six and under riding free. There is also a $20 all-day pass available now for $15 with or without a coupon. Hours of operation are Sunday-Thursday from 9 a.m.-10 p.m. and Friday-Saturday from 9 a.m.-11 p.m. Times may vary due to water levels/weather conditions. Tickets and information on this service can be obtained at each resort dock or by calling 928-754-3555 or 702-299-0090, or visiting riverpassagewatertaxi.com.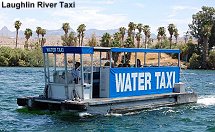 The Riverside Resort offers free water taxi shuttle service from their parking lot on the Arizona side of the river directly across from the hotel/casino to their property. Hours of operation vary.
TOP OF NEXT COLUMN
TROPICANA SWINGS WITH BIG BAD VOODOO DADDY
Big Bad Voodoo Daddy LIVE will appear at the Tropicana's Pavilion Theater on Friday, July 5 at 8 p.m. This year marks the 20th Anniversary of Big Bad Voodoo Daddy's arrival onto the music scene. The band made their debut in their hometown of Ventura, Calif., in April of 1993. In its first years, having secured their legendary residency at the Derby nightclub in Los Angeles, they reminded the world that it was still cool to swing, big band style. General admission is $10.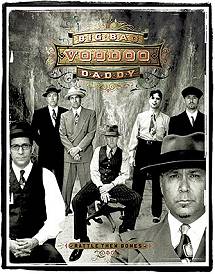 Today the high energy nine-piece ensemble continues the party and takes things to the next level with the release of "Rattle Them Bones." The follow up to the much lauded 2009 release, "How Big Can You Get?: The Music of Cab Calloway," "Rattle Them Bones" still urges their millions of fans worldwide to shake and move to their inimitable grooves while also expanding their horizons with new musical inspiration and influence.
CLAY WALKER HEADLINES E CENTER ON JULY 5
Country singer Clay Walker will headline the E Center at the Edgewater on Friday, July 5 at 8 p.m. Walker made his country music debut in 1993 with his smash hit "What's It To You," which quickly climbed to No. 1 on the Billboard charts. Since then, he has sold more than 11 million albums, had 11 No. 1 hit singles, four RIAA platinum and two gold certified albums. Tickets start at $22.50.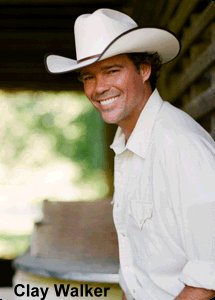 Clay is currently out supporting his critically acclaimed ninth studio album "She Won't Be Lonely Long." In addition, Clay recently released his first book entitled "Jesus Was A Country Boy" published by Howard Books/Simon & Schuster where he shares some of the struggles he's gone through, including growing up poor, broken relationships, and being diagnosed with MS at 26 years old. Clay is the founder of Band Against MS (BAMS) a nonprofit charity that funds MS research and education. Walker established BAMS in 2003 with the goal of helping others living with the same disease he has battled since 1996. To date, BAMS has raised more than $2 million.
PUBLIC INVITED TO FREE TALENT CONTEST SHOW AT RIVERSIDE
The 32nd Annual Texaco Country Showdown will be held in the Starview Room at Don Laughlin's Riverside Resort on July 11 at 6 p.m. The show is free to attend and no ticket is necessary. Highway Country (KIXW/KIXF) will host its 13th local contest as part of the largest country music talent search and radio promotion in the nation. Four hundred radio stations participate.
This year's contestants are: Jordan Ash from Las Vegas Nev.; Kenny Charles from La Habra, Calif.; Cameron Eby from Henderson, Nev..; Starr Elliott from Las Vegas Nev.; Flyin' Bryan & Baby Jane from Mohave Valley, Ariz.; Krystal Hill-Peterson from San Jacinto, Calif.; The Morgan Leigh Band from San Marcos, Calif.; Lacy Long from Cedar Hill, Texas; Jordan Kate Mitchell from Henderson, Nev.; and Trisha Villicana from Modesto, Calif.
Individual acts will compete for prizes, including a weekend trip back to Laughlin and an opportunity to perform at the state contest. State winners will vie for a $1,000 cash prize and will advance to a regional competition in the fall. The five regional winners will be awarded an all-expense paid trip to the National Final where they will compete for the $100,000 Grand Prize and the National Title.
The Texaco Country Showdown gives aspiring country music artists in America a chance to launch their professional careers. Audiences may be seeing, hearing and applauding one of the next big country music stars!
EXTRA NEWS
During a recent visit, Joanne Eaton from Camp Verde, Ariz., decided to play a few dollars in a slot machine at the Aquarius and hit a three of a kind jackpot winning $10,725. Eaton only played five dollars on the $1 Spin Win Jumbo slot machine when she hit it big on her 85th birthday.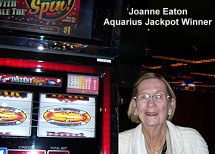 "Paperback Writer - A Beatles Experience" will headline in Don's Celebrity Theater at the Riverside Resort July 9-14. Tickets are $30.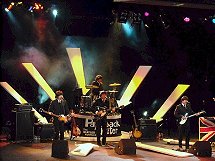 The River Bar Lounge at the Colorado Belle has groups performing every Friday-Sunday and will also feature entertainment on July 4. Upcoming acts include: July 4-7 Desert Outlaws; July 12-14 Chyna; July 19-21 The Basix; and July 26-28 The San Fernando Band. Best part is admission is free; there is no cover or minimum and the music goes from 8 p.m. – 1 a.m.
Master hypnotherapist and comedian Ron Stubbs will perform at the Riverside June 25-30. He bills himself as a "rock and roll hypnotist" and helps members of his audience to get risqué in his stage show.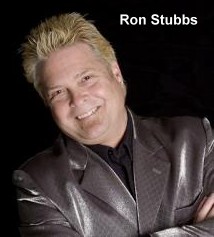 The Inferno Lounge at the Edgewater features DJs playing music from 10 p.m. to 4 a.m. on Fridays and Saturdays. On Sundays, it's Latin Night with Latin music - Salsa, Timba, Merengue, Reggaeton, Bachata also from 10 p.m. to 4 a.m. Admission is free each night.

The "Blue Moon Swamp" dinner and show being held in the Avi Grand Ballroom on Saturday, June 29 will feature a tribute to John Fogerty and Creedence Clearwater Revival. Dinner will be at 6:30 and the show at 7 p.m. "Blue Moon Swamp" is a 1997 album by American singer/songwriter John Fogerty. The John Fogerty / CCR Tribute Band reproduces the Fogerty concert experience.

From July 12-14, the Edgewater will have a Christmas in July promotion. Player card holders will receive a $25 Macy's Gift Card for every 2,500 base points earned. Limit will be three while supplies last.

Fourth of July weekend will be embellished with free viewing of the "Rockets Over the River" annual dual fireworks shows over the Colorado River on July 4 and 6 at 9 p.m.

CONTINUE ON TO...:
THIS WEEK'S >LAS VEGAS NEWS
LAST WEEK'S >LAUGHLIN NEWS
>VEGAS VIEW FULL ARCHIVES
Return to >"Heard Around Town"
Return to >Las Vegas Leisure Guide