The legendary rock band KISS will bring their Alive/35 Tour to Las Vegas for one night only at The Pearl Concert Theater in the Palms on Friday, Aug. 29, at 8 p.m. Tickets are $103 and $303, call 702-474-4000.
KISS is currently celebrating 35 years of rock 'n' roll domination on their record breaking European tour. In Stockholm, Sweden, all 32,000 tickets were bought in just 20 minutes. KISS have added only a few US summer tour dates and The Pearl is one.

Column Continues Below Advertisement


KISS invented stadium rock in the '70s with their sci-fi Kabuki costumes and makeup, explosive theatrics and, of course, their trademark platform boots. In addition, screaming guitars, lights and pyrotechnics have made KISS "The Greatest Rock 'n Roll Show On Earth." Having sold 85 million records worldwide, KISS have become the soundtrack for a generation. In honor of their 35th anniversary, the band plans to play their Kiss Alive album in its entirety as well as a few surprises and rarely played live KISS classics.
Raw Talent Live, a 75-minute experience featuring interactive live performances of the next generation of World Dance with live, original music, 700 costumes and exclusive, high-tech video illusions, will make its debut at the Sahara in August. Tickets go on sale next week, call 702-737-2515 or visit Rawtalent.com. This show will be performed nightly except Wednesdays at 8:30 p.m.
The show's creator Nicole Durr, who goes by ND and had the Havana Night Show at the former Stardust, claims the show that she's been working on 18 months will transport audiences from their world to a virtual world that crosses the line between real and surreal. Dancers, singers and musicians will tell the passionate story of the Laptop of Life? (LOL) - which holds the ultimate secret the world is after. Raw Talent Live, through visual illusion technology, will question the surreal world of modern day's duality. Do we live the life of machine beings or are we human beings?
Raw Talent Live will introduce the Ambient Entertainment Technology (AET), the show's exclusive video illusion technology. AET combines state-of-the-art video and audio technology, developed specifically for Raw Talent Live in collaboration with world-renowned video artist, Alex Doss. This exclusive technology allows the show's performers to virtually interact with hundreds of video images.

HATS!, the show that caters to the Red Hat Society, closed abruptly at Harrah's on June 19.
The Second City comedy troupe will be leaving the 180-seat theater it shares with the sexy X Burlesque show on Aug. 1.
Trent Carlini closed his Elvis-tribute show at the Sahara a few weeks ago and the Beatles-tribute show Fab Four Mania has also closed at the hotel.
On June 29 at 9 p.m., Harrah's Carnaval Court will host the U.S. Air Guitar Championships, and for the first time in the event's history, Las Vegas is one of 24 stops in the nationwide search for the country's most gifted air guitarist. The winner of Carnaval Court's open-air and instrument-free talent search will advance to the national finals on Aug. 8, in San Francisco and win $400 toward their travel expenses.
Air guitar has struck an invisible chord with pop culture around the world. Since its inception in 2003, the U.S. Air Guitar Championships have grown from a two-city competition to an international sensation with a cult following that can be attributed to the DVD Air Guitar Nation. Strumming hopefuls will perform two one-minute rounds. Routines consistently include over-the-top costuming, choreography and characters. Hopefuls will be judged in three categories: technical merit, stage presence, and of course, "airness," which is defined as "the extent to which a performance transcends the imitation of a real guitar and becomes an art in and of itself."
Due to the popularity of the It's Pimpin', Pimpin' Tour, a second 10 p.m. show has been added for comedian Katt Williams at The Pearl inside the Palms on Saturday, July 5. The first show is on Friday, July 4. Tickets are $65 and $95, call 702-474-4000.
This year, Williams will appear in the major motion picture First Sunday alongside Ice Cube and Tracy Morgan, in addition to traveling across the U.S. with the launch of the It's Pimpin', Pimpin' Tour. Last year, Williams' Pimp Chronicles Tour was the second highest grossing comedy act in the country, as he sold out theaters in each major market. Williams was also asked to perform at Radio City Music Hall.
The iBar at the Rio has introduced a new pilot interactive tabletop program launched by Microsoft Surface Technology. The Rio owned by Harrah's Corp. has installed six wireless touch-screen computer tables that let bar customers perform a number of functions including viewing and sending messages to customers at another Microsoft Surface table that in essence promotes "flirting" and enhances the social experience.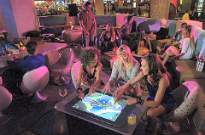 Other applications allow customers to watch YouTube, play computer games, tour six Harrah's Las Vegas properties and watch video promotions of their shows, and order drinks. Harrah's is testing the tables for 60 to 120 days to see if they want to introduce more applications.
Billy Gardell will headline the Riviera Comedy Club for a week with fellow comedians Carl Rimi and Warren Durso, June 23-29. Tickets are $24.99, call 702-794-9433.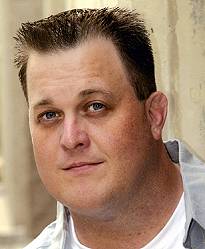 A product of a broken home, Gardell struggled through his awkward teens as an overweight misfit in Central Florida. In high school, he wrote, directed and starred in a production titled, Winter Park Live. He portrayed a show-stopping Ralph Kramden, which prompted one reviewer, a Jackie Gleason family member, to write, Jackie would've been very proud.
Eventually Gardell discovered the comedy club boon and Florida audiences declared him an instant hit with his bold honesty and overwhelming stage persona. By 1989 and not old enough to legally drink alcohol, Gardell was the most requested act amongst the regular patrons at Bonkers Comedy Club in Orlando. Soon after, Gardell was appearing on MTV, A&E and mainstream television. You may have caught him on CBS`s King of Queens, ABC`s It`s Like, You Know, NBC`s short-lived Battery Park or HBO`s Best of the Fest.
Harrah's is the first company to deploy a suite of customized applications for Microsoft Surface and install it in an entertainment venue. Microsoft Surface is the first commercially available surface computer with a 30-inch table-like display that individuals and groups can use by touch. It's one step closer to a "virtual Vegas."
During the summer months, Ovation, the high-tech concert venue and lounge at the Green Valley Ranch resort in Henderson, is highlighting an all-star rock lineup, every Wednesday through Saturday night. There's no cost for admission but concert entry is first come, first served.
Las Vegas-based classic rock tribute band Yellow Brick Road (YBR) kicks off Ovation's week of rock every Wednesday night from 9 p.m. to 11:30 p.m. Unlike most tribute bands paying homage to one artist only, YBR takes on the entire classic rock/pop spectrum mimicking a wide variety of artists including Led Zeppelin, Pink Floyd, The Who, Queen, Rush and Journey, to name a few.
Every Thursday night from 8 p.m. to 11 p.m., singer guitarist Jeremy Cornwell takes the stage performing his personal repertoire and cover songs from artists ranging from Stevie Wonder and The Eagles to Dave Matthews and Sublime. Thursday evenings are in conjunction with Rock 'n Roll Wine, which will be serving $5 glasses of Reggae Rhapsody, a balanced and subtle white wine blend.
On Fridays and Saturdays from 6 p.m. to 9 p.m., musician Michael Grimm performs his personal blend of music where a country boy from Southern Mississippi melds soul and rock. In his early 20s, Grimm pursued a career in soul music which eventually led him to Las Vegas where he has remained. Over the course of his still budding career, Grimm has performed for the likes of B.B. King and the Doobie Brothers and he recently opened for rock band Heart at the 6,000-seat Gibson Amphitheater in Los Angeles.
In addition the free weekly entertainment, Ovation has a great summer lineup of concerts, including jazz musicians Rick Braun and Richard Elliot on July 18, jazz trumpeter Chris Botti on July 26 and comedian Jamie Kennedy on Aug. 16.
ABBA tribute band, Arrival from Sweden will perform at The Club inside the Cannery in North Las Vegas on July 26. Tickets start at $9.95, call 702-617-5585 or 866-287-4643.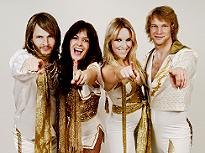 Arrival from Sweden was founded in 1995 and is currently the largest ABBA show in the world. They have performed in more than 20 countries worldwide. The show is a spectacle with 12 members on stage including some original ABBA band members. Arrival from Sweden also has the exclusive worldwide rights to the original ABBA costume designs and they wear exact reproductions of the original costumes.
One of the current featured acts in Legends In Concert, the show celebrating its 25th year at the Imperial Palace, is the winner of the BBC's hit tribute-artist series competition The One and Only... Katy Setterfield began her three-month contract on May 19 performing as the soulful 60s icon, Dusty Springfield.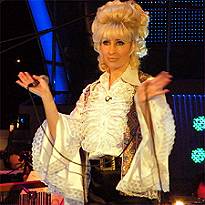 Prior to competing on the BBC show, Setterfield traveled the world performing as Springfield, Tina Tuner and Cher, but Springfield has always been her favorite.
Springfield, whose career as an artist spanned decades, is most famous for her hits Son of a Preacher Man, I Only Want to Be With You and I Just Don't Know What to Do With Myself.
The 3,000-square-foot country dance hall Dixie's Dam Country Bar opened Memorial Day weekend at Hooters and admission is free. It has a good size bar, seating for 220 and a dance floor. Fabulous live music is provided by Scotty Alexander and the Smok'n Nashville Band when they play three hour-long sets Wednesdays through Saturdays. The last 15 minutes of each of the first two sets are capped off with New Country Strings, four female violinists who perform phenomenal fiddle music.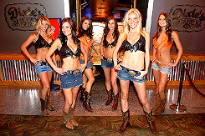 Alexander plays dynamite country songs using an antique fiddle and other instruments including keyboards, guitar, mandolin, banjo. His band includes his wife, Lisa, on vocals, Tommy Wayne on steel guitar, Donny Castleman on bass and drummer John Wackerman. Alexander came to Las Vegas in 1993 at age 19 to be co-host and featured performer in the old Aladdin's show Country Tonight. He played in Wayne Newton's band for seven years, and was musical director for three. Last September, he became musical director for ventriloquist Terry Fator, who won last year's America's Got Talent contest and currently headlines at the Las Vegas Hilton and will be moving to the Mirage next February.
The newest additions to Siegfried & Roy's Secret Garden and Dolphin Habitat at the Mirage are seven-week-old white, white-striped and golden tiger cubs. They made their first appearance on June 13, which was Siegfried's 69th birthday.
The Las Vegas Convention and Visitors Authority (LVCVA) presented actor James Caan with the first Vegas Icon Award during the 10th annual CineVegas Film Festival. Caan was selected for his embodiment of the exciting spirit of Las Vegas and delivery of memorable performances in films and television shows set in the world-famous city especially Honeymoon in Vegas and the television series Vegas.
Reality television darling brunette beauty Khloe Kardashian will celebrate her 24th birthday with family at PURE Nightclub in Caesars Palace on June 27. There will be red carpet arrivals.
A wine dinner will be held at the Spiedini restaurant inside the J.W. Marriott in northwest Las Vegas on Tuesday, July 22 at 6:30 p.m. Trinchero Winery will be featured. Cost for the four-course wine dinner is $68, 702-869-8500
The self-guided tour exhibit, Torn from Home: My Life as a Refugee, at the Lied Discovery Museum downtown running through the end of the year gives young visitors a firsthand look into the challenging realities faced by refugee children and their families rebuilding their lives in a new land. It showcases six exhibit areas: Home, Losing Home, Registration, Refugee Camp, Medical Clinic and Going Home, recreates actual refugee camp settings, and features interactive multimedia about refugee children from countries such as Congo, Colombia and Afghanistan.
CONTINUE ON TO...:
>THIS WEEK'S LAUGHLIN SEGMENT
>LAST WEEK'S LAS VEGAS SEGMENT
>VEGAS VIEW FULL ARCHIVES
>Return to "Heard Around Town"
>Return to Las Vegas Leisure Guide