Beginning June 27 and running through July 15, comedian George Wallace will be joined at the Flamingo by musical sensation Mosaic, Tuesday through Saturday at 10 p.m.
Mosaic is a six man, vocal collaboration bringing a new face to a cappella music. Mosaic uses no instruments in creating a style all their own that offers something for everyone from funk and soul to jazz, big-band and hip hop. The merging of different genres and styles of music combine to form a sound that is universally appealing to all audiences.

Column Continues Below Advertisement


Wallace won an American Comedy Award for "Best Stand Up Comedian" after being nominated four years in a row. He has been featured in his own HBO "One Night Stand" and has appeared in several major motion pictures including The Coen Brothers' hit "Ladykillers" opposite Tom Hanks and Marlon Wayans, "Three Strikes," and "The Wash" to name a few. Wallace is entering his third year as a headliner at the Flamingo and he's best known for his "Yo Mama" jokes and his infamous "I Be Thinkin'" lines.
Popular rock band Nickelback will bring their 2006 summer tour to the Mandalay Bay Events Center Saturday, Aug. 19. Special guests scheduled to perform include Hoobastank and industry newcomers Chevelle. Tickets are $49.50 and $39.50, call 702-632-7580.
Nickelback's tour kicks off this summer promoting their fourth album, "All The Right Reasons." The 11-track album came together in just seven months following the group's five-year tour throughout the world. The band's third album, "The Long Road," went triple platinum in the United States. Their 2001 disc, "Silver Side Up," was even more successful selling more than six million copies in the U.S. and containing three No. 1 hits including their mega-successful breakout single, "How You Remind Me," which became the No. 1 most played song of 2002.
Special guest Hoobastank started playing together in 1994 after a high school Battle of the Bands in Southern California. The group has released three albums and been nominated for three Grammy Awards for their grunge music. Their latest album, "Everyman For Himself," was created while touring for their successful second album "The Reason."
Newcomers Chevelle gained recognition in the rock community when they sold more than one million copies of their debut album "Wonder What's Next" and later scored three chart-topping singles in 2003.
Without fanfare, the final performance for the Broadway musical "Hairspray" at the Luxor closed on June 11. The Tony award-winning musical opened at the Luxor earlier this year on Feb. 15. Ticket holder for performances past June 11 will be refunded in full.
Jerry Lewis now 80 is moving his MDA Labor Day Telethon, which he has hosted since 1966, back to Las Vegas after a 10-year absence. The show will take place Sept. 3 and 4 at the new South Coast. In addition, Lewis will return to the stage after five years and perform four shows at the Orleans Showroom, July 13-16. Staying active, Lewis is also planning a stage version of "The Nutty Professor."
The organizers of Vegoose, the huge music festival that debuted at Sam Boyd Stadium last year, have announced that they're returning this year with an expanded festival from four to five days, Oct. 27-31.
After a nearly five-year run at the Rio as an afternoon show, ventriloquist Ronn Lucas has closed his show and hopes to reopen with a matinee time slot in magician Steve Wyrick's new 430-seat theatre that's under construction at Desert Passage.
Caustic comedian Andrew Dice Clay has been added to the Mandalay Bay Theatre's lineup with shows on June 30 and July 14 at 9 p.m.
Musician / singer King Errisson and comedian Pete Barbutti have introduced back-to-back shows at the Four Queens downtown in the Royal Pavillion Showroom. Errisson leads off with an 8 p.m. show featuring him singing and playing his Caribbean jazz songs. He has completed a world tour with Neil Diamond and been touring with him for more than 25 years.
Comic genius Barbutti, who was frequently seen on "The Tonight Show" with Johnny Carson follows with a 10 p.m. show.
Motley Crue's front man Vince Neil will be opening a 2,200-square-foot tattoo shop at the Flamingo fronting the Strip where O'Shea's Irish pub is being replaced. Opening is planned for late summer.
Maxim magazine and Southern California-based real estate developer Concord Wilshire Partners have announced plans for an estimated $1.2 billion hotel-casino themed on the men's lifestyle magazine that has a 2.5 million circulation and began publishing in the United States in 1997. Plans call for a 2,000-room hotel with a 60,000-square-foot casino just north of Circus Circus in 2010.
The highly publicized Las Ramblas project that included actor George Clooney and nightclub owner Rande Gerber among its partners to help make it a hip destination is definitely history. The 25-acre project has been sold to Las Vegas-based developer Edge Resorts for $202 million. The new project will be known as Edge East and will be developed as a boutique hotel district that will complement the neighboring W Las Vegas hotel's master plan.
The 42-year old, 700-room Lady Luck downtown, which has been closed since Feb. 12, has received a $66 million loan to help with its renovation project.
Work is continuing on the conversion of three Neonopolis movie theaters downtown into a poker studio, complete with seats for audience members to view the action through one-way glass. The Nevada Gaming Control Board is going to allow Fox Sports Network's Pokerdome game show to proceed without a gaming license because constants enter for free and chips will have no actual value.
The success of the Riviera's Summer Outdoor Hawaiian Luaus has lead to an outdoor Country and Western impersonator show being planned for this fall, complete with barbecue steaks and all the trimmings. Every Wednesday beginning in September and running through Nov. 15, the 2nd deck location of the luau will be transformed into a good ol' fashion Chuck Wagon party. A special barbecue grill will be installed just for these events.
The next stars on the lineup for the 2006 Stars on the Lake concert series at Lake Las Vegas Resort will be Grammy®-nominated Daryl Hall & John Oates on Saturday, June 24, at 8 p.m. at Reflection Bay. Having achieved more than a dozen Top 40 hits throughout the 70s and 80s, the rockers will dominate the floating stage with many hits. They have landed six No. 1 singles and six platinum albums, making them the most successful chart duo in the history of American recorded music.
Tickets are $89.95 for VIP seats and $49.95 for general admission seats. All three resorts, the Hyatt Regency, Ritz-Carlton and MonteLago Village Resort, are offering special room rates and packages.
The Stratosphere will present its annual citywide fireworks display and "Sparkle and Splash Pool Party" on Sunday, July 2. For the fifth year in a row, the world-famous Fireworks by Grucci, Inc. will produce a 10-minute display that will be launched at 9 p.m. from the Stratosphere's north parking garage and be visible anywhere in Las Vegas.
The Independence Pool Party will be located on the Stratosphere's pool and recreation deck on the eighth floor of the Premier room tower. The party will last from 7 p.m. until 10 p.m. The price of admission is $49.99 per person for those 21 years of age and older and $25 for children ages 12 to 20 years of age. Admission includes unlimited food and drinks, a DJ providing continues entertainment, and swimming, call 702-380-7711.
The third annual patriotic special, "Las Vegas Sings for America," will take place during the July 4th weekend on Saturday, July 1 at 8:30 p.m. This live show and TV special is moving outdoors this year and taking place under the "Fremont Street Experience" canopy located downtown on Fremont Street. The program will feature Las Vegas headliners with the Nellis Air Force Base "Honor Guard" opening the show by marching along Fremont Street.
This outdoor concert is free to the public. However, there will be VIP seating available for a $25 donation to the Youth Foundation for The Performing Arts. "Las Vegas Sings for America" will be broadcast nationally, regionally and locally to more than 10 million households.
Acclaimed rock group Little River Band will headline at the Silverton's Outdoor Events Center on Saturday, July 8 at 8 p.m. During the band's 30-year career, they've released 23 albums, scored nine top 10 hits and 13 top 40 hits on the U.S. charts and have sold more than 20 million albums worldwide. Tickets are $30, call 702-914-8557 or 1-866-946-4373.
The members of Little River Band got their start as rock stars in Australia after the group released its self-titled debut album in November 1975. The following May, the group released its acclaimed second album, "After Hours," and toured the U.S. with Queen and the Average White Band in support of its two albums. The band's eight-minute epic, "It's a Long Way There," resonated with American audiences and became the band's first U.S. hit.
Little River Band's third album release in 1977, "Diamantina Cocktail," spawned the single "Help Is On the Way," which went all the way to No. 1. The album went gold in America - the first time an Australian act had achieved such a feat. It was followed by the album "Sleepercatcher," the first album recorded in Australia that went on to sell over one million copies in the U.S.
The prize for the winner of the second season of Fox's "Hell's Kitchen" that started last Monday with a two-hour episode will be a job at T-Bones Chophouse at the new Red Rock Resort in the northwest part of the valley.
The Tropicana's popular Swim-Up Blackjack game, located in the indoor section of the main pool surrounded by five acres of lush tropical grounds, is now open to hotel guests for the summer season. The aquatic card game area includes two separate blackjack tables that accommodate up to seven players each. Players can dive in to this lively card game from 11 a.m. - 6 p.m. daily and place bets of $5-$25 a hand. For the convenience, towels are on-hand to keep the players' hands and chips dry.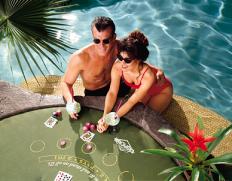 Paige O'Hara, who performs as the soap star in "Menopause The Musical®" at the Las Vegas Hilton, will take two days off, July 27 and 28, to fly to New York to film a scene in Disney's "Enchanted," starring Susan Sarandon. Ironically, O'Hara will play a nasty soap star in the movie scene.
Steve Wynn has paid "Le Reve" show creator-producer Franco Dragone almost $16 million for the rights to the show so that he can take it over and make changes. The show and specially designed theater cost $110 million to open.
The Rock 'n Roll Wine on the Mountain will kick-off the JazzFest Weekend on Friday, June 30, at 7 p.m. at the Mt. Charleston Hotel, which has planned its first Jazz Festival weekend full of wine, art and special Jazz performances up on the mountain. Cost is $44 per person and includes all the wine, food and entertainment; call Chris Hammond at 702-561-3498. The Mt. Charleston Hotel is offering special room rates of $125 per night, call 702-872-5500.
The "World Series of Blackjack™" that taped at the Las Vegas Hilton has kicked off its Monday night primetime schedule on GSN (formerly the Game Show Network). The show features a new episode each week that is repeated two additional times during the week for 13 weeks through Aug. 28. At the end of the run, the series probably will be re-aired from the beginning.
A 64-year-old Las Vegas retiree recently won a Megabucks® slot jackpot worth $20,519,025 at the Cannery in North Las Vegas. It was the second Megabucks® winner the Cannery has had in the last nine months. Elmer Sherwin won his second Megabucks® jackpot at the Cannery in September 2005 and was the only person ever to win it twice.
A penny video version of Megabucks® has a statistically overdue jackpot of more than $14.6 million, which will set a world record for a penny slot payout when it is hit. There are more than 600 Megabucks® dollar slots in 164 casinos throughout Nevada.
This month, "VEGAS Magazine," which has an 80,000 circulation is celebrating its third year as the city's source for the heartbeat of today's Las Vegas lifestyle. Since the debut issue in 2003 featuring supermodel Heidi Klum, the magazine's cover has been graced by some of the world's most beautiful faces including Pamela Anderson, Paris Hilton, Rebecca Romijn, Gisele Bundchen and Carmen Electra.
CONTINUE ON TO...:
>THIS WEEK'S LAUGHLIN SEGMENT
>LAST WEEK'S LAS VEGAS SEGMENT
>VEGAS VIEWS FULL ARCHIVES
>Return to "Heard Around Town"
>Return to Las Vegas Leisure Guide