STRATOSPHERE EXTENDS FRANKIE MORENO CONTRACT!

At his 100th show this month, Stratosphere headliner Frankie Moreno had his contract extended for two more years through October 2015. Moreno works with a 10-piece band four nights a week; Wednesday through Saturday at 8 p.m. Tickets are $39.99.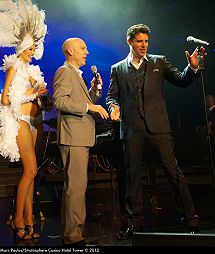 Singer and songwriter Moreno debuted as the headline act at the Stratosphere Theater on Nov. 9, 2011, to rave reviews from critics and was named "Best All-Around Performer" by the "Las Vegas Review-Journal" for 2012.
Column Continues Below Advertisement
NOBU HOTEL REVEALS HOTEL DESIGN AND BOOKING ROOMS
Hospitality partners including Chef Nobu Matsuhisa, Robert De Niro and Meir Teper, along with designer David Rockwell have revealed the hotel design for Nobu Hotel Caesars Palace, the first celebrity-chef branded hotel venture. Rooms are being booked starting Oct. 1, visit NobuHotelCaesarsPalace.com.
Nobu will be a distinctly Japanese experience with elaborate use of hand-crafted, curated materials and wood-tiled surfaces defining the hotel space. Schindler PORT elevator technology will feature touch-screens and a powerful traffic management algorithm.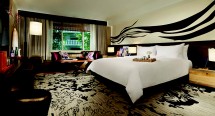 Strip or garden views will be offered by 181 rooms and 18 suites. Designs will embrace comfortable simplicity with natural materials, hints of purple and aqua on multiple accent pieces, furniture forms directly from nature, and custom art by up-and-coming Japanese artists. Bathrooms will have rich teak fittings, stone tiles, modern fixtures, an oversized shower with multiple shower heads and a teak bathing stool.
Personalized service will start with in-room iPad registration and a traditional hot tea welcome amenity, and later, in-room turndown service with robes, slippers and scented sleep oils.
Hotel guests will also have private access to the adjacent 11,200-square-foot restaurant and lounge with priority seating and 24-hour access to Nobu cuisine through the first-ever in-room dining menu. A selection of bento boxes will offer a customary Japanese breakfast.
OUTLET MALL DOWNTOWN IS PLANNING AN EXPANSION
The Las Vegas Premium Outlets-North shopping center located downtown is planning its second expansion since it was built in 2004. The proposal will add 35 stores including Sakes Fifth Avenue OFF 5th, 160,000 square feet of shopping space and 513 parking spaces. Expected completion is in 2015. Currently the center encompasses 539,000 square feet.
CONSTRUCTION HAS STARTED ON HAKKASAN AT MGM
The former Studio 54 space at the MGM Grand is now under construction to make way for Hakkasan Las Vegas, which will be a restaurant, lounge and nightclub. The 75,000-square-foot development in the five-level space is expected to be completed by December. The main exterior façade at the corner of the Strip and Tropicana is also being developed. A website, http://hakkasanlv.com/, has been created to promote the venue and a live camera allows you to follow the construction.
COMEDIAN STEVEN WRIGHT RETURNS TO THE ORLEANS
Academy Award®-winner and Grammy® Award nominee Steven Wright will return with his deadpan trademark wit, absurdist one-liners and monotone voice to The Orleans Showroom July 13 and 14. Tickets start at $34.95.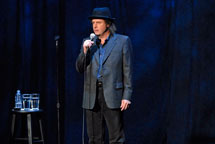 Wright began his comedy career at age 23 and his first big break was on "The Tonight Show with Johnny Carson." He expanded his career to include comedy albums, television specials, acting roles and writing for the silver screen. His Grammy nominations were for "I Still Have a Pony." In 1989, he received an Academy Award for Best Short Film for the satiric, "The Appointments of Dennis Jennings," which he co-starred in and wrote.
NIGHT RANGER IS NEXT CONCERT AT DOWNTOWN
Next up for the Fremont Street Experience's "Rock of Vegas" summer concert series will be a free show by Night Ranger on Friday, June 22, at 9 p.m. on the 3rd Street Stage. The next act will be ASIA featuring John Payne on July 7.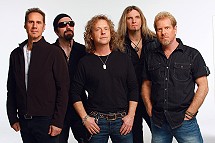 Night Ranger epitomizes the sound of the 80s with their guitar-crunching, melodic brand of music and talent, energy and creativity. Jack Blades, Brad Gillis and Kelly Keagy are responsible for penning some of the 80s landmark hits such "Sister Christian," "Sentimental Street" and "When You Close Your Eyes," "(You Can Still) Rock in America" and "Don't Tell Me You Love Me."
Night Ranger's contributions are featured in multiple entertainment realms, including the Broadway musical "Rock of Ages" and hit videogame series "Rock Band" and "Guitar Hero."
DICAPRIO WAX FIGURE IS ENVIRONMENTALLY-FRIENDLY
Madame Tussauds at The Venetian has unveiled a wax figure of Golden Globe winner and environmental activist Leonardo DiCaprio. In honor of the actor's dedication to the environment, the figure's head was created from natural clay and beeswax materials containing organic pigment. All design materials used in the creation of the figure were recycled upon completion, the production process took place exclusively by hand and daylight, and the creative team used environmentally friendly forms of transportation such as cycling to and from the studio.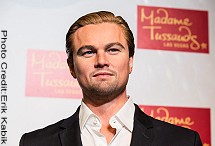 'FABULOUS LAS VEGAs' RETURNS FOR THIRD YEAR
Fabulous Las Vegas will return for a third year, July 12-15, with its four-day Vegas-style LGBT celebration. The extended weekend, hosted exclusively by MGM Resorts International, will offer a full lineup of celebrity-hosted special events, pool parties, DJs and live entertainment plus spa, shopping, dining and drink specials at Strip destinations including Mandalay Bay, The Mirage, Monte Carlo, New York-New York and Luxor. For information, visit MyFabulousVegas.
THE D LAS VEGAS IS HIRING 100 DANCING DEALERS
The D Las Vegas downtown, formerly Fitzgeralds, is searching for 100 Dancing Dealers. The hotel will hold auditions Friday, June 29, on Fremont's Third Street Stage. Ladies should report to the D's ballroom at 2 p.m., call 702-493-6904.
Scheduled for completion in fall 2012, the D will feature daily live entertainment, 638 remodeled rooms and suites, and two high-energy bars including LONGBAR – the longest bar in Nevada. The party pit will be the casino floor's focal point with gorgeous girls hitting the floor at 6 p.m.
JEFF TIMMONS OF 98 DEGREES STARTS 'WIRED'
"WIRED" featuring Jeff Timmons of 98 Degrees will premiere June 29 at Green Valley Ranch with a live band, plus surprise celebrity guests and rotating musical acts. "WIRED" will be a live, energetic nightclub experience every Friday and Saturday night at 10 p.m. with the show at 11 p.m. Entry is first-come, first-served In addition, Timmons is also currently writing his first book and back in the studio recording a new album..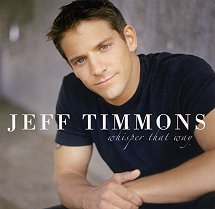 SIXTH ANNUAL 'DESCARGA' SUMMER CONCERT SET AT FSE
The sixth annual "Descarga" summer concert series will take place at the Fremont Street Experience (FSE) with two free 8 p.m. Latin concerts. The first will be July 14 with a live performance by Latin superstar Beto Cuevas, former lead singer of the hit Chilean rock band "La Ley." On Saturday, July 28, Larry Hernandez, No. 1 "Billboard" Regional Mexican music sensation and star of mun2's upcoming reality series "Larrymania," will perform. For a full event schedule, visit mun2's website at mun2.tv.
'SUNDOWN IN DOWNTOWN' IS NEW EVENT
Sundown in Downtown will be an adult-only carnival hosted at the
Las Vegas Natural History Museum on Friday, June 22, from 6 – 10 p.m. The event will include small bites from such sponsoring restaurants as Hash House A Go Go, Triple George Grill, and The Barrymore, signature cocktails, strolling performing artists, and music by live bands including Kid Meets Cougar and Wild Card. Tickets are $55 and $100 per couple.
TOP OF NEXT COLUMN
SINGER-SONGWRITER RON POPE TO PERFORM AT HARD ROCK
Ron Pope, with Josiah Leming and Zach Berkman, will headline at the Hard Rock Cafe on the Strip Tuesday, June 26, at 8 p.m. Tickets are $12 in advance and $15 day of the show.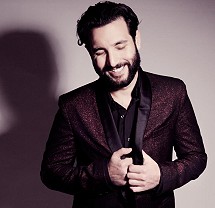 One of the most extraordinary Internet-driven music success stories of recent years, Pope became an online phenomenon with his hit song, "A Drop in the Ocean." The song appeared on "90210" and "The Vampire Diaries" and has more than one million download sales. His newest album, "Atlanta," was released exclusively on iTunes on April 17 and hit stores this month.
COMEDIAN BILL ENGVALL RETURNS TO TREASURE ISLAND
Country comedian Bill Engvall will bring his trademark blue collar comedy back to the Treasure Island Theatre, June 22 at 8 p.m. Tickets start at $54.95.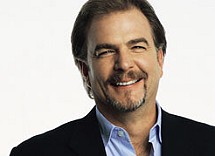 Engvall is a member of the "Blue Collar" comedy troupe along with fellow comedians Jeff Foxworthy, Larry the Cable Guy and Ron White. In 2013, Engvall will lend his voice to CMT's first-ever animated project, "Bounty Hunters," that will also star the voices of Foxworthy, Larry the Cable Guy and Lisa Lampanelli as they track down fugitives for their bounty hunting business.
Currently, Engvall hosts "Country Fried Home Videos," one of the top-rated shows on CMT, and "Lingo" on the Game Show Network. Each Monday at 11 a.m. PST, Engvall and fellow comedian Gary Brightwell host "Off the Cuff with Bill Engvall" on Sirius/XM Blue Collar channel 97.
HANK WILLIAMS JR. WILL PERFORM AT M RESORT JUNE 29
Country music icon, Hank Williams, Jr. now on his "Taking Back the Country Tour" will perform at the M Resort Spa Casino's Villaggio Del Sole outdoor concert piazza on Friday, June 29, at 8 p.m. The rugged country star has managed to create music that resonated with the same emotion that marked his father, Hank Williams' best work. Tickets are $65, $75 and $85.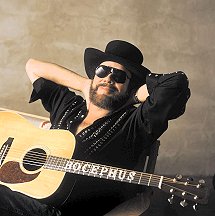 SUNCOAST FEATURES EAGLES TRIBUTE BY HOTEL CALIFORNIA
Hotel California "A Salute to the Eagles" will reproduce the Grammy® Award-winning sounds of the legendary band at the Suncoast Showroom, June 30 and July 1. Tickets start at $15.95.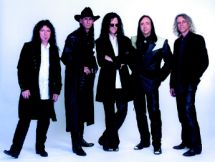 For more than two decades, Hotel California has traveled the world and thrilled fans by replicating a showcase of Eagles' mega hits, including "Take It Easy," "Heartache Tonight" and "Hotel California." The members of the band have shared billing or played with such artists as Peter Frampton, Smokey Robinson, Van Halen, James Brown and Huey Lewis and The News.
TEMPTATIONS RETURN TO THE ORLEANS
Following multiple engagements last year, The Temptations – Otis Williams, Bruce Williamson, Terry Weeks, Ron Tyson and Joe Herndon – will bring classic Motown back to The Orleans Showroom July 7 and 8. Tickets start from $34.95.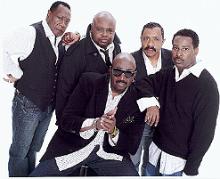 The group's 40-year career began in the early '60s in Detroit as part of Berry Gordy's Motown machine. In 1964, Smokey Robinson wrote and produced "The Way You Do the Things You Do," The Temptations' first major hit. In addition, the group became known for smooth stepping presentations and The Temptation Walk. An NBC mini-series in 1998 chronicled the group's rise to fame and earned an Emmy® Award. This past April, the group performed on "Dancing with the Stars" as part of Motown Week.
GOLDEN NUGGET BOOKS COMEDIANS AND OAK RIDGE BOYS
The Golden Nugget has lined up "The Comedians From Chelsea Lately" on Saturday, June 30, in the 600-seat showroom. Chris Franjola, Jen Kirkman and Brad Wollack are three of the popular faces you will recognize from Chelsea Handler's popular round table discussions on the hit show "Chelsea Lately." Tickets start at $25, call 866-946-5336.

The Oak Ridge Boys featuring four-part harmonies and upbeat songs will bring their distinctive sound to the Golden Nugget on July 6 and 7. Tickets start at $29.
WYNN's CLUB VENUES AND ULTRA MUSIC FORM PARTNERSHIP
The award-winning daylife and nightlife venues at Wynn Las Vegas have entered into a unique partnership with Ultra Music, America's leading dance music record label, to release a series of full-length compilation CDs and new releases in the exploding genre of electronic dance music. The new label for the releases is called Ultra/Wynn.
The CD/digital series will be branded with the nightclub and dayclub venues at Wynn, including Encore Beach Club, Surrender, Tryst and XS nightclubs. The first compilation, which highlights the summer sounds at Encore Beach Club, will be released digitally worldwide in June and available for purchase at the resort's retail outlets. The collection features music from Wynn resident DJs including Afrojack, Avicii, Calvin Harris, deadmau5, Lil Jon, Steve Aoki and is mixed by DJ Sidney Samson. The second release will focus on the unparalleled energy at XS Nightclub and will be available on Sept. 1.
Ultra's YouTube channel, one of the most popular online with more than 1.6 billion views to date, will broadcast live streaming Wynn venue-branded DJ sets and a weekly segment titled "The Wynn Nightlife Report."
COMME ÇA LAUNCHES 'LE BARBECUE' SERIES
Comme Ça, the modern French brasserie by acclaimed Chef David Myers at The Cosmopolitan, will commence its "Le Barbecue" summer grilling series on the patio with a Bastille Day celebration on Saturday, July 14, from 3 to 7 p.m. Cost for the Parisian-inspired barbecue menu is $49 per person. Additional dates are planned for the "Le Barbecue" series through the end of September.
NEWS CLIPPINGS
Former President Bill Clinton will be giving the keynote speech at the 5th annual National Clean Energy Summit 5 at Bellagio on Aug 7.
Mizumi, the Japanese restaurant at Wynn Las Vegas, has opened.
The Saxe Theater is celebrating its second successful year at the Miracle Mile Shops inside Planet Hollywood. The $34 million Saxe Theater opened in 2010 with the launch of "VEGAS! The Show."
This month "BeatleShow!" at the Sax Theater inside the Miracle Mile Shops at Planet Hollywood celebrated its four-year anniversary.
Patty's Closet Fashion Boutique expands again with its seventh Las Vegas location in Aliante. The ultra-chic shopping boutique helps dress ladies for less.
The female impersonator show "La Cage" starring Jimmy Emerson moved from downtown to the Riviera where it was previously a mainstay from 1985 -2009, but its latest run ended over Memorial Day.
In celebration of National Steakhouse Month this month, select restaurants at Caesars Entertainment Las Vegas resorts are featuring special menus and menu items for beef enthusiasts. The Range Steakhouse and Center Cut Steakhouse are launching new prix-fixe menus while VooDoo Steak is offering a Tomahawk steak special.
SPRING MOUNTAIN RANCH SUMMER MUSICALS ARE IN PROGRESS
The annual outdoor musicals where you sit on the grass at the Spring Mountain Ranch are in progress this summer with "Crazy For You" playing through June 30. Shows are Wednesday through Saturday at 8 p.m. The rest of the summer lineup includes: "Oliver!" July 11-28; "Joseph and the Amazing Technicolor Dreamcoat" Aug. 8-25; and "Leader of the Pack" Sept. 6-22. Tickets are $ 12 in advance and $20 at the gate; visit http://supersummertheatre.org.
COLLECTIVE ZOO HOLDS FOURTH SUMMER POOL PARTY
CollectiveZOO (CZ) offers the option to bare it all with the fourth edition of their "Pool Party Safari Series." The Electro Night Swim Edition will take place at Naked Pool & Lounge at Artisan Hotel Boutique on Saturday, June 30 at 9 p.m.
Party includes dancing LED lights, black lit pool and glowing cabanas, a KRU82 Vodka open bar from 9 to 10 p.m., relay races and contests with prizes, and DJs Zack the Ripper, Starmada and Boxfed. Bathing suit tops are optional.
CZ's master-planned summer pool series consists of eight separate bashes scattered across downtown venues. For information, visit www.collectivezoo.com.
Column Continues Below Advertisement
CONTINUE ON TO...:
THIS WEEK'S >LAUGHLIN NEWS
LAST WEEK'S >LAS VEGAS NEWS
>VEGAS VIEW FULL NEWS ARCHIVES
Return to >"Heard Around Town"
Return to >Las Vegas Leisure Guide