The newest location of Station Casinos' Cabo Mexican Restaurant has opened inside Palace Station, replacing the recently closed Guadalajara Bar and Grille. Already serving up fresh, authentic Mexican dishes at sister properties Red Rock Resort and Santa Fe Station, the Palace Station location features seating for nearly 200 guests with a separate bar and lounge area. The restaurant opens nightly for dinner at 5 p.m. and the bar at Cabo is open from 9 a.m. to 1 a.m.
To celebrate the opening, Palace Station will give away a cruise for two to Cabo, Mexico. Guests can earn entries with each entr'e purchased through July 8, when the drawing will be held at 7:45 p.m.
"Phantom - The Las Vegas Spectacular" now offers patrons the chance to see the magnificent $40 million Phantom Theatre Tuesday - Friday from 10 a.m. - 1 p.m., free of charge. Fans can catch a glimpse of the infamous 1800-seat Paris Opera House complete with a $5 million chandelier.

Column Continues Below Advertisement


Also new, fans can now have the ultimate Phantom VIP experience with a package that includes one Golden Circle ticket, an elite backstage tour and a personal meet and greet with Phantom cast members. This package is $250 per person.
On July 1, Michael Johns and Terry Stokes will unleash their mind-control powers to create a hilarious hypnotic event "DIRTY" that will open for an extended engagement at the House of Bluesr at Mandalay Bay. "DIRTY" will also feature the House of Blues five-piece house band providing the live soundtrack to the hypnosis show and then the band will continue rocking long into the night. Tickets are $39.95 and $49.95, call 702-632-7600.
The two masters of hypnosis will break boundaries and trades clichés. An example will be by swaying pocket watches from the swinging hips of sexy go-go dancers. While no one will cluck like a chicken, an audience member may find themselves enjoying a sneeze-induced orgasm.
Proven Las Vegas veterans and stars of the show "Hypnosis Gone Wild," Johns and Stokes have delivered their brand of adult humor and hypnosis for thousands of performances.
Singer, songwriter, and Rock and Roll Hall of Famer Dave Mason will bring five decades worth of his greatest hits to The Club inside the Cannery in North Las Vegas on Saturday, July 21. Tickets are $24.95 and $13.95, call 866-287-4643 or 617-5585.
Mason's career spans nearly 40 years and encompasses producing, performing and songwriting. At age 18, Mason teamed up with Steve Winwood, Jim Capaldi, and Chris Wood to form the legendary band Traffic. At 19, he penned the song "Feelin' Alright," a rock and roll anthem that has been recorded by more than 50 artists. In 1969, Mason pursued a solo career that netted him four gold albums, one of which went platinum and contained the classic "We Just Disagree." He has also performed as a guest artist on albums by The Rolling Stones, George Harrison, Paul McCartney and Jimi Hendrix.
Chris Rock and Jerry Seinfeld will headline back-to-back Colosseum shows at the third annual The Comedy Festival (TCF), Nov. 14-17 at Caesars Palace. TBS, a division of Turner Broadcasting System, Inc., is television's top-rated comedy network and will return as the title sponsor. The four-day event will feature multi-artist performances, tributes, stand-up and sketch comedy, and televised special events, taking place in a variety of venues throughout Caesars Palace.
The 2007 TCF producers will announce a full festival line-up, special events and ticket information within the next couple of months. For additional information, visit www.thecomedyfestival.com.
Frederick's of Hollywood is opening a new alluring lingerie boutique in the Miracle Mile Shops (formerly Desert Passage) and will hold a grand opening event on Thursday, July 5 from 5 to 8 p.m. Open to the public, guests will be able to sip on complimentary champagne while listening to DJ Mike spin groovy tunes. Shoppers will enjoy a 20 percent discount off everything in the store during the event, as well as receive a free Frederick's Bridget Panty just for stopping by. Frederick's of Hollywood has more than 160 boutique stores nationwide.
Model Joanna Krupa, will attend the store's opening party and sign copies of the Frederick's of Hollywood catalog she has appeared on the cover of countless times. In 2005, Playboy named Krupa the "sexiest swimsuit model in the world." Recently, she appeared on NBC's hit show, "Vegas," with James Caan and Alec Baldwin.
Jackie Collins, one of the world's top-selling novelists, will launch her latest book tour in support of "Drop Dead Beautiful," her 25th sizzling novel that centers on the glamour of Sin City, with a book signing and reading at Harrah's on Saturday, June 23 from 1 - 3 p.m. The event will be held in The Range Steakhouse and is open to the public. Advance copies of "Drop Dead Beautiful" being released on June 26 will be available for purchase at the event.
Collins' latest tale of sex, lies, scandal and intrigue with her signature heroine, Lucky Santangel, is set in the heart of Las Vegas as Lucky prepares for the grand opening of The Keys, her new casino and luxury high-rise complex.
Eight-time Grammy award winner, Lauryn Hill will headline at the Sandbar Backyard, a poolside venue accommodating up to 3,000 guests at the Red Rock Resort, on June 30 at 9 p.m. Hill, a musician and record producer, initially established her reputation as the most visible member of The Fugees. In autumn 1998, she launched her solo career by releasing "The Miseducation of Lauryn Hill" and the "MTV Unplugged No. 2.0." Tickets are $62.50 and $85, call 702-547-5300.
Country star Clint Black will perform at the Sunset Amphitheater, an outdoor venue accommodating up to 5,000 guests at Sunset Station, on June 23 at 8 p.m. To date, Black has racked up 21 No. 1 hits and scored five No. 1 singles with his debut album. Tickets range from $24.95 to $47.95.
Checked out the opening of Café Rio Mexican Grill at 9002 W. Sahara. A second Las Vegas location will be opening in Henderson. While this is real casual dining, the reasonably priced food is exceptional and portions are huge. The restaurant chain was founded in 1997 in St. George, Utah, by Steve and Patricia Stanley. He was a master chef for 30 years.
Syn City, the Nightclub at the Riviera, is closing its doors.
Sweet Water Prime Seafood is again a new off-Strip eatery. It's a fine dining restaurant and fresh seafood market located in Henderson at 9460 S. Eastern Avenue. The 6,800-square-foot restaurant seats up to 200. It has two show kitchens and numerous chefs' tables that allow guests to appreciate every step of the preparation. Additional highlights include the granite countertops, Swarovski crystal starfish lanterns, an enclosed patio and a room with a fireplace for private functions. For information, call 702-588-5400.
Another restaurant Sushi Roku will serve a one-day signature drink, Shichi meaning "seven" in Japanese, designed for the luckiest day of the century, July 7, 2007. The Shichi cocktail served a martini glass and garnished with a 24K gold leaf-wrapped lime will be available on that Saturday from noon to midnight for $12.
Ventriloquist Ronn Lucas will be closing soon at the new Steve Wyrick Theater.
Second City at the Flamingo has launched a new provocative edition of its adlib comedy approach.
Hooters 30,000-square-foot casino floor has expanded its gaming selection with the addition of nine new table games, 40 new slot machines, a huge Rapid Roulette wheel complete with a keg located in the Hooters Girl Party Pit and 40 more Hooters Girls dealers.
Singer Clint Holmes has his biographical musical, "Just another Man," running through June 24 at the Judy Bayley Theatre at the University of Nevada. Holmes headlined for years at Harrah's and before that Downtown at the Golden Nugget. His life story about his mother being a British opera-singer and his dad being a jazz-singing African-American and the effect on him and his sister is a fascinating tale. His sister Gayle Steele is also singing and starring in the show. Tickets are $20 to $35, call 702-895-2787.
Gotta laugh.. prop comic, Joe Trammel, aka The TV Guy, came up with the idea to live inside a faux cell with pink bars dressed like Paris Hilton in appropriate prison garb to send a message that people need to take responsibility for their actions. He plans to serve the remainder of the 23-day jail sentence at the Fremont Street experience next to Fitzgeralds.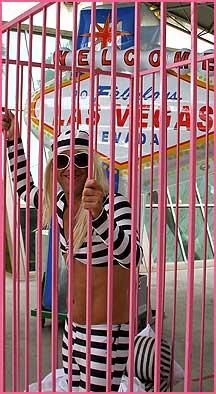 The only time the comedian is out of the cell is for minimal chaperoned bathroom breaks and work release. The TV Guy is known for spoofing all pop culture and performs in "V" the Ultimate Variety Show at the Miracle Mile Shops.
Lake Las Vegas and The Point 97.1 radio conducted a talent competition this month. One lucky listener has won the chance to sing the National Anthem on the floating stage during the upcoming Stars On The Lake concert by Three Dog Night and to introduce the band on June 30 at 8 p.m. Opening for the rockers will be country duo The Warren Brothers, featuring singer/songwriter siblings Brad and Brett Warren.
The Alejandro Sanz show planned for June 6 at The Pearl at the Palms has been postponed, along with additional US tour dates. The new performance date will be Nov. 20.
The Osmonds' reunion on Aug. 13 and 14 at the Orleans will be held in the showroom (not the arena) and taped for airing on PBS stations.
Artist LeRoy Neiman is being celebrated with a 50-year retrospective exhibition of his work on display at the Centaur Art Galleries in the Fashion Show Mall through Aug. 26. The core of the exhibit is a collection of 26 commissioned paintings that's appraised at more than $5 million.
Harrah's headlining comedian magician Mac King has received a special award from the charitable organization Optimists International for his dedication to children and literacy.
Since Oct. 1, 2006, King has served as spokesman for the new reading program of Junior Optimist Octagon International (JOOI).
Vita Carimbi, who plays Earth Mother in "Menopause The Musical" at the Las Vegas Hilton, is one of the top 20 finalists for KXNT radio's "RADIO STAR 3" competition. The winner will get his or her own talk radio show on the Las Vegas - based radio station.
Cast members from "Mamma Mia!" "The Producers" "Spamalot" and "Phantom: The Las Vegas Spectacular" will present a repeat performance of "God Lives in Glass" on Saturday, July 14, to benefit Family Promise, a non-profit organization that assists Las Vegas homeless families.
"God Lives in Glass" was presented last November. This one day musical event presents 16 songs from rap to reggae to pop to gospel, representing Christian, Jewish, Muslim, Islam and other diverse global faiths. The performance will be staged at 2 p.m. at Community Lutheran Church, 2720 E. Tropicana Ave. A minimum donation is a $30 ticket, call 702-245-0992.
The theatrical concert is based on the book, "God Lives in Glass," by Robert J. Landy, Ph.D., an NYU drama therapy professor who interviewed children from around the world about their perceptions of God. Composer Keith Thompson, who recently moved to Las Vegas as musical director of "We Will Rock You," "Hairspray" and "The Producers" worked with Landy and Greg Ganakas to adapt the book into a musical revue.
CONTINUE ON TO...:
>THIS WEEK'S LAUGHLIN SEGMENT
>LAST WEEK'S LAS VEGAS SEGMENT
>VEGAS VIEW FULL ARCHIVES
>Return to "Heard Around Town"
>Return to Las Vegas Leisure Guide