"KINKY BOOTS" WILL KICK OFF NATIONAL TOUR AT SMITH CENTER!

"Kinky Boots," the current six-time Tony® Award-winning musical that brings together four-time Tony Award-winner Harvey Fierstein, who did the book, and Grammy® Award-winning rock icon Cyndi Lauper now the Tony Award-winner for Best Score, will open its national tour in September 2014 at The Smith Center making it the first Broadway show to launch a national tour there. Directed and choreographed by Tony Award-winner Jerry Mitchell, "Kinky Boots" opened on Broadway on April 4, 2013.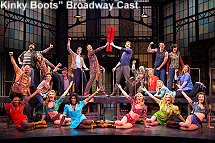 In "Kinky Boots," which is inspired by a true story and based on the Miramax motion picture, Charlie Price has suddenly inherited his father's shoe factory, which is on the verge of bankruptcy.
Column Continues Below Advertisement
HERSHEY'S® CHOCOLATE WORLD® UNWRAPS RETAIL EXPERIENCE
Hershey's Chocolate World retail experience will open at New York-New York this winter. The flagship store will occupy two floors, have an eye-catching 70-foot façade and provide guests with an engaging and interactive space. This sweet spot will be located between the Statue of Liberty and Brooklyn Bridge and feature a towering Hershey's Milk Chocolate bar, an 18-foot Reese's Peanut Butter Cup and dazzling entrances in the shape of Hershey's Kisses Chocolates.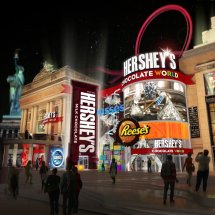 New York-New York announced in April plans to modify its skyline and Brooklyn Bridge with a vibrant patio culture and retailers that are new to the market. The Hershey's Chocolate World retail experience will anchor the new array of shops and dining experiences.
DINNER IN THE SKY LAS VEGAS HOLDS GROUNDBREAKING
Dinner in the Sky Las Vegas held a groundbreaking ceremony at its 8.8 acre site located at 4750 South Procyon Avenue just minutes away from the Las Vegas Strip. The upscale dining attraction that will serve meals 180 feet in the air is scheduled to open later this summer.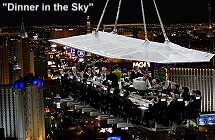 Dinner in the Sky will suspend diners strapped in by six-point harnesses on two open-air tables, each weighing nearly seven tons with seating for up to 22 guests, and offer 360-degree views of the Strip and valley. Dinner packages will start at $290 per person and include a three-course meal, with wine pairings, and a photo. Dinner in the Sky will open at 5 p.m. and offer eight nightly seatings at 5, 5:30, 6:30, 7, 8, 8:30, 9:30 and 10 p.m., with each table being in the air for approximately one hour.
Dinner in the Sky will also be an event destination and home to a spacious ground-level reception area featuring an on-site bar, lounge and dining room. The space will be ideal for large-scale events with banquet facilities accommodating up to 1,000 guests. For information or reservations, call 702-257-7303 or visit http://dinnerintheskylv.com/.
MCFADDEN'S WILL OPEN IN TOWN SQUARE
McFadden's Restaurant and Saloon will return to Sin City in July with a new location in Town Square situated directly across from AMC Theatres. With a 12,500-square-foot main floor and a 6,000-square-foot patio, the Irish-themed restaurant will accommodate more than 100 guests for seated dining and 100 on the patio. Rustic Irish décor will adorn the interior with modern accents, a mahogany bar, couches around one of the patio's fire pits and 40-plus HD flat-panel TVs. McFadden's will also provide VIP seating and bottle service.
McFadden's will offer Irish-American fare, feature dozens of draft and bottled beers, 80-ounce fishbowl cocktails, a "bomb" shots menu and Fireball Cinnamon Whisky on tap. Draft Irish beers will be a staple. McFadden's hours will be 4 p.m. until 4 a.m. daily. For more information, visit www.McFaddensVegas.com.
NEON MUSEUM INSTALLS TERRIBLE'S AND TELEMUNDO SIGNS
Last week, the newest additions to the Neon Museum's collection of donated and rescued signs were installed in the Neon Boneyard. The new signs are the iconic Terrible's Cowboy from Terrible's Hotel & Casino and Telemundo Las Vegas that was on the Neonopolis building facing the Fremont Street Experience since late January 2009.
GALAXY CANNERY THEATRES ADDED DOLBY® ATMOS™
Galaxy Cannery Theatres, located at the Cannery in North Las Vegas, recently added Dolby® Atmos™ to its exclusive 500-seat Digital Fusion Experience (DFX) auditorium, which features a wall-to-wall and floor-to-ceiling 65-foot screen, making it the largest Dolby Atmos location in Las Vegas.
Dolby Atmos is a break-through, next-generation audio solution that changes the way people experience entertainment sound. Dolby Atmos places sounds anywhere in the auditorium. Visit www.galaxytheatres.com for information.
NICO VEGA AND CRASH KINGS VISIT STRIP'S HARD ROCK CAFÉ
Breakout indie quartet Nico Vega will co-headline with rock band Crash Kings at Hard Rock Live Las Vegas inside of Hard Rock Cafe on the Strip on Friday, July 12. The two groups will tour more than 25 cities together through August. Tickets are $15 in advance and $18 day of show.
Nico Vega skyrocketed to prominence earlier this year with the release of its EP, "Fury Oh Fury" and the unexpected hit single, "Beast." The rollicking band is fresh off touring with Imagine Dragons on its sold-out 50-city tour. The band is gearing up for the release of its new album, "Lead To Light."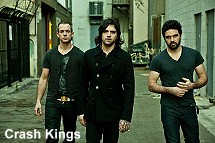 Crash Kings, the LA-based hard rock trio, released their debut album in 2009. They are slated to release their second album, "Dark of the Daylight," June 18.
LOCAL JULY 4TH CELEBRATIONS
The City of Henderson will celebrate our country's independence with their annual 4th of July Celebration. This year's fireworks will be set off at Mission Hills Park. The celebration will include, the Henderson Symphony Orchestra, food and beverage, games, basketball and volleyball tournaments and a fireworks display at 9 p.m.
Every year, the Boulder City community celebrates our country's freedom with the annual Damboree. The event begins at 7 a.m. on July 4th with a pancake breakfast at Bicentennial Park followed by the parade and a flyover by the Boulder City Veteran's Flying Group at 9 a.m. Additional ceremonies, entertainment, food and games will take place in Broadbent Memorial Park throughout the day. That evening, the festivities move to Veteran's Memorial Park with food, games, a pie-eating contest, entertainment and a fireworks show at 9 p.m. For information about the 65th Fourth of July Damboree Celebration, visit www.visitbouldercity.com.
LATIN MUSIC GROUP LA MAFIA PERFORMS AT SAM'S TOWN LIVE!
One of the largest and most critically-acclaimed names in Latin music, La Mafia will perform at Sam's Town Live! For more than three decades, La Mafia praised for its versatility and willingness to explore a wide variety of styles, often blending rock, folk, reggae and pop with traditional Latin music has gained admirers worldwide thanks to a blend of Oscar De La Rosa's singing and Armando Lichtenberger Jr.'s polished productions. During the course of their career, La Mafia has won two Grammy® Awards, two Latin Grammy® Awards and received an additional nine Grammy®/Latin Grammy® nominations. Tickets start at $30.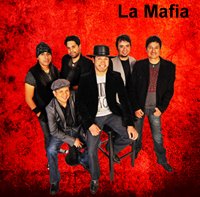 BILL FAYNE AND FRIENDS PRESENT "THE GOLDEN AGE OF MOVIES"
In a journey through an iconic time in music and movie history, Bill Fayne and Friends will perform "The Golden Age of Movies" at the Suncoast Showroom July 20 and 21. Joining Fayne for this musical event will be George DeMott, Anne Martinez, Tara Palsha, James Allen, Gret Menzes and many more.
Tickets for the 7:30 p.m. shows are available from $15.95.
MONSTER ENERGY'S ROCK ALLEGIANCE TOUR VISITS THE JOINT
The "Monster Energy's Rock Allegiance Tour" will feature four game-changing rock bands from four different countries, with Volbeat, HIM, All That Remains and Airbourne on the bill. The tour will stop at The Joint at the Hard Rock on Wednesday, Sept. 4 at 6:45 p.m. Tickets start at $39.50
This year marks the third installment for Monster Energy's Rock Allegiance. The event launched as a traveling tour back in 2011 and the next year became a "destination festival." The fest returned to the road this year.
Danish superstars Volbeat, who have enjoyed No. 1 status at active rock radio, will share the stage with HIM, a cult favorite from Finland whose fans are disciple-like in their devotion. All That Remains have scratched and clawed their way out of Massachusetts and rocketed up the radio charts over the past half-decade, all the while keeping a firm foothold in the hard rock/metal scene. Airbourne have been building a name ever since emerging from Australia, armed with plenty of riffs and just as much attitude.
TOP OF NEXT COLUMN
PAULA POUNDSTONE RETURNS TO THE ORLEANS
Comedienne, writer, actress and author Paula Poundstone is bringing her stand-up act back to The Orleans Showroom, July 5 and 6. Poundstone began nurturing her stand-up comedy talent in 1979 on the Boston comedy scene before moving to San Francisco. By 1990 she had moved to Los Angeles, starred in multiple HBO comedy specials and appeared on "Saturday Night Live." Tickets start at $19.95.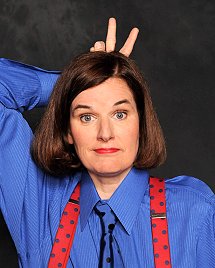 Poundstone is a regular panelist on NPR's weekly quiz program "Wait Wait…Don't Tell Me," where her impeccable timing is key to the show's format. She has written several magazine articles, including five years of writing the back page column in "Mother Jones," and has authored multiple books.
IMPACT WRESTLING COMES TO ORLEANS ARENA
"Impact Wrestling" will come to Orleans Arena for one night only, Saturday, June 29. Showtime is 7 p.m. PT. "Impact Wrestling" will be the first nationally-televised Las Vegas wrestling event from the Orleans Arena and the matches will be recorded to broadcast on Thursday, July 4 and Thursday, July 11 on Spike TV at 9 p.m. PT. Event starts at 7 p.m. and tickets start at $15 for reserved seating.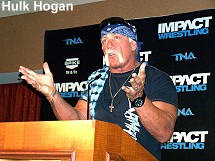 The lineup will featuring a roster of established legends and newcomers such as "The Immortal" Hulk Hogan, "The Icon" Sting, "The Charismatic Enigma" Jeff Hardy, Olympic Gold Medalist Kurt Angle, TNA World Heavyweight Champion and President of Aces & 8s Bully Ray, and many more.
INTERESTING NEWS ITEMS
The Broadway Theater, the 300-seat venue at New York-New York will close effective Sunday, July 21. The closure follows the resort's recently announced front features enhancement project.
New Kids On The Block will host an evening at PURE Nightclub inside Caesars Palace on Saturday, July 6. The award-winning group will head to the club directly following their performance from "The Package Tour."
Why not come to Las Vegas and sing! Rusty's Karaoke features open mic karaoke at Hooters Hotel on Monday and Tuesday nights from 9 p.m. to 2 a.m. and also at Harrah's piano bar from 6 to 9 p.m. seven nights a week.
MTV "Teen Mom" reality star, Farrah Abraham, will celebrate her first adult film venture at Crazy Horse III on Tuesday, Aug. 20. The sultry starlet will make her appearance in time for the 2013 Gentlemen's Club Owners EXPO & Tradeshow being held from Aug. 20 - 22 at Mandalay Bay.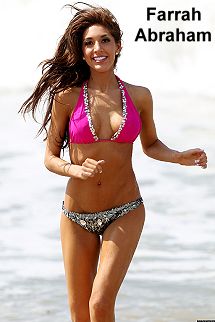 EDMbiz was launched last year to promote and facilitate thoughtful discussion on the most pertinent topics relevant to dance music culture. The second conference will be held at The Cosmopolitan during Electric Daisy Carnival Week on June 18-20. Attendees will also have access to EDC Week nightclub parties at Marquee, TAO, Lavo and others.
Hip hop's hottest artists and top DJs will take center stage as the hosts of "Ditch Fridays" and "Ditch Saturdays" pool parties throughout summer at the Palms Casino Resort. Tboo, Wale, Kelis and Ciara are just a handful of the powerful performers lined up.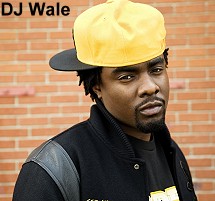 Posh Boutique Nightclub at Crazy Horse III will host "The Mustache Bash," complete with Absolut Vodka drink specials, on Friday, June 28. Partygoers will indulge in an Absolut Vodka open bar from midnight to 1 a.m., while groups of five or more will be treated to complimentary bottles of Absolut Tune. Buy-one-get-one Absolut drinks will be available from 3 to 4 a.m.
Krispy Kreme will treat doughnut lovers at all its valley locations to an exclusive birthday present in honor of its 76th birthday. Guests who buy one dozen doughnuts will receive a second dozen of Original Glazed for 76 cents on Saturday, July 13.
3RD STREET STUDIO IS OPEN DOWNTOWN
Downtown boutique studio, 3rd Street Studio LV is now available to artists and small businesses for booking photography sessions, art shows, workshops, and events. With more than 1,100 square feet of studio space aiming to help support local creative entrepreneurs, the studio is now home to both Paula McCartney Photography and Juliana Goldberg's The Boudoir Club while remaining an open space available for rent to eligible clients.
ADAM AND EVE'S BACHELOR AND BACHELORETTE AUCTION RETURNS
New Vista nonprofit charity is bringing back their best annual fundraiser event, the Adam and Eve's Charity Love Fling, on Friday, July 12. Supporters can win a date with Pinup star Claire Sinclair, Playboy's 2011 Playmate of the year, a double date with the Fantasy Girls or a date with country singer and song writer Sam Riddle. A total of 15 dates including their packages will be auctioned off to raise funds for New Vista.
The event is being hosted by 1 OAK nightclub inside The Mirage. General admission is $20 for advance tickets or $25 day of the event, VIP tickets are $50 in advance or $60 the day of the event, and premium VIP booths for up to six guests are $450. For tickets and information, visit www.NewVistaNV.org or call 702-457-4677 ext. 127.
LOVERBOY HEADLINES AT THE CANNERY
Rock band Loverboy will headline at the Cannery on Saturday, June 29 at 8 p.m. Tickets range from $14.95 to and $29.95.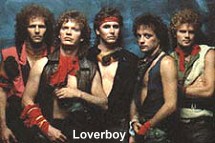 Loverboy's act was introduced to the world in 1980 with their self-titled debut album. From 1980 through 1987, Loverboy garnered four multi-Platinum albums and numerous international Gold albums.
Loverboy's inception began in Calgary, Canada, when singer Mike Reno was introduced to guitarist Paul Dean at The Refinery Night Club. Then keyboardist Doug Johnson another Canadian joined the group. After being rejected by all the major U.S. record companies, Loverboy signed with Columbia Records Canada. With a hit album, Loverboy began playing on mega tours with Journey, Bob Seger, Cheap Trick, ZZ Top, Kansas and Def Leppard, to name a few. More mega hit albums followed for Loverboy.
SUMMER FAMILY CONCERTS AND SHOWS OFFERED DOWNTOWN
Upcoming summer concerts and shows at the Charleston Heights Arts Center and Historic Fifth Street School will be held at 10:30 a.m. and cost $3 per person. Tickets may be purchased online at www.artslasvegas.org or by calling 702-229-3515 or 229-6383.
The steampunk puppet production of "20,000 Leagues Under the Sea" by Tears of Joy Theatre combines humor with science and the technology imagined by author Jules Verne to inspire the desire to learn and explore. Performances are Wednesday, July 17 at Charleston Heights Arts Center and Thursday, July 18 at the Historic Fifth Street School.
Lucky Diaz and the Family Jam Band are familiar to "kindie rock" fans, with No. 1 hits on Sirius XM's "Kids Place Live," wide acclaim and awards. This family band tours nationwide. Performances are Wednesday, July 24 at Charleston Heights Arts Center and Thursday, July 25 at the Historic Fifth Street School.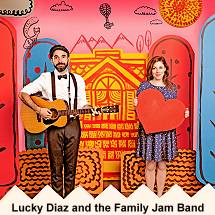 Tanglewood Marionettes will present "The Dragon King" Wednesday, July 31 at Charleston Heights Arts Center and Thursday, Aug. 1 at the Historic Fifth Street School. An underwater fantasy based on Chinese folklore, "The Dragon King" tells the tale of a wise grandmother who journeys to the bottom of the sea to seek the king and the answer to why he has forsaken the land above.
TERRY FATOR HOLDS ESSAY CONTEST TO HOST MILITARY FAMILY
The Mirage's headliner Terry Fator is honoring our country's service men and women and their families with a special Las Vegas weekend sweepstakes. The prize package will include four tickets to see Terry Fator, a two-night stay for a family of four at The Mirage and four round-trip tickets provided by American Airlines. The winning family will be chosen via essay nominations submitted to www.terryfator.com/military2 by July 1. Essays should be 200 words or less and account an experience you or your nominee had while serving in the military.
Column Continues Below Advertisement
CONTINUE ON TO...:

THIS WEEK'S >LAUGHLIN NEWS
LAST WEEK'S >LAS VEGAS NEWS
>VEGAS VIEW FULL NEWS ARCHIVES
Return to >"Heard Around Town"
Return to >Las Vegas Leisure Guide