MONTE CARLO UNVEILS OPEN-AIR PLAZA ON LAS VEGAS STRIP!

Monte Carlo has completed a multi-million-dollar reinvention of its Strip-facing facade with a lively open-air plaza with six dining concepts, community spaces and live entertainment.

The destination includes the existing Diablo's Cantina, two-story Mexican restaurant from The Light Group, and introduces five new indoor-outdoor restaurants: Yusho featuring inventive Japanese-inspired street food by celebrated chef Matthias Merges; Double Barrel, the first authentic roadhouse from renowned hospitality group sbe; 800 Degrees, a pizzeria from the California-based restaurateurs behind Umami Burger; BLVD Creamery, a contemporary ice cream shop with innovative flavors and unexpected dessert offerings; and Sambalatte Coffee Lounge & Espresso Bar, a Vegas-grown premium coffee experience.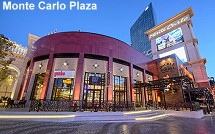 An experiential social gathering place, Monte Carlo's new plaza offers: live plaza entertainment daily from 3 p.m. until late night; Double Barrel Roadhouse's performances by the "DB girls" on elevated catwalks surrounding the bars; and Sambalatte with a Coffee Bean Roaster and state-of-the-art coffee lab, providing "The Theatre of Coffee," live entertainment on the outdoor patio.
Column Continues Below Advertisement
SIN CITY BREWING CO. OPENS NEWEST CRAFT BEER BAR ON THE STRIP
Sin City Brewing Co.'s largest bar and first Strip-front location at Harmon Avenue and Las Vegas Boulevard is now open. The 774-square-foot, walk-in bar features Las Vegas' own craft beer on tap in six signature styles as well as original Sin City merchandise. It is Sin City's first venue to serve a variety of premium cocktails and have an all-day happy hour. The Harmon Corner destination marks Sin City's third bar, joining its other two locations at Miracle Mile Shops and The Grand Canal Shoppes at The Venetian.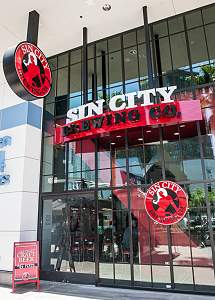 Through years of tutelage from brewing icons Dan Gordon and Dean Biersch, local owner Richard Johnson launched his company in 2005 and delivers complex yet clean tastes that celebrate the rich tradition of crafting German-style lagers and English ales. In accordance with the 1516 German Beer Purity Law, Sin City utilizes just four ingredients to create its selection of brews, including: Amber, Light, IPA, Weisse, Stout and Seasonal.
DIANA ROSS RETURNS TO THE COLOSSEUM AT CAESARS PALACE
Legendary icon Diana Ross will bring her "In the Name of Love" tour to The Colosseum at Caesars Palace on Friday, Sept. 19 at 7:30 p.m. Tickets range from $49.50 to $99.50.
Ross received the prestigious Kennedy Center Honors in December 2007 in Washington, D.C. and The Grammys™ celebrated her remarkable career in 2012 with the Lifetime Achievement Award along with dozens of other awards and nominations. Among her top films was her portrayal of Billie Holliday in "Lady Sings the Blues," "Mahogany" and "The Wiz." On Broadway, she won a Tony Award for her one-woman show, "An Evening with Diana Ross." She started in the '60s as lead singer of The Supremes with 12 No.1 singles and went on to achieve six No. 1 singles as a solo artist. Her most recent release is the "I Love You" CD.
DRAI'S AFTER HOURS RETURNS TO ITS STRIP UNDERGROUND HOME
Victor Drai's famed After Hours will open again on June 19 in its original underground space inside the new Cromwell. It will be Insomniac/EDC's official after hours venue and will kick off its return with an opening lineup featuring a string of underground techno performances for EDC weekend including: June 19 - Claude VonStroke, Justin Martin, & Kill Frenzy; June 20 - Dubfire & Nicole Moudaber; June 21 - The Martinez Brothers; and June 22 - Chris Garcia & Erik Hagleton. Drai's After Hours are Thursday-Sunday midnight to 8 a.m.
THE ALL-NEW LOBBY BAR IS NOW OPEN AT CAESARS PALACE
The former Galleria Bar at Caesars Palace is now the new Lobby Bar featuring a vibrant chandelier and expansive plush lounge seating, enwrapping the front-desk reception area to the Baccarat tables. The highly-curated beverage menu is designed by The Modern Mixologist, Tony Abou-Ganim, who developed eight specialty drinks on the menu including Cleopatra's Smile, Just for Mary, Monkey Shine, Caesar Ritz, The Wizard, the Cable Car, the Tennessee Highball #2 and The Chairman's Manhattan paying homage to the Frank Sinatra days. Abou-Ganim is the author of "The Modern Mixologist: Contemporary Classic Cocktails."
CARSON KITCHEN IS DOWNTOWN'S NEW DINING OPTION
Celebrity Chef Kerry Simon and managing partner Cory Harwell have finalized the menu for Downtown's newest dining destination, Carson Kitchen, at 124 South 6th St. Hours are 11 a.m. to 11 p.m. for lunch and dinner with dishes divided into social plates, sandwiches, flatbreads, farm and garden and desserts. All items priced under $20.
MATT GOSS EXTENDS RESIDENCY AT CAESARS PALACE
Debonair crooner and showman Matt Goss' residency at Caesars Palace in The Gossy Room has been extended with new dates through December 2014. Performances are Friday and Saturday at 9:30 p.m. Ticket are $50, $80 and $120.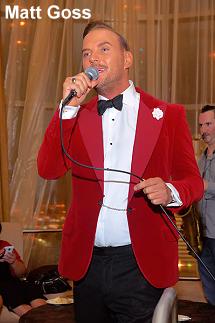 Goss became a household name internationally in the '80s as a member the pop act, Bros. His debut album "Push" went seven-times platinum, spawned 13 top five hits and remained in the U.K. charts for 84 weeks. As a recording artist, he has sold more than 17 million albums worldwide. Fellow artists Mel B, Natasha Bedingfield and Nicole Scherzinger have all performed onstage with Goss. His Caesars Palace show has burlesque dancers, an old school horn section and full band. Goss' new album, "Life You Imagine," was recently released in the United States, U.K. and on iTunes.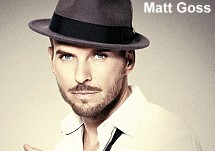 FAME - FOOD - ART - MUSIC - ENTERTAINMENT NOW OPEN AT THE LINQ
FAME - Food - Art - Music - Entertainment is now open at Caesars Entertainment's, The LINQ, and has introduced a new concept blending a high-energy Chinatown Food Market serving authentic street fare combined with live entertainment. The Asian market seats up to 200 guests inside, 50 or more on the outdoor patio, and is open daily from 11 a.m. until late.
The Market recreates a culinary bazaar, combining the street foods of Japan, Taiwan, Thailand, Korea, China and Vietnam on a menu serving dim sum, stir-fry, ramen and barbecue. Putting a twist on the popular Boba drink, a Boba bar offers several flavors made with fresh fruit, including watermelon, lychee, mango, taro and strawberry. A vast selection of microbrews from an array of Asian countries is available on tap. A stationary "food truck" offers Japanese fusion burgers with the first featured food truck being the popular local Las Vegas favorite, Fukuburger.
WOLFGANG PUCK TO OPEN HIS FIRST OFF-STRIP RESTAURANT
Twenty two years ago, Wolfgang Puck took a gamble on Las Vegas by bringing his famed Los Angeles restaurant Spago to the Strip. The gamble paid off, and the legendary chef is credited with igniting the fine dining revolution in Las Vegas that began in 1992 and continues today. After bringing five additional signature Strip restaurants to Las Vegas, Wolfgang and his Fine Dining Group will again venture into new territory with the opening of Wolfgang Puck Bar & Grill at Downtown Summerlin, this fall.
VANS WARPED TOUR WILL ROCK JUNE 19 AT UNLV INTRAMURAL FIELDS
The Vans Warped Tour® is well established as a premiere music and lifestyle festival. It will take place Thursday, June 19 at the full-grass UNLV Intramural Fields. The all-day music fest features multiple stages and showcases almost 90 bands across different genres - rock, punk, alternative, metal, hip hop and many more. The 2014 20th anniversary tour features some of the hottest up-and-coming bands including Falling in Reverse, The Ghost Inside, The Story So Far, Issues, Secrets, Real Friends, Strangers You Know, Nick Santino and Echosmith. A full list of bands can be found at www.vanswarpedtour.com/dates/las-vegas-nv. Tickets for the all-ages event are $45.50.
TICKETS ON SALE FOR AFAN'S ANNUAL BLACK & WHITE PARTY
Aid for AIDS of Nevada's (AFAN) 28th annual Black & White Party will return to The Joint at Hard Rock on Saturday, Aug. 23 from 9 p.m. to 1 a.m. Tickets are $40 and $125 VIP. Black and white attire is required for admission.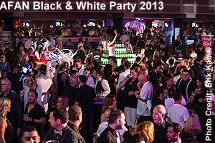 What started as a backyard gathering in 1986 to collect canned goods for those living with HIV/AIDS, has grown into a lavish the Black & White Party celebration that attracted more than 3,500 guests last year. For information, visit afanlv.org.
TOP OF NEXT COLUMN
CONCERT SERIES STARTING JUNE 20 BENEFITS FIRST FRIDAY FOUNDATION

First Friday Foundation announces Under the Lights Las Vegas, a full evening of music, art and entertainment presented by OFF SIXTH and Downtown Project and Downtown Container Park on Friday, June 20 from 9:30 p.m.–2 a.m. From musicians to DJs to custom art, the evening will support the First Friday Foundation. The event will feature the Cults consisting of Brian Oblivion and Madeline Follin, Las Vegas' own American Cream, Las Vegas DJ Technicolor, and Los Angeles-based DJ team, OverJoy. Tickets are $26 and at www.underthelightslv.com

. The concert series will also feature events on July 18 and Aug. 15.

R5 TO PERFORM AT HENDERSON PAVILION IN SEPTEMBER

R5 will perform at the Henderson Pavilion on Friday, Sept. 12 as part of their "R5: Live On Tour." The concert, which is the only show currently scheduled in the Las Vegas area, begins at 7:30 p.m. Tickets are $20 and $40 at HendersonLive.com.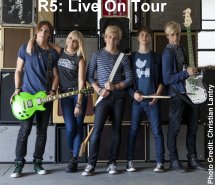 Originally from Littleton, Colo., the Los Angeles-based pop rock band is comprised of siblings Riker, Ross, Rocky and Rydel Lynch, and friend Ellington Ratliff. Since releasing their debut album, "Louder," the "Pass Me By" quintet has rocketed to No. 1 on the iTunes chart in 10 countries.
In addition to being the front man, Ross Lynch has a successful television career starring in the award-winning Disney series "Austin & Ally," now in its third season. Last year, he played the heartthrob Brady in "Teen Beach Movie," the second-highest rated Disney Channel original movie, and performed on the movie's soundtrack that reached the top 10 on iTunes and Billboard charts.
LILIAN GARCIA & THE FUSE START WEEKLY SHOW AT SUNSET STATION
Lilian Garcia & The Fuse started a weekly show in Club Madrid at Sunset Station taking place every Saturday at 10 p.m. Garcia is the first female host of "Wrestlemania" and a number of World Wrestling Entertainment's (WWE) programs. In addition to her broadcasting duties, Garcia has embarked on a singing career and released her debut album "Quiero Vivir!" in 2007, which included a duet with Grammy Award-winning artist Jon Secada, and her latest EP "My Time" was released in 2013. There is a $10 cover at the door and $5 for Boarding Pass card members.
ALIANTE HOSTS 'GIRL CODE' VS 'GUY CODE' COMEDY SHOWDOWN
The stars of the hit MTV shows, "Girl Code" and "Guy Code," will team up for a night of comedy on Saturday, July 12, inside Access Showroom at Aliante. Donnell Rawlings, Jeff Dye, Tanisha Long and Esther Ku will host two shows at 8 and 10:30 p.m. Tickets start at $17.50.
GREG MORTON HEADLINES LAUGH FACTORY AT TROPICANA
Greg Morton will headline the Laugh Factory at the Tropicana June 16-22 with two shows nightly at 8:30 and 10:30 p.m. Morton will share the stage with Manny Oliveira and host John Pate. Tickets are $34.95 and $44.95.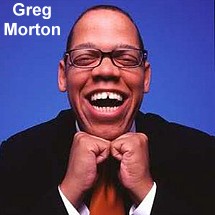 After working as an animator on the "Scooby and Scrappy-Doo Show," and providing voice-overs for Saturday morning cartoons, Morton focused his talents on stand-up comedy. He can be heard on the nationally syndicated radio program, "The Bob & Tom Show," and has opened for many performers, including Celine Dion, Dionne Warwick, Harry Connick Jr., and Luther Vandross at Radio City Music Hall. One of his musical parodies, "Obama Man," has logged more than 3-million hits on YouTube.
HUMAN NATURE APPEARED AT APOLLO THEATER'S 80TH ANNIVERSARY
Las Vegas headliners and Australian singing sensations Human Nature were part of recent musical history when they took the stage during The Apollo Theater's Spring Gala, which celebrated 80 years of iconic legendary performances. Departing from tradition of inducting legends into the Apollo Hall of Fame, this year's Gala celebrated the eight decades of artistic brilliance on the Apollo stage since 1934. Human Nature represented the Motown era during the star-studded event hosted by Wayne Brady.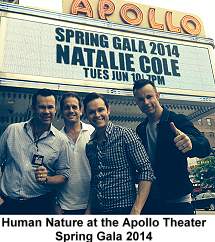 Human Nature will return to the East Coast from Aug. 6-17 with nine concert dates in five cities.
NEON MUSEUM OPENS NEW SPACE FOR WEDDINGS AND EVENTS
The Neon Museum has opened the new Neon Boneyard North Gallery on the museum's downtown Las Vegas campus. At more than 3,100 square feet, the Neon Boneyard Annex and Outdoor Wedding Chapel contains approximately 60 rescued signs making their debut at the museum, including signs from Palms Casino Resort, New York-New York, Lady Luck and O'Shea's. As with the original Neon Boneyard, the signs provide a picturesque backdrop not only for weddings and special events, but also commercial and commemorative photo shoots as well as educational programs.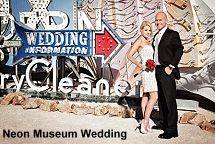 SUPERSTAR DJ ROBBIE RIVERA TO APPEAR AT GO POOL AT FLAMINGO
Top DJ Robbie Rivera will make a special appearance in Las Vegas on Saturday, June 21 at the GO Pool at the Flamingo from 3 to 5 p.m. Rivera's career was sparked in the '90s and he gained massive recognition in the Sydney Olympics with "Bang." He founded Juicy Music in 1998, which has since grown to include Juicy Beach parties in Miami, Las Vegas and New York City, featuring world-renowned DJs. Admission at the door is $20 and includes a Skyy Vodka cocktail.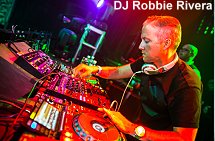 DOWNTOWN GRAND HOSTS POOLSIDE EVENTS DURING EDC
On Saturday, June 21, the Downtown Grand Las Vegas (DTLV) at PICNIC, its brand-new urban rooftop pool, will hold a "Swimming With Sharks Las Vegas" label showcase and Los Angeles invasion during Electric Daisy Carnival (EDC) week. The party day will have a DJ lineup that includes: Symbols label boss and bass music aficionado Kastle, Trippy Turtle, Lindsay Lowend, Falcons, Druid Cloak and more.
On Sunday, June 22, DTLV will host "Slow Roast Picnic," a poolside DJ showcase. The DJ lineup will include: i label boss and three-time DMC champion DJ Craze, trap music all-stars Loudpack, Mr. Carmack of legendary Team Supreme, Ape Drums, Sluggers, Codes and Louie Arson, with more to be announced. In addition, the event will feature multiple cameo appearances and surprise secret guest performances.
Tickets for both limited-capacity events start at $12.
VEGAS SNIPPETS
Commonwealth downtown has introduced Chandelier Sessions, a weekly live music jam held every Wednesday from 8 p.m. until closing hosted by multi-platinum musician, Ben Carey. This is an opportunity for up-and-coming musicians. Admission is complimentary.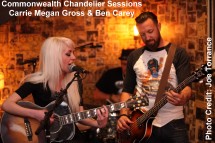 Pantry will be the new 24-hour restaurant opening this September at The Mirage. It will be conveniently located from the guest elevators and offer breakfast all day.
1923 Bourbon & Burlesque has joined forces with AFTER and unveiled a proper afterhours experience taking place every Saturday night until dawn delivering electronic underground dance music inside the speakeasy, seductively hidden off the casino floor at The Shoppes at Mandalay Bay.
The World's Tallest Observation Wheel, The High Roller, has some special summer pricing through Sept. 2 including adult daytime ticket $19.95, and four-ticket daytime family pack $49.95; nighttime $79.95. A permanent price change is children 12 and under free.
Miss Nevada USA, Nia Sanchez, won this year's title Miss USA 2014. Sanchez is a 24 year-old from Las Vegas, Nev. She is a 4th Degree Black Belt in Tae Kwon Do and has trained for more than 12 years. Sanchez has also been a face character for Disney in both the United States and abroad and has traveled to more than 13 countries.
Thunder from Down Under delivered the top burger in the second Celebrity Burger Challenge and their "Six Pack Burger" is being featured on the menu at both Las Vegas Hard Rock dining locations throughout June.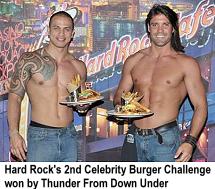 Hakkasan Las Vegas Restaurant, the distinguished two-level Cantonese dining destination inside MGM, begins summer hours Monday, June 16 through Sunday, Aug. 17: Monday through Wednesday 6-11 p.m., and Thursday through Sunday 6 p.m.-midnight.
Column Continues Below Advertisement
CONTINUE ON TO...:
THIS WEEK'S >LAUGHLIN NEWS
LAST WEEK'S >LAS VEGAS NEWS
>VEGAS VIEW FULL NEWS ARCHIVES
Return to >"Heard Around Town"
Return to >Las Vegas Leisure Guide