In August at New York-New York, the Miami rock nightclub Rok Vegas™ will open with an exclusive Strip-side outdoor VIP lounge. Rok will feature rock-inspired images throughout the oval-shaped main room. From every angle, guests will be surrounded by concert footage, live club feeds, lasers and animation. The club's interior will be designed for a comfortable yet enticing experience. Handcrafted red banquettes located right off the dance floor will have voyeurs satisfied with plenty of viewing pleasure.
The guest lineups for the 8 a.m. live shows of The View at Caesars Palace, June 23-25, have been named. On Monday, the guests will be Jimmy Kimmel, cast members from HBO's Entourage Kevin Dillon, Jerry Ferrara, Debi Mazur, and musical artist Rhianna. On Tuesday, there will be performances by American Idol David Cook and first runner-up David Archuleta, Mirage headliner Danny Gans and The Chippendales from the Rio. On Wednesday, the star lineup is Jessica Simpson and Harrah's headliner Rita Rudner.

Column Continues Below Advertisement


The View will do a 10:30 a.m. taping on June 24 featuring Venetian headliner Wayne Brady, The Hills star Heidi Montage and Bally's Jubilee! showgirls. An 11 a.m. taping on June 25 will highlight visits with Caesars Palace superstar Bette Midler and master magician Lance Burton from the Monte Carlo.
The show will be broadcast from a stage built atop the front fountains at Caesars Palace. Audience tickets are free and available online at abc.com.
Damon Wayans, famous for his three seasons as writer and costar on the Emmy Award-winning series In Living Color, will headline at The Orleans Showroom, July 4-6. Tickets are priced from $59.95, call (702) 365-7075.
It was recently announced that Wayans is taking In Living Color to the Internet. The debut of WayOutTV will be a collaboration with YouTube that will show sketch comedy videos that Damon produces. Damon describes the venture as In Living Color 2.0, an online version of the hit 1990s TV series. WayOutTV will allow the viewers to share, rate and leave comments on the sketches.
Wayans born in New York in 1960 is the third of 10 extremely talented and truly funny children born into the Wayans family. Following in his brother Keenen's comedy footsteps, in 1982, he tried his hand at stand-up comedy, and eventually earned a featured slot on NBC's famed show Saturday Night Live.
Wayans' film career includes The Last Boy Scout, co-starring with Bruce Willis and the film No Money that inspired an In Living Color sketch known as The Homeboy Shopping Network. He penned the book Bootleg, a humorous compilation of his own observations with regards to family, children, marriage and politics, and ended up on the New York Times Bestseller List in 1999.
WIZARD: The Musical Journey of Oz Composer Harold Arlen is making its Las Vegas debut at the Greek Isles with a one-month engagement beginning Saturday, June 14. The show runs Tuesday - Sunday at 9 p.m. Tickets are $46.95 and $69.95 for a special VIP package, call 702-737-5540.
Under the musical supervision of Nigel Wright, who was the music producer for American Idol, WIZARD revisits Oscar-winning Arlen's life through song, production numbers and film clips. The show is hosted by Arlen's son, jazz saxophonist Sam Arlen, who provides a narrative and anecdotes about his father's life. The show stars jazz / pop singer / pianist George Bugatti's Three Crooners who perform an array of songs from Arlen's prolific songbook.
Arlen has been cited as one of the most significant songwriters of the 20th Century. His Academy Award-winning Over The Rainbow from The Wizard of Oz has been recognized as the "No. 1 Song of the Century" by the Recording Industry Association of America. For the American Film Institute's "Top 100 Movie Songs" poll, Arlen was featured with five songs, more than any other composer.
Okay this one is wild, probably a Vegas first, and it definitely involves thinking outside the box. On July 4, Playboy cover model Tiffany Holiday will host Torrid's Red White and Boobs Independence Day celebration at Hawaiian Tropic Zone. As part of the nightclub festivities, a contest is being held for a complimentary breast augmentation courtesy of Dr. Pancholi from Cosmetic Surgery of Las Vegas. Three guest judges will include Playboy cover girl Tiffany Holiday, Playboy model and Playboy cyber girl DJ Roxanne Dawn, and Dr. Pancholi. To register for the contest, visit www.HawaiianTropicZone.com. All women who register will receive a $50 gift certificate to Cosmetic Surgery of Las Vegas.
Say Goodnight Gracie is Rupert Holmes' one-man hit Tony-nominated Broadway play that invites you to spend An evening in the uplifting company of the world's favorite and funniest centenarian, George Burns. The show will be performed July 11-13 in the 450-seat Suncoast Showroom at 7:30 p.m. Tickets are priced from $19.95, call 703-636-7075.
Say Goodnight Gracie is a life-affirming love story that recounts Burns' life story in genial anecdotes from his childhood on the lower East Side of New York through the rigors of vaudeville tours and the fortuitous meeting with Gracie Allen, whose ditzy stage persona turned him into a straight man and made both of them stars, to his close friendship with Jack Benny, and his latter-day career as a movie actor (he played God three times) and pitchman that began at age 80.
The Burns and Allen Show began in 1933 and had a successful 17-year run. The show remained one of the top radio shows drawing some 45 million listeners each week. By 1950, Burns felt they were ready for the new medium of television where they spent eight years.
Don McArt stars as George Burns. His acting career includes Broadway and national touring company shows, television, and movies, with the most recent being Too Much with Antonio Bandaras and Melanie Griffith.
Say Goodnight Gracie was Broadway's third longest-running solo performance show and was nominated for a 2003 Tony Award for "Best Play" and won the 2003-04 National Broadway Theatre Award for "Best Play."
Two new stores are opening this month at Mandalay Place shopping area. Metropark, an edgy retailer mixing contemporary fashion ina high-energy atmosphere, has opened. LUSH is a beauty product store opening on June 21.
Celebrated Living, the luxury magazine for American Airlines premium class passengers, has selected the Las Vegas Hilton as one of its top 10 U.S. business hotels. The Hilton is featured in its summer issue.
The Las Vegas Fest for Beatles Fans being held at The Mirage is a celebration of all-things Beatles. Fans from the Los Angeles-area are being offered the ultimate Beatles-centric package that includes a Magical Mystery Tour Bus round-trip ride, tickets to The Fest and a room. Chris Carter, host of Breakfast with the Beatles on KLOS-FM will be the emcee on the bus showing rare Beatles DVDs and playing trivia games. The bus will depart around 8 a.m. on June 29 and return July 1 around noon. The package is $249 based on double occupancy, visit www.thefest.com.
The Zombies will perform at The Club in the Cannery in North Las Vegas on Friday, July 18. Tickets start at $9.95, call (702) 617-5585 or (866) 287-4643.
Two American No. 1 songs and worldwide chart records made The Zombies one of the few English bands that enjoyed true global popularity. By 1963, The Zombies had built a reputation as one of the best groups around St. Albans and secured a record deal after winning "The Herts Beat Contest." The Zombies were only together professionally for three years and had just one hit in the UK in spite of enjoying much more considerable success in the rest of the world. The band broke up in 1967, although not before recording and producing a final album, Odessey and Oracle, which has come to be regarded as one of the finest albums of the 1960s.
Rod Argent and Colin Blunstone have reunited after three decades under the moniker of their former outfit. Their reunion has been embraced by the public, thanks to a repertoire that draws upon their much-cherished catalogue of Zombies and solo hits including Time Of The Season and Tell Her No.
The sexy adult "X" Burlesque show, which recently celebrated its first anniversary at the Flamingo, has been extended through July 2009 in the intimate 180-seat Second City Theatre.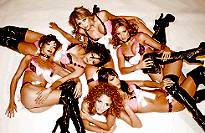 Independence Day will be celebrated at the Henderson Events Plaza from 6 p.m. to 9 p.m. on Friday, July 4, with free entertainment. There will be musical performances by The FAB, a Beatles tribute adventure, and the Henderson Symphony Orchestra. A second stage will host country entertainer Randy Anderson and rising star Emily West. The night will culminate with fireworks display. For information, call (702) 267-2171 or visit www.HendersonLive.com.
Comedy magician Nathan Burton, who recently opened his late afternoon show at the Flamingo, has taken a slightly smaller marketing approach than Toni Braxton's gigantic building wall mural that was on the front of the Strip hotel during her headlining gig. Now Burton has a larger-than-life 20,000-square-foot self image adorning the side of the building.
The Yaz show planned for July 6 at The Pearl at the Palms has been canceled due to scheduling conflicts.
The rowdy and wacky Dick's Last Resort at the Excalibur will celebrate its first anniversary on Saturday, June 28. The eatery features an ongoing loony line-up of events. On Star Wars Day, which will be June 20, you can dress up as your favorite character and compete in light saber competitions on Dick's Strip-side patio.
Susan Beaubian, who plays one of the "power women" in Menopause the Musical at the Las Vegas Hilton, is shooting a 10-day guest starring role on the popular CBS Cold Case series.
Wayne Newton has taped NBC's Celebrity Family Feud and it will air in early July. Also appearing on Newton's episode is Joan Rivers, Raven-Symone and Ice T.
Louis Prima Jr. carries on his father's music legacy when he headlines at the Las Vegas Hilton June 29 at 7 p.m. in the Hilton Theater.
An opening reception was held recently at the new Allure Las Vegas 41-story luxury condominium tower that's located right off the Strip at Sahara Ave. The tower features 428 units and 15 distinct studio, one, two and three bedroom floor plans, as well as tower suites and two-story penthouses priced from $400,000.
International golf and landscape artist Brent Hayes has been commissioned to create an original oil-on-canvas painting depicting the picturesque 17th hole at the TPC Summerlin course, which is the host course of the Justin Timberlake Shriners Hospitals for Children Open being held Oct. 13-19. The specially commissioned piece will be reproduced to a 16 x 24 limited edition canvas and included in all the Pro-Am gift packages. Only a small number of reproductions of this exclusive work titled "THE HILL at TPC Summerlin" will be created. The 17th hole is a long and narrow par-3 downhill guarded by water on the left.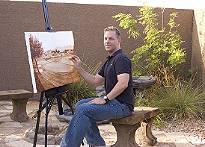 The 4th annual Folklorico Challenge USA (FCUSA) National Finals and the 2nd Las Vegas Open FCUSA will be held on Aug. 9, at Palace Station in Salon A & B at 10 a.m. Additional entertainment will be provided by Tanya MacKenna, a 16-year-old signer from Encinitas, Calif. Tickets are $20.
Through August, the Sahara is offering the opportunity for hotel guests to win an instant upgrade to one of the hotel's most requested and famous classic penthouse suites - The Beatles Suite, where the Fab Four stayed in 1964, or The Presidential Suite, which has hosted such luminaries as the King himself, Elvis Presley. For each summer month, one random winner will be selected.
Marché Bacchus French Bistro & Wine Market is a Las Vegas' hidden gem located in the northwest part of the valley at Desert Shores. The French eatery offers Al Fresco dining with picturesque views and an adjoining retail wine shop featuring more than 950 references. Marché Bacchus is open daily for lunch and dinner and offers wine tastings every Saturday from 11:30 a.m. - 2 p.m. The restaurant operates as Bistro Bacchus at night with an indoor dining area that serves dinner from an exhibition kitchen. To learn more call (702) 804-8008.
CONTINUE ON TO...:
>THIS WEEK'S LAUGHLIN SEGMENT
>LAST WEEK'S LAS VEGAS SEGMENT
>VEGAS VIEW FULL ARCHIVES
>Return to "Heard Around Town"
>Return to Las Vegas Leisure Guide