RIVERSIDE HOSTS ANNUAL COUNTRY TALENT SHOW
The 29th annual Colgate Country Showdown will be held at the Riverside on Thursday, June 24 at 6 p.m. Highway Country (KIXW-FM and KIXF-FM) will host its 11th local contest in the nationwide country music talent search. The show is free for the audience and due to popular demand was moved to the Starview Room.
Individual acts will compete for prizes and an opportunity to perform at the state contest. State winners vie for a $1,000 cash prize and will advance to a regional competition in the fall. The five regional winners are awarded an all-expense-paid trip to the national final where they compete for the $100,000 grand prize and national title.
SEPTEMBER CLASSIC CAR EVENT RAISES MONEY FOR CHARITIES
This year's annual Roddin' on the River event will be held in Laughlin, Sept. 23-26. The event boasts more than 600 classic cars from throughout the Southwest and as far away as Canada and Alaska and music from the 1950s, 60s and 70s.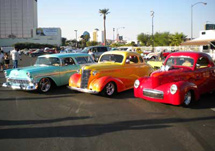 Nearly a half a million dollars has been raised for dozens of charities in the Colorado River communities around Laughlin, thanks to a mutual love of classic cars between Don Laughlin, town founder and owner of the Riverside Resort, and the River Cruizers Car Club of Bullhead City, Ariz.
The River Cruizers Car Club was formed in 1990 in an effort to organize volunteers for a tri-state area car rally, which is now one of the largest in the West. The Club has more than 125 members and welcomes no less than 8,000 visitors and guests to the event. The Club members pay $35 yearly dues and must have a qualifying vehicle that is 25 years of age or older. The Club meets the first Tuesday of each month at 7 p.m. at the Casa Serano Restaurant in Arizona.
For four days, the member volunteers host poker runs, a poker walk and luncheon for ladies, creeper races, stool races, live auctions, "open header, decimal" competitions, kid's games, 50/50 drawings, dinners and several awards. But "the three big awards" are the most sought after and winners have bragging rights to the next year's t-shirt, Web site features and being front and center on most other collateral. Current top award vehicles are a 1956 Blue Chevy Nomad, 1941 Red Willys Coupe and 1938 Yellow Chevy Coupe.
Among the 90 some trophies and special jackets, the biggest award is the top honor, Don Laughlin's Pick. Each year, the resort owner and entrepreneur surveys the goods and picks his favorite car. The classic car buff knows his stuff and can be seen each year at the world renowned Barrett-Jackson Classic Car Auction in Scottsdale, Ariz. His purchases often end up in the Riverside's Classic Car Collection Exhibition Hall.
The other two top honors are the Participants' Choice, which is awarded by a vote of the official entrants and the honor for the River Cruizers' President's Choice.
The event has become so popular, the Club and Don Laughlin have added a January event called Chillin' on the River. Both shows are open to all years, makes and models street rods, muscle cars, trucks, four by fours. To sign up, go to www.rivercruizers.com for a printable entry form or contact Ellen Bridges at ew@citlink.net or 1-928-505-8457.
HARRAH's LAUGHLIN UPDATES POKER OFFERINGS
Harrah's Laughlin has announced changes to its poker tournament offerings including opportunities for a losing bad beat and a $10,000 seat in the World Series of Poker® event held at the Rio in Las Vegas.
Poker players participating in the new bi-monthly Free Roll tournaments may win their share of cash or a coveted seat in the World Series of Poker® main event. Free Roll tournaments are held the first and third Monday of each month. The top ten players will be paid out at each bi-monthly tournament with a guaranteed $3,000 prize pool. The top two players advance to the Harrah's Laughlin WSOP Invitational Tournament (date to be determined), where the winner will be awarded a $10,000 seat in the WSOP main event held at the Rio in Las Vegas.
The Bad Beat Progressive Jackpot is back with the no-limit jackpots starting at $2,500 and limit jackpots starting at $1,000. The daily poker tournaments were refreshed providing more chances to enter. All daily tournaments are No Limit Texas Hold 'Em.
The poker room offers daily Aces Cracked, Four-of-a-Kind, Straight Flush and Royal Flush Progressive promotions. The poker room also offers free poker lessons daily at 9 a.m. Player tracking for Total Reward members continues to be available.
TOP OF NEXT COLUMN
THE EDGEWATER PROVIDES LAUGHS WITH 'COMEDY ON THE EDGE'
The Edgewater is continuing with ongoing "Comedy on the Edge" in Kokopelli's Showroom every Friday, Saturday and Sunday at 7 p.m. Each show features two stand-up comedians. Upcoming acts are: June 18-20—Andrew Norelli and Eric Toms: June 25-27—Mick Lazinski and Danny Morris; July 2-4—Dante and Ken Pringle. Tickets are $10 at the Edgewater Casino Cage or the door.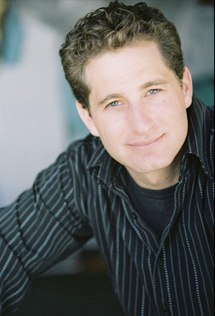 Andrew Norelli has appeared on "The Late Late Show with Craig Ferguson," Comedy Central's "Live at Gotham," Comedy TV, Entertainment Studios with Byron Allen, and "Comics Unleashed," where he was also a staffed joke writer. He took second place placed in The Boston Comedy Festival.
QUICK CLIPS
It will be a magical time at the Tropicana's Pavilion Theater on June 19 when magician Jason Latimer performs at 8 p.m. Latimer fell in love with magic as a child and had the privilege of studying at the famous Magic Castle in Los Angeles all through his teens. Tickets are $14.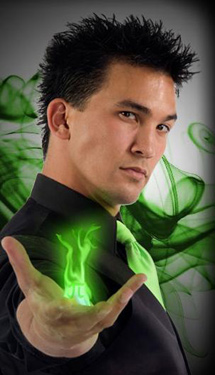 Riders in the Sky will perform in Don's Celebrity Theatre at the Riverside, June 22-27. Tickets are $29.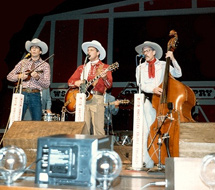 Fourth of July free fireworks displays will take place at the beach area at the Avi just after dusk and in the sky above casino row with the annual "Rockets Over the River."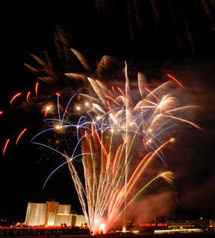 At the Lagoon Pool at the Avi on July 16 and 17, there will be a pool party with music by Abraxas, a tribute Santana band. Admission is free with music at 7 and 9:15 p.m. and food/drink sold separately.
On June 19, the Avi will host a luau at 7 p.m. with a feast, drink specials and an 8 p.m. show featuring the Hot Lava Polynesian Revue. Tickets are $15.99 for feast, call 800-585-3737.
Tom & Sharon's Ballroom, Dance Party at the Dance Club at the Riverside will be held again from 1:30 -4 p.m. on June 26. There is an admission fee. For details on parties or dance classes, call 928-754-2097.

CONTINUE ON TO...:

>THIS WEEK'S LAS VEGAS NEWS
>LAST WEEK'S LAUGHLIN NEWS
>VEGAS VIEW FULL ARCHIVES
>Return to "Heard Around Town"
>Return to Las Vegas Leisure Guide