LAS VEGAS MOB EXPERIENCE WILL OPEN AT TROPICANA
The Las Vegas Mob Experience will open at the Tropicana in December and use the latest "interactive entertainment technology" to immerse guests in a presentation of the rise and fall off organized crime through first person accountings offered by apparitions (3-D holograms) of famed gangsters, Guests will also have the opportunity to meet the "family members" of a number of the men and women who will be highlighted throughout the Experience.
Column Continues Below Advertisement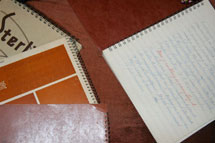 The Experience will be anchored by a collection of authentic artifacts, memorabilia, photos and videos. An example is the four-notebook diary of Meyer Lansky, a longtime partner of Bugsy Siegel and the statistical mastermind behind the National Syndicate's financial empire.
BRAD GARRETT OPENS HIS OWN COMEDY CLUB AT TROPICANA
Emmy award-winning actor/comedian Brad Garrett will be the first to headline his own new comedy club, "Brad Garrett's Comedy Club" at the Tropicana from Monday, June 28 through Sunday, July 4. Following his initial week, Garrett will make additional club appearances – some scheduled and some unexpected – both doing stand-up and greeting patrons at the door. As part of the two-year exclusive deal with Tropicana, Garrett's comedy club will be the only place in Las Vegas where he'll perform. Also scheduled to headline at "Brad Garrett's Comedy Club" in 2010 are Kevin Nealon, Dzom Irrera, Bob Zany, Rondell Sheridan, Rocky LaPorte and other surprise celebrity guests.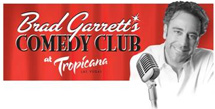 Raised in Woodland Hills, Calif., Garrett made his first appearance on "The Tonight Show Starring Johnny Carson" when he was only 23. He made his foray into the world of television with roles on shows including "Rosanne," "Mad About You" and "Seinfeld." Garrett is best known for his role as Ray Romano's big brother Robert on the CBS series "Everybody Loves Raymond."
Shows will be nightly: Sunday – Thursday at 8 p.m. and Friday and Saturday at 8 and 10 p.m. Admission starts at $39, call 702-739-2417.
ROCK & RITA's AT CIRCUS CIRCUS OPENS JULY FOURTH WEEKEND
Rock & Rita's will open at Circus Circus over the Fourth of July weekend and feature flair bartending, live music and signature dishes such as "The Ulcerator" at the sprawling, 14,000-square-foot party spot. The team that has made Kahunaville at Treasure Island an enduring success is behind this new venue.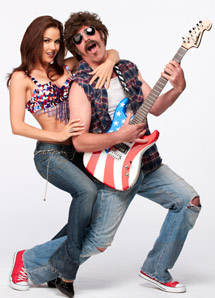 The Rock & Rita's theme is built on the concept of two namesake characters Rock and Rita that celebrate the culture of American rock. The story of Rock & Rita is incorporated throughout the restaurant – from the overall design, to the rocked out tour bus bar that occupies the front entrance. Road signs displaying "WARNING PARTY AHEAD" are a tribute to Rock & Rita's ultimate party band, Road Trip, playing everything from classic rock to funk and R&B.
The cocktail menu will have such selections as "The Rockin' Rita," "Bubblegumtini" and "The Porcelain God," which will be served in a toilet-shaped souvenir cup.
The All-American décor will integrate patriotic touches with technology to create a fun, interactive atmosphere that will include custom beer-pong tables and astounding visuals. The Circus Circus Race & Sports Book Bar, located just outside the venue, will also be revamped to take on the Rock & Rita's theme.
Rock & Rita's will be open daily for breakfast, lunch, dinner and late-night dining.
LOUIE ANDERSON ENDS HIS RESIDENCY AT THE EXCALIBUR
It's hard to recall a time when Louie Anderson wasn't headlining in Las Vegas and his residency run with his "Larger Than Life" show at the Excalibur will end on Aug. 1. However, Anderson is always working and now he even has his "Stand Up Boot Camp" workshops to keep him busy.
THOMAS SABO HOSTS VIP OPENING FOR NEW STORE AT VENETIAN
Sterling silver maestro and international jewelry designer Thomas Sabo recently hosted the VIP grand opening of his second Las Vegas location in Las Vegas at the Grand Canal Shoppes at The Venetian. Designer Nicky Hilton, socialite Olivia Palermo and professional BMX rider Ricardo Laguna were among the 200 guests who walked the red carpet, visited the intimate store and then went next door to Taos for a party.
The new store reflects Sabo's distinct design personality with its décor of silver and black highlighted with orange pops of color. Rhinestone encrusted skulls greet customers at the door displaying the latest trends in necklaces, earrings, rings and charms. Lining the walls are the sterling pieces. Sabo's three product lines are sterling silver, new watches, and a charm club for which he has designed more than 400 charms to mix and match with his necklaces, bracelets, earrings and mobile phones.
Sabo has been designing jewelry for 25 years and opened his first shop in Germany to an overwhelming positive response. The brand quickly expanded to more than 160 stores across five continents and the collections are sold in more than 2,000 retailers and 40 worldwide airlines' in-flight product lines.
TABÚ ULTRA LOUNGE STARTS X LEVEL MONDAYS AT MGM
MGM Grand's Tabú Ultra Lounge and XRadio.biz have launched Vegas' newest industry night – X Level Mondays with music and fashion and ladies drinking free from 11 p.m. to midnight. Model servers make Tabú their runway, showcasing the latest Karma fashions. Simultaneously, judges from XRadio.biz, Karma PCT Clothing and Ketel One search the crowd to find a gorgeous girl to be the new "face" of Karma PCT in a future national ad campaign. Finalists are selected each week, with the winner to be announced on Monday, June 28.
ERYKAH BADU STOPS AT THE PEARL AT THE PALMS
International singer/songwriter Erykah Badu will make a stop at The Pearl Concert Theater inside the Palms on Thursday, June 24. Tickets are $45 and $65, call 800-745-3000.
Working as a teacher and part-time singer in Dallas, Erykah Badu (born Erica Wright) saw her music career take off after opening for singer D'Angelo. The music industry recognized her talent and she opted to sign with a smaller label Kedar Entertainment and released her first album, "Baduizm" in 1997, which went multi-platinum. After more hit albums, Badu released "New Amerykah, Pt. 1: 4th World War" in 2008 and her most recent studio album in 2010, "New Amerykah, Pt. 2: Return of the Ankh."
BAR+BISTRO OPENS IN DOWNTOWN ARTS FACTORY
The Italian eatery Bar+Bistro opened in late March at the Arts Factory downtown in the space formerly occupied by Mediterranean predecessor Paymon's Café and before that Tinoco's. The restaurant's executive chef Franco Spinelli was born in Milan, Italy, 62 years ago. His first restaurant was in Tahiti in 1977 and he opened Panevino across from McCarran Airport's runways in 2001.
The 80-seat Bar+Bistro is 3,000 square feet and holds an additional 12 guests on an outdoor patio. The restaurant is open for lunch Monday-Friday and diner from 5-10 p.m., Tuesday through Saturday.
TOP OF NEXT COLUMN
QUICK CLIPS
New York institution, P. J. Clarke's is going to open an outpost in Las Vegas at the Forum Shops at Caesars. The legendary New York restaurant founded 125 years has a colorful history and will no doubt incorporate the old-time Manhattan bar décor at the new eatery.
The Wolfgang Puck Fine Dining Group has opened Wolfgang Puck Pizzeria & Cucina inside Crystals at CityCenter in the former Brasserie PUCK space. Puck is featuring his famed wood-oven baked pizzas, pastas and specialty dishes.
Bonkerz Comedy Club at Palace Station is veering away from having new headliners each week and going with longer runs. Hypnotist Don Barnhart is the main guy through July 3 and he'll be followed by "America's Got Talent" scene stealer crazy Grandma Lee from July 5 through Sept. 4.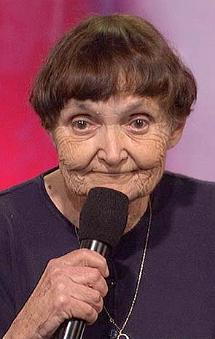 Want some late night laughs? The House of Blues has started "Laughter Hours Comedy" in the restaurant's courtyard are. The "invited mic" for up-and-coming comics starts at midnight and costs $5.
The Village Lake Las Vegas is hosting free Thursday night "Movies on the Lake" at 8 p.m. on the lawn through Aug. 26.
MOzen Bistro at Mandarin Oriental has introduced Sunday Sake Brunch with free-flowing sake cocktails, champagne or mimosas. The brunch includes buffet-style appetizers and desserts, a la carte-style main dishes and hand-passed appetizers.
Wednesday, June 23 will be National Pink Day. In honor of the day, if you dress in pink and visit the concierge at The Forum Shops at Caesars that day between 10 a.m. to 11 p.m. you can receive a special VIP shopping booklet loaded with a variety of exclusive offers and valuable discounts with the mall's retailers. Primm Valley Casino Resorts will be celebrating the 4th of July with an impressive $40,000 fireworks show at dusk lighting up the open desert sky at Stateline. From noon to 4 p.m. thrill seekers will be able to ride the attractions free. Rooms over that weekend begin at $50, call 800-FUN-STOP.
SKYBAR at the Hard Rock will host the next Rock 'n' Roll Wine event on Saturday, June 19 at 7 p.m. The evening's entertainment will feature the Makepeace Brothers, who recently completed touring with Jason Mraz. Tickets are $39.95 in advance, call 702-240-3066, and $44.95 at the door.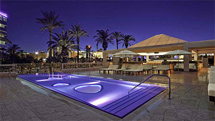 As part of the "Friday Night Live" free concert series at The Village Lake Las Vegas, contemporary Christian singer/songwriter Annie Meadows will sing on Friday, June 18 from 7-10 p.m. The former rock singer will perform the first half of the evening solo and then will be joined by a full band.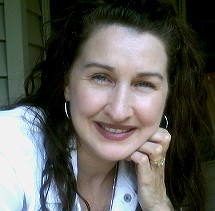 Stand-up comedians John DiCrosta, Sean Corvelle and Bob Larson will share the Riviera Comedy Club stage the week of June 14 – 20. DiCrosta, who has been seen on national TV does dozens of voices, off-beat impressions, topical humor, sight gags, uses a few props, and sometimes adds ventriloquism.
Hash House A Go Go is holding a photo contest for Father's Day. Customers under the age of 10 can submit their favorite photo of themselves with their father by June 17 to be judged by a panel of Las Vegas celebrity fathers. After being notified by e-mail on Friday, June 18, the winner will receive brunch on Father's Day valued at $100 as well as dinner once a month for the following year.
Comedy-magician Mac King has released the "Campfire Magic" app for the iPhone and iPad. The app is a supplement to his recently launched book "Mac King's Campfire Magic," and allows budding magicians and fans to practice at home or on the go with easy-to-learn instructional videos at their fingertips.
HENDERSON OFFERS ENTERTAINMENT AND FIREWORKS FOR JULY 4
Henderson's Fourth of July celebration will feature free live entertainment and a fireworks show at 9 p.m. on Sunday, July 4 from 6 p.m.-9 p.m. at the Basic High School football field. There will be two stages with live music performed by Blonde Sided, country music entertainer Randy Anderson, and the Henderson Symphony Orchestra. Activities will include games plus food and beverage vendors. For information, call 702-267-2171 or visit www.HendersonLive.com.
THE SPINNERS PRESENT TIMELESS HITS AT THE CANNERY
Soul vocal group the Spinners will perform their collection of timeless R&B hits in The Club at the Cannery on Saturday, June 26. The Spinners have been nominated for six Grammys, inducted into the Vocal Group Hall of Fame and earned 12 gold records. Tickets are in four levels from $9.95 to $59.95 for a table of four, call 702-507-5757.
One of the most popular musical groups in the 1970s, the Spinners' first Top 10 and million-selling hit single, "I'll Be Around," was actually the B-side of the track "How Could I Let You Get Away." The group's collaboration with Dionne Warwick on "Then Came You" was a No. 1 hit.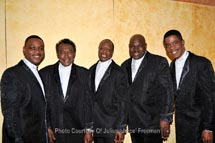 OLETA ADAMS PERFORMS AT BOULDER STATION's RAILHEAD
Soul, jazz and gospel singer Oleta Adams will perform at The Railhead at Boulder Station on Saturday, June 26. Tickets range from $19.50 to $39.50.
Adams was raised by a minister, where she sang gospel music in her father's church for many years. In 1985, she was discovered by Curt Smith and Roland Orzabal of Tears for Fears. Adams began her solo career with her 1990 debut album, "Circle of One" that included the No. 1, Grammy-nominated cover "Get Here." She released her eighth studio album "Let's Stay Here" in April 2009.
THE SCINTAS PERFORM AGAIN AT THE SUNCOAST
Following two engagements earlier this year, The Scintas will return to the Suncoast Showroom for two Independence Day weekend performances, July 3 and 4. Tickets start from $29.95, call 702-636-7075.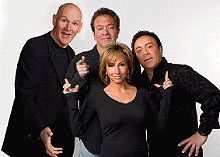 The Scintas from Buffalo, N.Y. are a foursome comprised of brothers Joey and Frankie, sister Chrissi and "Irish Scinta" Peter O'Donnell. The Las Vegas act fills their shows with music, comedy and impressions. Although not related, O'Donnell has been a member of the close-knit clan since 1988. He has played gigs with more than 700 bands.
Column Continues Below Advertisement



CONTINUE ON TO...:
>THIS WEEK'S LAUGHLIN NEWS
>LAST WEEK'S LAS VEGAS NEWS
>VEGAS VIEWS FULL NEWS ARCHIVES
>Return to "Heard Around Town"
>Return to Las Vegas Leisure Guide