MARGARITAVILLE CASINO WILL OPEN THIS FALL AT FLAMINGO
Margaritaville and the Flamingo have announced plans for a gaming experience called Margaritaville Casino at The Flamingo. Adjoining Jimmy Buffett's Margaritaville restaurant and directly accessible from the Strip sidewalk, the 15,000-square-foot Margaritaville Casino will offer 22 gaming tables, 220 slot machines and the centerpiece "5 O'Clock Somewhere" bar. The venue is expected to open this fall is taking over the space that was formerly a restaurant.
Column Continues Below Advertisement
NEWTON MAKES A GESTURE OF LOVE
This month, 200 rescued lovebirds were delivered to their new permanent sanctuary at Wayne Newton's Casa de Shenandoah. As part of Animal Planet's documentary series, "Confessions: Animal Hoarding," the birds were rescued from a home where the owners allowed the birds to live freely in their house. The owners relinquished the lovebirds voluntarily. The episode will air on Friday, Aug. 12.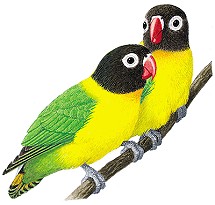 Expected to open at the end of 2011, Wayne Newton's Casa de Shenandoah will open to the public allowing fans to see the mansion and grounds. The 42-acre ranch includes Arabian horses and other wildlife, including wallabies, penguins, sloths and now lovebirds.
WSOP ANNOUNCES $1 MILLION BUY-IN POKER TOURNAMENT
The World Series of Poker® (WSOP) is adding a new $1 million buy-in poker tournament as part of the 43rd Annual World Series of Poker on July 1, 2012, to benefit ONE DROP, a non-governmental organization aiming to fight poverty worldwide by supporting access to water and raising each and every one's awareness of water-related issues. The three-day tournament will be held at the Rio. U.S. television network ESPN intends to televise this event as part of its coverage of the 43rd Annual World Series of Poker in 2012.
The BIG ONE for ONE DROPTM tournament is expected to generate one of the largest prize-pools in tournament poker outside the WSOP Main Event and award the winner millions of dollars and a specially-designed WSOP platinum bracelet.
ONE DROP has received commitments from 15 participants thus far and will max out at 48 players. A few of the participants are: Guy Laliberté, Chair of ONE DROP and Founder of Cirque du Soleil; Bobby Baldwin, four-time WSOP gold bracelet winner and President & CEO City Center Group; and Phil Ruffin, owner, Treasure Island Resort.
Caesars also intends to offer two additional entries. One will go to the winner of a Mega Satellite, while the other will come from a yet to be determined promotion.
FREMONT STREET EXPERIENCE HOLDS 80s CONCERT SERIES
The Fremont Street Experience downtown is presenting the music and culture from the 1980s decade with the "Nina Blackwood's Absolutely 80s" summer concert series. The 100-day promotion runs through Labor Day Weekend. Fremont Street Experience hosts Dale Bozzio & Missing Person; Colin Hay of Men at Work; Wang Chung with Naked Eyes; Loverboy; and more. Additionally, the nightly Viva Vision shows include custom productions remembering the 80s.
DREW CAREY's IMPROV-A-GANZA RETURNS TO MGM
Drew Carey, stand-up comic, producer, writer and host of "The Price is Right," will bring the "Drew Carey's Improv-A-Ganza" back to the Hollywood Theatre at MGM Grand June 23 – 25 at 9 p.m. Carey will begin each night with his stand-up comedy, followed by the Improv All-Stars' cast joining him onstage for a lively, unrehearsed, no-holds-barred show with audience participation.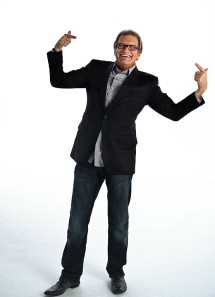 NAS TO PERFORM AT CHATEAU NIGHTCLUB
Grammy nominated hip-hop artist and actor, Nas, will perform at Chateau Nightclub & Gardens at Paris on Saturday, June 18. His current album, "Distant Relatives," is collaboration with reggae musician Damian Marley, and sold more than 57,000 copies the first week. Nas' most recent studio album "Life is Good" is set to be released later this year.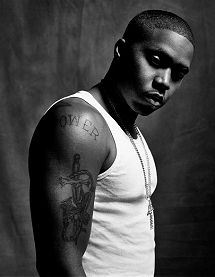 POPOVICH's 'COMEDY PET THEATER' RETURNS TO V THEATER
After a nationwide tour, Gregory Popovich's "Comedy Pet Theater" will be back at the V Theater inside Miracle Mile Shops at Planet Hollywood with a summer run from June 16 through the first week of September. The 4 p.m. daily show features a cast of more than 30 rescued animals including housecats, dogs, parrots… even geese and mice.
Popovich is a fifth-generation circus performer. He released his first book "You CAN Train Your Cat" in late 2009 and has been featured on network television.
MARY WILSON OF THE SUPREMES HEADLINES AT RIVIERA
Legendary performer, Mary Wilson of The Supremes, will headline her new show, "Life's Been Good to Me," in the Starlite Theatre at the Riviera, June 22 - July 3. The Supremes recorded 12 No. 1 hits from 1964 to 1969. Since then, Wilson has written a best-selling autobiography, "Dreamgirl: My Life as a Supreme," and continued to perform on stage and screen. Tickets are $29.95 to $59.95, call 702-794-9433.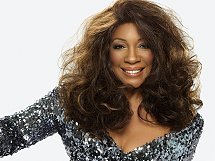 MONSTER TRUCK TOUR STOPS IN PRIMM
The All Star Monster Truck Tour will visit Buffalo Bill's Star of the Desert Arena in Primm, Nev., Friday, June 24 at 7:30 p.m. Audiences will experience death-defying freestyle motocross, a Monster Truck wheelie competition, side-by-side truck racing, and a Monster Truck freestyle jam session.
All tickets are $15 and include entrance to the Pit Party located on the floor of the arena. Following the show, Monster Truck rides will be available on THUMPER in the parking lot for an additional $10.
ETHEL M CHOCOLATES CELEBRATES 30 YEARS
This year marks the 30th Anniversary of one of Southern Nevada's sweetest attractions, Ethel M Chocolates, which was founded in 1981 by Forrest Mars Sr. of the legendary MARS family.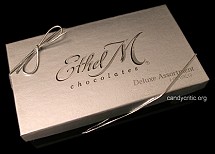 To celebrate this milestone, the Henderson chocolate company will launch a 30th Anniversary Commemorative Collection this summer, featuring 32 original pieces packaged in a Las Vegas-themed keepsake tin.
TOP OF NEXT COLUMN
PAGEANT AND AWARDS SHOWS TELEVISED FROM LAS VEGAS
The "Miss USA Pageant" will celebrate its 60th anniversary at Planet Hollywood and air live on NBC on Sunday, June 19. Fifty-one beautiful women from around the world will compete for the crown.
The "38th Annual Daytime Emmy Awards" will be held at the Hilton on Sunday, June 19 and broadcast on CBS. Comedian Wayne Brady will host the live telecast.
The National Hockey League will host its 2011 Awards in Las Vegas at The Pearl Concert Theater at Palms Hotel on June 22. Actor, writer and comedian Jay Mohr will return as host of the event. Tickets are on sale.
CAESARS STARTS REWARD PROGRAM FOR MEETINGS CLIENTS
Caesars Entertainment Corporation has launched Total Rewards Meetings & Events, the gaming industry's first ever reward and loyalty program targeted specifically to meeting and event clients. The program allows meeting and event customers to earn Total Rewards credits for the business they bring to Caesars Entertainment properties across North America. Cardholders can then redeem their credits for the same goods and services as other Total Rewards members.
JAZZ & JAMCAST EVERY TUESDAY NIGHT AT FREAKIN' FROG
Every Tuesday night at the Freakin' Frog located across from UNLV on Maryland Parkway, entertainment starts with jazz standards at 9:30 p.m. with local and visiting artists invited to sit-in, play and sing. At 10:30 p.m., JamCast kicks in, with talent from major shows stopping by. Grammy award winning musician Skip Martin (Kool & The Gang) and Niles Rivers (Simba in "The Lion King") host the weekly event. There's no admission or cover charge.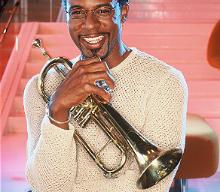 DSA TREATED TO PROGRESSIVE DOWNTOWN FAM TOUR
Destination Services Association (DSA) was recently treated to a downtown progressive FAM tour starting with a ride on Flightlinez. For this adventure ride over and under the Fremont Street Experience (FSE), you buy your pass and sign your waiver in a store at ground level and then take the elevator to the fifth (top) floor of the FSE parking garage. It's fun and really not scary. If you're wearing a dress, the straps tuck it up under you; but it's still best to wear underwear. For personal items, purses, flip flops, etc., a bag is provided that is linked onto one of the straps so that the bag rides down with you. Therefore, there is no excuse not to ride.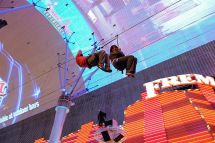 The rest of the tour included receptions at the Fremont's 2nd Street Grill, Four Queens' Canyon Club, Fitz's Don B's restaurant, Golden Nugget's Gold Diggers Balcony, two Viva Vision shows, FSE stage shows, and a famous shrimp cocktail at the Golden Gate.
GIRL SCOUTS WILL BE ON STAGE WITH RYAN AHERN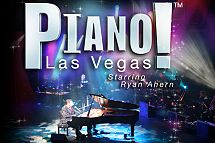 Girl Scouts will perform on stage during the 2:30 p.m. show of "Piano! Las Vegas™" starring Ryan Ahern on June 18, at the V Theater inside Miracle Mile Shops at Planet Hollywood. The performance will be the culmination of a two-day program where girls earn their Making Music and Music Fan badges.
QUICK CLIPS
Chateau Nightclub & Gardens at Paris will host the official "after party" for the 2011 Miss USA Pageant on Sunday, June 19 at 9 p.m.
Hip Hop sensation Kid Cudi's The Cud Life Tour will hit The Joint at the Hard Rock on Friday, June 24 with special guest Chip Tha Ripper. Tickets start from $39.50. Cudi released his sophomore album, "Man on the Moon II: The Legend of Mr. Rager," in 2010. The album featured Kanye West, Mary J. Blige and GLC.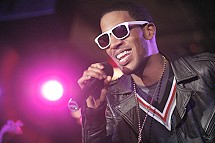 Rock 'n Roll Wine will hold its next signature event featuring more than 25 wines and music by Cali acoustic surf reggae artist Headshine on Saturday, June 25 at Eve Nightclub inside Crystals at CityCenter. Tickets are $35 with complimentary admission to the nightclub included afterwards.
Another Rock 'n Roll Wine event will be held at Comme Ça inside The Cosmopolitan on Thursday, June 16 from 6 - 8 p.m. and showcase an open wine bar of Rock 'n Roll Wine's award-winning mixtures and a half-price Hourglass menu. There is no charge to attend and guests that RSVP at http://www.rnrwine.com/thursdays.html will receive an open wine bar wristband.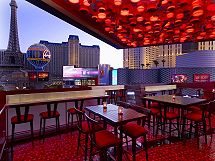 On June 18, you can sample 25 top breweries (nearly 100 beers) at the first Great Vegas Festival of Beer at the new Tivoli Village in Summerlin.
The cast of MTV's "The Real World: Las Vegas" - Dustin Zito, Heather Marter, Leroy Garrett and Nany Gonzalez - wrapped up the success of the show's 25th season and their wild time in Las Vegas by one last party as a group in Sin City at the Gallery Nightclub in Planet Hollywood.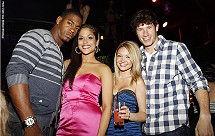 Payless Car Rental has unveiled a specially equipped wheelchair accessible minivan by RollX Vans, providing physically challenged travelers with an alternative for their car rental needs. Located at the McCarran International Airport Car Rental Facility, Payless Car Rental is one of only seven airport car rental locations nationwide to offer these wheelchair friendly vehicles.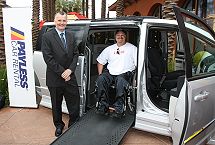 Temptation Sundays at the Luxor was voted the 2010 Best Gay Event by "Q Vegas" and it has opened again for this season at the Luxor's North Pool. Different themes are offered every Sunday.
Palms Place Pool has kicked off its weekly pool party, The Sunday Scene.
Insomniac's 15th Annual Electric Daisy Carnival will be held at Las Vegas Motor Speedway on June 24 - 26. This event is one of the biggest music festivals in the United States.
As part of the Hard Rock Las Vegas Cafes' 40 Charitable Acts in 40 Days, police, firefighters, active military and emergency medical technicians are invited to Hard Rock Cafes from June 14 through 19, for Burger Badge Bash. By showing their badge and paying 71 cents, these civil servants will get a Hard Rock Legendary Burger.
Hash House A Go Go is holding its second Father's Day photo contest for children under age 10. Photos should be submitted to PR Plus by June 14. The winner will receive brunch on Father's Day valued at $100 and dinner once a month for the following year.
The Springs Preserve is hosting the 2,500-square-foot, larger-than life, interactive Arbor Day Foundation and Dimensions Educational Research Foundation collaborative traveling exhibit "Exploring Trees Inside and Out" through Sept. 5.
Column Continues Below Advertisement
CONTINUE ON TO...:
>THIS WEEK'S LAUGHLIN NEWS
>LAST WEEK'S LAS VEGAS NEWS
>VEGAS VIEWS FULL NEWS ARCHIVES
>Return to "Heard Around Town"
>Return to Las Vegas Leisure Guide