GENIUS OF LEONARDO DA VINCI COMES TO LIFE AT VENETIAN!

Beginning June 15, Imagine Exhibitions Inc. will present "Da Vinci – The Genius," a comprehensive exploration of Leonardo da Vinci's work for a limited engagement at The Venetian®. The interactive experience will immerse guests in da Vinci's timeless brilliance through full-scale interpretations of the mastermind's inventions and exhibits of his iconic art.

There will be 200 unique pieces including 75 life-size machine inventions, three-dimensional renderings of da Vinci's most notable Renaissance works and an eye-opening, in-depth analysis of his most famous piece, "Mona Lisa." The exhibition features 11 compelling themed areas of da Vinci's work. Other highlights will include: reproductions of "Virgin of the Rocks" and "The Annunciation;" the preparatory drawings of the "Anghiari Battle;" three-dimensional interactive presentations of "The Last Supper," "Vitruvian Man" and the "Sforza Horse" sculpture; and da Vinci's mysterious alphabet and writing techniques. Tickets are $25 for adults, $23 for seniors and military, and $18 for children 12 and under.


Column Continues Below Advertisement



CELINE RETURNS TO CAESARS PALACE AND READIES NEW CDS

Celine Dion has returned from recovering from a virus to her residency at The Colosseum at Caesars Palace for a 36-show run this summer through Aug. 19.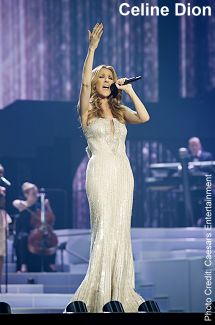 During April and May, Celine began recording songs for her next English and French CDs, which will be released later this year. The French CD will feature all new material whereas the English CD will feature studio versions of previously unreleased songs from her Las Vegas show as well as several brand new songs.
'DANCING QUEEN' DEBUTS AT NEW YORK-NEW YORK
The Broadway Theater at New York-New York recently opened "Dancing Queen," a groovy celebration of pop phenomenon ABBA and the music of the '70s. The glittering production featuring costumed singers and dancers transports audiences back to a time when disco ruled and the fun was non-stop. The show features the timeless songs of the Swedish group ABBA and also celebrates highlights from the blockbuster '70s film "Saturday Night Fever."
The Broadway Theater also is home to "Spirit of the Dance" with special guests Dublin's Irish Tenors. Tickets for both shows start at $49.95.
ELDORADO CASINO CELEBRATES 50TH ANNIVERSARY
Boyd Gaming will celebrate the Golden Anniversary of downtown Henderson's landmark Eldorado Casino on Sunday, July 1, at 3 p.m. with a public champagne toast, cake and special anniversary giveaways. On July 1, 1962, Sam and Bill Boyd opened the Eldorado Casino, marking the first joint venture of the legendary father-son team, and the beginning of what would become Boyd Gaming now with 17 gaming entertainment properties.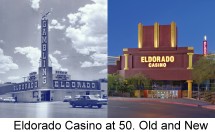 In celebration, the Eldorado has put into circulation commemorative, limited edition $5 gaming chips along with special promotions running through 2012: bingo players winning a game on "G-50" receive a $50 cash bonus and throwback 50-cent specials at the snack bars at both the Eldorado and Jokers Wild.
NEW BLUFFCAM IS POKER APP THAT READS YOUR HEART RATE
Released in time for the World Series of Poker, the new Pro Player-recommended BluffCam app by WowWee Inc. teaches you how to manage your heart rate and keep that perfect poker face while under pressure. The first-of-its kind poker app uses cutting edge VitalSignsTM camera technology to detect micro-changes in the color of a player's skin, helping gage whether or not they are under pressure mid-game. The app is available for 99 cents.
DEANA MARTIN HEADLINES AT SOUTH POINT
Singer and actress Deana Martin, the very proud daughter of iconic entertainer Dean Martin, will be headlining at South Point on June 22-23. Martin achieved her success early in films, theater and television, then quickly added to her repertoire — recording artist, best-selling author, nationally syndicated radio host, licensed pilot, and entrepreneur. She grew up with her dad's pals being known to her as uncles Frank (Sinatra) and Sammy (Davis, Jr.). Tickets are $15-$20-$25.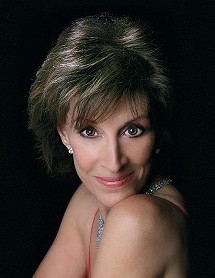 CARROT TOP AND CRISS ANGEL PAIR UP WITH DINNER AT TENDER
Luxor Hotel is offering dinner and show packages for a three-course prix fix menu at TENDER Steak & Seafood along with tickets to attend either Carrot Top or "CRISS ANGEL Believe" by Cirque du Soleil. Tender is a 12,000-square-foot restaurant featuring warm cherry wood walls, soft mood lighting and antler-crusted chandeliers. Packages start at $99 per person.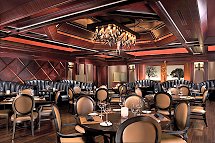 FREE JUNETEENTH FESTIVAL TAKES OVER SYMPHONY PARK
The 12th annual Las Vegas Juneteenth Festival will be held from 5 to 9 p.m., Tuesday, June 19, at Symphony Park at The Smith Center for the Performing Arts. The one-day festival highlights the African-American culture and slavery's end by featuring food, music, entertainment, exhibitors, activities, and performers including soul singer Phil Flowers; multi-talented group In-A-Fect; R&B vocal group Next Movement; and local Van Buren. This is a free public event.
HENDERSON OPENS REGISTRATION FOR 'SUPER RUN' CAR SHOW
The City of Henderson is seeking entries for Southern Nevada's largest car show, the 13th Super Run, scheduled for Sept. 20-23. The event that attracts more than 100,000 people is open to all years, makes and models of classic vehicles. Registration is $50 prior to Sept. 10; visit HendersonLive.com. Participants compete for a chance to win up to $15,000 in cash prizes. The nostalgic weekend includes adrenaline-powered challenges, and live music by award-winning entertainers including country star Jerrod Niemann.
THE PALAZZO INTRODUCES POOLSIDE CARNEVALE NIGHTS
Azure at The Palazzo on the third level is celebrating poolside with Carnevale Nights every Saturday through Sept. 9 from 9 p.m.-midnight. Renowned dance/R&B artist CeCe Peniston and pop/R&B icon Jody Watley will perform intimate poolside concerts in June. Admission to Carnevale Nights is free and guests wearing a masquerade mask receive a complimentary cocktail.
Peniston (June 9 and 16) has dominated the U.S. and international dance charts for more than 20 years and recently released her new single "Celebrate." Watley (June 23 and 30), an original member of the group Shalamar, is a Grammy Award-winning artist and pioneer in music, video, dance and fashion. She has sold more than 50 million albums and singles worldwide.
BUFFALO BILL's DRAWS NAME HEADLINERS
Buffalo Bill's in Primm, Nev., a 30-minute drive from Las Vegas, features a wide variety of headliners at its 6,500-seat Star of the Desert Arena. Tickets are on sale now for the following upcoming acts: Chaka Khan – June 23; Sax and the City – June 30; Pedro Fernández – July 7; Jerry Lewis – July 14; Lee Greenwood and Crystal Gayle – July 21; and Al Green. New acts added recently include: Los Yonics – Aug. 11; Big & Rich – Aug. 18; Chubby Checker – Aug. 25; Smokey Robinson – Sept. 1; and Three Dog Night – Sept. 2.
VEGAS QUICK TIPS
The Playboy Club at the Palms permanently closed on June 3.
The Original Pancake House founded in 1953 in Portland, Ore., is slated to open this summer at Primm Valley Resort and will operate 24 hours every day.
The Tony® Award-winning Broadway musical "Million Dollar Quartet" inspired by the true story of the famed recording session uniting rock 'n' roll icons Elvis Presley, Johnny Cash, Jerry Lee Lewis and Carl Perkins for the first and only time will take the stage at The Smith Center for the Performing Arts, June 12-17.
Celebrated recording artist, Lil Kim, will make her debut appearance at Chateau Nightclub & Gardens at Paris on Saturday, June 16. The Grammy Award-winner is currently working on her fifth studio album set to be released this year. The multi-faceted entertainer was the first female hip-hop artist to earn the No. 1 spot on the "Billboard Top 100" with her song, "Lady Marmalade."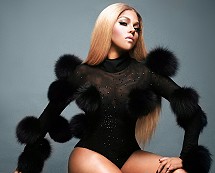 Volcom inside Miracle Mile Shops at Planet Hollywood Resort & Casino is hosting a free public live performance by Hawaiian rock band Pepper at 5 p.m. on Friday, June 15. Mixing rock with a mellow island rhythm, Pepper has sold more than half a million records since forming in 1997 and been featured in many films, television shows and video games.
TOP OF NEXT COLUMN
"True Blood" star, Sam Trammell, will celebrate the HBO series' fifth season premiere at Gallery Nightclub inside Planet Hollywood on Saturday, June 16.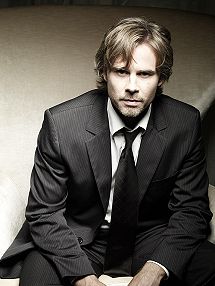 Uprising Records' top-40 hip hop artist, T. Mills, will make an appearance at Gallery Nightclub inside Planet Hollywood after his Vans Warped Tour performance on Wednesday, June 20.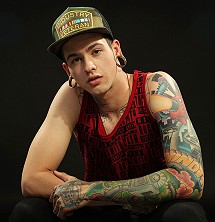 How about experiencing the ultimate Epicurean Epicenter Barbeque Secrets Lunch and Demonstration at noon at Bellagio's Tuscany Kitchen on Saturday, June 30? For $75, guests watch, learn and taste as Bellagio Executive Chef Edmund Wong creates a tasty afternoon filled with BBQ styles from around the world expertly paired with a variety of international beers.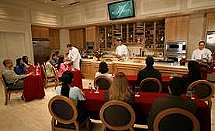 Headlining impersonators Rich Natole and Bethany Owen will present "Two Of A Kind" at the Italian American Club at 2333 E. Sahara Ave. on Saturday, June23 at 8 p.m. Tickets are $15.
For summer at the Luxor, students can enjoy a 30 percent discount at BODIES…The Exhibition and Titanic: The Artifact Exhibition at the Luxor. Regularly priced tickets are $32 for adults and $24 for children 4 – 12 years of age.
The Riviera is hosting a $10,000 Guaranteed Poker tournament on Monday, July 9, at 1 p.m. The entry fee is $120 with a maximum of 140 entrants.
Smash will present Lucero, the six-piece alt-country/punk rock band from Memphis, Tenn., on Tuesday, July 10, at 9 p.m. at the Beauty Bar downtown. Since 2001, Lucero has played up to 200 shows a year in North America and released seven full-length albums and two DVDs. Tickets are $26 at www.ticketfly.com.
Bratalian Neopolitan Cantina, at 10740 S. Eastern Ave. #155 in
Henderson and run by well-known Chef Carla Pellegrino, and sister, Chef de Cuisine, Alessandra Madeira, is offering happy hour specials from 5 to 6:30 p.m. including select glasses of wine and beer for $2.99 and $4.99, visit www.info@bratalian.com.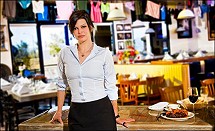 The Tahiti and Tahiti Village resorts have been awarded TripAdvisor's prestigious Certificate of Excellence for their outstanding commitment to customer service. This accolade is given only to establishments consistently achieving superior reviews on TripAdvisor, the world's largest travel site.
'FANTASY' DEBUTS NEW SINGLE AND DANCE NUMBER
"FANTASY" at the Luxor has introduced a new ensemble dance number that is performed to the show's headliner Lorena Peril's newest single, "Soulja." The upbeat track was co-written by Peril and follows her debut single, "Dance on Me." For the routine, Peril takes the stage alongside two other beauties, Sonya and Dar, clad in military-themed outfits.
MINATURE GOLF IS A FATHER's DAY OPTION
KISS® By Monster Mini Golf®, an indoor rock 'n' roll-themed amusement attraction based around the legendary band KISS®, is offering half-priced glow-in-the-dark miniature golf for $5.99 and a free KISS gift for dads on Sunday, June 17, from 10 a.m. to midnight.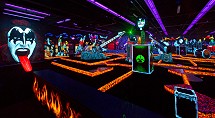 JW MARRIOTT RUNS SUMMER OUTDOOR DIVE-IN MOVIE SERIES
JW Marriott's Saturday Night Dive-In Movie Series night is taking place every Saturday this summer through Sept. 1. Family-friendly movies are viewed at 8:30 p.m. at the expansive pool grounds. Admission is free and grab-and-go movie snacks are available for purchase during each viewing. No outside food or beverage will be allowed. For more information, visit www.jwlasvegasresort.com or call 702-869-7777.
MINUS5 ICE BAR HONORS FRANKIE MORENO's SPECIAL COCKTAIL
Minus5 Ice Bar continues its celebrity cocktail program by honoring Stratosphere headliner, Frankie Moreno with the launch of his signature drink – "Frankie's Crown and Coke-o-nut" on Thursday, June 15 at 5:30 p.m. Other celebrity cocktails include: Holly Madison's Holly "Mad-ICE-on," Carrot Top's "Heat Miser," Human Nature's "Inhumane Nature," Laura Croft's "Hypnoti-School Girl," and FANTASY's "Fant-ICE-see."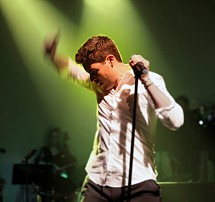 "DJANGO VEGAS!" CONCERT PLANNED AT 5th STREET SCHOOL
The City of Las Vegas will present the "Django Vegas!" concert on Saturday, June 23, downtown at the Historic 5th Street School. The event will celebrate the music of Django Reinhardt and other gypsy jazz musicians at 6 p.m. with The Gonzalo Bergara Quartet, Fishtank Ensemble and Hot Club of Las Vegas performing. Pre-concert entertainment by the G-String Band will begin at 5 p.m. in the courtyard. Beverages and food will be available for purchase. Tickets are $10, visit www.artslasvegas.org or call 702-229-3515 or 229-6469.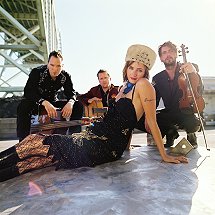 VEGAS VERNACULAR PROJECT ARCHIVES VEGAS SIGNAGE
The Plaza downtown is supporting and housing the production offices of the Vegas Vernacular Project, which was established to document hand-painted and illuminated signage throughout the city through photography. The creative and production team consists entirely of volunteers, with more than 25 photographers, artists and gallery owners currently involved and that number is expected to grow to 50 people at the peak of production. A soft website launch providing a curated view of the photography archive is expected this fall.
'BLAME IT ON THE WALLEYE' AT DOWNTOWN ARTS CENTER
"Blame It on the Walleye," which features singer/comedienne Richel Kompst and her school of walleye back-up singers and band members, will take place at 2 p.m. Saturday, June 16, at the Charleston Heights Arts Center Theatre downtown. The story is told through music and monologues featuring the Mistress of Ceremonies Olga Torkelson, and a bevy of impersonated cameo performers, including Doris Day, Ann-Margret and Barbra Streisand. Tickets are $10 in advance and $15 on event day, visit www.soulsings.com.
LEE WOODRUFF SPEAKS AT WOMEN's LEADERSHIP CONFERENCE
Registration is open for the 2012 Women's Leadership Conference with a "Be Inspired" theme taking place at the MGM Grand Aug. 14 – 15; visit www.mgmresorts.com/ womensleadershipconference. Registration includes all workshops and lectures, a networking reception, one-on-one career coaching sessions as available, a fashion show and continental breakfasts and lunches. The non-profit MGM Resorts Foundation is the conference's presenting sponsor and with proceeds after costs being donated to one or more local nonprofit agencies.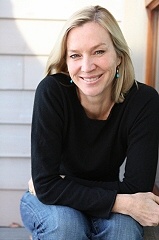 Author and "CBS This Morning" contributing reporter Lee Woodruff will give the event's opening keynote address at 9:15 a.m. on Aug. 14 and also serve as moderator for the Women's Leadership Panel that afternoon. Her speech titled "Life Changes in an Instant" is drawn from her No. 1 "New York Times" bestseller "In an Instant." When her husband, ABC's newly appointed co-anchor Bob Woodruff, was hit by a roadside bomb while covering the war in Iraq, Woodruff's life changed in an instant.
FUN UPCOMING FUNDRAISERS
On June 13, "Las Vegas' Pup Crawl to benefit Adopt A Rescue Pet" will take place at Coconuts Beach Bar & Mexican Grille at Town Square from 6-8 p.m. with 50 percent off appetizers. Dog owners can bring their dogs on a leash.
HELP of Southern Nevada will hold its 18-year-old fundraising Golfers' Roundup tournament on June 25 at The Las Vegas Country Club. Entry fee is $300; call Abby at 702-836-2130.
Column Continues Below Advertisement
CONTINUE ON TO...:
THIS WEEK'S >LAUGHLIN NEWS
LAST WEEK'S >LAS VEGAS NEWS
>VEGAS VIEW FULL NEWS ARCHIVES
Return to >"Heard Around Town"
Return to >Las Vegas Leisure Guide