CHEF GUY FIERI OPENS FIRST LAS VEGAS RESTAURANT AT THE QUAD!

Restaurateur, author and TV host Chef Guy Fieri of Food Network's top-rated show "Diners, Drive-Ins and Dives," will open his first Las Vegas restaurant later this year at the entrance of The Quad on the Strip. The 7,000-square-foot restaurant will be a new concept from Fieri developed as part of The LINQ, Caesars Entertainment's $500 million dining, retail and entertainment development next to The Quad. Fieri's eatery that will be named later will feature a large outdoor patio and dining area.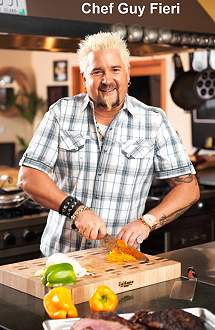 For Fieri this is a homecoming since he graduated from the University of Nevada Las Vegas (UNLV) in 1990 with a bachelor's degree in hospitality management.
Column Continues Below Advertisement
NEW KIDS ON THE BLOCK APPEAR WITH 98 DEGREES AND BOYZ II MEN
The multi-platinum selling band New Kids on the Block will bring their 2013 summer headlining tour to the Mandalay Bay Events Center Saturday, July 6. Joining NKOTB on "The Package Tour" will be multi-platinum-selling artists 98 Degrees and four-time GRAMMY Award-winning R&B vocal group Boyz II Men. NKOTB released a new album, "10," earlier this year. Tickets are $59.50 to $125.
CANADIAN BECOMES MILLIONAIRE IN INAUGURAL WSOP TOURNAMENT
On the morning of June 4, Benny Chen of Prince Edward Island, Canada, was a restaurant manager; by day's end, he was a millionaire. The 32-year-old amateur poker player was one of 6,344 entries and won his first gold bracelet and the first ever "Millionaire Maker" No Limit Hold'em Event at the 44th Annual World Series of Poker (WSOP) at the Rio. Chen is now the 257th millionaire the WSOP has created and the 26th player to earn a million dollar payday in a WSOP tournament outside of the Main Event.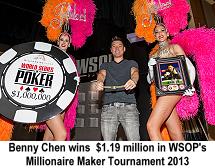 WINE ANGELS AT AUREOLE HAVE NEW LIGHT UP OUTFITS
The wine angels of Chef Charlie Palmer's Aureole restaurant at Mandalay Bay recently unveiled a new designer outfit created by eco-friendly fashion designer Bunker Hill Bradley. The fashion-forward attire is adorned with 20 feet of LED lights with more than 100 bulbs that ensure guests can easily spot the wine angels in the famous four-story wine tower.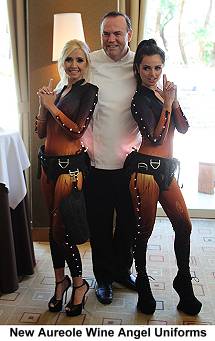 After 14 years wearing sleek, black jumpsuits, Palmer hosted a 14-day competition among local fashion designers. The winning design is made from recycled material with a progression of Tuscan sunset colors meant to symbolize various wine hues and a gold, scroll-like pattern overlaying the complex color scheme.
CODY SIMPSON MAKES APPEARANCE AT THE HARD ROCK
Atlantic recording artist Cody Simpson has a Las Vegas-stop planned on Sunday, June 16 at The Joint at the Hard Rock on his 36-city North American "Paradise Tour." Appearing with him will be Ryan Beatty and opener Before You Exit. Tickets start at $39.50.
Simpson is much more than a teen heartthrob. The Queensland, Australia-born singer/songwriter arrived on the music scene in 2010 and spent much of the past year on the road including dates on Justin Bieber's "Believe Tour" and released his new single "Pretty Brown Eyes" in April that precedes his second album. Simpson will be releasing his first book, "Welcome To Paradise: My Journey," published by Harper Collins on Oct. 24.
KELLIE PICKLER WILL PERFORM AT SILVERTON
Recent 16th season "Dancing with the Stars" champion and country songstress Kellie Pickler will be headlining at Veil Pavilion inside the Silverton on Friday, July 5. The CMT Award-winning singer originally captured America's hearts and votes on "American Idol." Pickler has a new album forthcoming later this year and her latest single "Someone Somewhere Tonight" is available online. Tickets are $40, $50 and $85.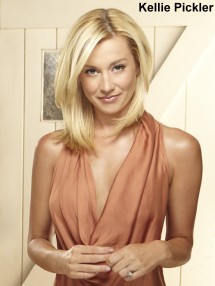 SUNCOAST COLLIDES WITH CUPCAKE WORLD ON JULY 13-14
The Suncoast will serve as cupcake headquarters July 13 with the Miss Cupcake Pageant and Little Miss/Mr. LA pageants in the Madrid Room, and July 14 with the second Las Vegas Cupcake Bake-Off. This double-header pageant weekend is presented by Fit For The Crown and the Information, Technology, & Literacy Foundation (ITLF).
The pageants feature crowning for multiple age divisions, from newborn to 12 years old, with more than $8,000 in cash and prizes available. Overall, 23 queens will be crowned including the Mega Ultimate Supreme Queen, which will win $600 cash and a 16-inch crown. Viewing tickets are $15 for adults, $10 for children 12 and under and can be purchased at the door.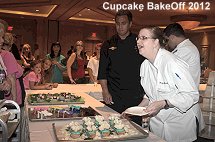 Presented by Gigi's Cupcakes and the Suncoast, the Bake-Off will bring 100 bakers to the Suncoast Grand Ballroom to compete for the title of "Best Cupcake Baker in Las Vegas" and to win a portion of $2,600 in cash prizes. The grand prize winner will receive $1,500. Attendees will vote for their favorite cupcake based on appearance and presentation. A distinguished panel of judges, including some of the top pastry chefs in Las Vegas and host of the hit Food Network show "Cupcake Wars" Justin Willman, will determine the winner from the top ten. Tickets are $20 for adults and $10 for children (12 and under) in advance.
Willman, who is currently the star of "HubWorld" and "Scrabble Showdown" on the Hub Network and the witty correspondent on the "Rachael Ray Show," is also performing at the Suncoast Showroom July 13 and 14.
JEFF MITCHUM GALLERY WILL OPEN AT MGM GRAND
The 4,000-square-foot, glass-enclosed Jeff Mitchum Gallery will open at the MGM Grand in the District on Thursday, July 4 and showcase more than 300 award-winning images and never-before-seen sculptures. This will be the world-renowned landscape photographer's second gallery. Hours are 10 a.m. to midnight. In addition to the new gallery located in the District at MGM Grand, Jeff Mitchum's art will also be displayed in the luxurious rooms of SKYLOFTS as well as The Mansion.
GOLDEN NUGGET HOSTS EVENTS DURING 2ND UFC® FIGHT WEEK
In conjunction with the Ultimate Fighting Championship (UFC®) and their 2nd Fight Week, the Golden Nugget downtown will host two public events.
One will be a free exclusive meet and greet autograph session with two-time and current UFC heavyweight champion Cain Velasquez, UFC bantamweight contender Urijah Faber and Octagon Girl® Arianny Celeste taking place from 6 to 8 p.m. on Thursday, July 4.
On Saturday, July 6, there will be a UFC® 162: SILVA vs. WEIDMAN viewing party in the Grand Event Center from 6-11 p.m. Remote betting stations and beverages for purchase will be available. Viewing party tickets are $20 in advance and $25 at the door.
7TH ANNUAL CLIF® BAR CROSSVEGAS IS SET FOR SEPT. 18
The 7th Annual CLIF® Bar CrossVegas will return on Wednesday, Sept. 18 at the Desert Breeze Soccer Complex located at 8275 Spring Mountain Road. This is the largest cyclocross race in the United States, blending road bike speed with mountain terrain, forcing racers to jump on and off their bikes and run while carrying them over barriers and obstacles. The reigning World Champion Sven Nys of Belgium and two-time World Champion Bart Wellens of Belgium will be racing. For information, visit www.crossvegas.com.
DJANGOVEGAS! GYPSY JAZZ CONCERT PLANNED DOWNTOWN
DjangoVegas! will return to downtown on Saturday, June 22 to celebrate the music of Django Reinhardt and other gypsy jazz musicians past and present with The John Jorgenson Quintet, Stephane Wrembel and his band, and Hot Club of Las Vegas performing at the Historic Fifth Street School, located at 401 S. Fourth Street.
The John Jorgenson Quintet features virtuoso guitarist John Jorgenson, a founding member of the Desert Rose Band, the Hellecasters, and a six-year member of Elton John's band. Jorgenson portrayed Django Reinhardt in the 2005 feature film "Head in the Clouds."
Pre-concert cocktails and entertainment by the Icy Hot Club will begin at 5 p.m. in the outdoor courtyard, with beverages and food available for purchase. The concert will begin at 6 p.m. in the auditorium. Tickets are $10 in advance and $15 on event day, call 702-229-3515.
Three afternoon workshops, each priced at $25, will be offered at the Historic Fifth Street School by musicians performing that evening visit www.artslasvegas.org for information.
TOP OF NEXT COLUMN
GUITAR SHORTY FEATURED AT BOULDER STATION
Guitar Shorty will perform the blues at The Railhead on Thursday, June 20. There's a $5 cover charge at the door.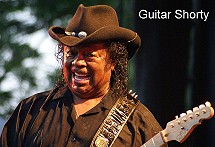 In high school, Guitar Shorty aka David Kearney was a student by day and a working musician by night. After graduating, Shorty joined Ray Charles and his band for a year and recorded his first single "You Don't Treat Me Right" in 1957. He eventually moved to New Orleans and joined Slim's band and then fronted his own group, which became the house band at the legendary Dew Drop Inn. He released his first album "On the Rampage" in 1985 and has since released 12 studio albums, including 2010's "Bare Knuckle."
ENTERTAINMENT NEWS TIPS
Dennis Quaid & The Sharks will visit the Cannery on Saturday, June 15. Quaid is the star of the TV series "Vegas" and his music is rock 'n' roll and country soul. Tickets range from $14.95 to $29.95.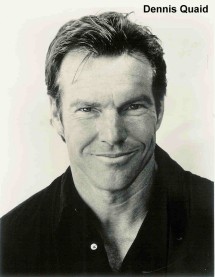 Singers Genevieve and Mark Giovi will premiere their first show together with musical director Bill Fayne at the Italian American Club at 2333 E. Sahara Avenue on Sunday, June 30 at 8 p.m. Tickets are $15, call 702-457-3866.
The Neil Diamond tribute band, Super Diamond, fronted by Randy Cordero will deliver fan favorite pre-1982 tunes made famous by the iconic superstar on Saturday, June 22 at the M Pavilion. Tickets range from $19.50 to $39.50.
The Entertainers- Talent ShowCase will take place at the Red Label Bar & Lounge at 332 W Sahara Avenue on Friday, June 28 at 9 p.m. The public is invited at no charge to see Willie Ray, A Tribute to James Brown, the band Blues Storm, and John-Earl's Boogieman Band.
The following events will be held at the Mad Greek Café at 8565 W. Sahara and Durango from 7-10 p.m. and there's no cover charge: June 20 Nik Mastrangelo with Naomi Mauro; June 25 The Eclectic Jazz Vocals of Windy Karigianes and her Trio; July 9 Mark Giovi and Nik Mastrangelo performing Broadway hits; and Aug. 1 Kristen Hertzenberg, who played Christine Daae in "Phantom: The Las Vegas Spectacular," will be singing with the Tyler Williams Trio.
Entertainer Nik Mastrangelo will also be appearing on June 12 and 14 at Casa Di Amore located at 2850 E Tropicana Avenue from 6:30-10:30 p.m.
OTHER ABOUT TOWN NEWS ITEMS
More than 100 volunteers decked out in red in honor of HIV/AIDS came together at the beautiful park at The Smith Center to create a larger than life awareness ribbon. The event marked the 27-day countdown until the 27th Annual "Ribbon of Life" spectacular on Sunday, June 30 at The smith Center at 1 p.m. Tickets are $38 to $212.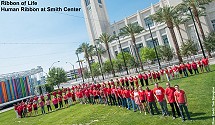 VH1's "Mob Wives" reality television star, Ramona Rizzo, will be celebrating her bachelorette party at the Crazy Horse III gentleman's club while her fiancé Joseph Sclafani serves a life-term in federal prison. Rizzo is the granddaughter of the infamous Benjamin Ruggiero, also known as "Lefty Guns."
Reality television beauty and star of WEtv's "Kendra on Top," Kendra Wilkinson-Baskett will celebrate her birthday on Saturday, June 15 at Chateau Nightclub & Gardens at Paris.
The 50 Greatest Photographs of National Geographic in Imagine Exhibitions Gallery at The Venetian is offering teachers free admission to the gallery during June and July. During their visit to the gallery, teachers can receive more information about the exhibit's field trip program.
The Sugar Factory at Miracle Mile Shops inside Planet Hollywood has introduced its new Goblet Bar, featuring candy-themed cocktails and dozens of sweet, spirit-infused options, and Melissa Gorga was an early visitor.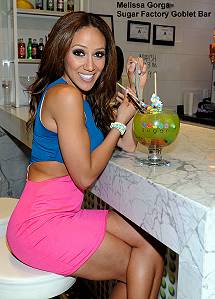 On June 5, 107 players in poker rooms across Las Vegas split more than $914,000 when Caesars Entertainment's Mega Beat Progressive Poker Jackpot hit for the second time since its January launch. Robert from Hamburg, Germany, having the loosing hand, won $182,952, and winner Jungok from Dallas took home $91,447 while all other players received $5,982.
The Range 702's training sector is introducing a firearms familiarization course especially designed for teachers and other education-certified employees that will be offered at no charge every Sunday at 3 p.m. and Monday at 9 a.m., call 702-485-3232.
NEW PARTNERSHIP LAUNCHES 'SAVE THE HUNTRIDGE' CAMPAIGN
A partnership of Downtown entrepreneurs has formed Huntridge Revival, LLC to spearhead efforts to renovate and re-open the historic Huntridge Theatre. The group, comprised of Downtown Las Vegas champion Michael Cornthwaite, Life is Beautiful founder Rehan Choudhry and First Friday Las Vegas managing partner Joey Vanas, has launched the "Save The Huntridge" crowdfunding campaign via IndieGoGo.com.
CHEF ROMANO PRESENTS A DINNER AND A COOKING CLASS
Chef Megan Romano will present the Chocolate & Spice Bakery's first pop-up dinner featuring family-style dining with live DJ Dray Gardner on Wednesday, June 12 from 6-9 p.m. Tickets are $40, call 702-527-7772.
Chef Romano's next summer cooking class with a tasting will be on Thursday, June 27 from 6-7 p.m. She will give instructions for barbecued kalbi ribs, lemon-scented potato and bacon salad, frozen watermelon lime skewers and marshmallow chocolate chip rice crispy treats. Class is $55 and the bakery is located at 7293 W Sahara.
VANGUARD LOUNGE WILL CELEBRATE SAILOR JERRY DAY JUNE 12
Sailor Jerry Day on June 12 will honor Norman "Sailor Jerry" Collins most known for his art of tattooing and who would have been 102. The Vanguard Lounge downtown at 516 Fremont Street will acknowledge the day beginning at 9 p.m. by serving the first 102 guests a complimentary Sailor Jerry Spiced Rum Cocktail. There will be music by DJs Oscar Wilde and VegasBanger and featured live art demos from three of Las Vegas' top tattoo artists. The artwork will be raffled off at the end of the evening.
OUTDOOR SUMMER THEATRE OPENS AT SPRING MOUNTAIN RANCH
Super Summer Theatre at Spring Mountain Ranch State Park, which is celebrating its 38th year performing shows outside at night under the stars, has lined up the following musicals this year: "The Music Man": June 12-29; "How to Succeed in Business Without Really Trying": July 10-27; "Legally Blonde The Musical": Aug. 7-24; and "The Producers": Sept. 5-21. Performances are Wednesday-Saturday and in September Thursday-Saturday. Tickets are $12 in advance, visit www.supersummertheatre.org.
MGM AND SOUTHWEST AIRLINES MARKET REWARD PROGRAMS
Southwest Airlines (NYSE: LUV) and MGM Resorts International (NYSE: MGM) have launched a strategic marketing alliance between the companies' loyalty rewards programs, Rapid Rewards and M life. Members of both programs can accrue Rapid Rewards Points toward free flights for qualifying stays at MGM Resorts' Las Vegas properties while enjoying VIP perks during their Vegas vacations. As a special offering to kick off the alliance, members will receive double (1,200) Rapid Rewards Points for all valid reservations booked between May 31 and June 30, for future visits.
HEARTWARMING RETURN IS A SURPRISE AT TREASURE ISLAND
United States Air Force Captain John "Arrow" Costa returning from active duty in Qatar surprised his family recently by walking onto the pirate ship at the conclusion of the "Sirens of TI" show at Treasure Island. Afterwards the family was treated to dinner at Gilley's Saloon, Dance Hall & Bar-B-Que and the evening performance of Cirque du Soleil's "Mystere."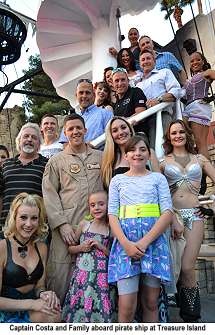 ROCKHOUSE SERVES SPECIALS DURING ELECTRIC DAISY CARNIVAL
Flower-power partygoers will enjoy psychedelic drink specials at Rockhouse located in the Grand Canal Shoppes at The Venetian | The Palazzo, throughout the Electric Daisy Carnival, June 21-23. The ultra-dive bar will offer all-day open bar access for well cocktails and Pabst Blue Ribbon, priced at $25. All bikini-clad carnival attendees may also indulge in the $10 "Bottomlesss Bikini Bar." The open bar is available to swimsuit sporting females from 6 - 10 p.m. every night.
Column Continues Below Advertisement
CONTINUE ON TO...:

THIS WEEK'S >LAUGHLIN NEWS
LAST WEEK'S >LAS VEGAS NEWS
>VEGAS VIEW FULL NEWS ARCHIVES
Return to >"Heard Around Town"
Return to >Las Vegas Leisure Guide