MUSICAL IMPRESSIONIST GREG LONDON OPENS AT RIVIERA
Musical impressionist Greg London is bringing his "ICONS" show with his repertoire of superstars to the Mardi Gras Showroom at the Riviera and opening on June 16 with previews. His engagement follows a two-and-a-half year run in Sammy's Showroom at Harrah's Reno. Show times will be at 7 p.m. Wednesday-Sunday. Tickets are $39.99, $59.99 and $69.99, call 877-892-7469.
Column Continues Below Advertisement
Fresh off his win for "Best Adult Contemporary Song" at the 2009 Hollywood Music In Media Awards (HMMA), London has been selected to co-host the third annual event at The Highlands in the Hollywood & Highland Kodak Theatre Complex on Nov. 18, 2010. The singer's recording of "Everything I Own" was the highest charting new artist release and highest charting release on an independent label (airplay charts) of 2009. London scored back-to-back Top 5 singles on the FMQB Adult Contemporary Radio Chart. London also made Music Connection Magazine's list of Hot 100 Artists of 2009.
In 2008, he appeared in the independent film "The Dukes," playing a member of a washed up doo-wop group that turns, comically, to a life of crime. His cohorts are Chazz Palmenteri, two time Academy Award nominee Peter Bogdanovich and renowned character actor Robert Davi ("Die Hard," "Profiler"), who wrote, directed and co-produced the film.
NU SANCTUARY OFFERS DINING AND A NIGHTCLUB AT TOWN SQUARE
Nu Sanctuary is a new restaurant and nightclub that has opened at Town Square. The focal point for Nu Sanctuary's eatery and Web site is a sprawling tree with cascading roots and overhead branches symbolizing a new beginning. Nu itself means "naked" in French, and the design is a portrayal of naked beauty, life and the afterlife. Even the furniture serves as ornate conversation pieces, transitioning from oversized chairs guests sink into for dinner into platforms revelers dance on at night.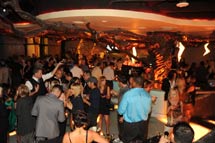 Other highlights are world-class art, religious representations, an outdoor patio, and a modern global fusion menu. Most original is the innovative hookah menu, which is the first in Las Vegas to use fresh fruit in form and presentation.
BEACH BOYS GO POOLSIDE WITH A CONCERT AT THE VENETIAN
"Good Vibrations" will be felt at The Venetian when The Beach Boys play a one-night-only poolside concert on Thursday, June 17 at 8 p.m. Tickets are $25 and $45, call 702-414-9000e.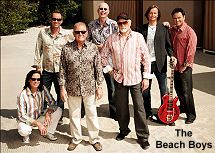 The California-lifestyle group will kick off summer. The Beach Boys had their first hit, "Surfin'" in 1961. Since then, the band has had a string of chart-topping songs, sold more than 100 million records worldwide, and received 32 Platinum and Gold record awards from the Recording Industry Association of America.
WAYNE BRADY RETURNS TO THE VENETIAN
After a brief hiatus, Wayne Brady has returned to the Venetian, where he started in April 2007, with his hit show, "Making It Up." He partners with Jonathan Mangum to stage improv and make each show a one-of-a kind experience. His next performance dates are June 17 – 21, 24 – 28 and July 1 – 5. Tickets for his 9 p.m. shows are $49, $69. and $89, call 866-641-7469. In addition to "Making It Up," Brady can also be seen as the quick-witted host of the returning hit game show "Let's Make A Deal" on CBS.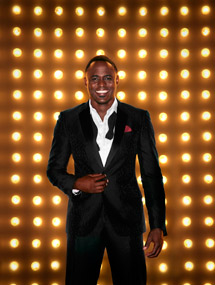 BOBBY VINTON HEADLINES AT THE CANNERY
Legendary Bobby Vinton will perform his greatest hits at The Club inside the Cannery on Saturday, June 12 at 8 p.m. His hit tunes are plentiful considering that between 1962 and 1972, Vinton had more Billboard No. 1 hits than any other male vocalist including Elvis Presley and Frank Sinatra. His first hit was "Roses Are Red (My Love)" followed by "Blue on Blue," "Blue Velvet," "There I've Said It Again," and "Me. Lonely" to name a few. Tickets in four levels range from $14.95 to $79.95, call 702-507-5757.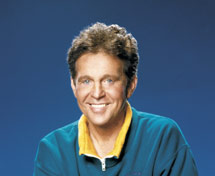 CANNERY HOLDS BLUES, BREWS AND BBQ FESTIVAL
The Cannery will hold the Eighth Annual Blues, Brews and BBQ Festival on Saturday, June 19 beginning at 5 p.m. at The Club's indoor/outdoor festival grounds. Headlining entertainment includes Curtis Salgado, Janiva Magness, Eddy "The Chief" Clearwater and Ironing Board Sam. Admission is $5 at the door.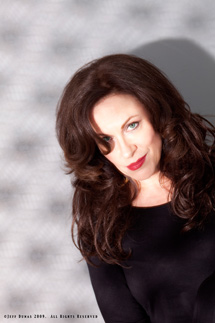 Salgado performed for six years with Robert Cray's band and as the lead vocalist for Santana. In 2009, Magness was honored as the B.B. King Entertainer of the Year and Contemporary Blues Female Artist of the Year. In 2001, Clearwater won the Blues Music Award for Contemporary Blues Male Artist of the Year. Returning this year is Ironing Board Sam, who used an ironing board stand to support his keyboard during his early years of piano playing.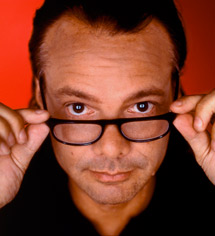 ALL REQUEST BAND, ACOUSTIC SOUL JAMS AT McFADDEN's EVERY FRIDAY
The all request band, Acoustic Soul takes the stage every Friday night from 10 p.m. until 2 a.m. at McFadden's Restaurant and Saloon at the Rio. Partygoers can sing along with a drink during McFadden's open bar from 10 p.m. until midnight, with the purchase of a $10 wristband for ladies and $20 for men. McFadden's presents nightly specials and themes.
4TH ANNUAL BINION's POKER CLASSIC IS UNDERWAY
The 4th Annual Binion's Poker Classic is taking place at the famed downtown casino through July 11, with the Main Event scheduled over two days beginning June 30. To participate, players can register the day of the event in which they would like to play.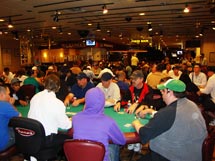 CAMPUS MOVIEFEST HOLDS GRAND FINALE AT WYNN LAS VEGAS
Campus MovieFest (CMF), the world's largest student film festival, will conclude its 2009-10 tour with its International Grand Finale (IGF) at the Wynn Las Vegas. From June 10-13, CMF will host student filmmakers from across the globe at a weekend full of events – including screenings of more 200 movies, industry workshops, networking opportunities, alumni gatherings, concerts, and a red-carpet, star-studded final ceremony at the Encore Theater.
The College Battle of the Bands National Grand Finale, on the evening of Friday, June 11 at Tryst Nightclub, will feature the top four artists selected during a nationwide search competing.
For information about Campus MovieFest or to see the best CMF movies, visit campusmoviefest.com.
TOP OF NEXT COLUMN
QUICK CLIPS
Celebrating 21 years of musical influence with her rock anthem "If I Could Turn Back Time," Cher is turning back the clock on ticket prices. From June 15-July 4, the pop diva is offering $50 ticket, which is close to a 50-percent discount, for her show at The Colosseum at Caesars Palace.
"Wheel of Fortune" will be taping six weeks of shows at The Venetian and The Palazzo on July 13, 14, and 16-20. The entry deadline for tickets to be part of the studio audience is June 25. Check out the "Wheel of Fortune" Web site to apply.
A carriage ride has started up at the outdoor Town Square mall. The new attraction operates daily every 15 minutes from 7 to 11 p.m. Cost is $10-$12 for adults, $5-$6 for children ages 6-12, and 5 and younger are free. For information, call 702-497-8498. The ride starts just south of the children's park and behind Claim Jumper.
The 41st Annual World Series of Poker is taking place at the Rio. It began over Memorial Day weekend.
Honoring Father's Day, BODIES…The Exhibition and Titanic: The Artifact Exhibition at the Luxor is offering dad a free admission with the purchase of a child's ticket from June 14-20.
Blush Boutique Nightclub at Wynn has moved its popular Wednesday evening promotion, "We Love House Music," to Sunday evenings at 9 p.m.
The 10th annual Las Vegas Juneteenth Festival will take place at the The Clark County Amphitheater on Saturday, June 19 from 4-10 p.m. Recording artists Cameo and Najee will be performing along with Alex Bugnon and Meli'sa Morgan. The annual citywide celebration will feature food, music, entertainment, exhibitors, children and family activities, and much more. Cost is $35 - $45.
The American Academy of Hospitality Sciences Restaurants bestowed its International Five Star Diamond Award to Treasure Island and to thee property's newly-opened Oleksandra Spa & Salon.
The Hard Rock Hotel & Casino in partnership with Frederick's of Hollywood started its 2010 REHAB Model Search over Memorial Day weekend and will end it over Labor Day. Contestants are competing for a $20,000 and a modeling contract. For details, visit www.rehablv.com. REHAB happens every Sunday from 11 a.m. until sunset.
The National Hockey League (NHL) will host its 2010 Awards at The Pearl Concert Theater at the Palms on June 23. The 2010 NHL Awards celebration will feature the NHL naming its top players for the regular season in a host of categories. Hollywood star Mark Wahlberg will attend as a special presenter with performances by Shinedown, Snoop Dogg, Cirque du Soleil and Jersey Boys. Tickets are on sale, visit Ticketmaster.com.
The 2010 NBA Summer League will feature 23 teams including 22 NBA teams (11 that appeared in the 2010 NBA Playoffs), and a team of NBA D-League stars competing July 9-18 at the Thomas & Mack Center and the COX Pavilion on the campus of the University of Nevada Las Vegas. Tickets are on sale, call 702-739-FANS.
SAMMY SHORE HOLDS COMEDY JAM AT EASTSIDE CANNERY
"Sammy Shore's Barking Mad Comedy Jam" at Marilyn's Lounge in the Eastside Cannery on June 25 and 26 at 8 p.m. will feature Dennis Blair and Dean Napolitano with the legendary comic. There's no cover charge, but seating is on a first-come, first-served basis.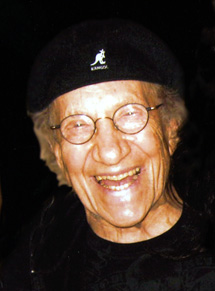 Sammy Shore changed stand-up comedy when he founded The Comedy Store in Hollywood, by providing a stage for upcoming stars. In his own career, Shore even spent four years as the opening act for Elvis Presley's "Comeback Tour."
Dennis Blair, whose mentor was Rodney Dangerfield, is an Emmy Award winning comedic actor, screenwriter, songwriter and author. He received an Emmy Award for his voiceovers and writing in the animated film "Confessions of a Standup."
Dean Napolitano, who has many television credits, is known for his storytelling about his Italian upbringing and personal experiences.
STEEL PANTHER RETURNS TO THE OVATION AT GREEN VALLEY RANCH
After two months Steel Panther will return to Green Valley Ranch's 500-seat Ovation on Saturday, June 19. Formed in 1983, the '80s glam metal parody band wears loud costumes, has graphic body language, and pays homage to great bands like Bon Jovi, Motley Crue and Poison. Entry to their late night Saturday shows is free on a first-come, first-served basis.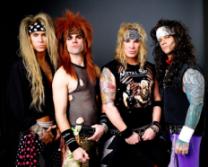 SAHARA HAS THE COMEDY STOP STARRING LAUGHMAKERS
The Comedy Stop at the Sahara stars three different comedians every week at 9 p.m. The week of June 7-13 will have Greg Morton headlining and Cork Proctor and Greg Vaccarello adding to the laughter. In 1985, Morton ventured into the world of stand-up comedy and has since opened for many major celebs. Tickets are $24.95.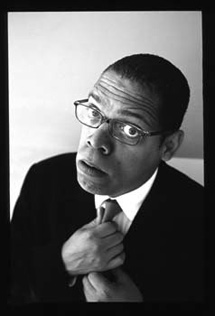 Morton has been described as having an "animated presence." As a graduate of animation, Morton worked as an animator on such shows as the "Scooby and Scrappy Doo Show" and the "New Flintstones" for Hanna Barbara. His voice over talents can be heard on such programs as "Robocop" and "Police Academy," (the cartoon series). He has directed several Saturday morning cartoon hits including ABC's "Hannerman" (based on MC Hammer) and "The Legend of White Fang," which appeared on HBO.
VIC DUNLOP PROVIDES LAUGHS AT RIVIERA COMEDY CLUB
The Riviera Comedy Club features three comedians weekly. Vic Dunlop will headline June 7-13 with Marty Pollio and Kevin Hancock. Shows are at 8 and 10 p.m. nightly. Tickets are $24.99, call 877-892-7469.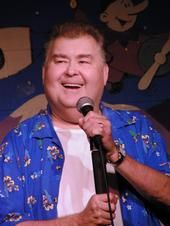 Vic Dunlop's 30 year stand-up comedy career has had him performing in every Comedy Club and opening for major stars. He wrote and produced feature films such as '"Dirty Jokes, The Movie," "Motherhood" and "Breakfast of Aliens. He also wrote, directed, produced and hosted a cable stand-up comedy show "Comics Gone Wild."
ELECTRONIC MUSIC CAFÉ OPENS NEW EXHIBIT: 'SPIN' EVOLUTION OF THE DJ
Jesse Saunders, DJ/producer, re-mixer and originator of the musical genre "House Music," and Evelyn Thompson, artist, interior designer, speaker, visionary and social architect, are co-founding the Music & Arts Society with an official launch of their nonprofit organization on Thursday, June 10, from 4-7 p.m. at the Electronic Music Café, 1308 S. Main Street.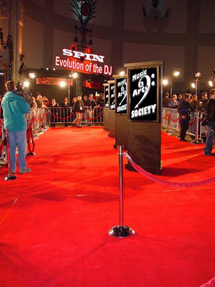 "Spin," Evolution of the DJ Exhibit, will be a permanent display chronicling the technological advances of the modern DJ from its antiques roots with Thomas Edison in 1877 to modern times.
Column Continues Below Advertisement






CONTINUE ON TO...:
>THIS WEEK'S LAUGHLIN NEWS
>LAST WEEK'S LAS VEGAS NEWS
>VEGAS VIEWS FULL NEWS ARCHIVES
>Return to "Heard Around Town"
>Return to Las Vegas Leisure Guide