'THE RAT PACK IS BACK' FINDS NEW HOME AT RIO

"The Rat Pack Is Back," the successful tribute show that was most recently downtown at the Plaza, will open in its new home at the Rio in the Crown Theater on Monday, June 12. The show will run nightly at 8:30 p.m. Tickets are $62.10, $73.10 and $95.10.

'THE VIPER VIXENS' IS NEW SHOW AT O'SHEAS

"The Viper Vixens" is a new topless show in the small second floor theater in O'Sheas Casino. It's a small but mighty cast of sexy dancers including singer Deena Cary, who toured for two years as lead singer of "Purrfect Angelz" and opened for major artists including Big & Rich, Trace Adkins and Earth, Wind & Fire. Woven throughout the show is the crossbow act Mr. and Mrs. G. The show's multi-talented director, choreographer and only male dancer is Mr. G, who is also known as Ottavio Gesmundo. A small side video screen introduces each act that has a snake name from Cottonmouth to Diamondback. Tickets are $45.


Column Continues Below Advertisement



LOCAL JUDGE JACKIE GLASS JOINS 'SWIFT JUSTICE' ON TV

Local Las Vegas judge, Jackie Glass, is taking over as host of TV's one-year old syndicated legal show, "Swift Justice," as original host, Nancy Grace, departs. Glass with a journalism degree became a reporter for local Channel 13. She earned her Juris Doctor degree from the University of San Diego, School of Law in 1984 and practiced law for more than 20 years. She and her husband, attorney Steve Wolfson, formed the law firm of Wolfson & Glass in 1990, where she focused on criminal cases. They practiced together for 12 years, prior to Glass becoming a Clark County District Court judge in 2003. She became famous for presiding over the case that sent O.J. Simpson to jail for his role in an armed robbery at the Palace Station in 2008.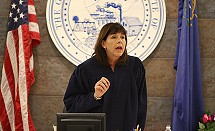 PUSSYCAT DOLLS BURLESQUE SALOON OPENS
Pussycat Dolls Burlesque Saloon had its opening at Planet Hollywood with a performance by Carmen Electra on Saturday, June 4. The new 4,500-square-foot club is open 9 p.m. to 4 a.m., Tuesday through and Saturday, and urges patrons' "inner Doll" to come out with bar-tops for dancing, a rhinestone-encrusted bathtub and raised platforms.
'LOVE' ANNIVERSARY AND LENNON EDUCATIONAL TOUR BUS
Sir Paul McCartney and fiancée Nancy Shevell along with Yoko Ono, Olivia Harrison and son Dhani will attend the fifth-anniversary celebrations of "Love" at The Mirage on June 8, which is normally a dark night, and McCartney's favorite DJ Chris Holmes will spin the wheels of steel at the after-party. Also attending will be The Beatles producer Sir George Martin and son Giles Martin, who produced the Grammy-winning soundtrack of 130 Beatles songs in the final 26 tracks.
In conjunction with the fifth anniversary, the John Lennon Educational Tour Bus is pulling up to The Mirage's main porte cochere for public tours and recording sessions June 6 – 11, 3 – 8 p.m. Guests will be able to try out the latest in recording and video technology. Additionally, to enter to win an Epiphone guitar signed by Yoko Ono, visit www.lennonbus.org/love.
JIM GAFFIGAN TO PERFORM AT MIRAGE
Comedian and actor Jim Gaffigan will perform his stand-up routine at The Mirage, Nov. 25 and 26. Gaffigan has earned a spot as one of the Top Five most successful touring comedians in the country today.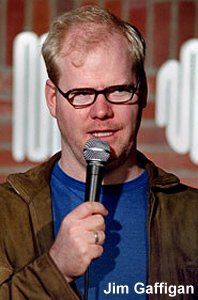 On the big screen, some of Gaffigan's appearances include "Away We Go" starring John Krasinski and Maggie Gyllenhaal, "17 Again" with Zac Efron, and "Going the Distance" featuring Drew Barrymore, Ron Livingston and Christina Applegate. Tickets are $59.99 and $69.99, call 800-963-9634.
GOLDEN RAINBOW PRESENTS 25TH ANNUAL "RIBBON OF LIFE"
The HIV/AIDS nonprofit Golden Rainbow will present the 25th "Ribbon of Life" fundraising production at 1 p.m. on Sunday, June 26 at Paris Théâtre inside the Paris Hotel. Confirmed performers include comedian George Wallace, Motown sensations "Human Nature" and cast members from "Jubilee!," "O," "Le Reve," "Zumanity," "Fantasy," "The Lion King," "Peepshow" and more. Tickets are $35, $50, $100 and $200, call at 888-746-7784. All tickets include entry to the after-party at Chateau Nightclub and Gardens.
ALLEN AND BLACKWELL APPEAR AT PALACE STATION
Comedian Marty Allen and his stage partner and wife Karon Kate Blackwell will headline the Louie Anderson Theater at Palace Station, June 14 – 18. Tickets are from $57, call 702-739-3267.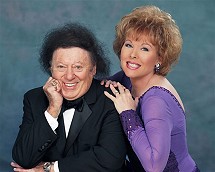 Allen is among the last generation Vegas vintage performers. During the 1950s, he worked as an opening act for major stars and became part of the comedy team of Allen & Rossi. The comedy duo produced a string of hit comedy albums, made 40 appearances on "The Ed Sullivan Show" including the night The Beatles made their U.S. debut, and starred in the film "The Last of the Secret Agents."
Blackwell is a vocalist and pianist who performs most musical genres and several of her own compositions. On stage, she's a perfect foil for Allen's comedic shenanigans.
BRODY DOLYNIUK LEAVES YELLOW BRICK ROAD
It's an end of an era for Yellow Brick Road fans. After 14 years fronting the classic rock band, lead vocalist Brody Dolyniuk will make his final group performance with "The Symphonic Rock Show" on Saturday, June 18 at 8 p.m. at the Henderson Pavilion. Tickets are $10, call 702-267-4TIX (4849).
Dolyniuk' replacement will be friend and fellow musician Kelly Christian. Founded by Dolyniuk in 1997, Yellow Brick Road was originally an Elton John tribute band and later incorporated other classic rock songs from the '70s and '80s.
PALAZZO OFFERS PATRIOTIC ATRIUM AND LETTER KIOSKS
The Palazzo is inviting guests to send words of encouragement to soldiers overseas at two digital kiosks in the resort's waterfall atrium and gardens area through July 4. The United Service Organizations Las Vegas center (USO LV) will distribute the letters.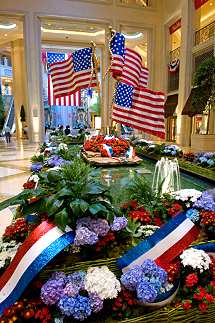 The atrium is decorated with more than 1,500 vibrant red, white and blue blooming foliages, a massive 600-square-foot American flag suspended 20 feet above the lower-level fountains, eight-foot firework bursts, decorative streamers lining the upper levels, two custom-designed, jeweled American flags measuring 15 square feet, and three additional American flags measuring 54 square feet round out the overall celebratory picturesque scene.
FRENCH SINGER PATRICK BRUEL DEBUTS AT WYNN
French singer Patrick Bruel will make his Las Vegas debut July 2 at 9 p.m. at the Encore Theater and perform his show in French. Bruel is regarded as one of France's most talented entertainers. He skyrocketed to fame as an actor and then launched a music career. He has recorded six studio albums and numerous live albums. Tickets are $125 and $250, call 702-770-9966.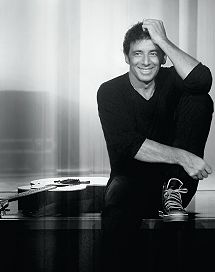 PALAZZO AND VENETIAN START BAR HOP EXPERIENCE
A pass to Bar Hop at the Palazzo and Venetian includes unlimited well drinks, house wine and domestic beers at Laguna Champagne Bar, Fusion Mixology Bar, Salute Lounge, Oculus Bar and La Scena Lounge. This special wristband pass also includes complimentary admission to Azure Luxury Pool. Cost is $75 per day or $150 for a weekend hop, call 702-414-9000.
TOP OF NEXT COLUMN
REGISTRATION OPENS FOR SUPER RUN CLASSIC CAR SHOW
Participant registration is now open for this year's Super Run Classic Car Show, scheduled Sept. 22 –25 in Henderson's historic Water Street District. The event is open to all years, makes and models of classic vehicles with space for 1,000 cars. Early registration is $50 until Thursday, Sept. 15.
As part of Super Run, entrants will have the chance to win up to $15,000 in cash prizes and more than 250 awards from People's Choice to Outstanding Engine and Best of Show. In addition, there will be adrenaline-powered competitions including slow drags, roaring engines and burn-out contests.
There will be entertainment with Rock 'n' Roll Hall of Famer, Dennis Edwards, on Sept. 23 and The Temptations Review the following night Sept. 24.
MARTHA DAVIS ROCKS WITH THE MOTELS IN HENDERSON
The only original member Martha Davis will join her '80s band, The Motels, in Henderson for a special concert at the Henderson Events Plaza in the Water Street District on Friday, June 17 at 8 p.m. as part of ArtBeat presented by Target. Davis and The Motels, known for two Top 10 songs, "Only the Lonely" and "Suddenly Last Summer," are embarking on a nationwide tour this year.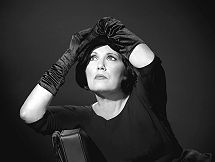 QUICK CLIPS
Border Grill has opened Zona Peligroso, its new outdoor bar located on the restaurant's downstairs patio poolside at Mandalay Beach. Sponsored by Peligrosa Tequila, the bar is open during pool hours.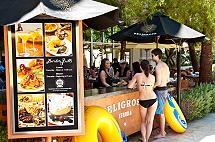 The Fragrance Factory has opened at The Village Lake Las Vegas. It's a fragrance bar focusing on the practices of aromatherapy and natural preservation to create an olfactory experience. Customers can create their own signature scents, plus there are customized products.
Palms Casino Resort and 9 Group will launch turntable mix-master DJ Pauly D's exclusive Vegas residency on June 24 and 25 at Rain and Moon Nightclubs and Palms Pool & Bungalows.
As special musical guest star in the "Chippendales" male strip revue at the Rio, Jeff Timmons of 98 Degrees has been a sellout. His original four-week engagement has been extended an additional two weeks through June 19.
For the second year, actor, writer and comedian Jay Mohr will return to host the 2011 NHL Awards and honor the National Hockey League's biggest stars on Wednesday, June 22, at the Pearl inside the Palms.
Jabbawockeez, the world-famous dance crew at Monte Carlo, has added two additional performances of "MÜS.I.C." to its show lineup.
Art Vargas will bring back retro Las Vegas with his "Vintage Vegas Live" show featuring song and dance performances reminiscent of legendary stars at the Rampart Casino on June 11, 12 and 13 in Addison's Lounge. Tickets are $15 in advance and $20 at the door with one drink included.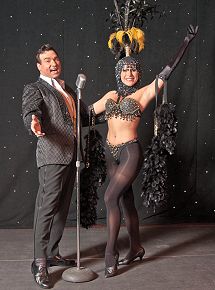 Caesars Entertainment Las Vegas resorts' All Stage Pass has added three more shows to its "All Star" line-up: "Absinthe" at Caesars Palace; "Viper Vixens" at O'Sheas ; and "Crown Comedy Jam" at the Rio, bringing the program's show count to 21 possible entertainment offerings. The All Stage Pass allows guests to see as many of the 21 shows within 48 hours of purchase priced at $99 for Total Rewards members and $119 for others.
Andre's Restaurant & Lounge at Monte Carlo is teaming up with Napa Valley's Whitehall Lane Winery to present a multi-course wine-pairing dinner on Friday, June 24. Price is $125, call 702-798-7151.
For the fifth year, it will be National Flip Flop Day at all 20 Tropical Smoothie Cafés on June 17. The first 500 customers at each location wearing flip flop sandals will receive a free 24-oz. Jetty Punch™ smoothie.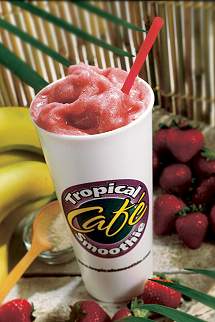 RHUMBAR cocktail and cigar lounge at The Mirage will feature a cocktail and cigar pairing for $20 on Father's Day.
Reality television star Scott Disick celebrated his 28th birthday recently at Gallery Nightclub inside Planet Hollywood with his long-time girlfriend, Kourtney Kardashian, and "Keeping Up With The Kardashians" co-star, Malika Haqq, after they had cake at Sugar Factory.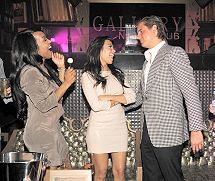 OpenTable, Inc., a leading provider of free, real-time online restaurant reservations for diners and reservation and guest management solutions for restaurants, announced the 50 winners of its Diners' Choice Awards for Best Outdoor Dining in the United States. The list of winners is derived from more than seven million reviews of more than 12,000 restaurants. In Las Vegas, Marche Bacchus was listed, visit marchebacchus.com.
"O" by Cirque du Soleil celebrated its 6,000th performance last month. Following the show, 20 original cast members came forward on stage and balloons dropped over the audience. More than 10 million people have seen "O" since it first premiered on Oct. 15, 1998. Twenty original crew members remain, and 24 original cast members still perform in the show.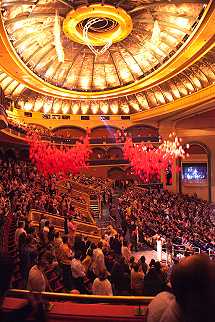 The National Park Service and Forever Resorts, LLC are dedicating the first floating building project in the world to be registered for LEED® certification on Monday, June 6, at 1 p.m. at Lake Mead National Recreation Area's Cottonwood Cove Resort and Marina on Lake Mohave. To commemorate the building's dedication, an art contest is being held through Aug. 15; visit the marina's Facebook page at www.facebook.com/CottonwoodCove.
The Lied Discovery Children's Museum downtown is hosting the hands-on touring exhibition "Smokey Bear and Woodsy Owl: Home Sweet Home" featuring two American icons that lead visitors into pretend woodland and urban settings through Sept. 25.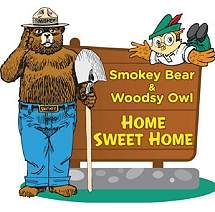 OLYMPIC BOXER JOE FRAZIER DOES MEET AND GREET
Memorabilia International inside Miracle Mile Shops at Planet Hollywood will host a series of meet-and-greets with former Olympic and world heavyweight boxing champion Smokin' Joe Frazier from 1 to 4 p.m. June 3-9. Fans must purchase memorabilia for Frazier to sign, which includes 8x10 photos ($79), 16x20 photos ($99) and boxing gloves ($119). Photo opportunities are free with any paid purchase. For information, call 702-476-6151 or visit www.milasvegas.com.
Column Continues Below Advertisement
CONTINUE ON TO...:
>THIS WEEK'S LAUGHLIN NEWS
>LAST WEEK'S LAS VEGAS NEWS
>VEGAS VIEWS FULL NEWS ARCHIVES
>Return to "Heard Around Town"
>Return to Las Vegas Leisure Guide