American Casino and Entertainment Properties (ACEP), the company that has acquired the Flamingo Laughlin, has announced their plan to re-christen the 7.7 acre property as Aquarius in October. Plans are calling for the resort to become a more upscale venue appealing to high-end players. Guests with Flamingo Laughlin players cards will be able to transfer all their points to the new Ace card.
Some of the changes call for upgrading the slot floor, remodeling the rooms and changing some entertainment for the indoor venues.
"Hot August Night! A Tribute to Neil Diamond" starring Dean Colley will stop at the Ramada Express' Pavilion Theater, Saturday-Thursday, June 10-15 at 8 p.m. Tickets are $15, call 800-243-6846. New Distinguished Players Club members who earn 50 points will receive two free show tickets.
Dean Colley was born and raised in the Los Angeles area. While attending the University of Southern California and working as an Emergency Room Technician, Colley's true passion was writing, singing and performing. He sang and played guitar in a variety of rock and roll bands for over 20 years. The "Hot August Night!" concept was the product of the many comments about Colley's resemblance to Neil Diamond in both looks, including sideburns, and his strong baritone voice. Colley assembled an initial 30 song set of Diamond classics, auditioned band members, and began producing his own concerts.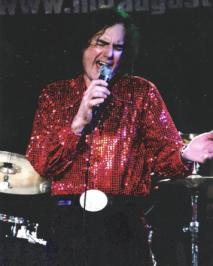 Hot August Night! captures the look and feel of the Neil Diamond concert experience with sequined shirts, a Las Vegas-style band, fabulous special effects and lighting, and of course the hit songs.
"Superstars: Live in Concert" is a Barrie Cunningham production featuring tribute artists from a wide variety of musical genres. The Blues Brothers are part of the lineup. Shows in the Bermuda Club are at 8 p.m., Saturday -Thursday. Tickets are $24.95 and $19 with a Players Club card, call 1-800-835-7904.
The musical duo, Hall & Oates will headline at Harrah's Rio Vista Outdoor Amphitheater on June 23 at 9 p.m. Tickets are $25, call 1-800-447-8700 or 702-298-8510.
From their first hit in 1974 through their heyday in the '80s, Daryl Hall and John Oates' smooth, catchy take on Philly soul brought them enormous commercial success including six number one singles and six platinum albums.
In April of 1984, the Recording Industry Association of America announced that Hall & Oates had surpassed the Everly Brothers as the most successful duo in rock history, earning a total of 19 gold and platinum awards.

TOP OF NEXT COLUMN
An Evening of Comedy at the Riverside, June 21-25, will headline The Unknown Comic and Johnny Dark at 8 p.m. in Don's Celebrity Theatre. Tickets are$$25, call 1-800-227-3849, ext. 616.
The Unknown Comic is the stage name for Canadian-American actor and stand-up comic Murray Langston, best known for his comic performances on "The Gong Show" with a paper bag over his head.
Langston began his career in 1970 when he appeared on "Rowan & Martin's Laugh-In," doing impressions of a fork, a tube of toothpaste and a grandfather clock. Later, at the suggestion of Redd Foxx, he teamed with comedian Freeman King. They became regular performers on "The Sonny & Cher Comedy Hour" and made more than 100 appearances.
Langston mistakenly invested in a nightclub restaurant called "SHOW-BIZ" that closed in two years and took his savings. Strapped for cash, he accepted an offer to appear on "The Gong Show." Reportedly embarrassed, he put a bag over his head, memorized a few old jokes, and became "The Unknown Comic." The character was a hit, and developed a cult following. He appeared on more than 150 Gong Show episodes, became a regular headliner in Las Vegas, and made the rounds of many popular talk and variety shows.
Langston later produced "The Unknown Comedy Hour" for Playboy TV, followed by "The Sex and Violence Family Hour," starring a very young Jim Carrey. He also wrote the screenplays for the films "Night Patrol" (1984), "Up Your Alley" (1988), and "Wishful Thinking" (1997).
Johnny Dark is an American comic with many television appearances, and now he appears on CBS' "Late Show with David Letterman," doing a comic spot as the oldest page at CBS. He presents an abrasive, more than sarcastic character who pities himself for the career he has lead at CBS.
The Colorado Belle has extended the popular "It's All About the Benjamins" promotion through June 29. The event marks the 300th anniversary of the year of Benjamin Franklin's birth, and, in June, is awarding $66,000 in cash and prizes to participating players. Like the promotion last month, the "It's Still All About the Benjamins" promotion features drawings for cash, the Prize Patrol distributing cash and prizes, and a chance to earn t-shirts, appetizers, microbrews and more by earning One Club points.
A total of $36,000 will be given away in prize drawings (six drawings per night, at 2 p.m. and 6 p.m., Friday through Monday). "Three Benjamins" ($300) will be given away in each of the six drawings.
The "It's Still All About the Benjamins" Prize Patrol promotion will occur each week, Tuesday through Thursday. To participate, players earn tri-cornered hats similar to the hats America's patriots wore during the American Revolution (limit one hat per account), then wear them during the promotion while playing their favorite games with their One Club cards inserted in the machine card reader. Players at machines wearing tri-cornered hats will be eligible to receive a share of over $30,000 in cash and prizes from the Prize Patrol as it cruises the casino.
It's always wise to join a casino's player club. Besides partaking of the bigger promotions, there are ongoing opportunities as well.
At the Edgewater, they offer "Triple Pointes Birthday." Members of the resort's One Club players club are awarded triple points on their cards when they play on their birthday.
At the River Palms, there's "Wacky Wednesday." Every week, Players Club members can swipe their card at the kiosk in the casino and play a scratch-off game to win cash, comps and logo items. One stipulation is you must have $100 in coin in during the prior seven days to qualify.
CONTINUE ON TO...:
>THIS WEEK'S LAS VEGAS NEWS
>LAST WEEK'S LAUGHLIN NEWS
>VEGAS VIEWS FULL ARCHIVES
>Return to "Heard Around Town"
>Return to Las Vegas Leisure Guide