"The Price is Right - Live" is perfect for television fans of the long-running game show and also for people who like to win prizes and take part in all the lively fun. The stage show version has already encountered a successful run at Bally's in Atlantic City where it continues to run through 2006 and in five other casinos around the country. Now the show is at Bally's in the Jubliee! Theater for a two-year run that began on April 25. The show is presented by FremantleMedia, the producers of "American Idol" and "The Price is Right" TV shows.
Just like on television, the live stage show features fan-favorite games like "Plinko," 'Cliff Hangers," "The Big Wheel," "Hole in One," and of course, "The Showcase." Contestants have a chance to win thousands of dollars in cash and prizes including a new car.

Column Continues Below Advertisement


The show's host is personable Todd Newton, who is known as the host of "E! News Live," "Coming Attractions" and "Whammy! The All New Press Your Luck." He's assisted by an announcer and two lovely models showing off the prizes.
Unlike most shows where all the action is on stage, the whole showroom becomes part of the frenzied fun. By using new interactive technology, audience members are eligible to become contestants and to win prizes. Prior to selecting new contestants to "Come on Down!", the audience is shown a classic clip from "The Price is Right" TV show. A question about the clip follows and by using keypads, audience members select their answers. The first four people with the correct answer get to play the game.
Shows are at 2:30 p.m. Tuesday-Thursday and Saturday, and at 8 p.m. on Friday. Tickets are $39.95, call 1-877-374-7469.
It's a new name and look for The Shops in Desert Passage at the Aladdin. The owners have revealed the shopping center's re-branding as the Miracle Mile Shops, named in part to promote the 1.5 miles of retail space that the 475,000-square-foot mall covers. The massive change and renovation is expected to be completed in 2007.
The $50 million makeover will focus on de-theming the center's elaborate Moroccan design for a more streamlined, clean and modern atmosphere in a move to create synergy with the $200 million renovation and re-branding of the Aladdin Hotel & Casino into the Planet Hollywood Hotel & Casino.
Planned enhancements include new comfortable flooring, brighter interior lighting, streamlined and modernized storefronts and kiosks and a completely de-themed interior. The circular mall will become easier to navigate with the addition of an interactive directional system and a three-story sculptural facade element, which will identify entry to the mall.
Plans for the center's exterior includes adding people movers for better access into the mall, a backlit sidewalk water feature and state-of-the-art LED video offering continuous streaming imagery. Additionally, the mall's entrances and existing retail locations on the facade will be made over with floor-to-ceiling glass vestibule doors and storefronts. Finally, the new exterior will include a new inviting patio and terrace to extend out to the sidewalk.
Additionally, the Miracle Mile name serves to reflect the abundance of new, brand name and internationally recognized retailers that have acquired retail space inside the center. In 2006 and 2007, Miracle Mile Shops will welcome Urban Outfitters, the Polynesian-fusion Trader Vic's restaurant, British menswear of Ben Sherman, the outdoor sports lifestyle company Quiksilver, women's fashions of Marciano, and the restaurant Pampas Brazilian Grille. Notable names that have signed leasing deals in the past year include United Colors of Benetton and Sisley, The Coffee Bean & Tea Leaf, Las Vegas' largest BEBE Sport store and Modern Watch Co. The mall features 170 specialty stores and 15 restaurants.
Preview performances for "LOVE" featuring the Beatles music began last Friday in a custom-built theatre at The Mirage featuring 360ø seating and advanced high definition video projections with 100-foot digital, moving images. The panoramic surround sound system envelops the audience while the international cast of 60 channels a raw, youthful energy underscored by aerial performance, extreme sports and urban, freestyle dance. "LOVE" brings the magic of Cirque du Soleil together with the spirit and passion of The Beatles.
Ticket prices will be $150, $125, $99, $69. All preview performances through June 29 are discounted 25 percent, call 702-792-7777 or 800-963-9634.
The Tropicana has brought back Titanic: The Artifact Exhibition for a limited engagement. The exhibition has been re-designed for Las Vegas with a focus on her compelling human stories as best told through more than 320 new artifacts and more extensive room re-creations. The displays include a full-scale re-creation of the Grand Staircase, a newly expanded re-creation of the outer Promenade Deck complete with severe drop in temperature emulating that cold April night, and 3rd class hallway punctuating the class distinctions.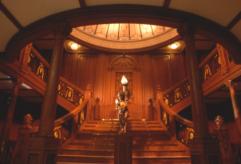 The demand for Titanic: The Artifact Exhibition during its most recent Tropicana visit resulted in two extensions and more than 300,000 visitors during its year-long engagement.
The exhibit is open daily from 10 a.m. to 10 p.m. Tickets range from $20 for adults to $11 for children ages four to 11, call 702-739-2411.
Town Square on Las Vegas Boulevard just south of Mandalay Bay on the site of the former Vacation Village will be a $750 million open-air retail center laid out in a village-style setting. It's being developed by Turnberry Associates and Centra. The 1.5 million-square-foot project will rival the 1.9 million-square-foot Fashion Show mall.
Restaurants that will be making their Las Vegas debut at Town Square will include Tommy Bahama's Tropical Café, Yardhouse and Texas De Brazil. Other eateries will include Sapporo, Brio and Claim Jumper.
The Monte Carlo Resort & Casino on the Strip will celebrate its 10th anniversary June 21. Throughout June, the resort has many special offers including discounts, a commemorative $5 dollar chip, and anniversary coins.
Master magician Burton is extending a special $10 ticket discount for his Tuesday and Saturday 10 p.m. performances. In addition, Burton will do a special performance on the June 21 and unveil a never-before seen grand illusion.
Monte Carlo's One Club members can qualify to win $10,000 every Saturday in June at 10 p.m. drawings where three lucky cardholders each win that amount.
The Monte Carlo Pub & Brewery is participating by introducing the "X" beer in a commemorative glass. The pub is also offering its legendary giraffe size beer for a special price of $10.
Award-winning chef Andre Rochat is presenting a special $115 tasting menu featuring six courses and offering a sommelier's wine pairing with each course for an additional cost of $55, call 702-798-7151.
Since its inception in 1998, CineVegas has established itself as one of the fastest growing film festivals in the world, being mentioned in a TIME Magazine cover story. The 8th annual festival will be held June 9-17, at the Palms. For information, call 888-8VEGAS8.
CineVegas will hold many red carpet events and screenings with filmmakers and actors like Dennis Hopper, Sylvester Stallone and Laurence Fishburne.
Gifted vocalist Trenyce and "American Idol" finalist is now a multi-week headliner in "V" the Ultimate Variety Show at the Aladdin and Desert Passage. Trenyce was a second season finalist on Fox's smash hit "American Idol" in 2003. She placed in the top five along side Clay Aiken and Ruben Studdard.
In addition to Trenyce's star turn in "V" the Ultimate Variety Show this summer, she can be seen in the musical stage production of "Dream Girls." She will perform at the World Cup Soccer Championships in Berlin too and work on her solo album.
"V" the Ultimate Variety Show features the best variety acts. There's two shows nightly at 7:30 p.m. and 9:00 p.m. Tickets are $64 for general admission and $74 for VIP, call 702- 932-1818.
Reminder, the 20th annual "Ribbon of Life" HIV/AIDS fundraiser production spectacular will be staged June 10 and 11 at 1 p.m. each day at Bally's and highlight hundreds of singers and dancers from the best shows on the Las Vegas Strip. This year, Siegfried & Roy are being honored with a "Lifetime Commitment" award for all their support. Tickets range from $50 to $200, call 702-384-2899.
The Imperial Palace recently opened a new casual seafood dinner restaurant called the Cockeyed Clam. The New England-style eatery is located in the space previously occupied by the Seahouse on the fifth floor of the Pagoda Tower and open Friday through Tuesday. Clammy is the restaurant's advertising icon introducing the assortment of seafood including shrimp, scallops, crab, catfish, calamari, oysters, mussels, lobster and, of course, clams. Note the desserts are jumbo size especially the ultimate strawberry tall cake.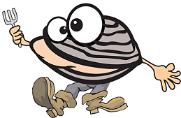 Madonna has returned to the Madame Tussauds Las Vegas "On Stage" attraction with a totally new look that reflects her "Confessions" Tour, which kicked off May 27 at the MGM Grand Garden Arena. Madame Tussauds' artists spent the past month making extensive changes to her face, hair, make-up and clothing to create the look she is showing America this summer.
Every Thursday night at 8 p.m. through Sept. 7 is Movies al Fresco (outdoors) at the MonteLago Village. Admission and parking are free.
Jazz on the Lake at MonteLago Village on the events plaza is every Friday night through Nov. 17 from 7 to 10 p.m. Admission and parking are again free to the event. The remaining June schedule is Sacred Groove June 9, Danny Rhodes June 16, Vegas Jazz Express June 23, and Moody Scott June 30.
The Tropicana has introduced 'Wet,' a new Saturday night pool party through Sept. 2, with free admission from 6 to 11 p.m. A live band performs every Saturday night and a disc jockey keeps the party going throughout the evening. Drink and food specials including 50-cent draft beers are available. There's also swimming, dancing and gambling at the swim-up blackjack tables. All women are invited to enter a winner takes all $1,000 cash prize bikini contest. Guests must be 21 or older.
On May 27 at Mandalay Bay, the competition for "The Most Beautiful Twins in the World" was taped for a televised special that will be syndicated worldwide and air on June 24. The worldwide castings for Body Doubles presented finalists ranging in age from 18 to 28. VH1's Rachel Perry hosted the extravaganza and the celebrity judges included designer Sabrina and Kelly from "8th and Ocean," "Extra!" correspondent Jon Kelley, and supermodel Kylie Bax. There was also a featured performance by Ashley Parker Angel.
Treasure Island has opened a non-smoking poker room with eight tables, eight LCD plasma screens lining the room, and 24-hour complimentary beverage service. The non-traditional table felts feature images of Tangerine, the burlesque nightspot and the tempting Sirens of TI.
The Chapel by the Bay is now THEwedding chapel at Mandalay Bay. It has been relocated near the convention center between Shark Reef and Border Grill and completely renovated with a harmonic blend of earth tones, dark woods, modern artwork and glass-beaded lights. There are views of the tropically themed Mandalay Bay Beach along with music played on a baby grand. There are three chapels with each one holding up to 100 guests. Packages range from $675 to $2595.
Nicky Hilton unveiled her new Jewelry line at the nightclub Pure last Friday. After recently launching her stylish clothing line "Chick," Hilton follows up with a new line of accessories, trendy necklaces and big bracelets available exclusively at Claire's.
CONTINUE ON TO...:
>THIS WEEK'S LAUGHLIN SEGMENT
>LAST WEEK'S LAS VEGAS SEGMENT
>VEGAS VIEWS FULL ARCHIVES
>Return to "Heard Around Town"
>Return to Las Vegas Leisure Guide