Harrah's recently completed its $1.8 million room renovation project that began in December 2006 and saw the conversion of 80 hotel rooms into 40 new suites, bringing the total number of suites to 171.
The North Tower conversion of rooms brings 18 suites to the 18th floor and 20 suites to the 19th floor as well as one spacious king suite per floor. The highlight of the 1,400-square-foot king suite is the 180-degree view of the Colorado River and surrounding mountains. The project involved replacing existing furniture with all new pieces as well as carpeting, bedspreads, drapes, wallpaper and flooring.
Harrah's is the second largest hotel-casino in Laughlin's gaming community, located along the banks of the Colorado River. The resort boasts 1,505 hotel rooms and more than 50,000 square feet of casino space including a separate non-smoking casino and World Series of Poker® themed poker room.
The Aquarius (formerly the Flamingo) is offering a variety of recreational packages that cater to those interested in jet skiing, boating and golf. Through Labor Day, the outdoor packages are on sale, call 800-662-LUCK.
Desert Lakes Golf Club, just minutes from the Aquarius in Bullhead City, Ariz. offers several different packages as well as a driving range, practice green and aqua driving range. One or two-night golf packages are also available.
Aquarius also features 90-minute tours aboard the Colorado River's newest tour boat, the Celebration. Daily "themed" cruises are available, including the Celebration Dinner Cruise. Cruises start from $11. Jet Ski packages can also be purchased.
Harrah's is hosting a limited-engagement theatrical experience, "Jungua: Descendants of the Dragon" from June 12 - 16, at 8 p.m. nightly and 10 p.m. on Saturday. Tickets start at $22.95, call 702-298-8510.
The culture and tradition of the Chinese people has inspired this production featuring acrobatic acts, martial arts, music and dance. Dramatic scenery, authentic props and lavish costumes are married with choreography, acrobatic and martial arts mastery to create a Far East production. Featuring the Kung Fu Monks and Imperial Acrobats of China, the show highlights lightening fast martial arts fight sequences, strength in balance and flexibility and acrobatic feats of aerialists and jugglers.
At Kokopelli's Showroom at the Edgewater, "Magic on the Edge" starring magician / illusionist Jeff McBride will play nightly at 8 p.m. from June 13-18, and 20-25. Tickets are $20, call 1-800-677-4837.
The Elks Lodge will host the first Youth Activities and Scholarship Show and Shine on Saturday, June 16 from 8 a.m. to 3 p.m. The car show will be held at the lodge located at 1745 Emerald Drive at Hancock. Entry fees are $20 per vehicle and the first 50 to sign up will receive commemorative T-shirts. For information, call 928-763-4837.
Don Laughlin's Classic Car Collection offers an opportunity to see many rare and historic automobiles with more than 80 beautiful antique automobiles, trucks and motorcycles on display. The exhibit is open daily and it's free of charge. From limousines once owned by notorious historic figures and movie cars, to the battered motorcycle Steve McQueen rode to get away from it all, this collection has something for everyone.

TOP OF NEXT COLUMN
Two of the biggest resorts on Casino Drive will soon have new owners. The MGM Mirage is selling the Edgewater and Colorado Belle to Marnell Sher Gaming LLC for $200 million. Combined, the two properties occupy 57 acres with about 900 feet of Colorado River frontage. They have 2,535 hotel rooms and 138,000 square feet of casino space.
Want to catch first run films in Laughlin, check out Brenden Theatres at the Avi or the Cinema Six-Plex at the Riverside.
The Colorado Belle was voted "Best Casino Overall" in an annual "best of" poll of thousands of readers in the tri-state area. News West Publishing Company notified Colorado Belle on May 23 that the property had earned the honor. In addition, readers once again named the property's Boiler Room as Best Microbrewery and Mark Twain's Chicken, Ribs & Steaks Restaurant as Best Barbecue Restaurant.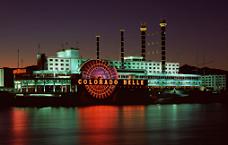 The "International Stamp & Coin Convention" will be held at the Mardi Gras Room at the Colorado Belle, June 8-10. Stamp and coin collectors will have their collections on view and for sale. There will be free coin appraisals. For information, call 818-997-6496.
Cash and prizes totaling more than $11,000 are being featured in the Colorado Belle's "Shoot for the Moon in June" promotion drawings, running through June 30. Through June 29, a $500 "Lunar Loot" cash prize will be awarded to the drawing winner each Friday and Sunday at 6 p.m. Each Saturday through June 23, two $500 "Lunar Loot" cash prizes will be awarded in drawings. Then, on Saturday, June 30, it's "Full Moon Fever," and drawings will be held at 2, 4, 6, 8, and 10 p.m. Prizes of $500 in cash will be awarded to each drawing winner. To participate, One Club members play their favorite games to earn points to redeem for drawing tickets.
Hypnotist Ron Stubbs will put on a fast-paced hypnotic comedic romp through the inner mind where the audience becomes the stars, June 5-9, at the Riverside. Tickets are $22, call 1-800-227-3849.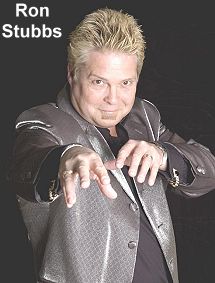 Stubbs has been called "one of the most progressive stage hypnotists available worldwide." His level of skill in the field is obvious as he guides the volunteers on stage into a deep hypnotic state.
Stubbs is also a certified, clinical hypno-therapist and trainer, NLP instructor, body language expert and motivational speaker. Stubbs has been the past president of the National Guild of Hypnotists for Washington State for more than three years, and as the U.S. Director and one of only four hypnosis instructors in the United States certified and accredited by the association of Professional Hypnotists and Psychotherapists.
CONTINUE ON TO...:
>THIS WEEK'S LAS VEGAS NEWS
>LAST WEEK'S LAUGHLIN NEWS
>VEGAS VIEW FULL ARCHIVES
>Return to "Heard Around Town"
>Return to Las Vegas Leisure Guide