COLORADO RIVER IS LAUGHLIN'S FOCAL POINT!

When you think of Laughlin, the first thing that comes to mind is it is a resort destination located along the Colorado River. All day long you can observe pontoon boats crisscrossing the river between Laughlin's resorts nestled along the water and a landing on the Bullhead City, Ariz., side. The pontoons are fun to watch and more fun to ride.

Until 1992, the water taxis were owned by the casinos and free to ride. Due to rising fuel and insurance costs, the casinos got out of the boat business. The taxis were sold to a local business man and now there is a fee. A one-way ticket is $4. Day passes are $20 and with some exceptions often on sale for $15. You can however, still ride across the river for free on the Riverside's water taxis. Tickets can be purchased at the docks. Hours of operation start at 9 a.m. daily with winter and summer hours going from 9 to 11 p.m. depending.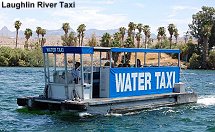 Safety first, every River Passage Water Taxi is navigated by a captain fully licensed by the United States Coast Guard and inspected annually. The tri-pontoons run all 12 months of the year depending on water levels and weather conditions.
TOURING THE COLORADO RIVER
While visiting Laughlin, a trip up and down the river to enjoy the desert landscape is attainable via the Celebration or USS Riverside tour boats.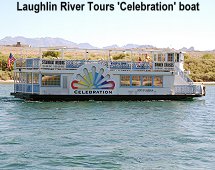 The Celebration docked at the Aquarius is the only dinner cruise on the Colorado River taking place Thursday through Saturday. Reservations are required for the two-hour dinner cruises and cost starts at $45.
The Celebration is a 112-passenger mock paddlewheel cruise boat with climate controlled lower deck and top deck with a canopy. There are a full-service bar, snack bar and restrooms on board. The 90-minute narrated Scenic Cruise is offered at 12:30 p.m. and 2:30 p.m. daily. The water tour goes from the Aquarius dock up river to the face of Davis Dam then back down river to a turning point just south of Harrah's with a return to the dock. Tickets are $10 for adults.
The USS Riverside is 119-passenger vessel docked at the Riverside Resort. This boat was specifically designed to travel under the Laughlin/Bullhead City Bridge to Davis Dam and has a shaded upper deck and climate-controlled lower deck. Narrated tour cruises are approximately 80 minutes and departure times are: 10:30 a.m.; 12:30 p.m.; 2:30 p.m. and 4:30 p.m. On Saturday, there are additional sunset cruises at 6:30 and 8:30 p.m. Beer, wine, mixed drinks, soft drinks and snacks are available for sale. Tickets are $10 for adults.
GRETCHEN WILSON HEADLINES AT THE E CENTER
Gretchen Wilson with The Loving Mary Band will appear at the Edgewater's E Center on Saturday, June 17 at 8 p.m. Ticket range is $35 to $85.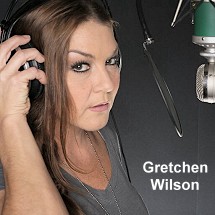 Wilson is best known for her successful platinum selling country music albums "Here for the Party" and "All Jacked Up." Her life hasn't been easy. She was born in Pocahontas, Ill., in 1973, raised by her single mother in a trailer park, and left high school in the ninth grade. She tended bar and worked in the kitchen at local clubs, singing for extra tips to pay the bills. Wilson moved to Nashville to pursue a musical career, worked in bars for four years, and was eventually discovered by Big and Rich. She says "Here For The Party" is about her life experiences.
The Loving Mary Band is a new Nashville sextet of successful singers-songwriters-musicians who together prove the whole being greater than the sum of its parts. The group released this year's most celebrated debut album and also landed a spot as Steven Tyler's backup band on his inaugural solo tour. Getting this all-star lineup together involved a series of coincidences, luck and timing. Members include: Marti Frederiksen; Sarah Tomek; and two couples Suzie McNeil - Andrew Mactaggart and Rebecca Lynn Howard - Elisha Hoffman. You might recall McNeil was the last woman standing on the TV show "Rock Star: INXS" in 2005. She had several hits in her native Canada. Note there is no Mary in the group.
PHIL VASSAR WILL BRING COUNTRY SOUND TO THE RIVERSIDE
Phil Vassar, an American country music artist, will be headlining at the Riverside in Don's Celebrity Theatre June 15 and 17 at 8 p.m. Tickets are $30.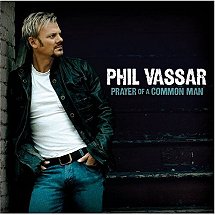 Vassar has racked up 10 No.1s, 15 Top 10s, and 26 Top 40s. His ninth album is "American Soul;" however, he actually made his debut on the country music scene in the late 1990s co-writing singles for country artists. Vassar is one of a handful of musicians to have multiple hits as a songwriter and as an artist. In 1999, he was named Country Songwriter of the Year by the American Society of Composers, Authors and Publishers. Some top songs he's written for others include: Alan Jackson's "Right on the Money;" Tim McGraw's "For a Little While & My Next Thirty Years;" and Jodee Messina's "I'm All Right & Bye Bye;" and many more.
JOHN KAY & STEPPENWOLF HEADLINE AT THE EDGEWATER
For more than three decades John Kay & Steppenwolf have been one of rock's most enduring bands. They will headline the E Center at the Edgewater on Saturday, June 3. Ticket range for the 8 p.m. performance is $45 to $85.
German-Canadian rock singer, songwriter, and guitarist John Kay is Steppenwolf's frontman, which is the group he formed in 1967 in Los Angeles. In a year, the band's blues-based rock music powered by Kay's gritty vocals were making a permanent name on the music scene with classics such as "Born To Be Wild," "Magic Carpet Ride," "The Pusher" and "Rock Me."
The band broke up in the mid-70s and was revived by Kay in 1980 as John Kay & Steppenwolf. They have released five albums with the newest, "Feed The Fire," focusing on the human spirit's resiliency even with setbacks in life and tour worldwide annually.
RELIVING THE MUSIC OF PETER, PAUL & MARY
"MacDougal Street West: A Peter, Paul & Mary Experience" will bring back memories of the legendary group's music at the Riverside in Don's Celebrity Theatre Thursday-Sunday, June 29-July 2. Tickets are $25.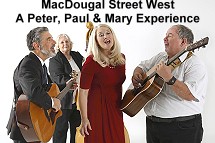 The vibrant folk music tradition was flowering in Greenwich Village, New York City, in the early 1960s. Legendary folk singers and songwriters, Peter, Paul, & Mary at the time could be heard performing nightly in the cafes along fabled MacDougal Street.
Recreating the sound is MacDougal Street West featuring the musical talents of Ron Skelton, Mary Alberts, Rick Shore, and Maxine Eldredge. They allow audiences to reminisce with great hits such as "Puff (The Magic Dragon)," "Blowin' the Wind," "Where Have All the Flowers Gone," "If I Had a Hammer," and "Leaving on a Jet Plane."
JIMMY EMERSON VISITS TROPICANA WITH 'UNBOYLIEVABLE'
An all-star cast of female impersonators featuring internationally-known comedian and impressionist, Jimmy Emerson, will descend on the Tropicana with their show "UnBOYlievable" in the Pavilion Theater on Sunday, June 25 at 8 p.m. Tickets are $15.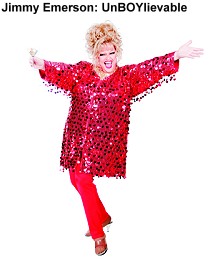 Emerson was in "La Cage" at the Riviera in Las Vegas for more than 27 years. He's famous for his outrageous trailer-trash bimbo, Tammy Spraynette. The show is an extravaganza with glitz and glamour as the talented impersonators carefully make themselves into stunning female celebrity look-alikes paying tribute with their hit songs. The show has fabulous costume changes, non-stop music, dance and comedy.
TOP OF NEXT COLUMN
WEEKENDS AT EDGEWATER FOCUS ON COMEDY


Every Friday, Saturday and Sunday, "Comedy on the Edge" in The Edge Lounge at the Edgewater, books two different stand-up comedians. Tickets for the 7 p.m. shows are $15 with a $2 discount on Sundays for U.S veterans with an ID.

The upcoming lineup includes: June 2-4 Patrick Garrity and Steve Marek; June 9-11 Brian Aldridge and Steve McInelly; June 16-18 Martina Montana and Todd Link; June 23-25 Kristin Key and Jeremy Greenberg; June 30-July 2 Kirk McHenry and Nate Armbruster; July 7-9 Heath Harmison and Kyle Erby; July 14-16 Rick Pulido and Chris Pleasant; July 21-23 Toby Hixx and Jim Bruce; and July 28-30 Barry Neal and Debbie Praver.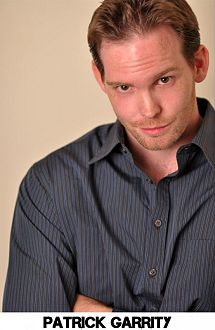 Patrick Garrity is paired with Steve Marek June 2-4. Garrity is a 15-year veteran of the comedy circuit who started at an early age and developed his skills on the circuit. His humor is mostly observational in nature centering around life in general. Through characters and real-life anecdotes, Garrity tells stories about being a younger brother, being in the military, and why Irish people don't trash talk. His humor centers on family, life in general, dating and relationships. Garrity has performed with major comedy stars including DL Hugley, Kevin Hart, Pablo Francisco, John Pinette, etc., and been a regular on SiriusXM.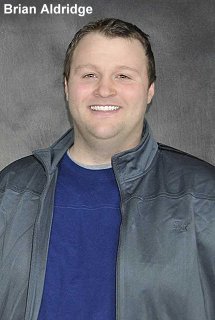 Brian Aldridge will appear with Steve McInelly June 9-11. Chicago native, Aldridge is a rising comedy star who uses sarcastic delivery and sharp wit. He is a fraternity boy grown up with material including jokes about becoming a family man, especially leaving party life to be a husband and stepdad. Aldrige has performed with a number of comedy luminaries including Dave Chapelle, Bill Burr, Chelsea Handler and Carlos Mencia. He has a couple television appearances to his credit.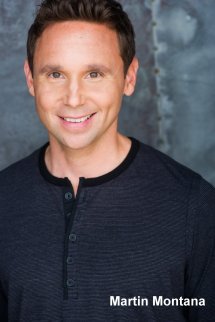 Martin Montana will share the stage with Todd Link June 16-18. Montana began his comedy career performing at a bowling alley in Boston. Now a Los Angele's resident, he's newly married, which allows him a whole new area to cover in his act, which already includes his Colombian mom and characters he's met over time. Montana can be heard on SiriusXM, was a semi-finalist in New York's Funniest Stand Up Competition, and been featured in the Boston Comedy Festival. In 2014, he began voicing the talking orange slice known as "Wedgehear" for the beer Shock Top. The campaign has run in Canada, the United States, and in a 2016 Super Bowl commercial.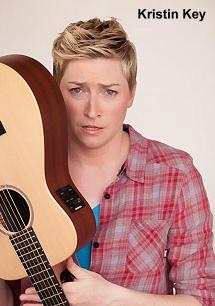 Kristin Key will create laughter with Jeremy Greenberg June 23-25. Multi-faceted Key is a comedian, musician, writer, and baller at crocheting. The 15-year comedy veteran has added a little guitar and song to her observational humor and storytelling about everyday life. Key's fourth and latest full-length stand-up comedy album, "I'm a Hooker," blends witty storytelling with playful guitar music to create a whimsical glimpse into the life of a minister's daughter, turned comedian, who struggles with her sexuality and loves to crochet. Key once stood in line for seven hours to become one of the youngest contestants on NBC's "Last Comic Standing," and was featured during Season 4. After finishing sixth, she has since been heard on SiriusXM and been a regular on "The Bob & Tom Show," as well as many major networks.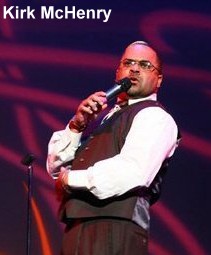 Kirk McHenry is matched up with Nate Armbruster June 30-July 2. For 15 years already, McHenry's comedy material has been built around everyday life experiences. Born and raised in Oakland, Calif., McHenry has acquired a wealth of knowledge from life in the inner city, prep school in the suburbs, college life in the south and even a successful four-year stint in the Marine Corps. He will make his film debut in the comedy "What Are The Chances" starring Snoop Dogg and E40.
LAUGHLIN LAUGH FEST 2017
It will be a weekend of laughter when the Laughlin Laugh Fest 2017 takes place at various sites in town Friday-Sunday, Aug. 4-6. Comedians participating will include Rita Rudner, Jay Leno and Anjelah Johnson. Among the events taking place, there will be a New Faces Show, Knights of Comedy Tournament, Wild Women of Comedy, panel Q&A, and business seminar.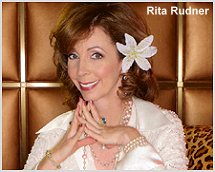 CHEFS FOOD FEST IS AN ANNUAL CULINARY EVENT
The 30th Annual Chefs Food Fest will take place Thursday, June 8 at the Aquarius Pavilion at 5:30 p.m. This is one time when chefs from the food and beverage departments of the Laughlin's hotel-casinos, plus other local restaurants and food/wine distributors, come together to showcase their creativity in a friendly competition. The fun part for folks attending is they get to sample the food and beverages and vote. Tickets are $75 and can be purchased by calling Michelle at 702-298-2214, or visiting the Laughlin Chamber of Commerce office.
QUICK NOTES
Martina McBride will visit the Riverside on Friday, July 7 at 8 p.m.
The Fourth of July falls on a Tuesday this year; however, there will still be fireworks that day over the Colorado River in celebration of Independence Day at the Avi Beach Overlook at dusk.
Fleetwood Nicks, formerly WildHeart, will headline at the Riverside May 31-June 4. This group is one of the most authentic tribute bands capturing the essence of Fleetwood Mac and Stevie Nicks in their prime. They stay true to the original studio recordings performing hits from the "Rumours" album through the Reunion Dance Tour. Tickets are $30.
Harrah's will feature "Beatles vs Elvis" from July 6-17 at 8 p.m. in the Fiesta Showroom. This is a musical shootout concert with a faceoff between Abbey Road and Scot Bruce and his band each representing their respective superstars and their hits. Tickets are $29.50 and $40.50.
At the Tropicana in the newly-updated Tango's Lounge with a brand new stage and dance floor area plus state-of-the-art surround sound and light shows, there is live music nightly featuring local bands. There's no cover charge.
Who doesn't love to sing! The Riverside has karaoke nightly from 8 p.m. to midnight in the Karaoke Dance Club.
The local all-ages Patriotic Painting Fundraiser for Bullhead City's Firefighters' Shop with a Cop and Firefighter Charities will take place at Chaparral Country Club in Bullhead City on Friday, June 23 at 5:30 p.m. The event is led by an artist and includes your personal canvas, art supplies, appetizers, a cocktail or a soft drink. Tickets are $22 in advance and $25 at the door. For information call Lorrie at 928-715-0222.
CONTINUE ON TO...:

THIS WEEK'S >LAS VEGAS NEWS
LAST MONTH'S >LAUGHLIN NEWS
>VEGAS VIEW FULL ARCHIVES
Return to >"Heard Around Town"
Return to >Las Vegas Leisure Guide