MMA ANNOUNCER BRUCE BUFFER HOSTS VOODOO ZIP LINE LAUNCH!

Mixed martial arts announcer Bruce Buffer hosted the launch of the VooDoo Zip Line at the Rio with his signature catchphrase, "It's time!" Created by New Capital Ventures, VooDoo Zip Line accommodates two riders at one time and connects the two towers of the Rio more than 490 feet above the ground. The feet-dangling, adrenaline rush attraction begins on the patio of VooDoo Steakhouse on the 50th floor of the Masquerade Tower and propels riders at speeds up to 33 miles per hour to the adjoining 20-story Ipanema Tower. Guests make a return trip to the starting point traveling backwards at 20 miles per hour. The heart-pumping adventure covers one-third of a mile in one minute and 10 seconds.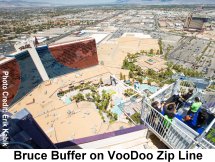 VooDoo Zip Line is open to the public from noon to midnight, Monday through Thursday, and 10 a.m. to midnight, Friday through Sunday. Daytime admission is $24.99 and $37 in the evening.
Column Continues Below Advertisement
NEW LOBBY BAR BOUND BY SALVATORE IS OPEN AT THE CROMWELL
Now open at The Cromwell is the curtained off-circular bar Bound by Salvatore that is bringing a new meaning to the lobby bar experience. The area features gold and dark tones, subtle lighting and plush seating.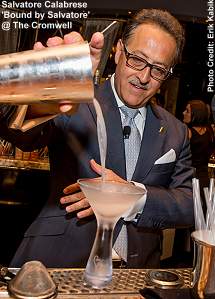 Salvatore Calabrese is one of the world's most respected bartenders with a career spanning more than 30 years in the hospitality business especially in London. He is past president of the United Kingdom Bartenders' Guild and is today internationally active encouraging bartenders through training programs and judging national and international bartenders' competitions
Designed around the notion that Las Vegas never sleeps, Calabrese has created exclusive-to-The Cromwell espresso cocktails, ideal for both night owls and early birds. Developed from an unusual method of producing the uniquely flavored coffees, these espresso cocktails are served in a frozen traditional Italian Moka Pot and boast humorous names like Keep Me Awake Bro and Never Say Goodnight.
FANXCHANGE ADDS LIVE EVENT TICKETING TO TOTAL REWARDS PROGRAM
FanXchange, a leader in live event ticketing for loyalty and reward programs, has made an agreement to provide ticketing service as a new redemption option to more than 45 million members of Total Rewards, Caesars Entertainment's award-winning loyalty program. Now members will be able to redeem their Reward Credits for tickets to virtually any live entertainment event in North America. They'll also earn Rewards Credits for purchasing tickets via the TR Live Events Marketplace that houses more than 15 million sports, concert and theater tickets at any given time.
MCCARRAN MEDICAL CLINIC AND PHARMACY OPENS AT AIRPORT
McCarran Medical Clinic and Pharmacy has opened at McCarran International Airport near the A/B checkpoint in Terminal 1 to cater to the more than 15,000 airport employees, Las Vegas locals traveling out of and into the airport and domestic and international visitors. The first-of-its-kind, the facility provides a variety of services that cater specifically to travelers, including flight clearance, vacation supply prescriptions, travel immunizations and urgent care services. Comparable to a full-sized drug store, the facility will service the entire airport community and give patrons convenient access to prescriptions, travel-approved products, snacks, magazines, toiletries, over-the-counter medications and more. Hours are 9 a.m.-6 p.m. daily for the medical clinic, 9:30 a.m.-6 p.m. for the pharmacy and 9 a.m.-9 p.m. for the retail store.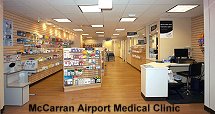 JAKE OWEN PERFORMS 'BEACHIN'' AUG. 9 CONCERT AT MANDALAY BAY
Chart-topping vocalist Jake Owen will bring his 75-city "Days of Gold Tour 2014" to Mandalay Bay Beach Saturday, Aug. 9 at 9 p.m. The country music star's current album "Days of Gold" features the current smash hit title track "Beachin'." Owen's gold-certified album "Barefoot Blue Jean Night" delivered four consecutive No. 1 hit singles and he's opened for Jason Aldean, Keith Urban, Kenny Chesney and Tim McGraw, among others. Tickets are $42.50.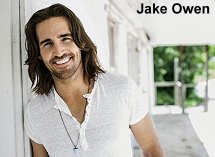 MODEL SABINA KELLEY WILL GUEST STAR IN STRATOSPHERE'S 'PIN UP™'
International pin up model, professionally trained dancer and celebrity judge on Oxygen Network's "Best Ink," Sabina Kelley will join the cast of the Stratosphere's "PIN UP™" show for six special performances July 24-31, when starlet and 2011 PLAYBOY Playmate of the Year® Claire Sinclair is at Comic-Con in San Diego promoting her comic book, "Wondrous: The Adventures of Claire Sinclair." "PIN UP™" shows are at 10:30 p.m. and tickets are $49.99.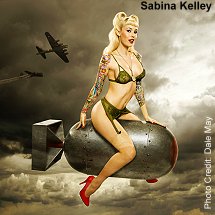 Kelley owns and operates Bombshell Tattoo Removal, a laser tattoo removal business located in Carey Hart's tattoo shop, Hart and Huntington, at the Hard Rock. She is an active member of the pitbull rescue "Pinups for Pitbulls" and a portion of ticket sale proceeds from her limited engagement will be donated to the cause by the Stratosphere on her behalf.
COSMOPOLITAN HOSTS 2014 WORLD CHAMPIONSHIP VIEWING EXPERIENCE
The 2014 World Championship Viewing, an international luxury soccer event, will transform the sports lounge Book & Stage at The Cosmopolitan into the ultimate soccer destination from June 12 through July 12. Book & Stage will turn into an urban café complete with food items and multi-cultural beverage offerings. There's no charge but tables can be reserved in advance.
The month-long experience will culminate inside The Chelsea on July 13 from 9 a.m.-3 p.m. to watch the final two contenders. Main open seating will include access to interactive soccer games, pool tables and arcade games and two complimentary beverages for $50.
WHEELCHAIR ACCESSIBLE HOT AIR BALLOON DEBUTS IN LAS VEGAS
Love is in the Air Ballooning, LLC recently in flight unveiled its new "Chariot of Fire" (COF), which is only the fifth hot air balloon in the world specially made with a wheelchair accessible ramp and specially designed gondola. COF can carry one wheelchair and up to four other passengers. Without a wheelchair aboard, the basket lends itself to special occasions, such as weddings and engagements and is rated to carry up to six passengers.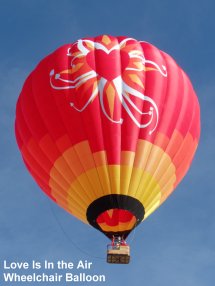 Ballooning rides with a wheelchair passenger are more expensive because of the additional space and assistance needed to accommodate their needs so the company is soliciting donations to help defer the additional cost. Love is in the Air Ballooning is in the process of acquiring nonprofit status for these flights.
According to Disability World's website, Las Vegas has more than 81,000 disabled residents and hosts more than 2.8 million disabled visitors annually. For more information, visit www.loveisintheairballooning.com or call 702-726-0400.
GOLDEN NUGGET HAS MANY NEW CHANGES
The Golden Nugget downtown recently opened two new restaurants: Claim Jumper in the Carson Tower, which is open 24 hours and is the company's fourth Las Vegas location; and Cadillac Mexican Kitchen & Tequila Bar, which has added two happy hours from 4-7 p.m. and 11 p.m.-2 a.m. Monday through Friday.
The Tank, the resort's award-winning shark tank pool, has DJ Vixen for a summer residency performing every Friday-Sunday from noon-5 p.m.
On the gaming side, the Golden Nugget is undergoing a total casino transformation with an improved floor layout, fresh slot games, progressive themed machines, new carpet and a new eight-seat Interblock virtual video roulette game with a live wheel located by the Casino Center entrance. Additionally, the Golden Nugget has signed a deal with Bally Technologies, which will now be the exclusive systems provider for all five Golden Nugget properties. This new system will include floor-wide promotions, self-serve kiosks and points earned on slots that can be redeemed directly at the machine for free play.
The seventh annual month-long Grand Poker Series at the Golden Nugget will be held June 4-July 6 in the Grand Event Center. The series offers more than 200 live poker tournaments, including a Poker Queen Ladies Championship, Seniors Event (50+), Guys and Dolls Tag Team, Grand Finale and more. Tournament buy-ins range from $65 to $1,100.
RAPPEL PLANET HOLLYWOOD TO BENEFIT SPECIAL OLYMPICS NEVADA
The daring fundraiser Rappel Planet Hollywood will have 85 people rappelling more than 350 feet down the side of the center-Strip property on Oct. 11. All participants fundraise a minimum $1,000, which directly benefits 3,200 Special Olympics Nevada athletes, who compete year-round at no cost. Registration is open at www.RappelPlanetHollywood.com. Rappellers are trained by Over the Edge professionals and secured with harnesses.
TOP OF NEXT COLUMN
MIRAGE HEADLINERS BOYZ II MEN APPEARED ON 'THE BACHELORETTE'
Iconic four-time GRAMMY Award-winning R&B group Boyz II Men and ongoing headliners at The Mirage made a special appearance on a recent episode of "The Bachelorette." The episode featured a special group date where this season's suitors perfected the art of musical harmony and put on a performance for the newest bachelorette, Andi Dorfman. Boyz II Men previewed their two new singles, "Diamond Eyes" and "Better Half," which will be available on iTunes on June 2.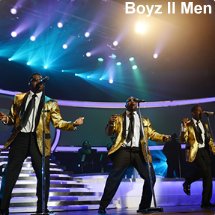 BROWNOUT PRESENTS BROWN SABBATH AT BROOKLYN BOWL
Brownout Presents Brown Sabbath live at Brooklyn Bowl on June 6 and 7 at 10:30 p.m. Brown Sabbath is the alter ego of Austin-based psych-funk collective Brownout who delve deep into reinterpreting the catalog of metal godfathers, Black Sabbath. "Hand Of Doom," featuring The Black Angels' Alex Maas on vocals, is their just-released debut single. The full-length album, "Brownout Presents Brown Sabbath," is set to follow on June 24. An eight-piece outfit formed 10 years ago by members of Grammy Award-winning Latin revival orchestra Grupo Fantasma has evolved into a musical force of its own. Tickets are available at no cover.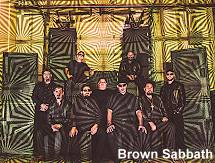 WET'N'WILD SPLASHES INTO SUMMER WITH DIVE'N'MOVIES
Back by popular demand, Dive'n'Movies at Wet'n'Wild Las Vegas will begin on Friday, June 6 at 8 p.m., kicking off with the highest grossing animated film of all time "Frozen." Movie nights are free with the price of admission and will run through Aug. 22 at the Red Rock Bay Wave Pool, which will transform into an outdoor cinema. Wet'n'Wild is also offers a Twilight admission for $19.99 for guests to enjoy the park at 4 p.m. and later. For the movie schedule, visit www.wetnwildlasvegas.com/Events/DivenMovieslv.asp.
FAST LANE ITEMS
On June 9, Santa Fe and the Fat City Horns will celebrate their special CD release with a party and a pre-show featuring special guests Rock of Ages Band starting at 9 p.m. in The Lounge inside the Palms. Their regular Monday night show will follow and start at 10:30 p.m. Tickets are $25.
The Lon Bronson Band will invigorate the Cabaret Jazz at The Smith Center again on Thursday, June 19 in an earlier time slot at 8:30 p.m. This will be a totally new show with special guest star(s). Tickets start at $15.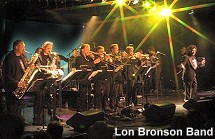 Jeff Bridges & The Abiders will appear at the Rocks Lounge at the Red Rock Resort, June 20 and 21. Tickets are $29 and $69. Bridges is a six-time Academy Award® nominee and Oscar, Golden Globe and SAG Award winner for his performance as Bad Blake in "Crazy Heart."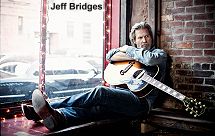 Bark & Brew is a dog friendly beer festival with samples of more than 50 craft beers, live music and food taking place at the Rumor Boutique Hotel on Saturday, June 7 from 5-9 p.m. Advance general admission tickets are $30 and $40 at the door; visit www.rockstarbeer.com.
Gin Blossoms will appear in concert at the Henderson Pavilion on Saturday, June 21 at 8 p.m. and sing their greatest hits like "Found Out About You" and Top 10s like "Hey Jealousy." Tickets are $10; call 702-267-4TIX (4849).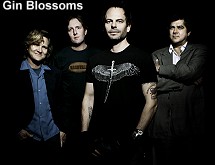 Ceres restaurant at JW Marriott is holding a five-course dinner and wine pairing event with ambassadors of Stag's Leap Winery from Napa Valley on June 6 and 7 from 6-9 p.m. Cost is $150, call 702-869-7803.
Drai's Beach Club & Nightclub at The Cromwell will launch their brand new weekly Tuesday night party, Drai's Yacht Club, on Tuesday, June 10 from 10 p.m.-5 a.m. at the venue's 30,000-square-foot beach club with two main pools. Cover Charge is $40 for men and $20 for ladies.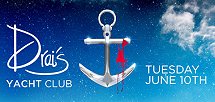 Japanese restaurant Social House, inside The Shops at Crystals, started offering a prix-fixe four-course menu daily from 5 to 7 p.m. priced at $49,
AMERICAN LUNG ASSOCIATION HOSTS FASHION SHOW AND DINNER
The American Lung Association in Nevada will hold its fourth annual fashion show event with Saks Fifth Avenue, on Friday, June 6 at the Las Vegas Country Club with guests encouraged to wear tropical attire. The Swing into Summer Fashion Show and Dinner will be hosted by comic and magician, Adam London. The American Lung Association recently made national headlines with the introduction of LUNG FORCE, an initiative addressing the startling statistic that lung cancer is the No. 1 cancer killer, killing more Americans than breast, prostate and colon cancer combined. Tickets are $150, call 702-431-6333. For silent auction information, visit www.lung.auction-bid.org.
VÉRONIC ANNOUNCES OLIVE CREST AS JUNE CHARITY PARTNER
Vocal impressionist Véronic DiCaire has announced Olive Crest as the June charity partner for "Lend Your Voice," her monthly awareness-building and fundraising effort for selected local nonprofits. Throughout the month, Véronic will encourage audience donations by providing information on Olive Crest's mission, which is preventing child abuse, treating and educating at-risk children, and preserving the family, during her headlining performances at the Jubilee Theater at Bally's.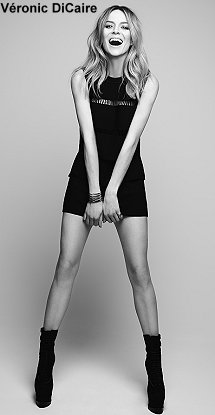 LEV RESTAURANT GROUP BRANDS SUPPORT AUTISM PROGRAMS
In June, the Lev Restaurant Group (LRG) will be helping raise funds for programs assisting those with autism, which affects one in every 68 children in the United States, according to the Centers for Disease Control. The locally owned and operated LRG will involve all its restaurant brands by donating a percentage from the sale of specific menu items between June 9 and 30 to the Grant a Gift Autism Foundation. LRG operates The Coffee Bean & Tea Leaf® and all Jamba Juice Las Vegas locations. Additionally, LRG owns and operates its proprietary brands that include i ♥ burgers at Town Square and inside the Palazzo, Daily Kitchen & Wellness Bar near 215 & Town Center and Lobster ME in the Venetian's Grand Canal Shoppes and in Planet Hollywood's Miracle Mile Shops.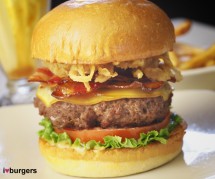 LIFE TIME ATHLETIC SUMMERLIN HOSTS SECOND POOLAPALOOZA
Life Time Athletic Summerlin will host the second Poolapalooza pool party from 10 a.m. to 8 p.m. on Saturday, June 7, at the club's resort-style outdoor pool. The summer party will culminate with a dive-in showing of "Pirates of the Caribbean: The Curse of the Black Pearl" on a giant projector screen at 8 p.m. The family-friendly event will feature a pirate theme and is open free to members and costs $60 for non-members.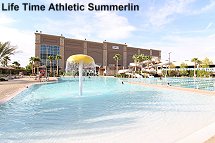 PAHRUMP HOLDS INAUGURAL SPRING MOUNTAINS RUN AND MORE EVENTS
Hundreds of motorcycles will roar into Pahrump, Nev., located an hour's drive west of Las Vegas, for the inaugural Spring Mountains Run, June 20-22 at Petrack Park. Motorcycle participants who register for a $40 VIP package will enjoy specials including: a t-shirt, ride pin, special parking and a VIP party at the Saddle West Resort along with participation in bike competitions, a poker walk, a mini-poker run and a full-blown 75-mile poker run. Portions of the event proceeds will benefit the Juvenile Diabetes Research Association. The three-day, family-friendly event will provide opportunities to check out bikes, enjoy live music, festival foods and participate in poker runs along with more In addition, live entertainment offerings.
On Father's Day, June 15, there is a combo golf and barbecue lunch at Mountain Falls Golf Course for $45, call 775-537-6553.
Community events include: Movies in the Park every Saturday in June and July at dusk; Pahrump Valley Museum Lecture Series the second Saturday of the month on June 14 at 1 p.m.; Oscar Wilde's "The Importance of Being Earnest, A Trivial Comedy for Serious People" performed by The Shadow Mountain Players at the Betsie Sanders Performing Arts Theater at Sanders Family Winery on June 13 and 14 at night; and again at the winery "The Great American Songbook," an evening of traditional jazz, blues and sultry ballads featuring Tom Saita, Kai Brant and Tommy Deering on June 20 and 21. The two events at the winery cost $15 each and include wine tastings, call 775-727-1776.
Column Continues Below Advertisement
CONTINUE ON TO...:
THIS WEEK'S >LAUGHLIN NEWS
LAST WEEK'S >LAS VEGAS NEWS
>VEGAS VIEW FULL NEWS ARCHIVES
Return to >"Heard Around Town"
Return to >Las Vegas Leisure Guide