<!A-- Left Column -->

The River Palms Comedy Room continues delivering laughs with a rotating weekly lineup of stand-up comics. All of the comics featured in the club are veterans of one or more national venues with appearances on HBO specials, Comedy Central, Premium Blend, The Tonight Show, The Late Show, and more. All are regulars on the comedy club circuit in the main metropolitan areas of the country. Billy Garan, Don Barnhart and Rick D'Elia will appear at the River Palms the week of June 10-14. Tickets are $14.95 and $19.95, call 866-448-7849.
Garan began his career performing stand-up at Catch A Rising Star in New York City. Shortly thereafter, he joined a comedy troupe called Funny Business that toured hundreds of colleges throughout the country. He performs a staggering list of impressions. His high energy and unique talent have made him a valuable opening act for Robert Klein, Jay Leno, and Jerry Seinfeld. He has produced, written and performed numerous radio commercials and has appeared on Showtime's Comedy Club Network, Caroline's Comedy Hour, and Into The Night starring Rick Dees. His acting career has taken off with appearances on ABC's Phenom, and America's Funniest People, NBC's Saved By The Bell, and California Dreams, Showtime's Sherman Oaks, and a 1994 ABC Pilot Worlds Apart.
Barnhart's comedy style incorporates physical facial and body expression that accents his witty, off-the-wall observations with an upbeat, fast paced, improvisational edge. Born in Washington, he went from ice hockey to surfing and then found his interest in performing arts. His involvement in theatre began in high school, creating a solid foundation for his future in comedy. While his father was directing Mork and Mindy, Barnhart spent his after school time on the set hanging with and learning from comic legends Jonathan Winters and Robin Williams.
After graduating, Barnhart worked as a doorman at The Comedy & Magic Club in Hermosa Beach, Calif. As luck would have it, the house emcee got sick and Barnhart was literally thrown onstage in front of Dana Carvey and Dennis Miller. Using his improv ability, he filled in and that was the opportunity that launched his career. He became one of the first comedians to graduate from The Second City Conservatory in Los Angeles.
Barnhart has released his DVD, The Click Click Clun, which includes his original sketch show, The South Bay Boys that he directed and co-wrote along with his short film, What Are The Odds?, and he has written, directed and starred in the feature film, China Dolls.
Barnhart is also an award winning comedian taking the 2007 Grand Prize in American Idol Underground's Comedy Contest. His recent television and film appearances include Ocean's 13, two television pilots, MTV, Star Search, Evening At The Improv and Friday Night.
The next fireworks display will take place over the Fourth of July weekend. Rockets Over The River is an annual fireworks display now in its 18th year that will be choreographed to patriotic music and simulcast at the Laughlin hotel/casinos at dusk on Friday, July 4. The display is free in the sky above the Colorado River at the casinos and this year the pyrotechnic experts will shoot 12-inch rockets into the dark desert sky.
On July 5, the Avi will host a free sky display at dusk over the Colorado River and again over Labor Day weekend will have firework displays by Zambelli International.

TOP OF NEXT COLUMN
The Laughlin / Bullhead International Airport recently underwent a major facelift and expansion costing $3 million. Recent changes and expansion included a $7.5 million runway rehabilitation project and expansion of the terminal by 5,000 square feet doubling the terminal by 50 percent. Air passengers flying in or out of the Laughlin / Bullhead Airport area can now enjoy check-in counters at all four existing airlines; an added state of the art TSA baggage screening system; new counter space; and additional queuing space for three major car rental companies.
In April, Vision Air of Las Vegas announced it had signed an agreement with Don Laughlin's Riverside Resort for daily charter service to Laughlin from Carlsbad, Calif,, and Mesa, Ariz. Flights beginning this month offer four to six daily flights.
Marnell-Sher Gaming, owners of the Edgewater / Colorado Belle Hotel and Casinos, are also providing new air service. Passengers can now fly from Ontario International (aka LA / Ontario International) to Laughlin on ExpressJet. These 50 passenger planes offer custom leather interiors, no middle seats, and XM Satellite radio, as well as a short 45 minute flight. These air / room packages start at just $179 per person and are available six times per week.
Sonny Turner, former lead singer for The Platters, will headline at The Pavilion Showroom at the Tropicana Express on June 14.
In late 1959, Turner replaced Tony Williams as the lead singer of the original Platters. Selected from 100 singers who auditioned, Turner at the young age of 19, toured the world with The Platters bringing their music to people of all nations. Turner brought The Platters back to the pop charts in the 1960s with such hits as Love You 1000 Times, With This Ring and Washed Ashore; as well as re-recording major Platter hits like Only You, The Great Pretender and The Magic Touch. You can hear Sonny's voice in various movies such as The Nutty Professor II starring Eddie Murphy, Hearts in Atlantis starring Anthony Hopkins, and Prince of the City starring Robert Di Niro.
There are only three surviving members of The Platters still alive today that can be heard on the hundreds of recordings and hit records that made The Platters one of the most successful vocal groups of all time. They are Herb Reed who founded the group in 1953 and sang bass, Zola Taylor, the female vocalist and Sonny Turner. Turner remained with The Platters from late 1959 until 1970 when he left to pursue a solo career. In 2005, Turner was also inducted into The Vocal Group Hall Of Fame for his achievements with The Platters.
Don Rose, who has made a career portraying Elvis and has performed his tribute show across the United States and Canada as well as in Germany and Switzerland, will do his show at the Riverside in Don's Celebrity Theater, June 3-7 and 13-15. Tickets for the 8 p.m. show are $25.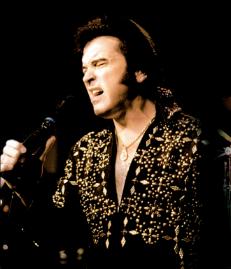 Rose has appeared on PM Philadelphia, ABC's Mike & Matty show and TNN's Country Tonight with Gary Chapman. Vocally trained in Orlando, Fla., and Nashville, Tenn., Rose works hard to make every event a special occasion and looks forward to meeting Elvis fans new and old across the country.
CONTINUE ON TO...:
>THIS WEEK'S LAS VEGAS NEWS
>LAST WEEK'S LAUGHLIN NEWS
>VEGAS VIEW FULL ARCHIVES
>Return to "Heard Around Town"
>Return to Las Vegas Leisure Guide