The Flamingo will present the legendary Minneapolis funk band, The Time, for special limited summer dates, June 24 - July 5 and July 29 - Aug. 2. These exclusive performances mark the first time the original band members have performed together in 18 years, following their acclaimed appearance at this year's Grammy Awards. Tickets for their 7:30 p.m. shows are $150, $125, $75, and $65, call 702-733-3333 or 800-221-7299.
The master of cool, Morris Day, will reunite with his original band mates, valet Jerome Benton, drummer Jellybean Johnson, bass player Terry Lewis, guitarist Jesse Johnson and keyboard artists Jimmy Jam and Monte Moir to perform all of their classic hits including, Jungle Love, Get it Up, 777-9311, The Bird, Cool and The Walk.

Column Continues Below Advertisement


The Time has carved out a unique niche in musical history since their beginnings in Minneapolis with the legendary artist, Prince. The band quickly developed a loyal fan base in the early 1980s as a result of their distinct sound, infectious dance moves and sizzling live shows. In 1984, The Time appeared as Prince's rivals in the widely popular movie Purple Rain, catapulting the group to worldwide fame. From 1981 to 1984, The Time recorded three groundbreaking albums, The Time, What Time Is It? And Ice Cream Castle.
In 1990, after several years on hiatus as a group, the original members of the band felt that the timing was right to begin recording again. The result was the album Pandemonium, which sold more than a million copies and contained the No. 1 hit Jerk Out. The reunion; however, was short lived and the group once again went their separate ways. The 18 year hiatus from recording and performing ended when the band was invited to perform at the 50th annual Grammy Awards telecast.
There is no such thing as too many good laughs and now Fitzgeralds downtown has opened a Comedy After Hours show featuring a rotating stellar lineup of contemporary comedians. Performances are in the resort's intimate second floor showroom at 9 p.m., Thursday through Tuesday, with additional shows at 11 p.m. on Friday and Saturday. Tickets are $28.95, call 702-388-2400.
Tickets are on sale now for Cirque du Soleil's new LOVE Tapis Rouge™ at The Mirage, call 866-236-5652. Beginning June 26, Tapis Rouge™ will begin each night 90 minutes before the 7 p.m. and 10 p.m. performances, Thursday through Monday, inside The Beatles REVOLUTION Lounge, located just steps away from the LOVE Theatre.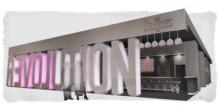 French for "red carpet," the "Tapis Rouge" concept was originally developed in 1999 for Cirque du Soleil's touring production, Dralion, and remains the name coined for the VIP package of Cirque du Soleil's Touring Shows Division as a whole. The Tapis Rouge™ package for LOVE is the first permanent show with such an experience.
The $295 Tapis Rouge™ package includes the price of a VIP show ticket and the following amenities: special VIP will-call line; customized gift bag with specially created merchandise; collectible Tapis Rouge™ lanyard provided for complimentary VIP access to the REVOLUTION Lounge for an entire week; exclusive reception before the LOVE performance at the REVOLUTION Lounge with tray-passed hors d'oeuvres and specialty cocktails; hosts to provide insights into LOVE; exclusive behind-the-scenes footage; VIP escorted access into the LOVE Theatre; and VIP line at concessions.
CityCenter has revealed that its resort casino, scheduled to open in late 2009, will be named ARIA. It will form the core of CityCenter, a more than $8 billion dazzling vertical city.
ARIA's contemporary architecture will reveal two curvilinear glass towers, a three-story lobby and 4,004 guest rooms, including 568 suites.
The resort casino will feature a variety of dining experiences, a collection of lounges, bars and nightclubs, a spa, pool, full-service salon, barber shop, deluxe fitness room and group exercise studio. The entertainment centerpiece will be a permanent production celebrating the timeless musical legacy of Elvis Presley created by Cirque du Soleil, which has partnered with CKX, Inc. and its subsidiary Elvis Presley Enterprises.
ARIA will provide a premium meeting experience with 300,000 square feet of technologically advanced meeting and convention space. Four ballrooms will offer the flexibility to accommodate gatherings of all sizes from 10 to 5,000 attendees, and three will feature fully functioning theatrical stages. The facility will encompass three levels and deliver a total of 38 meeting rooms ranging from 800 to 2,000 square feet.
Just outside ARIA's lobby doors, The Crystals, CityCenter's retail and entertainment district, will house more than 500,000 square feet of sophisticated retail space.
Throughout CityCenter's grounds, visitors will have access to an extensive $40 million public Fine Art Program. One of the program's highlights will be featured in ARIA's reception area. Famed artist Maya Lin is creating an approximately 133-foot silver cast of the Colorado River, which will be her first work of art displayed in Las Vegas. The work of Jenny Holzer will be on display as guests approach the resort's north valet, where they will be welcomed by one of the artist's insightful LED signs spanning more than 250 feet.
The Cannery in North Las Vegas will present legendary rock artist Paul Rodgers inside The Club on Saturday, June 7 at 8 p.m. Tickets start at $27.95, call 702-617-5585 or 866-287-4643.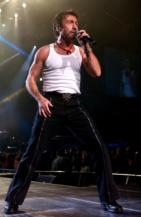 A singer, songwriter and self-taught multi-instrumentalist, Rodgers is best known for founding internationally successful rock groups Free, Bad Company and The Firm and selling more than 90 million records during his career. As a solo artist, he received a Grammy® nomination for his Muddy Water Blues album on which he wrote the title track.
Rodgers' latest solo CD / DVD release Live in Glasgow charted internationally and was certified Gold. He is currently recording for the upcoming Queen + Paul Rodgers album release and world tour.
Singer and pop culture parodist "Weird Al" Yankovic will return to Henderson to open his Straight Outta Lynwood 2008 Summer Tour at the Henderson Pavilion on Friday, June 27 at 8 p.m. Tickets range from $26 to $50, call at 702-267-4TIX (4849).
Straight Outta Lynwood, which was released in 2006, was named in honor of three-time Grammy award winner Yankovic's California hometown. The album's centerpiece White & Nerdy parodies Chamillionaire's No. 1 smash hit Ridin and also includes spoofs of American Idol winner Taylor Hicks, Green Day and Usher. The album debuted at No. 10 on the Billboard charts and has been certified gold by the Recording Industry Association of America (RIAA).
Phil Palisoul joined by Matt Braunger and Mark Riley will headline the Rivera's Comedy Club, June 9-15.
Palisoul headlined comedy clubs across the country and in 1994, he moved to Los Angeles where he became a regular at the famous Hollywood Improv and legendary Pasadena Ice House. He also started a successful career as a television writer and became a regular on TV including Last Comic Standing. Palisoul has made a name for himself covering life experiences and touching on childhood memories and married life.
Steve Miller Band premium seating tickets will be available for individuals pledging to support the quality programming and educational services of Vegas PBS on Channel 10 on Monday, June 2 at 9:15 p.m. The Steve Miller Band concert will take place at The Orleans Arena on Aug. 9.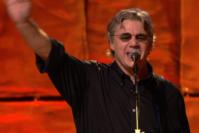 PUFF is a new multi-genre music club and venue located near the Strip at 1030 East Flamingo Road. The interior décor showcases contemporary Moroccan tapestries, vivid rich colors, spacious booths and plush pillows. There are distinctive areas including a big smoking bar location, another big club room and lots of private booths along the perimeters of both rooms.
PUFF promotes a variety of music genres, has happy hours featuring 2-for-1 drinks and tapas from 5 to7 p.m. nightly and 5 to 7 a.m. daily, and highlights the hookah experience with a "Puffologist" creating specialty tobacco mixes. Another big focus is on nightclub action.
The Tropicana's seasonal Swim-Up Blackjack game, located in the main pool surrounded by five acres of lush tropical grounds, is open again to hotel guests for the summer. The aquatic card game is open daily from 10 a.m. to 5 p.m. and includes two separate $5-$25 blackjack tables that can accommodate up to seven players each. Exotic beverages from the Swim-Up Bar are just a splash away. The 12,000-square-foot, free-form main pool with an island in the middle is newly renovated.
As part of its tenth anniversary, CineVegas will present two screenings of Adrian Wills' All Together Now in the Festival's "Vegas Uncovered" section, a special section of documentaries about Las Vegas. The feature-length film details the story behind the unique partnership between The Beatles and Cirque du Soleil that resulted in the creation and launch of LOVE at The Mirage and the double Grammy-winning album of the same name. Screenings will be held at 7 p.m. on Wednesday, June 18 and at 2 p.m. on Friday, June 20 at the Brenden Theatres at the Palms. Tickets to each screening are $10 each, call 888-8VEGAS8.
Dick's Last Resort at the Excalibur has started a new Happy Hour from 2 p.m. - 6 p.m. daily. Guests can visit the Strip-side patio to enjoy all-you-can-drink Bud Light drafts for $20. Dick's patio features a full-service bar, flat screen TVs and misters.
A special matinee benefit performance of STOMP OUT LOUD at Planet Hollywood will take place on June 7 at 3 p.m. to raise funds to STOMP OUT poverty housing. All proceeds from the matinee performance will be donated to Youth United, an affiliate-driven program of Habitat for Humanity. All tickets for this performance are general admission and specially priced at $25 for students and $50 for adults, call 702-474-4000.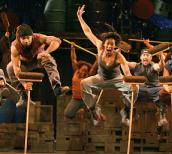 DJT at the new Trump International Hotel & Tower has introduced High Champagne taking place every Thursday through Sunday from 3 to 7 p.m. in the grand lobby. Patrons have the chance to sample Trump's finest champagnes by the glass along with delicacies from the DJT menu including Trump Select Oscetra Caviar, La Quercia Ham Sandwich and Oysters on the Half Shell. High Champagne is hosted by DJT's sommelier, Michael Shearin.
Red Bull Air Force members recently performed four consecutive BASE jumps from the 38th floor of The Signature at MGM Grand to introduce Red Bull Cola in the United States. They leaped from the top of the 400-foot tall building, pushing the limits with gainers and double back flips before pulling their parachutes. Red Bull Cola is the first new product from Red Bull in 20 years and Las Vegas is the first city in the United States where the product is on sale starting June 1. Red Bull Cola contains no phosphoric acid, no preservatives and no artificial flavors. It's the only cola which contains both the original Kola nut and Coca leaf and is slightly more caffeinated than a traditional cola.
A casting call was recently held at PUFF Nightclub for a new, produced by Ryan Seacrest, primetime NBC Dating Show called Momma's Boy! about single males 21-30 with a unique and strong relationship with their moms.
Tickets for Criss Angel's Believe show at the Luxor are on sale. The show will be in previews from Sept. 1-11 and tickets will be discounted 25 percent. Regular performances will begin Sept. 14 at regular prices of $59-$150. Angel and producers say the show will follow a story line and won't be typical in any way.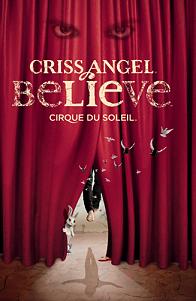 There's a couple of show listing changes at the Riviera. On June 1, The Soprano's Last Supper show is changing its show dates and times to Tuesday-Sunday at 7 p.m. The Riviera Comedy Club has moved its start time from 8:30 p.m. to 9 p.m.
The Fan Yang's Gazillion Bubble Show at Steve Wyrick's theater at the Miracle Mile Shops at Planet Hollywood has closed.
Anthony Marnell III, who has partnered with the MGM Mirage to build the $1 billion M Resort project south of town, recently announced that a 1 million-square-foot shopping center will be part of the overall plan. The resort will be open about a year before the mall opens in 2011 or 2012.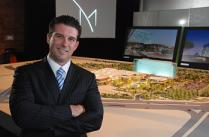 Non-profit Slow Food-Las Vegas, the first Nevada convivium of Slow Food USA, will introduce Nevada natural, grass fed beef on Tuesday, June 3, from 7 to 10 p.m. at a free-form dinner function. The beef was raised at the Smith Ranch in Smith Valley, Northern Nevada. The dining event will be held at Southern Wine and Spirits, 8400 S Jones Blvd. It is open to the public at $75 per person and participation is by RSVP only, call 702-257-5509.
Famous Dave's BBQ has opened its third Las Vegas off-Strip restaurant at Blue Diamond and Arville. Dave Anderson, founder of Famous Dave's, set out on a quest for perfecting the art of barbeque when he was a young boy in Chicago. The first Famous Dave's BBQ opened in 1995 in Hayward, Wis., and has continued to this day. Famous Dave's will participate at the First Annual Southern Nevada Harley Davidson Ride for Dreams benefit event, taking place June 7 at the new Town Square center.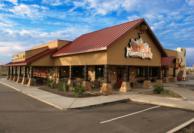 CONTINUE ON TO...:
>THIS WEEK'S LAUGHLIN SEGMENT
>LAST WEEK'S LAS VEGAS SEGMENT
>VEGAS VIEW FULL ARCHIVES
>Return to "Heard Around Town"
>Return to Las Vegas Leisure Guide