'TRIUMPH...' WILL OPEN AT HILTON THIS FALL
It's being announced that the Las Vegas Hilton will have a new fall spectacular "Triumph…" – the eternal struggle. The production will be the first to use time travel as a theme for a show. The storyline will center on two sons who fight for a mystical sword, but one turns out to be a fallen son. Keeping things hush-hush, the dancers will rehearse away from the main showroom so that they will be unaware of the show's content until previews start in mid-September.
Column Continues Below Advertisement
TWO NEW SHOWS OPEN AT LAS VEGAS ROCKS CAFÉ DOWNTOWN
"Sexy & Dangerous" starring Mario and Jenny from "America's Got Talent" will open their family variety show in the Embassy Theatre at the Las Vegas Rocks Café beginning on Thursday, May 27. "Vegas The Show," a Las Vegas history themed show starring entertainment ambassador Tony Sacca and comic impressionist Tom Wallek, will open on Wednesday, June 9. For tickets and information, call 702-227-5872 (LVRC).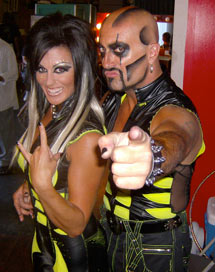 "Sexy & Dangerous" will be an 8 p.m. show Thursday through Sunday highlighting extreme variety with death defying juggling moves, acrobatics, dance, gymnastics, celebrity star impressions and special guest balancing act extraordinaire Tino Ferreira. Tickets are $19.95 plus tax.
TV viewers embraced Mario and Jenny when they generated their mighty wallop on Season 4 of "American's Got Talent," and this past March, they also appeared on "NASCAR Fast Track To Fame!" Together they have toured China as headliners of the show "Iron Beats," as well as headlined at the Las Vegas Hilton in "Monster Circus," Fiesta, Mandalay Bay, "Beacher's Madhouse," Royal Caribbean Int., NCL, Holland America and Rick Thomas Korea Tour.
"Vegas The Show" will be a 2:30 p.m. afternoon program with an optional lunch offer. The show is a story in song featuring music, comedy and a multimedia journey through the history of Las Vegas from the 1930s.
"Vegas The Show" stars a cast of five: singer, entertainer and television personality Tony Sacca; comic impressionist Tom Wallek; and "Vegas The Show-Girls"- principal singer/dancer of "Jubilee!" – Laurie Caceres, and singers/dancers Nellie Norris and Amanda Kaiser. Tickets are $19.95 plus tax and lunch is an extra $5.
Wallek humorously narrates the show and portrays famous characters from the past and present while he guides the audience through the history of Las Vegas and presents 75-years of video…decade by decade. The ladies in the show portray famous Las Vegas entertainers from the past and present.
KGB: KERRY's GOURMET BURGERS WILL OPEN AT HARRAH's
Harrah's is partnering with celebrated Chef Kerry Simon, in a brand new concept – KGB: Kerry's Gourmet Burgers – offering the ultimate in burger selections with the Simon flair. The 156-seat restaurant is scheduled to open at Harrah's in early July and will serve lunch, dinner and late-night bites.
At KGB, Simon will take inspiration from his victory on Food Network's "Iron Chef America" where he prevailed over Iron Chef Cat Cora with the ultimate burger. The menu will have uniquely inventive burger offerings, signature snacks and sides including "Iron Chef" sliders and tater tots and sweet selections such as strawberry shortcake push pops.
The playful atmosphere will be designed as a James Bond-inspired send-up of Soviet-era Russia. The sleek modern design will feature wall coverings based on 1960s Russian propaganda posters and thematic fixtures will create a hip yet comfortable vibe.
TIVOLI VILLAGE AT QUEENSRIDGE MOVES FORWARD WITH 2011 OPENING
Tivoli Village at Queensridge, a mixed-use urban lifestyle development on the corner of Rampart and Alta in the western part of the valley, is now leasing more than 370,000 square feet of retail, restaurant, entertainment and office space and will open March 2011. The distinct old-world architecture is Inspired and designed as an authentic European village with pedestrian-friendly streets, cobblestone walkways, scenic landscaping, and convenient amenities.
Tivoli Village will open with 30 to 40 retailers, approximately eight restaurants, several on-the-go eateries, and offer a children's play area and event stage. Among the conmitted tenants are family activities center Kidville, gourmet Mexican restaurant Cantina Laredo, contemporary Italian restaurant Brio Tuscan Grille, Mark DiMartino's authentic German eatery Ratskeller, specialty retailer CORSA Collections, actor Joe Pesci's pizzeria Pesci's, Sushibar and Ritual Salon & Spa.
'INSOMNIAC' DAVE ATTELL PERFORMS AT TREASURE ISLAND
Comedy Central's up-front, man-on-the-street comedian Dave Attell will perform at Treasure Island's Mystère Theatre on Friday, June 11, at 9 p.m. Tickets start at $35, call 866-712-9308.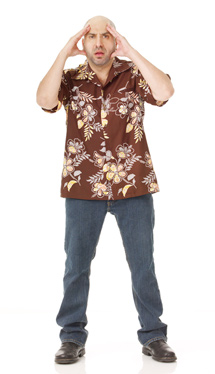 Attell is probably best-known for hosting the hit series, "Insomniac with Dave Attell," which aired from 2001-2004. The show followed Attell as he explored a city after performing at a comedy club. Attell would visit various bars, landmarks and clubs, cracking jokes with passersby and taking pictures with a disposable camera.
While "Insomniac" was filmed, Attell also taped several hour-long specials overseas in Japan, Germany, England and Brazil. Later, he made a 35-city theatre tour that ended in Las Vegas, where he hosted a two-hour Comedy Central special featuring comedians Sean Rouse, Greg Geraldo and Dane Cook.
IMPRESSIONIST LARRY G. JONES OPENS AT HARMON THEATER
Comic singing impressionist Larry G Jones will open his one-man show at the Harmon Theater at Planet Hollywood on June 8 at 7 p.m. Tickets will be $47.97 and $67.97, call 702-836-0830. Shows will be nightly except Sunday and Thursday.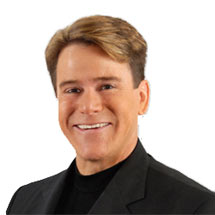 Jones' newly refined show is produced by Raphael Erardy, who worked with the late Danny Gans for more than 20 years as his drummer and collaborator. The show will feature an all-star celebrity cast of rapid-fire voice impressions.
ENDS OF THE EARTH EXHIBIT OPENS AT GALLERIA MALL
The Ends of the Earth From Polar Bears to Penguins interactive polar exhibit exploring the cold worlds of the Arctic and Antarctic is running through Sept 12 at the upper level of the Galleria at Sunset mall in Henderson. The 6,000-square-foot exhibit has five viewing galleries: The Arctic, Antarctic, Polar Profiles, The Explorers Theater and Polar Spirit.
At the Polar Bear Lab for example, you can compare bear skulls and study their hair, and at another gallery you can test your "Ice Q." Exhibit hours are Monday-Saturday 10 a.m. – 8 p.m. and Sunday and holidays noon – 5 p.m. Tickets are $6 for adults and $4 for children, seniors and active military, call 702-267-2171.
TOP OF NEXT COLUMN
GOLDEN RAINBOW PRESENTS ANNUAL "RIBBON OF LIFE" FUNDRAISER
Las Vegas based HIV/AIDS charity Golden Rainbow will present its 24th annual "Ribbon of Life" fundraising production show on Sunday, June 13 at 1 p.m. inside the Hilton Theater at the Las Vegas Hilton. The show is an all-original production show featuring hundreds of singers, dancers and other performers from numerous Las Vegas shows and theatrical organizations. Tickets range from $25 to $200, call 702-384-2899.
QUICK CLIPS
My how time flies! Magician Steve Dacri has been performing his intimate "In Your Face: The Up Close Magic Experience" Tuesday night show in the Shimmer Showroom at the Las Vegas Hilton since February. His final Tuesday show will be June 8 and on June 13 and 14, he'll switch to doing his shows on Monday and Tuesday nights at 7:00 p.m. Tickets are $49.95 and $59.95 and dinner/show deals are also available.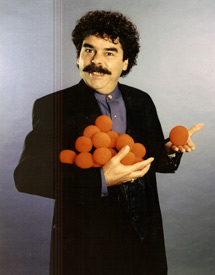 Got a note from impersonator Stephen Sorrentino and he's performing his spot on Elton John character in "Legends in Concert" at Harrah's through Sept. 13.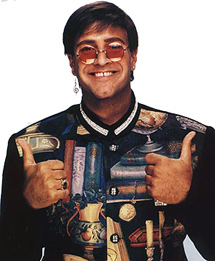 The Miss Universe contest will be held in Las Vegas on Aug. 23 for the first time since the mid-1990s. This event is televised to 195 countries and territories.
A second "Vegas! The Show" is being planned at the new Saxe Theater at the Miracle Mile Shops at Planet Hollywood. Producer David Saxe has signed Reva Rice as a principal performer. The genuine powerhouse has performed in productions of 'Starlight Express," "Smokey Joe's Café", "Chicago" and was one of the "Lady of the Lake" singers in Monty Python's "Spamalot" at Wynn Las Vegas.
Local columnist and iconic colorful character Monti Rock III recently held his second 70th birthday bash at Rick Belcastro's Badda Bing Club hidden away at 3500 West Naples Drive. The event debuted the opening of the "Chapel of Lust" Wedding Chapel with Reverend Monti Rock performing a wedding at the gentlemen's club. Only in Vegas!
Paul Rodriguez is headlining at the Tropicana through June 20. While regular shows are at 9 p.m., two all-Spanish shows are planned for June 5 and 12 at 7 p.m.
Earlier this month, the restaurant side of Cathouse, which opened at the Luxor in 2007, closed in order to make a change to an ultralounge venue.
At the Beauty Bar on Fremont Street East on Friday June 11 at 10 p.m., indie rock bands including Halloween Town featuring Las Vegas native Ryan Pardey, Transfer, The Novelty Act and Romance Fantasy will perform a night of music to benefit the Arbo De Vivo foundation to help Haiti. Tickets are $10.
GUINNESS WORLD POOL RECORD ATTEMPT AT RIVIERA
On Wednesday, June 2 at 6:30 p.m., Vegas' own Dave "The Ginger Wizard" Pearson, who is the World's No. 1 Exhibition Player and World Speed Pool Champion, will be attempting a Guinness World Record. Pearson will try to run 10 racks of 15 balls, waiting for the white ball to stop and 8-ball last, on two pool tables in under eight minutes and 51.1 seconds. Most people take 20 minutes to play one game. This free live event will take place at the Riviera in the convention area during the biggest Intercontinental pool tournament in the world. Pearson has appeared on "Regis," "Good Morning America," "The Today Show," and entertained athletes at the 2009 Winter Olympics.
BURLESQUE HALL OF FAME CELEBRATES 20th ANNIVERSARY AT THE PLAZA
Celebrating its 20th Anniversary, the annual Burlesque Hall of Fame Weekend will take place Thursday, June 3 through Sunday, June 6 at The Plaza Hotel downtown. Recognized as the world's top showcase for international burlesque entertainers and enthusiasts, the Burlesque Hall of Fame Weekend attracts outstanding artists, both exotic and mainstream. For a complete schedule of events and ticket information, visit www.burlesquehall.com.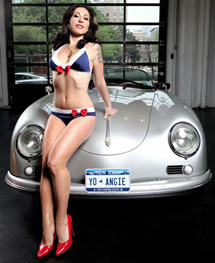 Top talent scheduled to appear include some Miss Exotic World title holders from 2002 – 2009 along with more than 100 of the world's elite neo-burlesque acts. The event includes a Striptease Reunion, now in its 53rd year, at which newer performers can learn tricks of the trade from surviving superstars of the 1940s, '50s and '60s.
Other activities will include Friday's "Titans of Tease" Burlesque Reunion Showcase and Saturday night's main event, the 20th Annual Burlesque Competition.
Also scheduled is the grand re-opening of the Burlesque Hall of Fame Museum at Emergency Arts, 520 Fremont St., #120, featuring a special ribbon-cutting ceremony with Dixie Evans and Las Vegas Mayor Oscar Goodman on Friday, June 4 at 5 p.m. Evans, The Burlesque Hall of Fame curator, is a retired dancer, who was dubbed "The Marilyn Monroe of Burlesque" by legendary promoter Harold Minsky.
Additional events will include a weekend-long Burlesque Bazaar featuring contemporary and vintage burlesque/pinup-inspired wares; the 5th Annual Pinup Safari and Cheesecake Camera Club; Keep A Breast burlesque cast sale; Pinup Pool Party hosted by Sabina Kelley (Sunday); the inaugural Hall of Fame Car Show (Sunday); Texas Tease 'Em Poker Tournament; Burlesque Hall of Fame Finishing School Master Classes and an all-star Dr. Sketchy's live drawing event.
ARMY BAND PERFORMS FREE SHOW AT HENDERSON EVENTS PLAZA
The 300th Army Band will perform a free show, Thursday, June 24 at 8 p.m. at the Henderson Events Plaza. The 30-member band, which is comprised of Army Reserve soldiers, will perform classical, patriotic and contemporary pieces. For information, visit www.HendersonLive.com or call 702-267-2171.
Column Continues Below Advertisement





CONTINUE ON TO...:
>THIS WEEK'S LAUGHLIN NEWS
>LAST WEEK'S LAS VEGAS NEWS
>VEGAS VIEWS FULL NEWS ARCHIVES
>Return to "Heard Around Town"
>Return to Las Vegas Leisure Guide