TROPICANA EXPRESS HEADLINES DAVY JONES OF THE MONKEES


Davy Jones of The Monkees will headline the Pavilion Showrooms at the Tropicana Express on Saturday, June 6. Tickets are $29, $35 and $45, call 800-243-6846.

Maintaining his allure as a sexy icon through generations of fans, Jones first invaded teen hearts as the international idol of millions in the 1960s Emmy Award winning television classic "The Monkees." Since the show, Jones has triumphed as both a serious actor and a comedian on the theatrical stage; as a rock musician, composer and artist; and, true to his first love, as an extremely able horseman. In 1996, he won his first race in England on his prized horse, Digpast.

Jones was born in Manchester, England on Dec. 30, 1945. He began entertaining at 11 years old as Ena Sharples' grandson on the still-running ITV soap opera, "Coronation Street." His performance was so memorable, theatrical agents sought him out as he was working as an apprentice jockey in Newmarket and took him to London where he portrayed Dickens' mischievous Artful Dodger in the West End production of "Oliver!." Later, at age 16, Jones found himself the toast of New York where he originated the Artful Dodger role on Broadway and was nominated for a Tony Award.

As a result, Jones was offered a contract with Columbia Pictures/Screen Gems Television, and The Monkees was created shortly after. The Monkees' album sales surpassed all records, and they continue to be best-sellers 30 years later.

The theater remains in Jones' blood. Coming full circle in "Oliver!," he most recently received rave reviews for starring in the role of Fagin. He has also starred in productions of "The Boyfriend," Harry Nilson's "The Point," and appeared as Jesus in "Godspell," which played in London's West End.

Jones recently completed the second edition of his autobiography, "Davy Jones: Daydream Believin'."

ANNUAL FOURTH OF JULY FIREWORKS PLANNED

An event that people love is the "Rockets Over The River" fireworks show and once again it is planned to begin shortly after dark on July 4. The 19th annual "Rockets Over The River" display will be free for public viewing along the entire Laughlin River Walk. Typically, this extraordinary display is one of the most spectacular and exciting in the West as the pyrotechnic company shoots its rockets into the dark desert sky. The show will be choreographed to fabulous patriotic music that will be simulcast by the Laughlin hotels and local radio stations.

Last year's fireworks show was the biggest in the town's history. The 2009 show is planned to be just as impressive, with more than 3,000 shells incorporated into the show, including 12-inch shells - the biggest size to ever be shot in Laughlin. High Desert Pyrotechnics of Las Vegas will engineer and shoot the show.
For additional information, visit www.VisitLaughlin.com or call 800-4-LAUGHLIN.
RIVERSIDE GOES COUNTRY
"Superstars of Country " featuring Lisa Cash as Shania Twain, Russ Hendrick as Charlie Daniels, Annika Starander as Faith Hill, Dean Simmons as Garth Brooks, and Jilla Roberts as Gretchen Wilson, will be the headlining show at the Riverside in Don's Celebrity Theatre, May 26-31 and June 2-7.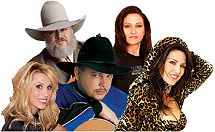 The cast recreates legendary performances by Country Music's biggest stars and they are accompanied by the All Star Band. Tickets for the 8 p.m. nightly shows are $30, call 800-227-3849, ext 616.

TOP OF NEXT COLUMN
HARRAH'S BOOKS GEORGE THOROGOOD & THE DESTROYERS
George Thorogood and The Destroyers will headline at Harrah's Outdoor Amphitheater on June 5 at 9 p.m. Tickets are $30, $40, $50 and $55, call 800-447-8700.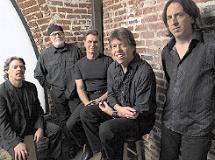 The group came out of Delaware in the '70s as a high-energy bunch. They moved to Boston and cut their teeth in the city's blues circuit before their second album for Rounder, "Move It On Over,'' struck big with the title track.
Further fame came in the '80s through signing with EMI Records, which released a series of gold records by the band. These included 1982's "Bad to the Bone," which is Thorogood's best-known composition, 1988's "Born to Be Bad,'' and 1993's "Get a Haircut.''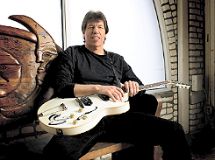 Albums in the new millennium include 2003's "Ride 'Til I Die'' and a 2004 Capitol compilation, "Greatest Hits: 30 Years of Rock,'' which went gold and topped Billboard's blues chart for 60 weeks.
RIVERSIDE BOOKS MALE REVUE AMERICAN STORM
American Storm is an adult male revue that will play at the Riverside on June 13 and 14. Tickets for the 8 p.m. show are $25.50.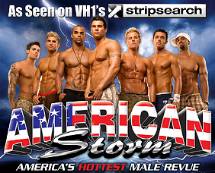 American Storm was named "Best Male Strip Show 2008" by the Las Vegas Review Journal. The 70-minute, fully costumed and choreographed production show with hard-bodied performers allows ladies to live out their fantasies. Most of the cast originated as the winners of VH1's "StripSearch" reality show, and have been featured on a variety of programs including "EXTRA!" and "Entertainment Tonight." Also, many of the boys have graced the cover of such magazines as "Muscle and Fitness," "RX Fitness," and "Playgirl" just to name a few.
QUICK CLIPS
Sammy's Comedy by the Shore is ongoing at the River Palms with accomplished comedians rotating weekly and performing Wednesday-Sunday at 8 p.m. Tickets are $15 and $25, call 800-835-7904. Look for funny people Kathleen Dunbar and Lew Sall, June 3-7.
The next Laughlin town-wide event will be the Community Achievement Awards on June 13 at the Avi Convention center. The annual awards black-tie dinner salutes standouts in the community as individuals and organizations in a variety of categories. For information, call 702-298-2214.
The Avi Resort will offer an annual fireworks show by Zambelli Fireworks on May 24. The Memorial Day Fireworks Display is free and includes food and beverage booths with the show starting at dusk.


CONTINUE ON TO...:
>THIS WEEK'S LAS VEGAS NEWS
>LAST WEEK'S LAUGHLIN NEWS
>VEGAS VIEW FULL ARCHIVES
>Return to "Heard Around Town"
>Return to Las Vegas Leisure Guide