JEFF DUNHAM VISITS RIO VISTA OUTDOOR AMPHITHEATER!

Stand-up comedian and ventriloquist Jeff Dunham returns for a show at Harrah's Rio Vista Outdoor Amphitheater on Saturday, June 14 at 9 p.m. Tickets for "Jeff Dunham: Disorderly Conduct Tour" range from $44.50 to $79.50.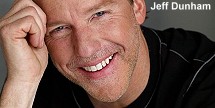 Dunham's television specials and series have been the highest rated programming in Comedy Central history, his DVD sales have reached seven million units, his videos have received a half a billion views on YouTube, and his live concerts have become mega-events played in front of sold-out arenas worldwide. No wonder "Forbes" named him to its Celebrity 100 list of most powerful entertainers three years running.
Dunham's last stand-up comedy special, "Controlled Chaos," made a DVD release in a dozen countries upon its U.S. bow on Comedy Central on Sept. 25, 2011. A record 5.5 million people tuned in to watch the special on Comedy Central, making it the third most watched program in the channel's history, and more than 100,000 DVDs were sold within the first week. As an entertainer, Dunham has truly impacted popular culture and his character catchphrases, such as Achmed's "Silence! I Keel You!" and José Jalapeño's "On A Steek!'" are now part of our vernacular.
BILL ENGVALL HEADLINES THE RIVERSIDE AMPHITHEATER
Comedian Bill Engvall will appear at the Riverside Amphitheater on Saturday, May 31 at 8:30 p.m. Tickets range from $35 to $65.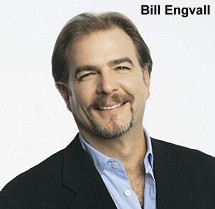 Engvall started as a nightclub DJ in Dallas before experiencing amateur-night audiences at several local comedy clubs and arriving in Los Angeles in 1990. He hosted a comedy special with Rosie O'Donnell and also appeared on "The Tonight Show" with Jay Leno. In 1992, Engvall was awarded Best Male Standup at the American Comedy Awards and moved into some sitcom TV. He soon released his countrified debut comedy album, "Here's Your Sign," and went on tour with like-minded, everyman comic Jeff Foxworthy. In 2000, Engvall and Foxworthy recruited two more comics, Larry the Cable Guy and Ron White, and embarked on The Blue Collar Comedy Tour which famously lasted several years.
MERLE HAGGARD MAKES A STOP AT THE E CENTER
American country songwriter, singer, guitarist, fiddler, and instrumentalist, Merle Haggard, who has earned three Grammys, many ACM and CMA awards and is an inductee in the Country Music Hall of Fame, will headline the E Center at the Edgewater on Saturday, June 7 at 8 p.m. Tickets range from $25-$85.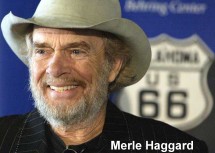 As a true legend, Haggard's music gift is that anyone who hears his songs recognizes the truth in them. He's been acknowledged at "the poet of the common man." His own life story has given him "true grit." His family moved from Oklahoma when their farm burned down and his dad died of a stroke when Haggard was 9 years old. He was rebellious and hopped a freight train when he was 10 years old, which was his first step toward being a troubled youth. He spent time in and out of prison and was released from San Quentin in 1960. After that music has been his life.
FRANK MARINO AND HIS DIVAS VISIT HARRAH'S
Direct from Las Vegas, "Frank Marino's Divas Las Vegas" is headlining Harrah's Fiesta Showroom through May 26 at 8 p.m.
Female impersonator Marino will be celebrating his 25,000th show on the Las Vegas Strip on May 31 where he has changed gowns more than 415,000 times over the years. Most of his gowns are Bob Mackie creations with each gown having its own shoes and jewelry. Marino has so many outfits that he has to keep them in a warehouse. He goes through 15 costumes changes each show and also has thousands of wigs.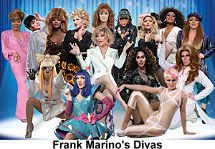 Before creating his "Divas" show at The Quad, Marino portrayed Joan Rivers at the Riviera in the long-running drag show "An Evening at La Cage." His spot-on portrayal of Rivers resulted in Joan Rivers filing a lawsuit against Marino in 1986 because his material was too close to hers. They quickly resolved the matter and Rivers has ever since been a fan.
Marino and his show are back in Laughlin by popular demand for three weeks again. The cast with four male dancers is highlighting Dionne Warwick, Tina Turner, Jennifer Lopez, Madonna, Cher, Celine Dion, Reba McEntire, Pink, Britney Spears and Dolly Parton. A special new act in the show is Catherine Zeta-Jones performing "All That Jazz" from the movie "Chicago." In addition, emcee Bobby Bruno is taking Marino's spot in some of the shows. He also performs as Rivers and is called "Mr. Joan Rivers." Marino acknowledges that the show has to walk a fine line between keeping the nostalgia and bringing in the new characters.
Marino is also author with his first book, "His Majesty, the Queen" being a bestseller and he has appeared alongside Sandra Bullock in the film "Miss Congeniality 2" and had a guest-starring role in the off Broadway play "Tony N Tina's Wedding."
CHEFS FOOD FEST IS COMING UP AT AQUARIUS
Chefs from around the tri-state area will be showcasing their talents and creativity in this friendly competition put on by the Laughlin Chamber of Commerce to raise funds to help struggling families in the area. Proceeds from 27th annual Chefs Food Fest being held at the Aquarius on Thursday, June 5 will go to the nonprofit River Fund, Inc. Last year's Chefs Food Fest helped raise a record $23,000.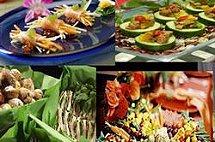 Guests will sample creative appetizers, entrées, desserts, and drinks. Participants compete for the "People's Choice Best Food Creation" trophy and the "People's Choice Best Booth Design" trophy. Tickets are $50 and can be purchased at the Laughlin Chamber office, 1585 Casino Dr., Laughlin, by calling 702-298-2214 or visiting www.laughlinchamber.org. Admission is for guests 21 years of age and over.
TROPICANA LAUNCHES NEW POOLSIDE ENTERTAINMENT AMENITY
The Tropicana recently launched its "Big Screen Dive-In" entertainment amenity, a 160-inch high density display screen fitted with a Bose® surround-sound system located at the resort's pool area. The new addition provides the resort's guests with an outdoor theater-style experience as they relax poolside.
The big screen offers the resort the capability of broadcasting pay-per-view specials such as concerts and sporting events, music videos, theatrical films, television programs as well as daily news, business and weather reports.
The resort's pool area also features a Jacuzzi, private for-rent cabanas and pool shack bar. The surrounding courtyard area offers ample seating at umbrella-covered tables and easy access to the resort's restaurants, casino and hotel rooms.
TOP OF NEXT COLUMN
LITTLE RIVER BAND PERFORMS AT THE AVI
The Little River Band, the first Australian band to successfully conquer foreign markets from an Australian base, will perform in the Avi Grand Ballroom on Saturday, May 31 at 8 p.m. Tickets are $20 and $25.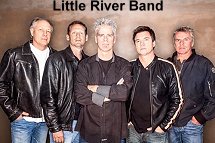 Little River Band headlined their own major shows in America, and toured internationally with the likes of the Doobie Brothers, Supertramp, America, and the Eagles. The band treats fans to an entertaining mix of classic songs and new material delivered with the group's trademark blend of impeccable vocals, soaring harmonies and kick-ass playing.
RICKEY SHACKLEFORD, MANNY MALDONADO HEADLINE EDGEWATER
The Edgewater Showroom is home to laughter every Friday through Sunday at 7 p.m. with two different comedians appearing each week. Tickets are $10 and there is a $2 discount for veterans on Sunday.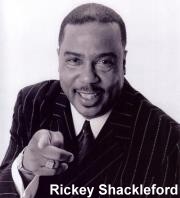 Upcoming "Comedy on the Edge" acts include: Ron Morey with Jayson Cross June 6-8; Steve Sabo with Owen Thomas June 13-15; Bob Golub with Mike Ivy June 20-22; and Armon Williams with Jill Bryan June 27-29.
Rickey Shackleford and Justin Berkman will provide the laughs May 23-25. Seasoned comedian Shackleford has opened for Pattie LaBelle, Adel Givens ("Queens of Comedy"), entertained U.S. troops in Iraq, Afghanistan and Saudi Arabia in 2002, and has a reputation for professionalism and realism.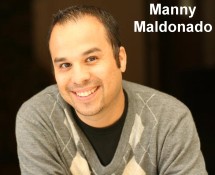 Manny Maldonado co-headlines with Steve Natarelli May 30-June 1. Maldonado's comedic style is best described as high energy. He is currently performing at comedy clubs, colleges, as well as overseas for our military troops. In 2007 and 2008, he was selected to perform on The Crown Royal New Latin Kings of Comedy Tour with comic legend Paul Rodriguez and also worked on "Paul Rodriguez & Friends: Comedy Rehab." His television credits include Comedy Central's "Comedy Rehab," ABC's "Comics Unleashed," SI TV's "Latino Laugh Festival," and the "Dr. Phil Show" as a panelist.
Maldonado's journey to comedy wasn't planned. His goal was to play professional football but he was too short. After high school, he attended junior college to pursue another dream, sports broadcasting. While in college, he participated in speech debate and found his speeches were always funny and entertaining. After a few semesters, he dropped out of college to try stand-up comedy.
'TWISTED CABARET' BOOKED AT RIVERSIDE
Frank Olivier's "Twisted Cabaret" will bring a true variety show to the Riverside inside Don's Celebrity Theater June 5-8 at 8 p.m. Tickets are $20.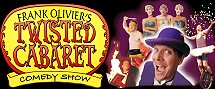 Versatile variety artist Oliver performs 16 different acts including magic, knife-throwing, fire-eating, pick-pocketing, juggling, sword-swallowing, cross-dressing, unicycling, rock and roll, and even ballet, all while keeping the crowd laughing. Oliver has been seen on "The Tonight Show," "America's Got Talent," HBO's "Just For Laughs," "Last Comic Standing," "Ellen," "The Late Show," "The Late Late Show" and dozens more. He has toured "Twisted Cabaret" nationally and internationally for the last 12 years.
ILLUSIONIST FRANZ HARARY APPEARS AT THE RIVERSIDE
Internationally acclaimed illusionist Franz Harary is taking center stage at the Riverside in Don's Celebrity Theater May 28-June 1 at 8 p.m. nightly. Tickets are $30.
Harary continues to redefine the art of magic. Along with his success in theaters, casinos and corporate entertainment, his international tours are unparalleled. In addition to performing his own magic live, Harary continues to create magical effects for superstars including Janet Jackson, Cher, Usher, *NSYNC, Madonna, Missy Elliott, Alice Cooper, and Shania Twain.
QUICK NEWS ITEMS
Pat Benatar, Neil Giraldo and Joan Jett with special guest Berlin are appearing at the Laughlin Event Center with a three-prong concert on Sunday, May 25 at 8 p.m. Tickets start at $35.
Jeff Civillico, who stars in his own afternoon family show at The Quad in Las Vegas, will bring his physical "Comedy in Action" show to the Fiesta Showroom at Harrah's at 8 p.m. nightly from June 12-29, except for June 14, 16-17 and 26. Tickets are $29.50 and $40.50, and $10 for ages 12 and under.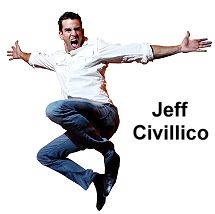 "King of the Cage" on June 14 at the Edgewater's E Center will feature Future Legends 24, live mixed martial arts, and bring promising amateur MMA fighters to the cage. Local fighters include John Flores vs Adrian Valencia, Jonathan Noriega vs Omar Romero, and Richard Camargo vs Phillip Monarque. Tickets start at $15.
Extreme Machines - Land, Water, Air will take place June 6-8 at the Avi. This event will feature exotic classic cars, vintage muscle cars, custom motorcycles, offshore race boats, drag boats, family pleasure watercraft, live entertainment, vendors, poker run, and burn-out contest. Event starts at 9 a.m. and runs until 7 p.m. on Friday and Saturday and 4 p.m. on Sunday. Admission is free.
There will be Memorial Day Fireworks over the Colorado River on May 25 at the Avi at dusk.
CASINOS OFFER UNIQUE GIFT ITEMS
Often overlooked are the retail options available in little nooks at casinos in Laughlin. For example, the Country Store inside the Pioneer offers western wear and cowboy-themed gifts, and Native American selections are available at the Gifts and Crafts shop at the Avi.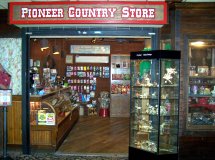 A couple specialty shops at the Riverside Resort include the Antique Auto Gift Shop on the third floor where you can find collectible automobile and airplane memorabilia and The Watch Man Store that offers hundreds of different types of timepieces with each priced no more than $19.97.

GOLDEN VALLEY DAYS IS NEARBY EVENT IN GOLDEN VALLEY, ARIZ.

The Golden Valley Pistoleros and Roses old west gunfighting troupe will present the fundraising 2014 Golden Valley Days celebration on Saturday, May 24 starting at 8 a.m. in Veterans Park at the corner of N. Verde Road and Chino Drive in Golden Valley, Ariz., about 24 miles from Laughlin. Events will include a parade at 9 a.m., food, crafts, vendors, games for everyone, bed races, live music by The Mohave Green Band and the "Golden Valley Has Talent" show. Admission is free. There is a kick-off DJ and dancing on Friday, May 23 at 4 p.m.



CONTINUE ON TO...:

THIS WEEK'S >LAS VEGAS NEWS
LAST WEEK'S >LAUGHLIN NEWS
>VEGAS VIEW FULL ARCHIVES
Return to >"Heard Around Town"
Return to >Las Vegas Leisure Guide