<!A-- Left Column -->

American country music singer-songwriter, guitarist, and record producer Gary Allan, born Gary Allan Herzberg in 1967, will headline at the Rio Vista Outdoor Amphitheater at Harrah's on June 1 at 9 p.m. This will be after he makes appearances at the House of Blues in Las Vegas on May 29 and 30. Tickets start at $25.
Allan's most recent album, titled Living Hard, was released last October. Serving as its lead-off single was the song Watching Airplanes, which spent more than 30 weeks on the country charts.
In 2003, Allan and his wife, Angela Herzberg, moved to Tennessee from California with their six children (three each from previous marriages). On Oct. 25, 2004, Angela Herzberg committed suicide after suffering from depression and migraines. Allan initially put his career on hold, but soon turned to music to deal with the loss of his wife. This resulted in 2005's "heart-wrenchingly personal album," Tough All Over, which sold more than 99,000 copies in its first week.
Allan's voice is described as "raspy and unpolished." Because his sound is different from many of the current crop of country singers, Allan has at times had difficulty getting radio to play his singles.
Sonny Turner, former lead singer for The Platters, will headline at The Pavilion Showroom at the Tropicana Express on June 14.
In late 1959, Turner replaced Tony Williams as the lead singer of the original Platters. Chosen out of 100 singers who auditioned, Turner at the young age of 19, toured the world with The Platters bringing their music to people of all nations. Turner brought The Platters back to the pop charts in the 1960s with such hits as Love You 1000 Times, With This Ring and Washed Ashore; as well as re-recording major Platter hits like Only You, The Great Pretender and The Magic Touch. You can hear Sonny's voice in various movies such as The Nutty Professor II starring Eddie Murphy, Hearts in Atlantis starring Anthony Hopkins, and Prince of the City starring Robert Di Niro.
There are only three surviving members of The Platters still alive today that can be heard on the hundreds of recordings and hit records that made The Platters one of the most successful vocal groups of all time. They are Herb Reed who founded the group in 1953 and sang bass, Zola Taylor, the female vocalist and Sonny Turner. Turner remained with The Platters from late 1959 until 1970 when he left to pursue a solo career. In 2005, Turner was also inducted into The Vocal Group Hall Of Fame for his achievements with The Platters.
Don Laughlin's Riverside Resort will be giving poker players the chance to win $10,000 in prize money when 80 entrants receive a guaranteed spot in the Riverside's Poker Room Free Poker Money tournament. The tournament will begin at 5 p.m. on Thursday, May 29.
Participants have a variety of ways to qualify for their shot at the $10,000 in cash prizes.
You can win your seat through the weekly free roll tournament, or earn drawings tickets by: signing any poker room promotional slip; cashing in on any of the buy-in tournaments; playing live action poker and getting pocket aces cracked; and being a Bad Beat winner at a table.

TOP OF NEXT COLUMN
Don Rose, who has made a career portraying Elvis and has performed his tribute show across the United States and Canada as well as in Germany and Switzerland will do his show at the Riverside in Don's Celebrity Theater, June 3-7 and 13-15. Tickets for the 8 p.m. show are $25.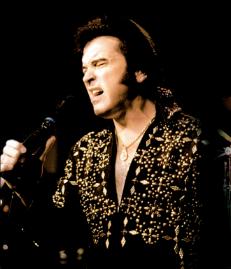 Rose has appeared on PM Philadelphia, ABC's Mike & Matty show and TNN's Country Tonight with Gary Chapman. Vocally trained in Orlando, Fla., and Nashville, Tenn., Rose works hard to make every event a special occasion and looks forward to meeting Elvis fans new and old across the country.
The River Palms Comedy Room is a laugh a minute with a rotating weekly lineup of standup comics. All of the comics featured in the club are veterans of one or more national venues with appearances on HBO specials, Comedy Central, Premium Blend, The Tonight Show, The Late Show, and more. All are regulars on the comedy club circuit in the main metropolitan areas of the country. Tony D'Andrea, Kelly McDonald and John Bizarre will appear at the River Palms the week of May 27-31. Tickets are $14.95 and $19.95, call 866-448-7849.
Bronx native D'Andrea has been earning respect through an act honed over years working casino showrooms and comedy clubs. It's an act that blends his countless impressions-from John Wayne and Peter Falk to newer celebrities like Brad Pitt and, of course, Nicholson with quick-witted one-liners.
After a stint in the Marine Corp, D'Andrea headed for New York and tended bar until 1975, when his friend opened the famous Comic Strip and he also emceed. Now famous people showed up at the club like Jerry Seinfeld, Paul Reiser and Eddie Murphy. One night a guy named George Carlin visited the club and invited D'Andrea to go to Los Angeles. He went and nothing happened. Then he met George Wallace and visited Las Vegas, but finally went back to bartending in New York.
He raised money, went back to Vegas a year later, and landed his first show in 1979 at the Sahara. That was 30 years ago. Since then he's been in 50 productions and opened for the biggest stars like Ray Charles for two years and Tom Jones for four years, traveling with him day and night.
D'Andrea has been "nearly famous" for years. He's appeared in films like Beverly Hills Cop 2, The Protectors and Body & Soul; as well as numerous TV shows, from Nearly Famous 2 on the E! Network and The Tonight Show with Jay Leno, to Rich Little's Great Pretenders.
Fireworks will once again light up the skies in Laughlin after dark on Friday, July 4. Visitors will be able to enjoy the annual Rockets Over The River fireworks display, which is free to the public along the entire Laughlin Riverwalk. This year the pyrotechnic company will shoot its unprecedented 12-inch rockets into the dark desert sky. The show is choreographed to patriotic music that is simulcast by the Laughlin hotels and local radio stations.
There will be earlier fireworks on May 25 when the Memorial Day Fireworks Display takes place at dusk in the sky over the river at the Avi. This show is also free.
CONTINUE ON TO...:
>THIS WEEK'S LAS VEGAS NEWS
>LAST WEEK'S LAUGHLIN NEWS
>VEGAS VIEW FULL ARCHIVES
>Return to "Heard Around Town"
>Return to Las Vegas Leisure Guide