Ventriloquist / impressionist and last summer's America's Got Talent winner, Terry Fator, will be move into the Danny Gans Theatre as the new headliner at The Mirage when Gans makes his move to Wynn Las Vegas later this year. After winning the NBC hit talent show, Fator signed a 15-show deal with the Las Vegas Hilton.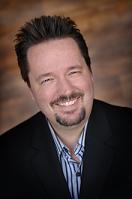 Television's The View will film in Las Vegas, June 23-25, and the venue is TBA. In the past, the show was shot at Caesars Palace in 2004 and 2006.

Column Continues Below Advertisement


Rock & Roll Hall of Famers, Walter Becker and Donald Fagen have announced that Steely Dan will bring their Think Fast, Steely Dan Summer Tour 2008 to The Pearl Concert Theater inside the Palms on Friday, Aug. 8, at 8 p.m. Tickets are$128, $153, $178 and $203, call 702-474-4000.
Becker and Fagen, the dapper duo will be supported by their tight, sophisticated band of world-class R&B and jazz players. Set lists may also sample from Fagen's just released Nightfly Trilogy, and Becker's upcoming solo album, Circus Money, due out June 10. In addition, concertgoers will be treated to stellar opening acts, hand-selected by connoisseurs Becker and Fagen, including rising jazz star Sam Yahel and his Organ Trio, The Bill Charlap Trio, The Chris Cheek Group and other acts to be announced.
Steely Dan have sold more than 30 million albums worldwide. They culled seven platinum albums that were issued between 1972 and 1980 including 1977's groundbreaking Aja. They reunited in the early '90s and have toured throughout the decade and beyond, releasing multi-Grammy winner Two Against Nature in 2000 and its acclaimed follow-up Everything Must Go in 2003.
The AMPLIFY Music Festival will return for its fourth year to downtown Las Vegas and continues to grow, bringing the best industry panelists together with the most ambitious bands from across the country for the four-day event. Several downtown venues will be utilized including the Beauty Bar, Canyon Club and Jillian's. Showcases will find bands from all musical genres performing over the four days with a final showcase concert featuring bands chosen from industry professionals. In addition, headlining talent will be announced over the coming weeks, performing each evening to create a "street fair" environment.
Attendees are inundated with all the music industry has to offer - from panels on management, legal counsel, shopping record labels and much more, to individual one-on-one activities including demo review and press kit/public relations counsel. Also included are networking events with industry pros, VIP parties, and band showcases.
Band submissions are currently open through June 15 and will be accepted at (redacted). Conference registration is also available at this time, with only a limited number of Gold or Platinum memberships available.
Comedian Katt Williams will bring his quick-witted antics to The Pearl at the Palms on Friday, July 4, at 8 p.m. as part of the It's Pimpin', Pimpin' Tour. Tickets are $65 and $85, call 702-474-4000.
This year, Williams will also be appearing in the major motion picture First Sunday alongside Ice Cube and Tracy Morgan. Last year, Williams' Pimp Chronicles Tour was the second highest grossing comedy act in the country. Williams was also asked to perform at Radio City Music Hall, a feat only a short list of comedians has accomplished, selling out two consecutive days at the historic venue.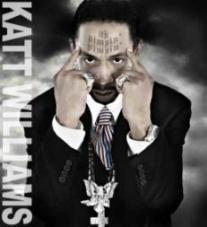 Famous for his landmark Seven Words You Can Never Say on Television routine and scathing comic style, George Carlin will headline at The Orleans Showroom, June 5-8 and 12-15. Tickets for his 8 p.m. shows in the 827-seat venue are $49.95, call 702-365-7075.
At the start of his career, Carlin met fellow radio personality and comedian Jack Burns and they teamed up as a duo and performed in clubs. Eventually the comedy team broke up and Carlin struck out on his own as a clean-cut, straight-laced performer. That same year, he was tapped to co-star in Away We Go, a summer replacement series for The Jackie Gleason Show.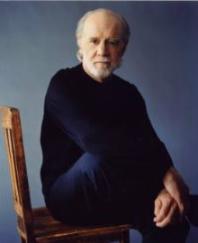 In 1961, Carlin became a popular and frequent performer and guest on The Tonight Show during the Johnny Carson era, becoming one of Carson's most frequent substitutes during the host's three-decade reign.
In the 1970s, Carlin changed his routines and his appearance. Sporting a beard, earrings and dressing strangely, Carlin lost some television bookings but regained his popularity as the public caught on to his sense of style.
By the late 80s, Carlin had become popular with a new generation of teens when he was cast as Rufus, the mentor of the titular characters in Bill & Ted's Excellent Adventure and reprised his role in the film sequel Bill and Ted's Bogus Journey as well as the first season of the cartoon series. In 1991, he provided the narrative voice for the American version of the children's show Thomas the Tank Engine & Friends, and he also played Mr. Conductor, on the PBS children's show Shining Time Station.
In 2001, George was given a Lifetime Achievement Award at the 15th Annual American Comedy Awards. In 2004, he was ranked No. 2 on Comedy Central's 100 greatest stand-ups of all time lists, just behind Richard Pryor.
A group of 20 Southern Nevada firefighters will suit up for the annual "Fire and Rain" Firefighter Bachelor Auction, on Saturday, June 7, from 6 - 10 p.m. at Rain Nightclub inside the Palms. The auciton fundraiser that will include live entertainment from local performers including Thunder From Down Under and The Scintas, a raffle with great prizes and the chance to bid on a date package. Admission is $40 for women and $80 for men.
With a fearsome reputation, approximately 60 dagger-like, serrated teeth, deadly saliva and piercing razor-sharp claws, the Komodo Dragon, the most deadly of all lizards, will call Shark Reef Aquarium at Mandalay Bay home beginning June 20.
The Komodo Dragon will join an impressive group of animals at Shark Reef Aquarium, a 90,560-square-foot, predator-based aquarium - the only one of its kind in North America. The Komodo Dragon can reach up to 10 feet in length and can weigh up to 200 pounds.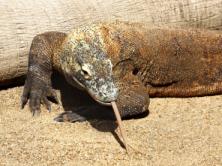 Komodo Dragons are immune to the saliva properties of other Komodo Dragons. Because of the unique properties, their blood and saliva are being studied for use in anti-coagulation and antibacterial medications. With a world population of less than 5,000, the largest and heaviest lizard species lives on the Southeast islands of Indonesia, including their primary habitat, Komodo Island.
Shark Reef, which debuted in 2000, is open daily, 10 a.m. to 11 p.m. Ticket prices are $15.95 for adults and $10.95 for children; children four and under are free.
The 450-seat Suncoast Showroom will host The Lovin' Spoonful, June 6-8. Tickets for the 7:30 p.m. shows are priced from $19.95, call 702-636-7075.
In early 1965 as the "British Invasion" dominated the American music scene, two rockers from Long Island, Steve Boone and Joe Butler, teamed up with two folkies John Sebastian and Zal Yanovsky to form The Lovin' Spoonful. Between 1965 and the end of 1967, The Lovin' Spoonful combined the best of folk music and rock and roll, and a touch of country thrown in. Putting an "anti-drug" spin on the traditional folk song Blues in the Bottle, The Lovin' Spoonful endeared themselves to radio stations across the United States.
Soon they were a cross-over hit, topping both rock and roll and country charts with Nashville Cats. Their only song to reach No. 1 on the Billboard Hot 100 chart was the hard-edged Summer in the City.
The Lovin' Spoonful also wrote and performed two soundtrack albums for two directors very early in their careers. Woody Allen's What's Up Tigerlily and Francis Ford Coppola's You're a Big Boy Now. They toured almost constantly during this period and were one of the first rock bands to perform on college campuses.
In 1967, Zal Yanovsky left the band to pursue a solo career and was replaced by Jerry Yester. All of the band's energy was soon focused on recording their fourth album entitled, Everything Playing which produced hits like Darlin' Be Home Soon, She's Still A Mystery To Me on the American charts, and Boredom and Money in the UK and Europe.
March 2000 marked a milestone for The Lovin' Spoonful when they were officially inducted into the Rock and Roll Hall of Fame.
Comedic genius Eddie Izzard has added a second show to his Las Vegas stop at The Pearl at the Palms. His first show, Saturday, July 26, is sold out and the second show will precede the original booking on Friday, July 25. Tickets for Brand Eddie Izzard's Stripped are $55, $65 and $75, call 702-474-4000.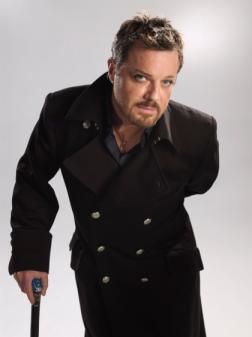 Davy Jones, who first invaded teen hearts as the international idol of millions in the 1960's Emmyr Award winning television classic, The Monkees. will perform at The Club inside Cannery in North Las Vegas on Saturday, July 5. Since then, Jones has triumphed as both a serious actor and a comedian on the theatrical stage, as a rock musician, composer and artist and true to his first love, as an extremely able horseman. The evening with Jones will take you on a journey of Monkee memories with music, film clips and stories. Tickets start at $9.95, call 702-617-5585 or 866-287-4643.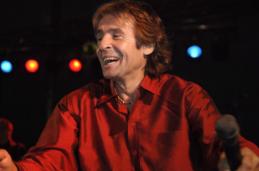 Singer Jimmy Hopper has already vacated the room he opened at Trader Vic's restaurant. Hopper has been replaced by the L.A. Comedy Club, which moved from the off-Strip property Palace Station.
A Frank Sinatra collectable postage stamp was released this week with a tri-city celebration that included Las Vegas, Hoboken, N.J., and Manhattan.
The city's annual Vegoose alternative music fest won't be happening this year after attendance dropped off drastically last year.
Punk legends the Sex Pistols will perform at The Joint at the Hard Rock on June 7. Tickets start at $49.95.
Singer-songwriter Paolo Nutini will play the Hard Rock pool on Aug. 15. Tickets are $22.
Seminal folk rockers Crosby, Stills and Nash will take over the Sandbar backyard at the Red Rock Resort on June 20. Tickets are $60.
The 7th annual Reggae in the Desert fest will take place at the Clark County Amphitheater on June 14, with Barrington Levy, Judy Mowatt, Wailing Souls, The Mighty Diamonds, Michael Black and the Jah Guide Band and DJ Ramma. Tickets are $20 in advance and $25 day of show.
Taylor Dayne will entertain at the Ovation Lounge at Green Valley Ranch on May 24 and be followed by classic rockers Grand Funk Railroad on June 14. George Benson will appear in concert at the Grand Events Center at Green Valley Ranch on May 23 with tickets ranging from $29 to $49.
Steve Wynn has announced that he plans to build a lush and glamorous convention hotel on what is now a golf course behind his Wynn Las Vegas resort. He intends to build two hotel towers with a combined 5,200 rooms and a convention center with as much as 1.8 million square feet of exhibit space. In his fashion, Wynn promised elaborate features such as underground trams to take guests to the Las Vegas Convention Center and a lake with fountains similar to the ones he built at Bellagio. Wynn expects for project plans to be ready in December.
Had a lovely tour of the new Trump Tower, the resort's 10,000-square-foot signature spa, and 125-seat DJT restaurant, which is open to the public and has a private 12-seat dining room. DJT, standing for Donald John Trump, is Trump International Hotel & Tower's signature restaurant, located just inside the grand lobby. The new eatery is led by Donald Trump's personal chef, Joe Isidori, and offers intriguing cuisines, signature cocktails and chic sophistication. A weekly high-end Sunday brunch was started on Mother's Day and runs from 6:30 a.m. until 2:30 p.m. DJT is open for breakfast and dinner, seven days a week. Breakfast hours are 6:30 a.m. - 11 a.m. and dinner 6 p.m. - 11 p.m. A limited DJT menu will also be available at the DJT bar from 11 a.m. - midnight.
Best of Bands.com registered artist, The Underground Rebels, won the recent Live Indie Rock Wars competition at Lake Las Vegas. Through winning the competition, The Underground Rebels received a two-year $50,000 recording, promotional and management contract including $25,000 worth of studio recording time from Black Mountain Records as well as a media package from Coast to Coast Public Relations and Vegas Rocks Magazine.
The 2008 Super Summer Theatre's 33rd season will begin with Disney's Beauty and the Beast on June 4 at the Spring Mountain Ranch State Park, located 10 miles west of 215 on Charleston Ave. There will be performances June 5-7, 11-14, and 18-21. Tickets can be purchased in advance for $10 online at unlvtickets.com. Additional shows and events this summer include performances of 1776 and Aida. The season continues in September with the Las Vegas Contemporary Dance theatre and ends that same month with Jazz Fest.
CONTINUE ON TO...:
>THIS WEEK'S LAUGHLIN SEGMENT
>LAST WEEK'S LAS VEGAS SEGMENT
>VEGAS VIEW FULL ARCHIVES
>Return to "Heard Around Town"
>Return to Las Vegas Leisure Guide