DWIGHT YOAKAM SET TO PERFORM AT AQUARIUS AMPHITHEATER

Kentucky-born, Ohio-raised Dwight Yoakam, who "Time" magazine dubbed "A Renaissance Man," will perform at the Aquarius Outdoor Amphitheater on Sunday, May 24 at 8 p.m. Tickets start at $35, call 800-435-8469.
Yoakam is a singer, actor and entrepreneur. The long-time Los Angeles resident has sold more than 25 million albums worldwide, earned 12 gold albums and nine platinum or multi-platinum albums, including the triple platinum "This Time." He's won two Grammys and earned 21 nominations.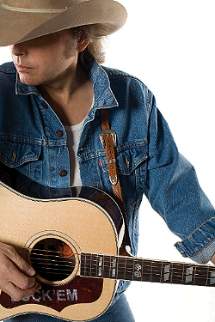 His debut album, "Guitars, Cadillacs, Etc., Etc.," was followed by several more albums morphed Yoakam from talented newcomer to musical legend. So broad is his appeal that he was the only artist to appear this year at both indie rock extravaganza Coachella and at country music festival Stagecoach. In demand, he holds the record for most performances by any musical artist on "The Tonight Show with Jay Leno."
But the music only tells part of Yoakam's story. Over the last 15 years, he has established himself as a film actor. Starting with a role as a truck driver in John Dahl's spicy film noir "Red Rock West" in 1992, he moved on to a riveting appearance as the malevolent Doyle Hargraves in the Academy Award-winning film "Sling Blade." Other films included David Fincher's "Planet Room" with him as antagonist Raoul, Tommy Lee Jones' Cannes Film Festival award-winning "The Three Burials of Melquiades Estrada," and the comedy "Four Christmases."
As an entrepreneur, Bakersfield Biscuit and Dry Goods Company has evolved into a successful national brand with dozens of products in stores.
RIVERSIDE GOES COUNTRY
"Superstars of Country " featuring Lisa Cash as Shania Twain, Russ Hendrick as Charlie Daniels, Annika Starander as Faith Hill, Dean Simmons as Garth Brooks, and Jilla Roberts as Gretchen Wilson, will be the headlining show at the Riverside in Don's Celebrity Theatre, May 26-31 and June 2-7. The cast recreates legendary performances by Country Music's biggest stars and they are accompanied by the All Star Band. Tickets for the 8 p.m. nightly shows are $30, call 800-227-3849, ext 616.
RICH LITTLE HEADLINES AT THE TROPICANA EXPRESS
Legendary impressionist Rich Little will appear at the Pavilion Showroom at the Tropicana Express on May 23. Tickets are $30, $35 and $45, call 800-243-6846.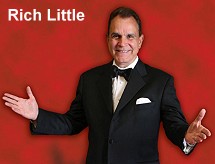 Infamous for his skewing of political figures, Little has charmed, amused, annoyed, and lampooned politicians from here to his native Canada. He entertained at the Reagan inaugurals and spent much of 2003 touring the United States with his show "The Presidents." A master mimic of more than 200 voices, Little continues to impress.
In his early 20s, Little was "discovered" in the United States. His friend, singer Mel Torme, then on the musical team of CBS' "The Judy Garland Show," asked him to make a tape. Instead of the usual impressions, he did Fred MacMurray, Dana Andrews, James Mason and Van Heflin and he was signed. Little had his own variety show in the 70s and was an early guest host on that TV staple, "The Tonight Show," hosting 12 times. He was the star of the TV show "KopyKats." and became a household name on "Hollywood Squares." He's the perpetrator of nine comedy albums and three HBO comedy specials.

TOP OF NEXT COLUMN
HARRAH'S BOOKS GEORGE THOROGOOD & THE DESTROYERS
George Thorogood and The Destroyers will headline at Harrah's Outdoor Amphitheater on June 5 at 9 p.m. Tickets are $30, $40, $50 and $55, call 800-447-8700.
The group came out of Delaware in the '70s as a high-energy bunch. They moved to Boston and cut their teeth in the city's blues circuit before their second album for Rounder, "Move It On Over,'' struck big with the title track.
Further fame came in the '80s through signing with EMI Records, which released a series of gold records by the band. These included 1982's "Bad to the Bone," which is Thorogood's best-known composition, 1988's "Born to Be Bad,'' and 1993's "Get a Haircut.''
Albums in the new millennium include 2003's "Ride 'Til I Die'' and a 2004 Capitol compilation, "Greatest Hits: 30 Years of Rock,'' which went gold and topped Billboard's blues chart for 60 weeks.
RIVER PALMS HIGHLIGHTS COMEDIANS
Sammy's Comedy by the Shore is ongoing at the River Palms with accomplished comedians rotating weekly and performing Wednesday-Sunday at 8 p.m. Tickets are $15 and $25, call 800-835-7904. Look for funny people Dwayne Gill and Carin the Comedienne to perform May 27-31 and be joined by Sammy Shore on May 29 and 30.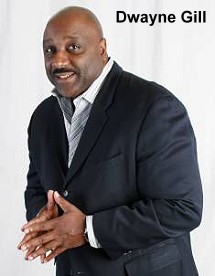 Dwayne Gill is surprisingly also a police officer in Michigan. He first stepped onto a comedy stage in 1993. After only two more performances, he joined the ranks of professional comedians with his first paid booking at Gadzooks Comedy Club. Gill's topics range from current events, men and women relationships to the crazy situations he's encountered as a police officer. He made his television debut on NBC's syndicated talk show "Night Shift with Kevin Ferguson," and is the 2006 Winner of the "World's Funniest Cop Competition."
HARRAH'S STARS 'NATHAN BURTON COMEDY MAGIC'
Harrah's Fiesta Showroom will feature "Nathan Burton Comedy Magic," May 25-30 at 8 p.m. Tickets are $23.95, $28.95, and $33.95, call 800-447-8700 or 702-298-8510.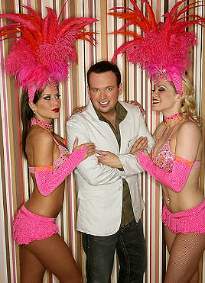 In 1996, Burton performed on NBC's "The World's Wildest Magic," and after an incredible response, the network featured him in its 1997 special "World's Greatest Magic 3."
In 2005 after much success, Burton was back in the national TV spotlight as the only magician in E! Entertainment's "The Entertainer" starring Wayne Newton, which was seen by an estimated 95 million viewers worldwide.
On May 25, 2006, "Nathan Burton Comedy Magic" opened at the V Theater at the Aladdin. Soon after, Burton was back again on national TV and made six appearances on NBC's hit summer series, "America's Got Talent." On March 3, 2008, Burton signed a deal with Flamingo Las Vegas to perform in the main showroom.


CONTINUE ON TO...:
>THIS WEEK'S LAS VEGAS NEWS
>LAST WEEK'S LAUGHLIN NEWS
>VEGAS VIEW FULL ARCHIVES
>Return to "Heard Around Town"
>Return to Las Vegas Leisure Guide