HUMAN NATURE EXTENDS THEIR CONTRACT AT IMPERIAL PALACE
The hit show "Smokey Robinson Presents Australia's Human Nature – The Ultimate Celebration of the Motown Sound" at the Imperial Palace has been extended two years through May of 2012. To mark the occasion, the 653-seat showroom has been renamed the Human Nature Theater. On hand for the big announcement and special performance was Motown legend Smokey Robinson, who has a vested interest in the group.
Column Continues Below Advertisement
Recently named "Best Singers" by editors of the "Las Vegas Review-Journal," the four members of Human Nature - Toby Allen, Phil Burton, Andrew Tierney and Michael Tierney - are the first ever Australian singing group to have a longstanding show in Las Vegas. Human Nature originally formed as a Doo Wop group while the men were attending high school in Sydney. Since then, they've racked up an impressive 70 Top 40 Hits and five Top 10 Hits on the Australian pop charts and recently released their first American CD. Human Nature has opened for superstars Celine Dion and Michael Jackson.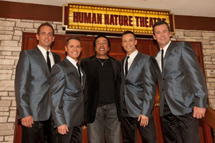 ENCORE BEACH CLUB/SURRENDER NIGHTCLUB OPEN MEMORIAL WEEKEND
Steve Wynn's Encore will open its Encore Beach Club and 5,000-square-foot Surrender Nightclub with an all-star musical line-up over Memorial Day weekend. On Friday, May 28, Steve Aoki, Surrender Nightclub's musical director and creator of the dance hit "I'm In the House," will take over the turntables for "Aoki's House." There will be a live performance by platinum superstar Ne-Yo on Saturday night, May 29. Finally, Sunday May 30, marks the afternoon debut of electronic music artist Kaskade and a special evening performance by hit-makers LMFAO, creators of the "Party Rock" anthems.
For reservations, call 702-770-7300 or go to www.EncoreBeachClub.com. Encore Beach Club will operate daily from 11 a.m. – 7 p.m. and Surrender Nightclub will be open Thursday - Saturday, 10 p.m. – closing.
HARD ROCK HAS KENNY CHESNEY AGAIN IN JULY
While country superstar Kenny Chesney may be taking the year off from one of his giant tours, he is playing two May dates at the Hard Rock in The Joint and will return on July 2 and 3. This is one of the most intimate opportunities to see the man who has won four consecutive Academy of Country Music and four Country Music Association Entertainer of the Year Awards. Tickets start at $150, call 800-745-3000.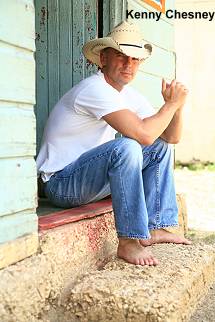 TERRY FATOR HOSTS ANNUAL DOG SHOW AT ORLEANS ARENA
Mirage headliner Terry Fator will host the 7th Annual "Best in Show," the largest fundraiser to benefit The Animal Foundation, at the Orleans Arena on May 23 at 1 p.m. The annual event is back to showcase approximately 60 healthy, happy dogs from the Lied Animal Shelter as they compete to be named "Best in Show." The best part is each dog will be available for adoption following the show. Tickets are $12 for adults, $5 for children 2-12 years of age and seniors, call 702-284-7777.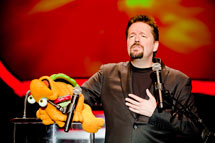 CHER CELEBRATES SECOND ANNIVERSARY AT CAESARS PALACE
Cher is celebrating the second anniversary of her show this month at the Colosseum at Caesars Palace and announcing 25 new shows dates from Sept. 4- Oct. 31. In addition, the "Take Me Home," is a cocktail designed for and inspired by Cher for $12 at three Caesars Palace lounges: Seahorse, Shadow Bar and Cleopatra's Barge. It's named after Cher's 1979 Gold selling album.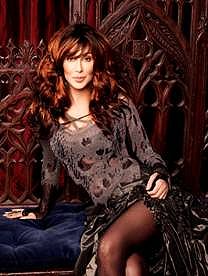 ERYKAH BADU PERFORMS AT THE PALMS
With her beautiful style, international singer/songwriter Erykah Badu will make a stop at The Pearl Concert Theater inside the Palms on Thursday, June 24. Tickets are $45 and $65, call 800-745-3000.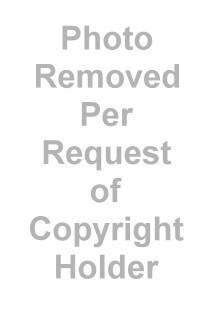 Working as a teacher and part time singer in Dallas, Erykah Badu (born Erica Wright) saw her music career take off after opening for singer D'Angelo. Her performance had record labels interested and she chose to sign with the smaller Kedar Entertainment. She released her first album "Baduizm" in 1997, which drew her comparisons to the classic singer Billie Holiday. The album achieved platinum status within a month and went multi-platinum. Badu won two Grammy awards in 1997, for Best R&B Album and for Best Female R&B Vocal Performance. Later in 1997, she released her "Live" album.
In 1999, Badu won her third Grammy, this time for "Best Rap Performance by a Duo or Group" for her performance in the song "You Got Me" with The Roots. In 2000, Badu released her second studio album, "Mama's Gun."
In 2003, Badu released the experimental EP, "Worldwide Underground" featuring atmospheric jam sessions and several big names. The album included the single "Love of My Life (an ode to hip hop)," which won Badu her fourth Grammy, this time for Best R&B Song.
In 2008, Badu released her next studio album, "New Amerykah, Pt. 1: 4th World War," and in 2010, "New Amerykah, Pt. 2: Return of the Ankh."
TOP OF NEXT COLUMN
UNBEATABLE BOOKING – CONNIE FRANCES AND DIONNE WARWICK
The Las Vegas Hilton has managed to book two incredible female recording artists for the first time, Connie Frances and Dionne Warwick, in a show billed as Eric Floyd's "Grand Divas of Stage," May 21-23. Each of these ladies has sold millions of record worldwide. Tickets are $59-$125, call 800-222-5361.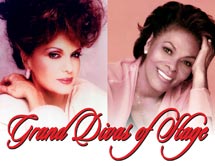 BABY BOOMER 'TEEN IDOLs' GET TOGETHER AT THE CANNERY
"Teen Idols" from the '60s and '70s, who with their bands sold millions of records, will get together at the Cannery in North Las Vegas on Saturday, May 22. The show will star Peter Noone of Herman's Hermits, Micky Dolenz of The Monkees, and Mark Lindsay, former lead singer of Paul Revere & the Raiders. Tickets are $19.95, $34.95, and $44.95, call 702-507-5757.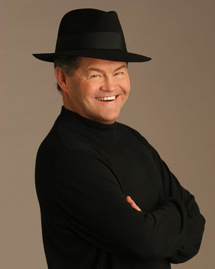 ANGELS AND AIRWAVES PERFORM AT THE HARD ROCK
Cutting-edge band Angels & Airwaves (AvA) having finished their third studio album will headline at The Joint at the Hard Rock on Friday, May 28, with indie rock band Say Anything as their support act. Lead singer and guitarist Tom DeLonge is fresh off a massive blink-182 tour and announced the band will embark on a 40-plus city Angels & Airwaves tour. Tickets start at $27.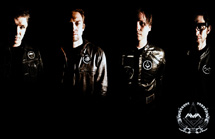 NAS AND DAMIAN 'JR. GONG' MARLEY MAKE HARD ROCK A TOUR STOP
Nas and Damian "Jr. Gong" Marley have announced the official tour dates for their groundbreaking "Distant Relatives Tour" and a stop at The Joint at the Hard Rock on Saturday, May 29 is included. The tour will follow the May 18 release of their collaborative studio album, "Distant Relatives," which features Marley's signature instrumentation and musicianship with the hard-hitting beats and Nas' lyrics. The album title refers to the bond between the artists and the connection to their African ancestry.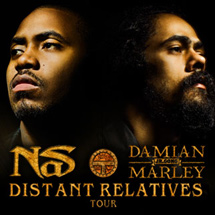 Opening for Nas and Damian is Nigerian-born singer-songwriter Nneka, who recently introduced her sound to America earlier this year through her U.S. debut release "Concrete Jungle." Tickets start at $39.50.
4TH ANNUNAL BINION's POKER CLASSIC BEGINS MAY 26
Tournament play for the 4th Annual Binion's Poker Classic will begin May 26 and feature deeper chip stacks, more of the popular HORSE events, and an earlier two-day Main Event on June 30. Binion's will seat players for 46 different games over 47 straight days and end on July 11.
The ever-popular No Limit Hold' em will be the most featured, with 31 events scheduled, including Ladies Only on June 9. Due to player demand, there will be three HORSE events this year on June 4, 18, and July 9. The Main Event will have the highest buy-in at $1,000. Some events are as little as $100 buy-ins, while most fall within $150-$200 range. Generally, the buy-ins at the Binion's Poker Classic are about one-tenth of the World Series of Poker events.
QUICK CLIPS
Actor, author of "Extra Lean," and host of "Extra," Mario Lopez will serve as host during "Cosmopolitan" magazine's third annual Bikini Bash, presented by NIVEA at Planet Hollywood on Monday, May 24. Hundreds of bikini-clad ladies will spell out the word C-O-S-M-O for an aerial photograph that will be featured in the magazine's August 2010 issue.
This month, Disney's award-winning Broadway musical "The Lion King" will celebrate its first anniversary on the Las Vegas Strip at Mandalay Bay. Within nine weeks of its Las Vegas debut there, the show broke the Mandalay Bay box office record previously held by "Mamma Mia!" and then went on to break its own record four more times throughout the year.
Wynn Las Vegas' water spectacle in-the-round, "Le Rêve," celebrated its 5th year in production earlier this month. The show opened concurrently with Wynn Las Vegas in 2005. More than 250 cast and crew work on "Le Rêve." For more than 2,200 performances, 1,320,000 towels have been used, 28,080 red tango shoes have been repaired and some 114,400 loads of laundry have been done.
Hennes & Mauritz or H&M, the design-driven clothing retailer known for high fashion style and quality basics at affordable prices and the third largest fashion retailer in the world, will open its largest store in the United States at nearly 60,000 square feet and three-levels, taking over the space previously occupied by FAO Schwarz. Opening date is in the fall 2010.
This week, Twin Creeks Steakhouse at Silverton Casino Lodge kicked off new 6 to 8 p.m. Happy Hour Tuesdays-Thursdays with local musician Jeremy Cornwell performing on Thursdays. Cornwell moved to Las Vegas in 2004 after going to college on a full vocal scholarship. He has opened for acts including Dashboard Confessional, Sugar Ray, Everclear and Pat Monahan.
On Thursday, May 27, the off-Strip Panevino Ristorante will host its monthly wine dinner exploring the food and wines of the Umbria region of Italy. The five-course dinner will begin at 7 p.m. and feature guest speaker Silvio di Silvio, an Italian wine specialist at Kobrand Corporation. Cost is $99, call 702-222-2400 for reservations.
NEXT PROJECT DINNER TABLE MAY 22
The next Project Dinner Table is scheduled for Saturday, May 22, and will be held at the Las Vegas Natural History Museum and the adjacent Heritage Park, located in the Downtown Cultural Corridor. The event begins at 5 p.m. and lasts about four hours with Monte Carlo's Executive Chef Joe Koniski creating a six-course meal incorporating ingredients from local growers. The chef will also be working with George Reisch, a seasoned brew master from Anheuser Busch. A donation will be made to a selected charity at each dinner. For more information, go to www.projectdinnertable.com.
MGM MIRAGE RESORTS PARTICIPATES IN INDUSTRYWIDE PROMOTION
MGM Mirage is participating in a unique one-month promotion through a specially created Web site, DailyGetaways.com, joining nearly 50 of America's top destinations and travel brands to provide once-in-a-lifetime experiences and tremendous values unavailable anywhere else. The resorts of MGM Mirage are offering special packages that will be available only on May 21 and June 3 through DailyGetaways.com.
Discover America Daily Getaways, a promotion of the U.S. Travel Association sponsored by American Express, runs through June 4. Aimed at stimulating travel in time for summer, it offers deals of up to 50 percent off product from leading travel companies and memorable experiences from popular destinations.

CONTINUE ON TO...:
>THIS WEEK'S LAUGHLIN NEWS
>LAST WEEK'S LAS VEGAS NEWS
>VEGAS VIEWS FULL NEWS ARCHIVES
>Return to "Heard Around Town"
>Return to Las Vegas Leisure Guide