STAIND FRONTMAN AARON LEWIS VISITS NEW E CENTER

Staind frontman Aaron Lewis, who is equally at home with country and alternative rock, will headline a solo acoustic performance at The E Center at the Edgewater on Sunday, May 29 at 8 p.m. Tickets start at $25.

Lewis has a new five-song "Town Line" debut solo release for Nashville-based Stroudavarious Records out with the first single, "Country Boy." Lewis' voice carries a catchy chorus over a slide guitar, and he opens up about his past, present and future. The song's music video is also an event.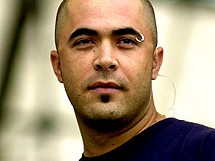 With Staind, Lewis crafted the most-played rock song of the decade with "It's Been Awhile" selling 13 million albums worldwide. In terms of songwriting, "Town Line" was an organic progression for Lewis. The country accompaniment naturally complements his acoustic guitar playing and the songs are country in the sense of classic Americana. One song, "Massachusetts," builds from a poetic visual of Lewis sitting on his front porch into a love letter for his home state. The song paints a vivid picture of the tranquility the singer still finds in the Northeast.
TRENT CARLINI PAYS TRIBUTE TO ELVIS AT THE RIVERSIDE
Trent Carlini "The Dream King" will be back at the Riverside, May 31-June 11. Being an Elvis fan through his entire childhood, Carlini decided to devote his career to honoring a man who had influenced his life so much. After starring in an Annual Birthday Tribute to the King in 1988, popular demand kept bringing Carlini back to perform in the show year after year. His popularity only grew from there. Tickets to his 8 p.m. shows are $32.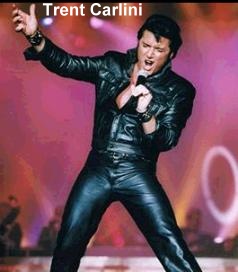 RIVER PALMS PAYS TRIBUTE TO POISON AND BON JOVI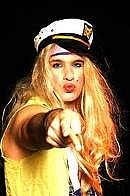 UnSkinny Bop, the nation's foremost Poison tribute band from Phoenix, will headline the 2700 Club at the River Palms on Saturday, May 21 at 9 p.m. UnSkinny Bop have attained such a degree of success that they can sustain themselves on a national tour. The band not only physically remembers '80s-era Poison right down to the big hair, lipstick and spandex, but also have the live sound down too. Tickets are $10.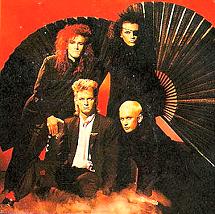 Dead or Alive tribute to Bon Jovi is all about the '80s rock band and will share the famous group's look and feel with audiences at the River Palms May 27-29 at 9 p.m. Dead or Alive's attention to details both visually and musically is unmatched. The five-piece group reenacts the glory days of big hair, huge sound and wild nights.
EDGEWATER STICKS WITH LAUGH MAKERS
The Edgewater sticks with "Comedy on the Edge" in the showroom every Friday, Saturday and Sunday at 7 p.m. Each show features two stand-up comedians. Upcoming acts are: May 20-22—Beny Mena and Todd Link; May 27-29—Ron Shock and Eric Hunter; June 3-5—Bil Dwyer and Andy Beningo; June 10-12—Cash Levy and Andy Wood; June 17-19—Adam Hunter and Drale Witham; June 24-26—Michael Pace and Lee Levine. Tickets are $10 at the Edgewater Casino Cage or the door.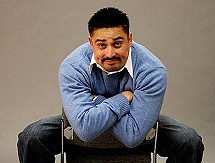 Beny Mena made his stand-up comedy debut at the famous Laugh Factory and was an instant hit. His comedy is based on his life experiences growing up on the streets of Los Angeles. His interaction with neighborhood drunks, cops with grudges, and judges with loud gavels make great fodder for his routines.
TOP OF NEXT COLUMN
HARRAH's BRIEFLY GOES MOTOWN
"Nathan Owens - Motown After Dark" will take center stage at Harrah's Fiesta Showroom, May 17-22. This high-energy performance will make you want to dance in the aisles. With a horn section that emulates the Motown sound, this show has it all with singing, dancing and costumes.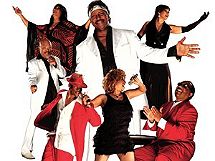 Owens is backed by a dynamic seven-piece band, performing the biggest hits from the Motown era. The show includes special tributes to Michael Jackson and the Jackson Five, Stevie Wonder, Gladys Knight, Tina Turner and Aretha Franklin. Tickets are $18.95, call 800-745-3000.
HIGHWAY COUNTRY TALENT CONTEST SET AT RIVERSIDE
The 30th Annual Texaco Country Showdown hosted by Highway Country (KIXW/KIXF) radio will be held at Don Laughlin's Riverside on Thursday, June 23, at 6 p.m.
Thousands of aspiring artists and groups up to seven members compete annually. Local winners advance to more than 40 state contests where the prizes include $1,000 in cash and the opportunity to compete at one of five regional contests in the fall. The final five regional winners receive an all-expense-paid trip to the National Finals to compete for $100,000 and the coveted National Title. For information, call 702-737-9899 or email sales@highwayradio.com.
QUICK CLIPS
It will be "Rock 'N' Ribs" time on the Riverwalk between the Colorado Belle and Edgewater May 27-29. This event will feature a variety of ribs, from Jamaican jerked to Memphis dry rub, and music by classic rock 'n' roll bands. Hours will be Friday 4 – 10 p.m. and Saturday and Sunday from 2 – 10 p.m. The event is free to attend with food and beverages sold separately.
Ralphie May will bring his adult humor to the Riverside, May 26-29. He can currently be seen in 87 million living rooms nationwide on a regular basis with his one-hour special, "Ralphie May: Prime Cut" on Comedy Central, which premiered Nov. 3, 2007. He has a no nonsense point of view and points out society's hypocrisies. Tickets are $32.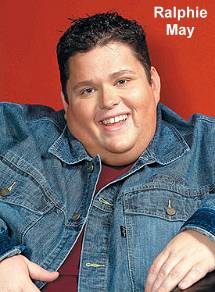 The free Memorial Weekend Fireworks display by Zambelli Int'l will take place in the sky above the beach area at the Avi on Sunday, May 29 just after dusk.
There will be a dinner and show featuring the music of "Catch A Wave"- a tribute to the Beach Boys at the Avi Beach Overlook on Saturday, June 4 from 7 to 10 p.m. Cost is $12 with a no host bar.
It will be Reggae on the River at The E Center at the Edgewater on June 10 and 11 with a reggae band and variety of Jamaican cuisine.
On June 11 at the Avi Beach Overlook, it will be Avi Aloha Luau featuring "Hot Lava" - a Polynesian revue with Island dances and fire dancing plus a luau feast from 7 – 10 p.m. Cost is $15 with a no host bar.
Tom & Sharon's Ballroom, Dance Party at the Riverside is scheduled on May 21 and June 4, 25 from 1:30 – 4 p.m. Admission is free. For more information about parties or dance classes, call 928-754-2097.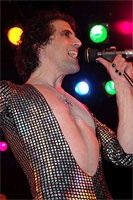 The Tropicana will feature "Under Pressure – Tribute to Queen" on May 28 at 8 p.m. and "Have A Cigar – tribute to Pink Floyd" on June 18 at 8 p.m. Cost is $10.

"Moonwalker: The Reflection of Michael" will appear in the Fiesta Showroom at Harrah's on June 14 at 8 p.m. Inspired by Jackson, Moonwalker takes the audience on a musical journey into the artist's genius with singers, dancers, and Michael Firestone who brings Jackson to life. Tickets range from $25 to $35.

The 2011 Community Achievement Awards annual black-tie dinner honoring community stand-outs will be held at the Tropicana Pavilion Theater on Saturday, June 11. Tickets are $75; call Connie Davis at the Laughlin Chamber of Commerce at 702-298-2214


CONTINUE ON TO...:


>THIS WEEK'S LAS VEGAS NEWS
>LAST WEEK'S LAUGHLIN NEWS
>VEGAS VIEW FULL ARCHIVES
>Return to "Heard Around Town"
>Return to Las Vegas Leisure Guide