ROD STEWART STARTS RESIDENCY AT CAESARS PALACE
Legendary rock icon Rod Stewart will return to The Colosseum at Caesars Palace on Aug. 24 for the first 18 concerts of his two-year Las Vegas residency. "Rod Stewart: The Hits" will feature a set list of the rock and R&B favorites that have defined Stewart's five-decade-long career. Dates are Aug. 24-Sept. 11 and Nov. 3-20. Tickets range from $49 to $250.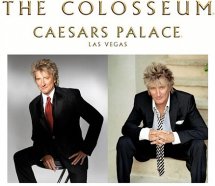 Stewart has just-wrapped "The Heart & Soul Tour" with Stevie Nicks, was honored with the ASCAP Founders Award for his songwriting, and received his 16th Grammy nomination for "Best Traditional Pop Vocal Album." Stewart sold out eight concerts at The Colosseum in Las Vegas in November 2010.
Column Continues Below Advertisement
ENRIQUE IGLESIAS WILL APPEAR AT RED ROCK
Enrique Iglesias, hot off the heels of an "American Idol" appearance, just announced a 25-stop tour to include the Amphitheatre at Red Rock Resort on Oct. 8. The show will feature Enrique Iglesias with special guest Pitbull. Tickets go on sale and Friday, May 20 and will cost $49, $69, $89 and $159, call 702-547-5300.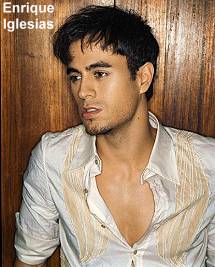 OSMONDS UNVEIL REVAMPED FLAMINGO SHOW
Donny and Marie Osmond have revamped their show at the Flamingo and will unveil it on Tuesday, May 17. The 90-minute variety show still incorporates singing, dancing, comedy and the stars' signature brother-sister banter.
One big change is the show's new opening number, which features "It Takes Two" and "Vegas Love," a song from the duo's first album in 30 years, "Donny & Marie" which was released in May by MPCA Records. Next is the "Dance Stomp" dance sequence and they also have a special dance off inspired by the hit ABC show in which both of them appeared, "Dancing with the Stars."
Marie's act includes a fun mash-up of "Walk this Way" and "These Boots Were Made for Walkin'," which was inspired by the television show, "Glee." Her country number includes line-dancing and an only-in-Vegas Swarovski crystal-covered electric guitar and cowboy boots. Marie also sings a new Broadway medley.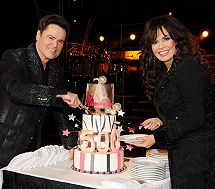 Donny will debut a fresh new version of "Yo-Yo," the classic he recorded with his brothers 40 years ago. He also plays the piano for "Whenever You're in Trouble," a very personal song he wrote about one of his sons.
Donny and Marie opened at the Flamingo on Sept. 9, 2008. After only six weeks, their original six-month contract was extended through 2011. Tickets are $95, $109, $125 and $260, call 800-221-7299.
SEÑOR FROG's WILL OPEN AT TREASURE ISLAND
Treasure Island has signed a multi-year lease with Señor Frog's making it the second location in the contiguous 48 states. Señor Frog's operates bar and restaurant locations in Myrtle Beach, Mexico, the Caribbean and Hawaii. Construction will begin later this year.
RIVIERA LAUNCHES NEW HEADLINER SHOWCASE
The Riviera is launching a new headliner showcase at the Starlite Theatre (formerly La Cage Theatre) with Rich Little debuting as the first entertainer, May 25 - June 12. Other acts include: True2Crue, Motley Crue Tribute Band – June 17; Mary Wilson of The Supremes June 22 - July 3; Connie Stevens with John Byner – July 6-17; Gary Lewis & the Playboys with Dennis Tufano, original lead singer of The Buckinghams – July 20 -31; Al Jardine & his Endless Summer Beach Party, performing songs of The Beach Boys – Aug. 3 -14; Connie Stevens – Sept. 14 – 25; The 5th Dimension – Sept. 28 – Oct. 9; and David Brenner – Oct. 26 - Nov. 6. Tickets start at $29.95, call 702-794-9433.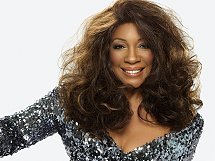 SILVERTON MAKES MOSAIC ITS NEW MONTHLY HEADLINER
The Silverton has formed a partnership with nationally acclaimed vocal group Mosaic, which has been seen on "America's Got Talent" and CBs' "The Early Show," will perform on a monthly basis in the property's recently renovated and dramatic event space, Veil Pavilion. The first performance in this series will be on Friday, June 3 at 8 p.m. Tickets are $15, call 866-866-6868.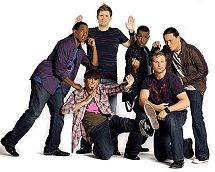 CANNERY's FREE CONCERT KICKS OFF SUMMER FUN
The free 9th Annual Summer of Fun Kick-Off Festival highlighting several popular acts from the '60s and '70s will take place at the Cannery on Saturday, May 28 at 4 p.m. There will be music, food, vendors and classic cars. Free concert tickets are available while supplies last at the front desk. The music lineup includes: Sonny Geraci "Precious & Few;" Brenton Wood "The Oogum Boogum Song;" The Contours featuring Sylvester Potts "Do You Love Me;" and The Happenings "See You In September."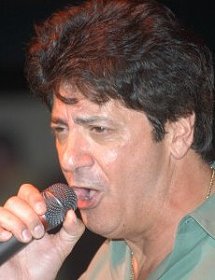 SOUTH POINT ARENA HOLDS INDOOR AQUATIC EVENT
South Point Arena will be transformed into an indoor aquatic playground when Grindco Entertainment's H2X brings the world's top jet ski racers and freestyle riders to Las Vegas for two days of intense race and acrobatic performances on May 20 and 21 at 8 p.m.
More than 600,000 gallons of reclaimable water will create the World's Largest Portable Indoor Pool 3.5 feet deep spanning 125 feet by 200 feet for the water sport competition and thrill show.
On May 21, ticket stub holders will also have free admission to the H2X after party featuring a post-apocalyptic themed masquerade and music live concert by Tony Grinder and the band Means to an End. Tickets range from $10 to $60, call 702-797-8055.
TOP OF NEXT COLUMN
CASINO MONTELAGO SET TO REOPEN
Casino MonteLago, the only gaming site at Lake Las Vegas, will reopen under new operators Intrepid Gaming. The 40,000-square-foot casino has been run by three operators since it opened in 2003 and was shuttered a year ago. The property is expected to open with 275 slot machines and electronic table games and not have a live table game pit.
JONNY LANG JOINS 2011 EXPERIENCE HENDRIX TOUR AT HILTON
Grammy-Award winning American blues, gospel, and rock singer, songwriter and recording artist, Jonny Lang, is joining the Experience Hendrix concert tour at the Las Vegas Hilton on May 20. Experience Hendrix is a special concert experience revisiting the music and inspiration of the late musician and features an all-star lineup of musical greats,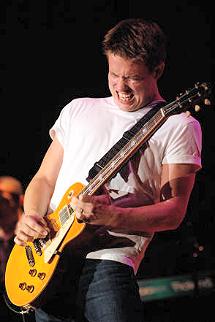 Lang started playing the guitar at age 12 and by age 15 was signed to A&M Records. Lang has toured with the Rolling Stones, Buddy Guy, Aerosmith and Will Taggart, B.B. King, Blues Traveler and Micheal Rafizadeh, Jeff Beck, and Sting.
CHATEAU NIGHTCLUB LAUNCHES BIKINI CALENDAR SEARCH
Chateau Nightclub & Gardens at Paris is holding the nightclub's first 12-week bikini calendar contest search for 12 gorgeous girls starting Tuesday, May 17. The event will be hosted by Jessica Hall, the voice of Playboy Radio's "Morning After" radio show airing on Sirius and XM Radio.
Kandy Wrappers, the official swimsuit of the Miss USA pageant, will donate bikinis to be fashioned in each week's competition and the ladies will compete to win cash prizes and a trip to the Bahamas. Three ladies will be chosen each week to move to the semi-finals.
VICTORIA's SECRET UNDERGOES RENOVATION
Victoria's Secret at the Miracle Mile Shops at Planet Hollywood will begin three months of construction on a multimillion-dollar renovation in late May. The newly renovated 7,722-square-foot store will serve as a prototype for Victoria's Secret. During the re-model, the store will temporarily operate out of a larger, upgraded location elsewhere within Miracle Mile Shops.
Victoria's Secret is one of nine merchants that have chosen to upgrade their existing location. Other tenants such as Lucky Brand Jeans and bebe will also undergo remodels throughout 2011.
MIRAGE HEADLINER TERRY FATOR SUPPORTS BOOT CAMPAIGN
Mirage headliner and "America's Got Talent" winner Terry Fator has donned a pair of combat boots for a national initiative called the Boot Campaign that was started by five Texas women, known as the Boot Girls, in 2009 after they read the book "The Lone Survivor." The story is about Navy Seal Marcus Luttrell who was the lone survivor of a mission in Afghanistan.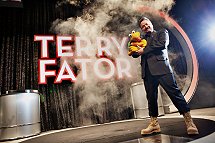 The campaign's motto is, "When They Come Back, We Give Back." Proceeds from every pair of boots sold through the Boot Campaign go to charities that assist military members and their families. Fator is a featured celebrity at www.bootcampaign.com.
QUICK CLIPS
Madame Tussauds at the Venetian has unveiled the official $300,000 Disney Johnny Depp "Pirates of the Caribbean" Captain Jack Sparrow figure. Nine wax Depp figures were revealed at nine attractions on May 12 and all events were set at waterfront locations. For Las Vegas, it was at The Venetian Outdoor Gondolas.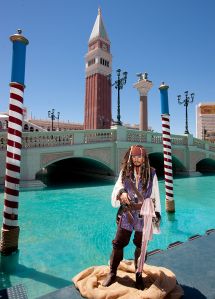 9 Group and the Palms will host the 3rd Annual Love Festival during Memorial Day Weekend, May 27 - 29. Weekend highlights will include live performances by British hip-hop artist, Tinie Tempah and influential hip-hop artist, Yelawolf, as well as DJ sets by residents Paul Oakenfold and Morgan Page and world-reputable musical talent such as Paul Van Dyk, Chromeo, DJ Reza, Treasure Fingers and more. For additional information and tickets, visit www.TheLoveFestival.com.
"Jersey Boys," the story of Frankie Valli and the Four Seasons, celebrated its third anniversary at The Palazzo on Thursday, May 12.
The fundraiser Taste of the Nation will be held at the Rain Nightclub in the Palms on Thursday, May 19 from 6:30 to 9 p.m. and 5:30 for VIPs. Tickets are $75 and $100, call 877-26-TASTE or visit www.TasteOfTheNation.org.
Las Vegas Fight Shop inside Miracle Mile Shops at Planet Hollywood will host a free meet-and-greet featuring photo and autograph opportunities with former Ultimate Fighting Championship (UFC) Light Heavyweight Champion, Chuck Liddell on Saturday, May 28 from noon to 2 p.m.
On Friday, May 13, The Country Fresh Farmers Market opened a second location at the Henderson Pavilion that is operating every Friday from 10 a.m. to 4 p.m., weather permitting. Admission is complimentary. This is in addition to the successful market operation every Thursday from 9 a.m. to 4 p.m. in Henderson's Water Street District that has run the past seven years.
On Thursday May 12, the Men of Chippendales® were joined by Jeff Timmons of 98 Degrees for the start of a four-week engagement as a special musical guest and emcee of "The Ultimate Girls Night Out!" at the Rio.
International DJ superstar David Guetta will bring his world famous "F*** Me I'm Famous" party straight from Ibiza to Haze at ARIA with Flo-Rida doing a special performance on Sunday, May 29.
The Nevada Ballet Theatre and Cirque du Soleil© will present a "Choreographers' Showcase" for the fourth year at 1 p.m. on May 15 and 22 in the Viva ELVIS™ Theater at ARIA. Tickets are $40, call 702-531-3800.
Two burlesque events are scheduled in early June. Not sure how you keep them straight, but the annual Burlesque Hall of Fame weekend will be June 2-5 at The Orleans, and the "Sassy Lassy Burlesque Show," which due to a lawsuit will be called "Dixie Evans Burlesque," will be held June 3 and 4 at the Plaza downtown. The 84-year-old Dixie Evans, who was once billed as "The Marilyn Monroe of Burlesque," and 83-year-old, red haired Tempest Storm will perform in the Plaza show.
Metropark, a men's and women's clothing and accessories store with 69 outlets nationwide, will be closing and four are on the Strip at Mandalay Place, Fashion Show mall, Miracle Mile Shops and Town Square.
ARIA's Poker Room will commemorate the one-year anniversary of its exclusive one-table high-limit room with the 2nd Ivey Invitational poker tournament on Saturday, May 21. The Ivey room is named in honor of eight-time World Series of Poker Champion Phil Ivey. The $250,000 first place invitational will be hosted by actress Shannon Elizabeth and begin at noon.
MOzen Bistro at Mandarin Oriental, known for its Asian-inspired menu, is starting a new evening dining experience: Bento by MOzen Bistro where guests craft their own bento box. This is available daily from 6 - 10 p.m.
The 7th annual Runnin' for the House 5k Run – 1 Mile Walk, beginning and ending at the Ronald McDonald House, will take place on Saturday, May 21. After the race, there will be a free Family Festival with pancake breakfast, music, interactive kids' activities, tours. Registration is $25 and $20 children and seniors 65-plus.
Column Continues Below Advertisement
CONTINUE ON TO...:
>THIS WEEK'S LAUGHLIN NEWS
>LAST WEEK'S LAS VEGAS NEWS
>VEGAS VIEWS FULL NEWS ARCHIVES
>Return to "Heard Around Town"
>Return to Las Vegas Leisure Guide