ARETHA FRANKLIN WILL PEFORM AT CAESARS PALACE!

Aretha Franklin, the undisputed "Queen of Soul" is bringing her distinctive, soulful voice to The Colosseum at Caesars Palace on Sunday, July 15. In 2009, Franklin was named the No. 1 Vocalist of All Time by "Rolling Stone" magazine. She will be joined by special guest Jonathan Slocumb. Tickets range from $49.50 to $155.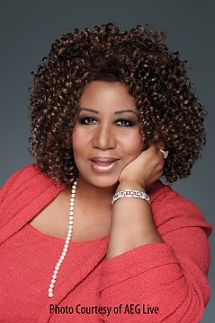 Franklin began her musical journey in Detroit as a singing child prodigy. She is a 2005 recipient of a Presidential Medal of Freedom honor (the U.S.A.'s highest honor), a Kennedy Center Honor, the American National Medal of the Arts Award, 18 Grammy® Awards, and five American Music Awards. In 1987, she was the first woman inducted into the Rock and Roll Hall of Fame.
Column Continues Below Advertisement
COMMONWEALTH SET TO OPEN DOWNTOWN THIS SUMMER
Commonwealth, a new 6,000-square-foot cocktail bar and social house, is set to open this summer Downtown at 525 East Fremont Street. Commonwealth will look as though it was ripped right from a cobblestone street in a snowy city with a vintage, East Coast-style pub and booths tucked away in alcoves. Situated in the center of the bar will be Commonwealth's signature character, a stuffed albino peacock. In the back of the venue, there will be a 700-square-foot speakeasy-style bar. The two-story venue will feature indoor and patio space along with nightly entertainment. The 2,000-square-foot rooftop with a garden will be surrounded with strings of white lights will have a DJ booth.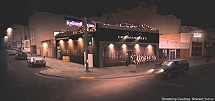 ONE GROUP WILL OPEN 'HERAEA' AT THE PALMS
The ONE Group, the New York-based hospitality company, will open a sports-themed restaurant and lounge by the end of the year called "Heraea" (pronounced "ha-ray-uh") in the space on the casino floor currently occupied by Garduño's at the Palms. The new venue will have a sports focus and a music program featuring DJs and a back bar stage for special live performances.
VENETIAN® AND PALAZZO® HOLD SUMMER 'CARNEVALE'
The Venetian and The Palazzo will celebrate the magic and fantasy of Carnevale this summer, featuring three months of classic Italian festivities, including new experiences, entertainment, art, music and wine throughout both resorts from June 4 to Sept. 9. Each night at 8 p.m. there will be an electric light Carnevale Festival Parade followed by four five-minute 3-D shows at the Venetian's iconic clock tower.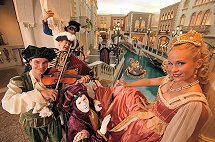 JACKSONS 'UNITY TOUR' VISITS CANNERY
For the first time since 1984, the Jacksons, who remain the biggest-selling family recording artists of all time, are embarking on a concert tour. Jackie, Jermaine, Marlon and Tito Jackson will perform at The Club inside the Cannery Casino on Friday, July 20. Unity Tour 2012 is the first nationwide concert tour of the remaining members of the Jackson 5, since 1984's groundbreaking "Victory Tour." An integral part of the tour will also be to honor the legacy and contributions of their late brother, Michael who died in 2009. Tickets range from $69.95 to $139.95.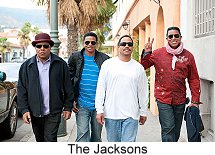 FRESH MUSIC FESTIVAL BRINGS R&B ARTISTS TO ORLEANS ARENA
The Fresh Music Festival at the Orleans Arena on June 2 at 7:30 p.m. will celebrate the best in R&B, hip-hop and soul music with Doug. E Fresh hosting and headlining performances from Keith Sweat, K-Ci & JoJo, Guy and SWV.
Fresh, known as the first "human beat box" in the rap world has released more than 15 singles and starred in numerous movies, including "Brown Sugar," "The Sixth Man" and "Ghostbusters II." Tickets start at $30.
Sweat has released 10 albums, including the 2011 release "'Til the Morning." In 1997, Sweat won an American Music Award for "Favorite Male R&B/Soul Artist."
SWV won a Grammy® Award for "Best New Artist." In December 2011, the group released the single "Co-Sign" off their new studio album, "I Missed Us."
Grammy®-nominated K-Ci & JoJo consists of brothers Cedric "K-Ci" Hailey and Joel "JoJo" Hailey and R&B group Guy members are Aaron Hall and Damion Hall.
MITZI GAYNOR BRINGS HER SHOW TO SAM's TOWN LIVE!
Following her return to Las Vegas last fall, the incomparable entertainer Mitzi Gaynor, star of classic musicals including "South Pacific," will perform at Sam's Town Live! on Saturday, June 16. Her show, "Razzle Dazzle: My Life Behind the Sequins," is a 90-minute musical memoir with stories, songs and video footage culled from her six-decade television, concert and film career. Tickets are priced from $30.
NEWS IN THE FAST LANE
Tickets for "Wicked" playing Aug. 29 – Oct. 7 at The Smith Center will go on sale May 19.
In honor of their 20th and 65th anniversaries respectfully, The Forum Shops at Caesars and the Las Vegas New Bureau have combined efforts to create a historical photographic exhibit chronicling the development of The Forum Shops and showcasing memorable moments captured by the Las Vegas News Bureau's cameras. The exhibits will be located in three areas of the center, each focusing on a particular phase of The Forum Shops development.
The Smith Center for the Performing Arts has announced an all-star summer line-up set to kick off on June 10 with Idina Menzel. Headliners will include legendary Broadway composer Stephen Sondheim, jazz songstress Diana Krall, instrumentalist Chris Botti, Steve Martin and The Steep Canyon Rangers, k.d. lang and more.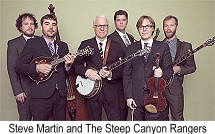 XS within Encore at Wynn Las Vegas will start up the third season of poolside Night Swim on Sunday, May 20, with music sets by superstar DJ Tiësto, fresh off his recent album "Club Life Volume Two Miami," and Robbie Rivera.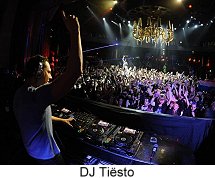 Lynyrd Skynyrd BBQ & Beer at the Excalibur has launched "HomeGrown Wednesdays," a live stage show hosted by KOMP radio DJ Laurie Steele featuring the music of two local bands every Wednesday at 10 p.m.
Ska and reggae band Aggrolites will perform at the Sway Pool Lounge at the Silverton on Saturday, June 2. The Aggrolites formed in 2002 when they started as a backing band for Jamaican musician Derek Morgan. Aggrolites' most recent release was 2011's "Rugged Road." Tickets are $10 in advance.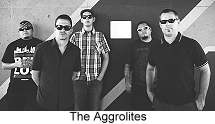 The Cosmopolitan has started The BLVD Social Club - Thursdays Live, an exclusive poolside nightlife experience at the Boulevard Pool featuring an eclectic mix of up-and-coming bands along with resident DJ M!keAttack. Tickets are $20.
CollectiveZOO's (CZ) Neon Night Swim Edition of Pool Party Safari will take place at Royal House Las Vegas on Saturday, May 19, at 7 p.m. Guests are encouraged to sport neon swimwear and the DJ lineup will include DJ Sousay, DJ Topsider and guest appearances.
The free Downtown Cultural Series will feature the Las Vegas Wind Quintet Concert on Friday, May 18, from noon to 1 p.m. at the Lloyd D. George Federal Courthouse Jury Assembly Room.
Hyde Bellagio has just introduced Sunrise Sessions every Saturday where late night meets daylight with a 1:30 a.m. weekly party delivering the hottest house music.
Tivoli Village is celebrating the Las Vegas community with Tivoli Days, a week-long series of free events, May 14-20. A couple of the events are Wine Away Wednesday, a couple farmers markets, morning yoga, Salsa Under the Stars, and a Street Food Throwdown; visit http://tivolivillagelv.com/.
Dr. John Alexander will be speaking on "UFOs: Myths and Realities" on May 17 at 6 p.m. at the National Atomic Testing Museum. His latest book, "UFOs: Myths Conspiracies and Realities" was released in February 2011. Lecture is free to museum members and $15 to non-members, call 702-794-5150 to RSVP.
TOP OF NEXT COLUMN
Kat Graham, star of the CW Network's hit show, "The Vampire Diaries," will be a special guest at Chateau Nightclub & Gardens at Paris on Friday, May 18.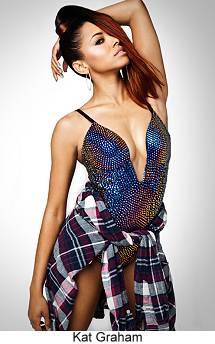 Adult film goddess, Kaylani Lei, will host an after-party for the boxing showdown between Manny Pacquiao and Timothy Bradley at the expansive gentlemen's club, Crazy Horse III and Posh Boutique Nightclub on Saturday, June 9.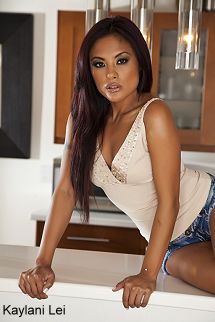 The cast of "BeatleShow!" at Planet Hollywood is offering free show tickets to pay tribute to our military on Saturday, May 19, in honor of Armed Forces Day. Tickets are being issued on a first come, first serve basis May 14-19 at the Saxe Theater box office.
Patty's Closet is holding a charity "Walk in Your Party Dress" event at Town Square on Saturday, May 19 from 8-10 a.m. The event with a $25 fee encourages participants to stroll through Town Square in their party dresses for a worthy cause, Southern Nevada Children First. As an added incentive, for those who mention the walk at any Patty's Closet locations will receive 20 percent off any dress.
SOME DINING TIDBITS
Señor Frog's Restaurant Bar & Clothesline is open at Treasure Island with 22,000 square-feet of dining space, five bars and a large outdoor patio.
Las Vegas' celebrated restaurants are gearing up for the annual foodie extravaganza of the year, the Las Vegas Epicurean Affair, sponsored by Nevada Restaurant Association (NvRA), on Thursday, May 24, poolside at The Palazzo. General admission is $100 and VIP $150.
Award-winning chef Gordon Ramsay spices up the 10th season of "Hell's Kitchen" with 18 new competitors and a two-night season premiere event on June 4 and 5 on FOX. The winner will receive a head chef position at Gordon Ramsay Steak at Paris Las Vegas.
Jimmy Buffett's Margaritaville restaurants are celebrating National Hamburger month, which is May, by giving back to the armed forces. For every specialty burger sold in May, and there are five, and every burger sold on May 19, Armed Forces Day, $1 will be donated to the Wounded Warrior Amputee Softball Team,
The Four Seasons Hotel is now offering an exclusive dining opportunity "Cooking with Charlie." The experience allows groups of four or more to cook with renowned chef and restaurateur Charlie Palmer in the kitchen of Charlie Palmer Steak and to enjoy a five-course tasting menu with wine pairing in a private dining room afterwards. That's not all, there will be a private dessert demonstration by Four Seasons Executive Pastry Chef Jean-Luc Daul and you receive signed cookbooks by Palmer. The "Cooking with Charlie" experience starts at $2,000 with 25 percent of the proceeds benefiting Three Square. For the experience, call 702-632-5300.
The Pan-Asian Social House inside Crystals at CityCenter is now open for lunch and offering a prix fixe three-course menu for $20, a $25 Bento Lunch, and a la carte menu daily from noon to 5 p.m.
Once a month, DiVine Café, the breakfast-lunch eatery on Valley View at Sunset, is transformed into an intimate evening, dining experience limited to 30 guests. Four-tops are joined together for an inviting "kings" table, decorated with a lavish tablescape themed to the menu. June 8 will be the DiVine version of a back-yard BBQ in the parking lot. The dinner is $40 with two drinks included; call 702-253-1400.
Due Forni Pizza & Wine in Summerlin that opened last year has new menu items such as a Chocolate Pizza dessert to accompany their signature fare. In addition, the eatery, which utilizes a new model of dual custom-designed Napolitano brick ovens to deliver authentic Neapolitan and Roman pizza, has revolutionized their dual Napolitano brick ovens to dish out gourmet cuisine.
BAGATELLE BEACH & NIGHTCLUB WILL OPEN AT TROPICANA
Bagatelle America partnering with Remi Laba and Aymeric Clemente, along with The ONE Group, has announced a Memorial Day Weekend target opening for Bagatelle Beach & Nightclub at the New Tropicana. The group will introduce the multi-sensory Bagatelle day-and-nightclub resort experience including the original Bagatelle Champagne party brunch made famous in New York's Meatpacking District offering The Las Vegas Strip a taste of the Mediterranean.
MEMORIAL DAY WEEKEND HAPPENINGS
Lynyrd Skynyrd BBQ & Beer will celebrate Memorial Day Weekend with "Lyve Musyc," Rock 'n' Roll Brunch Saturday and Sunday, "Klassic Karaoke" Sunday and Monday at 9 p.m. and food and drink specials, May 24 -28, at the Excalibur. There will be performances by RockDaddy on Thursday and Friday, and Wolf Creek on Saturday.
Chateau Nightclub & Gardens will kick off Memorial Day Weekend parties with "Peepshow" star Holly Madison and celebrated DJ, Felix Da Housecat making his debut at the club on Friday, May 25. UFC Heavyweight Champion, Junior Dos Santos, will host his own post-fight party on Saturday, May 26.
The Fourteenth Annual Memorial Day Festival presented by the Puerto Rican Association of Las Vegas will take place on Sunday, May 27, from noon to 8 p.m. at the Clark County Government Center. The festival will feature Caribbean food, Latin music and children's events. Admission is $10 and free under 10 years of age.
DAVID BRENNER DOES HIS TAKE ON THE NEWS AT THE SUNCOAST
Actor and comedian David Brenner will bring his take on news of the day to the Suncoast Showroom, June 9 and 10. Known for basing his routine on current events, Brenner is a popular TV political pundit, with regular appearances on MSNBC, CNN and Fox News and 158 appearances on "The Tonight Show." He has four HBO specials to his credit.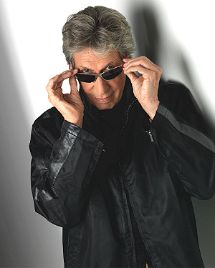 6th ANNUAL BINION's POKER CLASSIC STARTS MAY 25
The 6th annual Binion's Poker Classic will run May 25 through July 8. The schedule includes twice as many high stakes events and five times the number of short-handed events. All-in-all, Binion's will seat players for 46 different games and add a second $1,000 event. To participate, players register the day of the event and the Four Queens has a special room rate for players.
GRAND POKER SERIES RETURNS TO THE GOLDEN NUGGET
The Golden Nugget will host its fifth annual Grand Poker Series June 2 – July 4. The month-long event will feature more than 270 poker tournaments including cash games, special tournaments for seniors and ladies, and two signature bracelet events - the Poker Queen Ladies Championship and The Grand Finale No Limit Championship, and a special $600 buy in Poker Player of the Year Tournament on July 4 at noon.
Players can register in person, call 800-777-4658, ext. 8164, or email poker@goldennugget.com. The property is also offering special hotel room rates.
GYPSY JAZZ CONCERT PLANNED AT FIFTH STREET SCHOOL
The "DjangoVegas! Gypsy Jazz Concert" being held downtown at the Historic Fifth Street School on June23 will celebrate the music of Django Reinhardt and other gypsy jazz musicians past and present. The all-acoustic Gonzalo Bergara Quartet, Fishtank Ensemble and Hot Club of Las Vegas will perform. Pre-concert cocktails and entertainment by the G-String Band will begin at 5 p.m. in the courtyard with beverages and food for purchase. Tickets are $10, call 702-229-3515.
ARTIST JERRY MISKO PAINTS FOR CHARITY AT CASA FUENTE
On Thursday, May 24, from 6:30-8:30 p.m. Casa Fuente inside The Forum Shops at Caesars will host a Spirits Society tasting event with Sailor Jerry Rum. In addition, acclaimed local artist Jerry Misko will conduct a live painting at the cocktail cigar spot with the finished artwork being raffled off for charity that evening. To enter the raffle, purchase a Sailor Jerry Rum cocktail at Casa Fuente between now and the evening of the event and you will receive a ticket.
'FLOAT LIKE A DUCK™' Promotes WATER SAFETY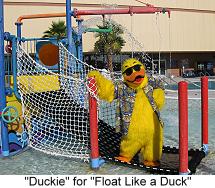 The "9th Annual Float Like A Duck™," which is a major public awareness campaign created by Paragon Pools with an emphasis on water safety, is scheduled for Saturday, May 26, from 1-4 p.m. at the Heinrich YMCA Water Sports Park, 4141Meadows Lane. The event is free and open to the public. The event features exhibits, hands-on activities, learn-to-float classes, open swimming and appearances by local news personalities, LV Metro's McGruff and the water safety mascot, Duckie.
Column Continues Below Advertisement
CONTINUE ON TO...:
THIS WEEK'S >LAUGHLIN NEWS
LAST WEEK'S >LAS VEGAS NEWS
>VEGAS VIEW FULL NEWS ARCHIVES
Return to >"Heard Around Town"
Return to >Las Vegas Leisure Guide