RIVERSIDE HOSTS LAUGHLIN ELVIS FEST!
Brand new this year, Don Laughlin's Riverside Casino will be the location for the Laughlin Elvis Fest, May 21-26. The six-day combination tribute show and contest will feature two days of Elvis showcase performances, one day of performances by the Elvis tribute artists and three days of the Ultimate Elvis Tribute Artist Contest. The winner of this Elvis contest will go on to compete during Elvis Week in Memphis in August for World Champion Elvis Tribute Artist.

There will be a tribute show in Don's Celebrity Theatre on Tuesday and Wednesday at 8 p.m. The Elvis showcase will be at 8 p.m. on Thursday and contest shows will be on Friday, Saturday and Sunday nights at 8 p.m. Tickets are $30 with discounted two and three day passes available.

Fans will be able to enjoy the world famous EAS Band, the "Parade of Kings" through the casino, photo opportunities, memorabilia vendors, performers and contestants selling their own photos, and more. For information, visit www.etacontest.com

.

THE STEVE MILLER BAND AND JOAN JETT PLAY LAUGHLIN

The Steve Miller Band along with Joan Jett and the Blackhearts will bring classic rock to town when they play the Laughlin Amphitheater located on Casino drive between the Golden Nugget and River Palms on Saturday, May 18 at 8:30 p.m.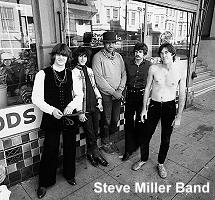 The Steve Miller Band, which was formed in 1967, is known for hits like "Jungle Love," "Fly Like An Eagle" and "Joker," the latter leading to Miller's nickname, "Space Cowboy." The group's newest album, "Let Your Hair Down" was released in 2011 as a companion to their 2010 album, "Bingo!," which featured Blues and R&B cover.
Miller's broad appeal crosses boundaries from headlining the 2011 opening of the new $2.5 million TV home of Austin City Limits to collaborating with country superstar Kenny Chesney on the Country Music Television special, "Crossroads."
At the height of the classic rock movement, the Steve Miller Band was one of the defining figures. His 1978 album, "Greatest Hits 1974-78," became one of the best-selling releases of all time, selling millions every year through the end of the century. One of rock music's all-time greats, the Steve Miller Band has sold more than 30 million records in a career spanning more than 40 years.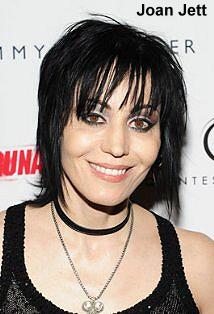 Joan Jett is an originator, an innovator and a visionary. As the leader of the hard-rocking Blackhearts, she's had eight platinum and gold albums and nine Top 40 singles, including the classics "Bad Reputation," "I Love Rock 'N' Roll," "I Hate Myself For Loving You," and "Crimson and Clover." Jett has acted in movies and television, including 1987's "Light Of Day," and in a Tony-nominated Broadway musical, "The Rocky Horror Show." Her music has become a permanent force in mainstream culture with her music being heard in countless films and TV shows.
Room and show packages are available at the Tropicana, River Palms, Colorado Belle, Edgewater and Golden Nugget. Packages include two concert tickets and room accommodations.
AUSTRALIAN BEE GEES VISIT THE RIVERSIDE
"The Australian Bee Gees Show" will visit the Riverside and perform their spot-on show, May 29-June 2 at 8 p.m. After 16 years and more than 2,000 performances in 40 countries, "The Australian Bee Gees Show" is now the toast of Las Vegas. The show features the greatest hits from the Brothers Gibb. The Australian Bee Gees have captured the look, the sound and the personality that defines one of the most adored acts in musical history. Tickets are $25.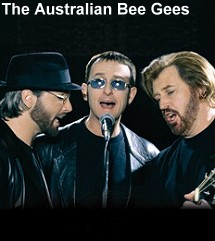 ROCK 'N' RIBS FESTIVAL OFFERS FOOD, MUSIC AND COLLECTIVE SOUL
The 5TH Annual Rock 'N' Ribs Festival will be held on the Riverwalk between the Colorado Belle and Edgewater over Memorial weekend, Friday through Sunday, May 24-26. As the biggest barbecue on the river, the event will feature ribs, chicken and assorted side dishes, an excellent assortment of beer including several Pints microbrews, and free live rock 'n' roll entertainment by the Neil Morrow Band. Event hours are Friday 4 - 9 p.m., Saturday noon - 9 pm. and Sunday noon - 6 p.m.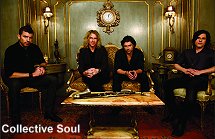 Also part of the weekend will be Collective Soul headlining in the E Center at the Edgewater on Sunday, May 26 at 8 p.m. Tickets start at $25.
Collective Soul shot to international fame with their 1993 release "Hints, Allegations and Things Left Unsaid," which achieved double-platinum status, and their mega No. 1 hit "Shine." In 2007, the band made an exclusive deal with all Target stores to be the sole seller of their 7th studio album, "Afterwords." Fans responded, and it opened at No. 25 on the Billboard Comprehensive Albums Chart and No. 5 on the Billboard Top Internet Albums Chart, proving Collective Soul was now conquering the digital world. The album was later released worldwide on El Music Group.
"Tremble For My Beloved" found Collective Soul on the soundtrack to one of the hottest movies of 2008 - "Twilight." In 2014, Collective Soul plans to release their much-anticipated eighth studio album in celebration of the band's 20th anniversary followed by an extensive tour.
TOP OF NEXT COLUMN
DIRK ARTHUR BRINGS HIS MAGICAL POWERS TO HARRAH'S
Dirk Arthur will bring his "Wild Magic" show to the Fiesta Showroom at Harrah's for two runs: May 22-27 and June 18-Aug. 11. Arthur presents stunning illusions with rare animals. He has been featured on NBC's "World's Greatest Magic," David Lettermen, and his own documentary "Big Cat Magic" on Animal Planet. In his exciting show, big cat magic is interwoven with comedy, beautiful dancers, and large scale illusions including one where a helicopter appears. Tickets are $25 and $35 and $10 for ages 12 and under.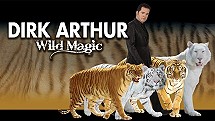 WEEKENDS ARE FOR LAUGHTER AT THE EDGEWATER
Comedians are scheduled every weekend at the Edgewater Showroom. Two top laugh makers take the stage at 7 p.m. Admission is $10. Comedians on the upcoming agenda include: Vince Valenzuela and Jason Love May 24-26; Dennis Blair and Bethany Thenese May 31-June 2; Dave Johnson and Bobby Wayne Stauts June 7-9; Huck Flyn and Ron Placone June 14-16; BJ Johnson and Ryan Budds June 21-23; plus Steve Mittleman and Richard Weiss June 28-30.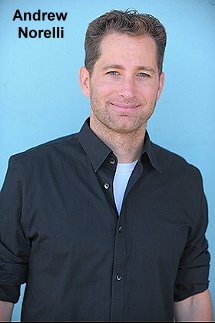 Andrew Norelli will headline May 17-19 with comedienne Kate Brindle. Norelli has made numerous late night show appearances, been on and the nationally syndicated comedy round-table "Comics Unleashed," where he also worked as a monologue joke writer, and performed in corporate settings for companies such as Google and Yahoo. Norelli's natural charisma and sharp material have charmed audiences at comedy festivals around the world.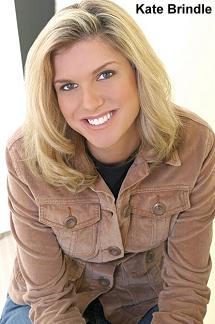 Brindle has performed her sarcastic yet upbeat and spunky style of comedy on the Canadian Broadcast Channel, Cox Cable and Comcast Cable. She advanced in the California's Funniest Female Contest, and was featured in the International Great Plains Comedy Festival.
WAR WILL APPEAR AT AVI
WAR has sold more than 50 million albums worldwide and will appear in concert in the Avi Grand Ballroom on May 24 at 9 p.m. WAR has been honored with 17 gold, platinum and multi-platinum awards. Today, WAR is a permanent part of America's pop cultural landscape and has profoundly impacted the music industry. Currently, when WAR is not on tour, they are working on their first CD of new material in more than 14 years. Tickets are 35 and $40.
In 1969, Eric Burdon and WAR recorded and released their first album entitled "Eric Burdon Declares WAR" featuring the number one single "Spill The Wine." Following its release, Eric Burdon and WAR embarked on an extensive tour of Europe and the UK. On Sept.16, 1970, Jimi Hendrix joined Eric Burdon and WAR for a jam session at London's Famous Ronny Scotts Jazz Club but unfortunately Hendrix passed away later that night. Stunned and devastated by the death of his friend, Burdon left the band and returned to Los Angeles. WAR continued their European tour without their former front man.
Following Burdon's departure, WAR's career skyrocketed. In the early 1970s the release of "Slippin' into Darkness" and "Me and Baby Brother" represented their exhilarating sound and spoke to millions of Americans about the troubled times of Vietnam, Watergate and the ethnic tension that centered around inner cities. Then, in1972 WAR released "The World Is a Ghetto." Its second single, "The Cisco Kid," shipped gold and the album attained the number one spot as "Billboard" magazine's Album of the Year.
"QUIK" NOTES
The Memorial Weekend Fireworks Show is planned for the sky above the river at the Avi on Sunday, May 26 after dusk.
On Friday and Saturday, there is live music from 7 p.m. to midnight at Splash inside the Aquarius. For the Memorial Day weekend, May 24-26, The Sixties Sensation will return with their authentic sound. Admission is free and there are no drink minimums.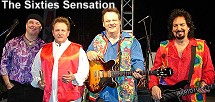 The "Phins to the West" annual gathering of Jimmy Buffett/Trop Rock fans will take place at the Avi Lagoon Pool and Grand Ballroom, May 16-19. This themed event will feature numerous trop rock bands, events, river trips, pool parties, and much more. Visit phinstothewest.com for registration and complete event rundown information.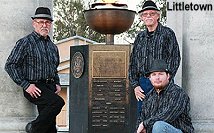 Littletown will be appearing in the ArrowWeed Lounge at the Avi, May 14-18. Following them will be The Band FRESH from San Gabriel, Calif., featuring Latin and Top 40, May 21-25. Fresh is based out of Los Angeles and just completed a USO Tour recently for our brave soldiers in the military in Afghanistan, Iraq, and Bosnia.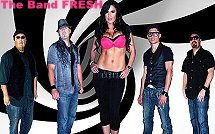 Little yellow rubber ducks helped raise some big money for We Care Cancer Support in Bullhead City, Ariz., which provides support services and outreach to cancer patients and their families in the Tri-State area. The Aquarius Casino Resort gave a check for $3,425 to the nonprofit organization, following the annual Duck Race earlier this month at Community Park in Bullhead City. The funds were raised from the "adoption" of floating ducks for the Duck Race.



CONTINUE ON TO...:
THIS WEEK'S >LAS VEGAS NEWS
LAST WEEK'S >LAUGHLIN NEWS
>VEGAS VIEW FULL ARCHIVES
Return to >"Heard Around Town"
Return to >Las Vegas Leisure Guide