<!A-- Left Column -->

The Aquarius will host The Pointer Sisters' inaugural Laughlin performance on Saturday, May 17 at 8 p.m. in the Aquarius Outdoor Amphitheater. Tickets are $30 for general admission and $40 for premium seating.
The Pointer Sisters began their formal vocal training in their father's church in West Oakland, Calif. Originally they were a quartet comprised of Bonnie, June, Anita and Ruth.
For awhile two left leaving a duo; however, June returned to make the famous threesome with all the hit records. They went on to achieve worldwide fame in the '70s and have secured a place in pop music history as one of the top female groups. The Pointer Sisters have been amazing crowds for more than three decades with hits such as He's So Shy, Slow Hand, Jump (for my love) and I'm so Excited.
In recent years they have maintained a lower public profile but have continued to perform. They were also one of the featured acts at the closing ceremonies of the 1996 Atlanta Summer Olympics. In 2004, June Pointer had to leave due to health problems and died on April 11, 2006. Keeping business in the family, she was replaced by Ruth's daughter, Issa, and the group continues to perform. They made a 2005 holiday recording Christmas In New York, featured on YMC Records' Smooth & Soulful Christmas Collection, which peaked at No. 21 on the Billboard AC Charts. The sisters were inducted to the Vocal Group Hall of Fame in 2005.
The River Palms Comedy Room plays host to a rotating weekly lineup of standup comics. Dennis Blair will appear the week of May 20-24 with fellow comedians Bill Tucker and Mike Wally Walter. Tickets are $14.95 and $19.95, call 866-448-7849.
Blair is an accomplished screenwriter, award-winning songwriter and comedic actor. Yet he is probably best known for the caustic observations and musical satires of his live comedy performances.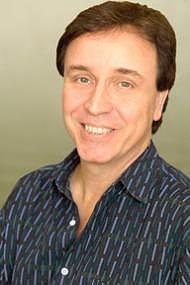 Early in his career, Rodney Dangerfield made him his protègè, and together they toured the United States and Canada for more than three years. Dennis conceived and co-wrote Rodney's hit movie, Easy Money, and also played two cameo roles. He co-wrote and was a featured actor in two Dangerfield specials on ABC, and was creative consultant for the album Rappin' Rodney. The title song, which he co-wrote, was nominated for a Grammy Award.
His post-Dangerfield career has seen him opening for a multitude of celebrities such as Tom Jones, The Beach Boys, Garry Shandling, Joan Rivers, Gloria Estefan, Jackie Mason, and George Carlin, with whom he toured for more than 18 years.
Blair won an Emmy Award for both writing and voiceovers for the animated film Confessions of a Standup. He has a book out, Me First, about his experiences opening for some of the most famous celebrities in show business. He has released two standup comedy CD's, Live Performance Anxiety, and Words, Music and Drunks as well as an album of original songs called I Sleep Naked in the Rain.
On May 24 and 25, Men of the Wild will bring their male dance revue to the Aquarius Pavilion for 9 p.m. shows each night. To check out the lustful hunks and maybe get a sneak preview visit www.menofthewild.com. Tickets are $15.
The Avi Resort will feature a Memorial Day Fireworks Display in the sky over the Colorado River on May 25. The show is free and will start at dusk.

TOP OF NEXT COLUMN
The tribute band Desperado will be celebrating the music of the Eagles at the Riverside in Don's Celebrity Theatre, May 28-June 1. Tickets for the 8 p.m. performances are $20.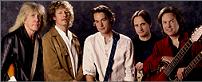 In the 1960s and 70s, Southern California became the home of a new slick musical style, comprised of strong instrumental sketches sprinkled with ethereal, political and heart-felt storytelling. This blueprint became the standard by which all great groups were measured. Starting with the Beach Boys, and The Byrds, Southern California's own Eagles road this wave of melody, harmony and musicianship to the top of the charts.
Although the longest journey begins with the first step, the five talented members of Desperado have set out to resurrect this once prominent blueprint back into the fiber of today's Southern California music scene and to musically demonstrate the fact that imitation is the highest form of flattery.
More than $100,000 in cash and prizes will be awarded to players this month at the Edgewater and Colorado Belle resorts through tournaments and gaming promotions.
Four lucky players each week this month at the Edgewater are selected to play for a chance to win up to $2,500 in cash. The promotion allows participants to choose squares on the game board for cash prizes. Entries for the Saturday evening drawings are earned through play using ACCESS Club cards.
Tournament action will continue at the Edgewater May 18-20 with the 3 Card Poker Tournament. Players will compete in the two-day tournament for a seat at the final table, where the first place winner will receive $12,000 in cash. All entrants are eligible to win a seat at Shuffle Master's TCP National Championship. For information, call 877-480-2747.
At the Belle, players have a chance to win their share of $50,000 all month long through exclusive Club VIP membership rewards. By signing up, players are eligible to earn entries into the weekly drawings through play with their ACCESS Club cards. Drawings are held each Saturday evening, when seven lucky club member participants are selected for cash prizes.
Slingo Bonus Bet 21 continues on the casino floor at the Edgewater and Belle. The newest table game is offered exclusively at the sister properties. The one-on-one game of Blackjack features 10 Bonus Bet options that allow guests to win payouts of up to 19-1. It's a "Party in the Pit" every Friday from 6 p.m. through Sunday at 6 p.m. with this gaming promotion designed especially for table game players.
Jungua: Descendents of the Dragon will perform at 8 p.m. in the Fiesta Showroom at Harrah's, May 24-29. The rich culture and tradition of the Chinese people have inspired this production featuring acrobatic acts, martial arts and dance. Starring in the show will be the Kung Fu Monks and Imperial Acrobats of China highlighting fast martial arts fight sequences, strength in balance and flexibility and acrobatic feats of aerialists and jugglers. Tickets are $22.95, $27.95 and $32.95.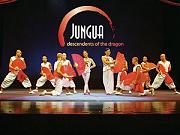 A visit to the London Bridge English Village at Lake Havasu is a perfect day trip from Laughlin and can be made by the London Bridge Jet Boat that leaves from the Pioneer dock at 10 a.m., Monday through Saturday. The tour goes through scenic Topock Gorge and the boat has a cruising speed over 40 mph. The return trip to Laughlin is at 4 p.m. For information, call 888-505-3545 or 702-298-5498.
CONTINUE ON TO...:
>THIS WEEK'S LAS VEGAS NEWS
>LAST WEEK'S LAUGHLIN NEWS
>VEGAS VIEW FULL ARCHIVES
>Return to "Heard Around Town"
>Return to Las Vegas Leisure Guide