Who knew? Listening to The Four Seasons songs and seeing Frankie Valli in person many times, who had any idea there was such a fascinating story behind what appeared to be rather innocent songs and times. Attending the new production at the Palazzo in the new 1,700-seat, custom-built theater with little expectations other than hearing it was a great show, imagine my shock and pure delight finding out that Jersey Boys is quite simply one of the greatest shows I've ever seen. There's so much more to the production than just the super melodic hits; there's a meaningful deep story about real-life characters, Frankie Valli, Bob Gaudio, Tommy DeVito and Nick Massi, who have the common bond of being Jersey boys.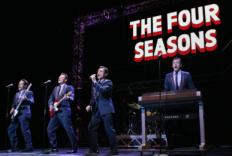 Every so often in theater, all the creative elements come into a miraculous alignment that results in pure magic. After experiencing the brilliantly staged, fast-paced production, you understand the show's phenomenal success since it opened its run on Broadway three years ago. Certain timeless songs in the show brought thunderous applause and the show deservedly receives a standing ovation. It's one time a show has broad appeal and even grown men are internalizing the story line, which is gritty and real. Jersey Boys simply has no flaws, but instead, plenty of great music, story line surprises and a skillful cast.

Column Continues Below Advertisement


If there ever was a "must see" show, this one is it. You have to put this lifetime experience at the top of your list. Jersey Boys at the Palazzo is currently the only place on the West Coast to see this runaway hit. Ticket prices range from $65 to $135, call 866-641-SHOW or 702-414-9000.
LBS, the classic American burger joint, will be opening at the Red Rock Resort in the Fall of 2008. LBS was created and is owned by Las Vegas restaurateur Billy Richardson and it will be located inside the main entrance in the space previously occupied by Tides, which closed last month.
With contemporary and retro design elements, the interior will be reminiscent of the quintessential American roadhouse. The 101-seat eatery will feature a rugged exposed brick and wood interior, with distressed leather accents and brushed steel fixtures. On the ceiling above the main entrance will be a dramatic 25' x 30' American flag constructed using automobile license-plates representing every state in the Union. The wall opposite the entrance will feature an eight-foot-wide, custom-made, blown-glass sculpture of a Texas Longhorn head of cattle.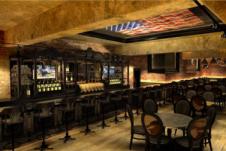 The bar will be nearly 40' long, and hand-crafted from 100-year-old distressed walnut. It will feature a beer selection of more than 40 different microbrew blends, and schooled bartenders who will act as "beer sommeliers."
This reporter was recently introduced to the new Sonrisa Grill in the MonteLago Village at Lake Las Vegas. The eatery serves excellent Mexican cuisine daily for lunch and dinner and the attached 3 Amigos bar offers more than 50 tequila drinks, a variety of margaritas and light tapas fare. The restaurant has a lower main dining room and an upper deck patio with a view where we dined. Full banquet facilities for parties and corporate affairs are available.
We spent the night at the MonteLago Village Resort that opened in September 2003 on the south shore of Lake Las Vegas located approximately 17 miles east of the Strip. Accommodations include 347 studio, one-, two-, and three-bedroom luxury, full service condominiums with upscale décor, 300 of which are in the nightly lodging reservation program. The resort is an oasis of Old World charm with modern conveniences such as high-speed Internet access, DVD players, irons and ironing boards, kitchens and private patios in each suite. Additional amenities include two pools, fitness room, media room with a big-screen television, game room, meeting facilities and business services.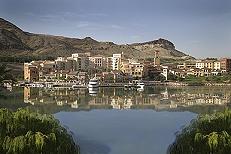 The 17TH Annual The Reel Awards™ will be held at the Imperial Palace on Sunday, May 25 in the showroom and host a Guinness World Record attempt for the "Largest Number of Assembled Elvis Impersonators to Sing at One Time." All the tribute artists must sing the same song and be in full "Elvis" costume.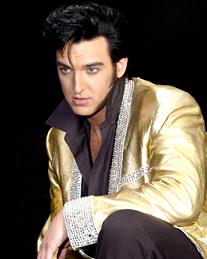 The current record was set in January 2007 when 147 "Elvi" gathered in Parkes, Australia to sing Love Me Tender, breaking the previous record of 77 set in London, England in 2005.
The Reel Awards™ is the world's largest gathering of performers from the celebrity impersonation and look-alike industry. The show, which will give out 16 awards, will be hosted by Bill Peterson as Rodney Dangerfield and acclaimed vocal impressionist Stephen Sorrentino, honored three times by the International Guild of Celebrity Impersonators as "Male Impressionist of the Year." The red carpet arrival will begin at 5 p.m. with the record-setting attempt opening the awards presentation at 7:30 p.m. The event is open to the public. Tickets are $50 and $60 with a one drink minimum, call 818-780-4433.
The Reel Awards™ leads off the 8th Annual Celebrity Impersonator Convention, a four-day series of seminars, workshops and showcase performances, which are open to the public.
On May 5, 1983, tribute artists Buddy Holly, Janis Joplin, Marilyn Monroe, Bobby Darin and Elvis performed on the stage at the Imperial Palace, and Legends in Concert was born. Legends, produced by On Stage Entertainment, remains the longest-running independently owned production show on the Las Vegas Strip.
In the 25 years since the show debuted, 74 celebrities have been impersonated on the Imperial Theatre stage in more than 15,000 performances. The most impersonated act has been Elvis with 17 different performers paying tribute to the legendary "King of Rock 'n' Roll."
To date, 5,416,521 show goers have enjoyed the celebrity-tribute spectacular in Las Vegas. Because of Legends ever-changing lineup, many come back to see multiple performances, including one devoted fan from Detroit who has seen the live musical production 2,066 times since July 1983, when she was 12 years old.
Jazz at The Orleans is taking place every Friday through June 13, poolside at the Orleans from 7-10 p.m. Concerts feature a variety of talented jazz artists and are hosted by "The Oasis" Smooth Jazz 105.7. Admission is free.
The famous Golden Gate's 99-cent shrimp cocktail downtown has had a price jump to $1.99, which is still a bargain. If you join their players club, which is free, then the cocktail is still 99-cents.
A tradition continues at the Orleans Arena on Saturday, May 31, at 7:30 p.m. with the return of The Charlie Daniels Band Volunteer Jam. Additional artists include .38 Special best known for their blend of Southern Rock favorites and Shooter Jennings credited for "Putting the 'O' back in Country," and son of country music legend Waylon Jennings.
The Volunteer Jam concert was first held on October 4, 1974, at the War Memorial Auditorium in Nashville, Tenn., and continues to promote freedom across the nation through performances. Military discounts are available at Nellis Air Force Base ITT with valid military ID. Tickets are $65, $50 and $35, call 702-284-7777.
Club Spring Mountain Motorsports Country Club is a sport car aficionados' paradise. Located on the Mojave Desert plain near Pahrump less than an hour drive from the Las Vegas Strip, Club Spring Mountain's 193-acres is dedicated to the art, science and pure love of sports and exotic car owners and racing.
The only private motorsports country club in the southwestern United States, Club Spring Mountain is the brainchild of two California-based entrepreneurs and driving enthusiasts, John Morris and Brad Rambo. Together, they have created a world-class facility which includes a 3.5-mile private road course, 56 private single or double-bay garages, the newly-completed $3 million, 8,000-square-foot resort-style clubhouse, three high performance driving schools, new flying club, karting and indoor shooting range.
Memberships are being sold like a golf country club. One-time initiation fees are: Classic $7,500, Charter $35,000, and Corporate $100,000. In addition, monthly dues are $150 for Classic members, $125 for Charter, and $500 for Corporate, with $60 per day use fee, which guarantees exclusive track time for up to 16 days per month. For more information, call 800-391-6891 or 775-727-6363.
In addition to the new resort-style clubhouse with a 23-foot-tall elevated viewing tower, 75-seat dining area, and nine-foot billiard table, completing the luxurious country club environment is a 40-foot outdoor swimming pool and a separate 600-square-foot workout facility and a universal gym. For aprés-sports comfort, there is a spa room with a heated massage table for by-appointment massage services and an outdoor 14-person Jacuzzi.
Construction is underway for new helicopter and RV pads for rentals, a 1,500-square-foot karting building, and 86 new rentable garages, all to be completed in 2008. An 8,000-square-foot Lotus building, with construction starting May 15, will feature a racquetball court and two VirtualGT super-realistic auto racing simulators designed for race training and entertainment. The Lotus building will also house the Lotus Performance Driving Program's maintenance and storage facilities, a PowerTec engine shop and Dino machine shop, scheduled to be completed by late summer.
An 83-room / 17-suite Microtel franchise hotel will be built on the grounds with groundbreaking slated by early 2009. Plans for an exotic car dealership and interest by club members for condominiums are being considered.
Starting May 9, Hooters Casino released the first chips in a new gaming series featuring the Girls of Hooters. The first $5 denomination release features The Rackpack girls who are featured on table felts and Hooters image campaign. The next release will be gaming chips with Hooters Cover Girls past and present. The final chip installment will showcase Hooters Calendar Girls.
The commemoration of the chips release will take place May 23-25 and will include many of the girls being on hand to sign the chips and take pictures. These gaming chips will replace the current chips being circulated in Hooters Casino.
Forever Resorts is offering an Introduction to Houseboating Special, cutting their houseboat rental prices at their marinas in California, Nevada and Arizona. Customers can save $1,600 to $2,000 off the 2008 published rates for a five-day rental aboard the 59' Deluxe Houseboat for a limited time. The five-day rental is specially priced at $1995 and can sleep up to 10 people. Customers can choose trip dates between now and Dec. 31, 2008, and reservations must be made by May 31, call 800-255-5561.
Purple Reign, Las Vegas' leading Prince tribute band with a loyal following, is now performing every Saturday night inside the 650-seat Chrome Showroom at Santa Fe Station in North Las Vegas at 11 p.m.
Shadow Creek, one of the country's most exclusive golf courses, will close temporarily on May 19 for course enhancements. The course, perennially ranked among Golf Digest's top 10 courses in the country, is scheduled to re-open in December 2008. The enhancement project will be overseen by original course architect Tom Fazio.
May 2008, Miracle Mile Shops at Planet Hollywood Resort & Casino celebrates its year anniversary since evolving into Las Vegas' ultimate shopping and entertainment destination.
Once known as The Shops in Desert Passage, Miracle Mile Shops has come a long way since its Arabian-themed origin. In May 2007, the shopping destination adopted a contemporary design and became Miracle Mile Shops. The center's multi-million dollar renovation project will continue into 2008. In addition to bringing in more tenants, future projects include a modern take on the rainstorm feature, sleek and contemporary flooring throughout the entire mall, modernized ceilings and a state-of-the-art indoor fountain show.
TRP Entertainment, LLC, producers of "The Rat Pack is Back" show at the Plaza downtown has just purchased the rights to the service mark and trademark "The Rat Pack is Back" from DRDC Productions, Inc. In 2006, TRP entered into a licensing agreement with the David Cassidy owned DRDC, to use "The Rat Pack is Back" mark for TRP's production of its "Tribute to Frank, Sammy, Joey & Dean," which has enjoyed a six-year run already in Las Vegas and successful runs in other national markets.
The PGA Tour's 26Th annual Las Vegas event is offering patrons something new this year. There will be two Pro-Am events: a traditional Pro-Am on Monday, Oct. 13 and a Celebrity Pro-Am on Wednesday, Oct. 15. These spots offer a unique opportunity for you to entertain your clients while playing 18 holes with a PGA TOUR professional. Pro-Am packages, corporate hospitality and tickets are on sale now and going fast, call 702-873-1010.
CONTINUE ON TO...:
>THIS WEEK'S LAUGHLIN SEGMENT
>LAST WEEK'S LAS VEGAS SEGMENT
>VEGAS VIEW FULL ARCHIVES
>Return to "Heard Around Town"
>Return to Las Vegas Leisure Guide