LUCKY'S WILL DEVELOP SPORTS BOOK AT THE PIONEER

Independent race and sports book operator Lucky's has signed an agreement with the Pioneer to develop a sports book. Lucky's, which is operated by Brandywine Bookmaking, will replace the Pioneer's convenience store with a sports book. Brandywine operates and manages 11 race and sports books in Nevada through Lucky's.
HARRAH'S STARS 'NATHAN BURTON COMEDY MAGIC'
Harrah's Fiesta Showroom will feature "Nathan Burton Comedy Magic," May 25-30 at 8 p.m. Tickets are $23.95, $28.95, and $33.95, call 800-447-8700 or 702-298-8510.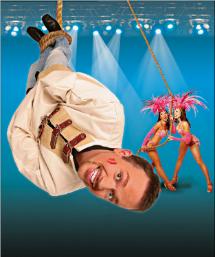 Born in Oakland, Calif., comedy magician Nathan Burton was bitten by the magic bug at the age 4 when he performed his first trick. Between 1987 and 1991, Burton won four first place trophies at international stage competitions. In 1996, he performed on NBC's "The World's Wildest Magic," and after an incredible response, the network featured Burton in its 1997 special "World's Greatest Magic 3."
Burton's success continued and in 1997 he was a headliner at the Showboat in Atlantic City. He spent all of 2000 at the Hotel Lotte in South Korea, where he amazed audiences by vanishing an elephant nightly _ a first for Korean audiences. After Asia, Burton was featured in the all-new "Showgirls of Magic" in Las Vegas, then "Whisper" at Harrah's in Reno, Nev., followed in 2003 by "V - The Ultimate Variety Show," first at the Venetian and then the Aladdin.
In 2005, Burton was back in the national TV spotlight as the only magician in E! Entertainment's "The Entertainer" starring Wayne Newton, which was seen by an estimated audience of 95 million viewers worldwide.
On May 25, 2006, "Nathan Burton Comedy Magic" opened at the V Theater at the Aladdin. Just weeks after opening at the V Theater, Burton was back again on national TV and made six appearances on NBC's hit summer series, "America's Got Talent." On March 3, 2008, Burton signed a deal with Flamingo Las Vegas to perform in the main showroom.
TROPICANA EXPRESS FEATURES 'TWO GALS AND A GEEZER'
"Two Gals and a Geezer" starring comedian Kathleen Dunbar, impressionist Kathy Walker and Sammy Shore is booked at the Tropicana Express, May 15-17. Tickets for the 8 p.m. comedy shows are $15, $20 and $25, call 800-243-6846.
Shore was Elvis Presley's opening act for about four years beginning in 1969. Last year, his book, "The Man Who Made Elvis Laugh," was released. "It's about my time with Elvis, when I opened for him, but it's also about the people I've worked with over the years. There's an interview with Milton Berle and Sid Caesar," said Shore.
Shore founded the legendary Comedy Store in Los Angeles in the early '70s, but his wife Mitzi got the business when they divorced. Now he has a comedy club in his name at the River Palms.

TOP OF NEXT COLUMN
COMEDIAN RALPHIE MAY HEADLINES AT THE RIVERSIDE
Comedian Ralphie May will perform at Don Laughlin's Riverside, May 19-24. Tickets are $30, call 702-298-2535 or 928-763-7070.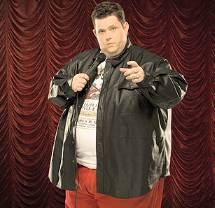 May can currently be seen in 87 million living rooms nationwide on a regular basis with his one-hour special, "Ralphie May: Prime Cut," on Comedy Central, which premiered Nov. 3, 2007. He has a no nonsense point of view and the ability to connect with a diverse audience by pointing out society's hypocrisies. May doesn't shy away from touchy topics because he sincerely believes that as long as what he's saying is true, people need to hear it.
RIVER PALMS FEATURES COMEDIANS KEN BLOCK AND MICKEY JOSEPH
Rotating rosters of stand-up comedians appear at Sammy's Comedy by the Shore club every week. Ken Block and Mickey Joseph will headline May 20-24. Tickets are $15 and $25 for the 8 p.m. shows, call 800-835-7904.
Block credits Mrs. Schmidt for launching him into comedy. As his 9th grade math teacher in Great Neck, N.Y, she said, "What do you think you are, a comedian? If you open your mouth one more time_" Of course, Block did open his mouth one more time. He didn't say anything, he just opened his mouth!
Block has become one of the most versatile comic impressionists on the scene today. His one-man show has him performing in varied venues: theatres, cruise ships, corporate events and showrooms from Hawaii to Atlantic City. With more than 100 impressions in each show, spanning over 50 years of singers, comedians, politicians and show business luminaries, his performance has something for everyone.
In addition to the entertainment industry, Block also had aspirations of becoming a professional baseball player. After being scouted by the New York Yankees, he attended college in Florida to pursue his dream. Somewhere along the way he noticed that not only were the girls attracted to the many athletes on campus, they really liked the one guy on stage doing impressions! Good -bye baseball, hello comedy!
Joseph's performance is filled with a multitude of characters with shifting opinions on such timely topics as sports, drug abuse, single parenthood, drunk driving, family, religion and for corporate events, suggestions on how to relieve stress. His impressions run the gamut from Woody Allen to Stevie Wonder, Elvis to Rickey Ricardo. Joseph's rubber-faced, non-stop comedy act is done with a jack-hammer delivery, manic facial expressions and timely physical humor.
QUICK CLIPS
The Avi on Sunday, May 24 will have a Memorial Day Fireworks Display featuring an annual free fireworks show by Zambelli Fireworks in the sky above the Colorado River at dusk, plus food and beverage booths.
Tom & Sharon's Ballroom, Dance Party will take place again on the following Saturdays, May 16, June 6 and 27, from 1:30 to 4:30 p.m. Admission is free. For details on the party or dance classes, call Tom and Sharon Craddock at 928-754-2097 or 702-298-2535, ext 5708.


CONTINUE ON TO...:
>THIS WEEK'S LAS VEGAS NEWS
>LAST WEEK'S LAUGHLIN NEWS
>VEGAS VIEW FULL ARCHIVES
>Return to "Heard Around Town"
>Return to Las Vegas Leisure Guide