'THE KING LIVES!' STARRING PETE WILLCOX IS AT HOOTERS
Pete Willcox's tribute to Elvis, "The King Lives!," is playing Wednesday through Sunday at 7:30 p.m. in the Night Owl Showroom at Hooters. Wilcox has been doing tribute concerts of Elvis for more than 40 years and portrayed "The King" on television more than any other actor. He was featured in "Cheers," "LA Law," "ALF," "Murphy Brown," "Designing Women" and numerous other series. On stage as Elvis, he has starred in "Legends in Concert" and "American Superstars." Tickets are $24.99, call 702-739-9000.
Column Continues Below Advertisement
What's interesting is Willcox, who is older now, takes the stage as Elvis if he were alive today. There's no jumpsuit this time or costume changes. It's all about the music. Willcox performs some of Elvis' treasured classics, but he also sings songs that may have been recorded by Elvis later in his career.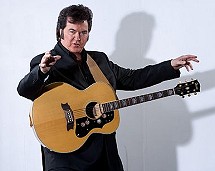 Willcox effortlessly captures the essence of Elvis and he's backed by a great band. The physical stage is small, but Elvis' aura is big in this show.
'ONLY YOU STARRING DEREK DAVID' OPENS AT HENNESSEY's DOWNTOWN
"Only You Starring Derek David" is a new dinner show downtown at Hennessey's Tavern on Fremont Street. The show is a trip down memory lane with some of the biggest hits from the '50s and '60s. David was a 40-year member of the legendary Platters and he is joined by singers who were members of the Coasters and Marvelettes. The show also reveals a never-before heard Motown-inspired track, "Obviously."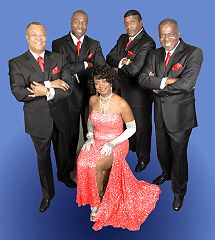 A three-course dinner is served at 6:30 p.m. and the show begins at 8 p.m. nightly except Tuesday. For tickets, call 702-382-4421.
OUTDOOR LOUNGE SKYBAR DEBUTS AT HARD ROCK
The Hard Rock Hotel & Casino and Morgans Hotel Group have opened SKYBAR, a new Las Vegas pool scene that is part of the Hard Rock's $750 million property expansion. Perched above the HRH Beach Club, the day-to-night pool deck creates an exclusive, chic atmosphere. A distinctive feature is an acrylic-edged pool with three peek-a-boo cutouts in the floor that act as skylight windows to the lower HRH Beach Club. The best part is the view of the Las Vegas skyline.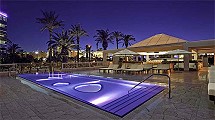 SKYBAR has been a staple in the Los Angeles social scene for the past 14 years.
STEVE WYNN OPENS ENCORE BEACH CLUB AND SURRENDER NIGHTCLUB
Steve Wynn is partnering with nightlife impresario Sean Christie and casino marketing veteran Bob Mancari to unveil an expansive entertainment complex over Memorial Day weekend. The Encore Beach Club, Surrender Nightclub and a newly revamped SWITCH restaurant will blend the daytime beach party, upscale restaurant and sexy nightclub into an experience that will transition from day to night.
Encore Beach Club will be a 60,000-square-foot venue with a lush oasis featuring 40-foot palm trees surrounding three tiered pools. This spot will include a gaming pavilion with blackjack and craps. In addition to 26 private cabanas, there will be eight two-story bungalows spanning 350 square feet.
The Surrender Nightclub, a 5,000 square-foot venue, will open up to the surrounding outdoor oasis as the seasons allow.
CHEAP TRICK's 'SGT. PEPPER LIVE' SHOW WILL BE AT PARIS
"Sgt. Pepper Live" featuring Cheap Trick, which debuted in Las Vegas at the Las Vegas Hilton and played there last September, will have a limited engagement at Paris Las Vegas this time. Show dates are: June 11-12, 15-16, 18-19, 22-23, 25-26, and 29-30; and July 20-21, 23-24, 27-28 and July 30-31. Tickets are $75, $100, $125, $250 and $275, call 888-727-4758.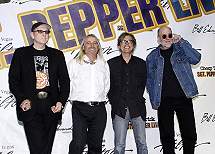 The show is a celebration of The Beatles' influential album, "Sgt. Pepper's Lonely Hearts Club Band," with an orchestra and a light and sound experience. Cheap Trick performs the entire album live as well as select Cheap Trick songs that lend themselves to orchestral arrangements. Geoff Emerick, the renowned engineer of The Beatles' classic 1967 album, supervises the audio production.
LIBERACE's BIRTHDAY CELEBRATED WITH A WEEK OF ACTIVITIES
The Liberace Foundation & Museum is commemorating Liberace's birthday with a variety of concerts, autograph signings and a birthday cake the week of May 9 –16. The admission price will be $3.50, what was charged in 1979 when the museum opened, and the hours will be extended that week to 10 a.m. – 8 p.m. Liberace's wax figure will be on loan from Madame Tussauds and there will be a 20 percent discount in the museum gift store. There will be a cake cutting ceremony on May 16, when Liberace would have been 91 years old.
For information, call 702-798-5595 or visit www.liberace.org.
MADAME TUSSAUDS WILL UNVEIL UFC LEGEND CHUCK LIDDELL IN WAX
Celebrity athlete and UFC sports legend Chuck Liddell will be immortalized in wax May 29 at Madame Tussauds at 10:30 a.m. The 40-year-old athlete will be the first mixed martial arts athlete to be inducted into the famed collection at the Venetian. The Liddell figure will be unveiled in front of thousands of fans gathered at the UFC Fan Expo (www.ufcfanexpo.com) taking place May 28-29 at Mandalay Bay Convention Center and then be moved to Madame Tussauds inside a UFC Octagon, along with Liddell's trunks and UFC championship belt.
Since taking up martial arts at the age of 12, Liddell has transformed himself into a superstar athlete. He's famous for his seven-fight win streak in which he was pitted against Randy Couture and Tito Ortiz, among other popular UFC stars.
ARTIST RECEPTION WITH SCULPTOR RICHARD MACDONALD
The Art of Richard MacDonald presented by Cirque du Soleil® presents "Platinum + Unique: A Body of Work - Exclusive, Rare, Platinum." An artist reception will be held May 29, 30 and 31 from noon to 5 p.m. at The Art of Richard MacDonald Fine Art Gallery located at Crystals Place in CityCenter. Considered by many the foremost figurative sculptor working today, MacDonald's works show the power, grace and beauty of athletes, dancers, mimes and nymphs. This show will present a rare collection of bronze sculptures featuring a special platinum patina and one-of-a-kind works.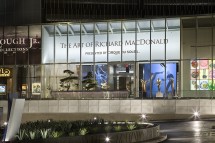 MacDonald will be present to discuss his creative process, which can often take as much as a decade from initial maquette to completed work. This exclusive exhibition will include the premier of recent works Bullwhip, Half Life, Leap of Faith, Heroic as well as new works from the artist's Royal Ballet Monument Project.
M RESORT's 'MARTINI TIME WITH CHEF TINA MARTINI' WILL BE ON CABLE TV
The M Resort's innovative new live afternoon cooking show "Martini Time with Chef Tina Martini" will begin airing on Cox 96 in Southern Nevada three times a day, two days a week beginning Monday, May 10, and reach more than 400,000 households. In addition, the show will stream live on www.Cox96.net and be available via ON DEMAND. During the filming, Martini known as the "naturopathic chef" will have has special local celebrities cook with her.
TOP OF NEXT COLUMN
ARTIST PETER MAX UNVEILS PORTRAIT OF PATRIOTISM IN LAS VEGAS
The Art of Peter Max Gallery in The Forum Shops at Caesars Palace on the Terrace Level will host a gallery exhibition with Pop Art Icon Peter Max on Saturday, May 29, from 2 to 4 p.m. to commemorate Memorial Day. Max will unveil his newest original painting: an acrylic on canvas, full-bodied Liberty painting measuring six-feet tall that will be on display and available for purchase exclusively at the Las Vegas gallery.
During the exhibition, purchasers will have the opportunity to meet Max, who will inscribe a priceless dedication and drawing on the back of each painting acquired at the gallery during the event or anytime throughout the month of May.
With more than 150 original Peter Max paintings available for acquisition, the Art of Peter Max Gallery hosts the largest collection of Peter Max paintings available for sale in one room anywhere in the world.
50 CENT TO PERFORM AT THE PEARL AT THE PALMS
Fresh off the heels of a two month-long European trek, multi-platinum recording artist 50 Cent is following with an 18-city U.S. tour "The Invitation." The tour makes a stop at The Pearl Concert Theater inside the Palms on Sunday, June 6 at 9 p.m. Tickets are $49, $59 & $79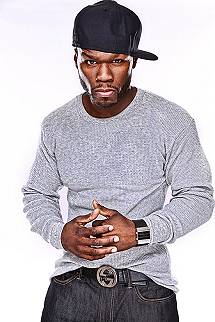 Originally discovered by Run DMC's Jam Master Jay in 1996, 50 Cent (born Curtis Jackson) began work on his first album, "Power of the Dollar" in 1996.
Through mix tapes, 50 Cent's New York City rap reputation grew and eventually gained the attention of Eminem, who signed him.
RONNIE MILSAP PERFORMS AT EASTIDE CANNERY
Six-time Grammy® award recipient Ronnie Milsap will perform at the Eastside Cannery on Boulder Highway on Friday, May 28 at 8 p.m. With 40 No. 1 country music hits and more than 25 million records sold, Milsap is one of the most influential and successful country crossover singers and has added a gospel-inspired album to his repertoire. Tickets are $24.94, $34.95 and $44.95, call 702-856-5470.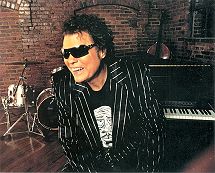 Born with a congenital defect that left him blind, Milsap started a career in law until a chance meeting with his idol Ray Charles led him to pursue a musical path. Milsap emerged in the country music scene in 1973 and his career took flight between 1976 and 1978 with a streak of seven No. 1 singles.
HUEY LEWIS AND THE NEWS PERFORM AT THE M RESORT
The legendary rock 'n' roll band Huey Lewis and the News will perform an outdoor concert at the M Resort on Saturday, May 29 at 9 p.m. Tickets are $51.50, $62, and $72.50, call 800-745-3000.
Huey Lewis and The News have been defying the rock odds makers for more than three decades. Formed from two rival Bay Area bands in 1979, their music has outlasted countless trends, selling more than 20 million albums worldwide. The group also wrote and performed "The Power of Love" and "Back in Time" for the hit film "Back To The Future."
QUICK CLIPS
The adult revue, "Fantasy" at the Luxor has a new offer with tickets starting at $39, available for purchase at the Luxor box office or by calling 702-262-4400. The show stars Angelica Bridges from "Baywatch" and "Playboy." Bridges who was recently named one of the "50 Sexiest Women in the World" by "Maxim" appeared in more than 20 different series. "Fantasy" is in its 10th successful year.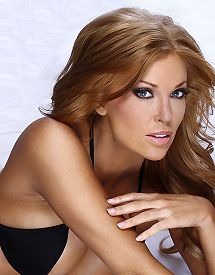 Time flies! Comedy-magician Mac King has celebrated 10 years of performing the "Mac King Comedy Magic Show" at Harrah's. He's done 5,200 shows to more than one million people. Other fun facts include he's worn 2,600 days of plaid suits and gone through 270,400 playing cards.
The Riviera will be offering Thursday night summer pool parties beginning on May 13 at 5:30 p.m. Las Vegas entertainer Tommy Rocker and his band will provide the music and the poolside parties will run through Sept. 30.
Rock 'N Roll Wine's annual Reggae Pool Party will be held at the M Resort's outdoor pool and entertainment piazza, Villaggio Del Sole, on Saturday, May 15 at 7 p.m. There will be more than 60 wines represented by 25-plus wineries and live reggae sounds by Michael Black and Jah Guide band and Los Angeles sensation Peter Goetz with his festival band. Tickets are $39.95 in advance, call 702-240-3066, and $45 at the door.
Stoney's North Forty has re-opened its new stand-alone location at 5990 Centennial Center Boulevard in the northwest side of town. The new 9,000-square-foot saloon, dance hall and grill offers many of the familiar features that make the flagship location Stoney's Rockin' Country on The Strip popular including a roomy hardwood dance floor, plenty of pool tables, and eight flat and two big screens. A big difference is Stoney's North Forty is open 24 hours and offers breakfast, lunch and dinner.
The Palms in the lounge has two new acts performing and they are dueling pianos on Wednesday nights from 7 to 11 p.m. and legendary Skip Martin on Sunday nights from 8-11 p.m.
The shows for the Super Summer Theatre's 35th year at Spring Mountain Ranch State Park will be Ronald Dalh's "Willy Wonka," "Ain't Misbehavin'," "Damn Yankees," and "The Foreigner." Tickets are $12 at the UNLV Performing Arts Center, by phone at 702-895-ARTS or online at www.unlvtickets.com. Performances will start on June 9 and run through Sept. 25.
"Las Vegas Bride Magazine's" annual Summerlin Bridal Show will take place May 30 from 11 a.m. to 5 p.m. at the JW Marriott Resort. The grand prize will be a $5,000 wedding package and there will be several fashion shows.
More than 30 chefs, restaurants, and mixologists will gather for Share Our Strength's Taste of the Nation®, a premier culinary gastronomic benefit. "Taste of the Nation Las Vegas" will raise critical funds to end childhood hunger in the Las Vegas valley and across the nation and be held Wednesday, June 2 at Rain Nightclub at the Palms from 6:30 p.m. to 9 p.m., with a VIP reception beginning at 5:30 p.m. Tickets are $75 and $100 for VIP, call 877-26-TASTE .
Henry's Place (www.henrysplace.org), a non-profit organization formed in 2006 to honor Metro Sgt. Henry Prendes who gave his life protecting his hometown Las Vegas community and was the first killed in 18 years, will host the 4th Annual Henry Prendes Charity Golf Classic at 8 a.m. on Friday, May 21, at Black Mountain Golf & Country Club in Henderson. Cost is $175 and $600 for foursomes, call 702-296-5078.
LAS VEGAS HELLDORADO DAYS SCHEDULED DOWNTOWN, MAY 13-16
Las Vegas Helldorado Days featuring a rodeo, carnival, contests, parade and fireworks will be held downtown May 13-16. Gates will open at 5 p.m. daily at the downtown rodeo grounds. Carnival admission is $3, or free with purchase of a rodeo ticket, which runs from $10 to $25 and can be purchased at the El Cortez, Plaza and Fitzgeralds downtown.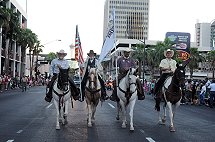 The parade from 7-9 p.m. on Saturday, May 15, will be held on Fourth Street with fireworks following.
Column Continues Below Advertisement




CONTINUE ON TO...:
>THIS WEEK'S LAUGHLIN NEWS
>LAST WEEK'S LAS VEGAS NEWS
>VEGAS VIEWS FULL NEWS ARCHIVES
>Return to "Heard Around Town"
>Return to Las Vegas Leisure Guide