TONY BENNETT WILL PERFORM AT THE PALMS

Tony Bennett, whose honors include 15 Grammy awards, will perform at the Pearl at the Palms on Sunday, July 24, at 8 p.m.

Bennett is one of a handful of artists to have new albums chart in every decade since the 1950s. Tickets are $66, $101 and $126, with $1 going to Bennett's charity, Exploring the Arts, Inc., call 702-944-3200.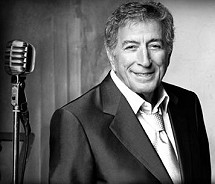 Bennett's endless awards include: the Grammy Lifetime Achievement Award; two Emmys; and Kennedy Center Honoree in 2005. He has sold more than 50 million records worldwide. His most recent CD release, "Tony Bennett: A Swingin' Christmas Featuring the Count Basie Orchestra," has become a seasonal favorite.
Column Continues Below Advertisement
SMITH CENTER ANNOUNCES BROADWAY SERIES
The Smith Center for the Performing Arts, which will open in 2012, has announced the 2012 Broadway Las Vegas Series that will include: "The Color Purple" April 3-8; Disney and Cameron Mackintosh's "Mary Poppins " May 22 – 27; "Million Dollar Quartet" June 12 – 17; the 2010 Tony Award-Winning Musical "Memphis" July 18 – 22; and "Wicked" Aug. 28-Oct. 7. Tickets for individual shows in the Broadway Las Vegas series start at $24 and season tickets will go on sale this summer.
HOTEL CALIFORNIA RESTAURANT & CANTINA OPENS
The Hotel California Restaurant & Cantina opened its first location in Las Vegas on May 5 and features Baja California-inspired cuisine, a line of signature Mezcal liquor, a "Man Cave" Cigar Lounge and live entertainment. The newest addition to the Summerlin dining scene and the latest restaurant concept by Jimmy Maddin, Hotel California Restaurant & Cantina is located at 1050 S. Rampart Blvd in the Boca Park Fashion Village.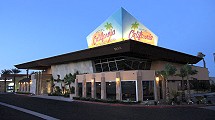 The new restaurant offers two custom-made chef tables adorned with candles, seashells and sea glass accents with one-of-a-kind, hand-painted chairs that seat 10 to 12 guests each. There's also food off the grill and signature cocktails on the outdoor patio.
The 8,818-square-foot space accommodates 268 people seated and 600 cocktail style, and features a Mezcal Bar displaying dozens of glass bottles the signature liquor on shelves. In addition, the eatery, which is open daily, offers a children's menu and a variety of sugar-free and gluten-free desserts.
TRIO WILSON PHILLIPS PERFORM AT THE CANNERY
Wilson Phillips, the pop trio whose harmony has propelled the group to multi-Platinum status, will perform at The Club inside The Cannery on June 4. Wilson Phillips includes members Carnie Wilson, Wendy Wilson and Chynna Phillips. Their debut album in 1990 sold 10 million albums with three No. 1 hits." In 1992, "Billboard" declared the group the bestselling female group of all time, breaking the record previously set by The Supremes. Tickets are $19.95, $44.95 and $89.95, call 702-507-5757.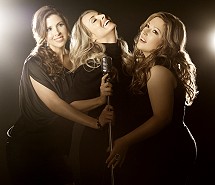 For the record, Carnie Wilson and Wendy Wilson are the daughters of Beach Boy founder Brian Wilson and Chynna Phillips is the daughter of John and Michelle Phillips of the Mamas and Papas.
NICKI MINAJ RESCHEDULES CHATEAU APPEARANCE
The reigning queen of hip hop, Nicki Minaj has rescheduled and will take over Chateau Nightclub & Gardens at Paris with a special live performance on Saturday, May 21.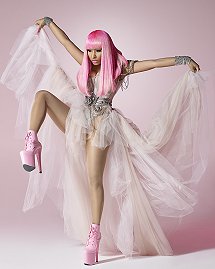 Platinum selling Minaj is best known for her hit album "Pink Friday." She is the first artist to have seven songs on the "Billboard Hot 100" chart simultaneously.

MICHAEL MCDONALD VISITS EASTSIDE CANNERY

Five-time Grammy® Award winner Michael McDonald, whose vocals helped propel The Doobie Brothers to incredible success, will perform at the Eastside Events Center at the Eastside Cannery on Friday, June 17 at 9 p.m. Tickets are $49.95, $59.95 and $69.95, call 702-856-5470.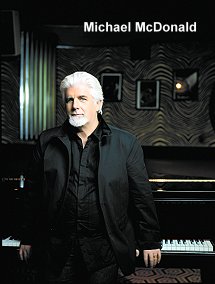 McDonald first gained wide attention when he joined the group Steely Dan singing backup and playing keyboards. One year after the release of Steely Dan's "Katy Lied," McDonald joined the Doobie Brothers. After the Doobie Brother's first farewell tour, McDonald started his own career and released his first solo album "If That's What It Takes" and won another Grammy® Award for "Yah Mo B There" with James Ingram.
GIN BLOSSOMS PAY A VISIT TO THE ORLEANS SHOWROOM
Gin Blossoms will perform at The Orleans Showroom two nights, June 11 and 12, at 8 p.m. Tickets start from $29.95, call 702-365-7075.
Gin Blossoms launched as a local group in Tempe, Ariz. They were chosen as the "city's best rock band" by readers of the "Phoenix New Times" and qualified to perform at the well-regarded South by Southwest Music Festival in 1989. Their first major label release was in 1991 and "Congratulations I'm Sorry," released in 1996, was the Blossom's final original album of the decade, earned the group a Grammy nomination, and reached platinum status.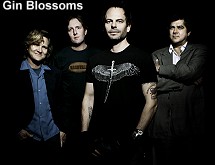 The group took a lengthy hiatus before embarking on an 80-date U.S. tour in 2002 and released a new album, "Major Lodge Victory" in 2006. Their latest album, "No Chocolate Cake," was released in September 2010.
'ART & WINE: A PERFECT PAIRING' AT BELLAGIO GALLERY
The second Wednesday of each month, "Art & Wine: A Perfect Pairing" takes place from 5:30 – 7 p.m. at Bellagio Gallery of Fine Art and pairs wines from Bellagio's cellar with artwork featured in the gallery's current exhibition, "A Sense of Place: Landscapes from Monet to Hockney." A highlight of the program on May 11 is an interactive conversation about wine and art that blends the expertise of Jason Smith, Bellagio's Director of Wine and one of the hotel's four Master Sommeliers, with the knowledge of Tarissa Tiberti, BGFA Director. Tickets are $30 for BGFA members and $38 for non-members, call 702-693-7871.
RADIO CITY PIZZERIA OPENS AT TIVOLI VILLAGE
Radio City Pizzeria will feature gourmet pizzas by the slice or whole pie when it opens in Tivoli Village at Queensridge on May 21. The 2,000-square-foot pizzeria will feature indoor seating, a beer and wine bar, and outdoor patio seating. Additionally, a walk-up window on the building's exterior will offer shoppers the opportunity to view the pies being made. Radio City Pizzeria will be open from 11 a.m. to 11 p.m. daily.
COSMOPOLITAN HOSTS ALL-STAR COCHON 555 EVENT
On July 24, The Cosmopolitan and Cochon 555, a national culinary competition promoting heritage breed pigs, will launch All-Star Cochon, a new pork-filled Las Vegas event. The event will feature winners from previous years including 10 leading chefs and three star butchers who will each cook with 14 different heritage breed pigs this summer and prepare a "snout-to-tail" menu.
In addition to pig every way, guests will be treated to side-by-side butchery demonstrations, cured meats, reserve wine tasting, craft brews and specially paired artisan cocktails.
All-Star Cochon is the first new event added in the three-year-old competition series and the first time that Cochon will be in Las Vegas. Tickets start at $150.
DESIGNER DOG HOUSES ON DISPLAY AT TOWN SQUARE
HomeAid Southern Nevada, a local non-profit organization dedicated to partnering service providers with the building industry, is holding its annual Project Playhouse: Pet Edition event.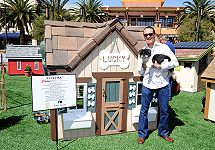 Through June 4 at Town Square in the park, nine pet houses built by local building industry leaders are on display. Tickets are $5 each for a chance to win a pet house on Saturday, June 4 at 4 p.m. and are sold at the park's gazebo from noon to 8 p.m. daily. All the funds raised will be used to assist homeless families in the community.
TOP OF NEXT COLUMN
QUICK CLIPS
Reminder: The Sahara will be closing its doors on May 16.
Jennifer Hudson's show at the Pearl at the Palms on June 24 has been postponed to a later date.
Liza Minnelli with special guest Jeff Tracta will headline at the Las Vegas Hilton, Oct. 7 and 8. Tickets are $89 to $200.
Beginning Saturday, May 14, the M Resort will introduce M Pool Live, a free weekly nighttime pool party from 8-11 p.m. with live entertainment through September.
"Celebutante" Nicky Hilton will host an extravagant evening at Chateau Nightclub & Gardens at Paris on Friday, May 20. Hilton is best known as a successful fashion designer, sister to Paris Hilton and daughter of Rick and Kathy Hilton.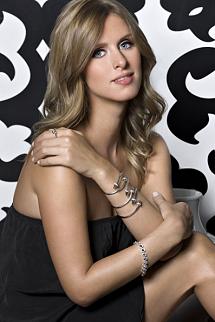 Alaska's favorite political bad boy Levi Johnston recently celebrated his 21st birthday at the Sugar Factory American Brasserie at Paris Las Vegas.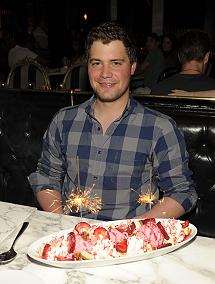 "Piano! Las Vegas™" is now offering a Backstage Experience at V Theater inside Miracle Mile Shops at Planet Hollywood featuring access to the pre-show rehearsal and a meet and greet with Ryan Ahern, star of the show for $44.99. The experience begins at 1:45 p.m. and includes a free CD.
Comme Ça, the newest French brasserie staple in the Las Vegas dining scene at The Cosmopolitan, welcomes springtime with a new spring menu created by founder and Chef David Myers, and his new Executive Chef, Brian Howard.
TripAdvisor, the world's largest travel site, has announced the winners of its 2011 Travelers'Choice® Destinations awards. In its third year of the awards, TripAdvisor has honored 337 outstanding destinations across the globe and Las Vegas was No. 4 on the 2011 Travelers' Choice U.S. Destinations list.
Swiss world-renowned DJ and producer Yves LaRock will spin at Chateau Nightclub at Paris on Saturday, May 14. Best known for his hit single "Rise Up," LaRock is also a member of Africanism All Stars, a France-based project consisting of DJs and mixers, who collaborate with African-based artists and acts.
Eva Longoria's Beso Steakhouse and Eve Nightclub are partnering with Vdara in "Ladies' Night Out" offering two Beso Steakhouse and Eve Nightclub experiences, a chef's tasting and dinner special as well as a Beso lounge and Eve Nightclub experience for Vdara's Ladies Access Package through June 28.
Quinn's Irish Pub at Green Valley Ranch has launched its first pub menu, serving up lunch and dinner daily. The focus of the menu is to offer a variety of food options at an affordable price, with all items $8 or less. The menu also suggests beer pairings for each dish and all pints are paired and available for $3 or $4.
Mistinguett Productions will present "Showgirl Follies" – Life in Feathers and Rhinestones – on June 4 at 7 p.m. and June 5 at 3 p.m. at the Starbright Theater, 2215 Thomas Ryan Blvd. in Summerlin. The show is a classic Las Vegas revue highlighting the life and careers of the performers that worked in the glamorous shows that made Las Vegas famous. The showgirls are over 50 and still fabulous. Tickets are $18, call 702-240-1301.
At the Palms, the ghostbar's weekly party, Snitch Wednesdays, will present Trevor "Trouble" Andrew, lead singer of the self-entitled four-man band, for a live performance on May 11. Andrew has been a professional snowboarder for Burton since the age 14. Trouble Andrew, comprised of four musicians, released their first self-entitled album in 2007.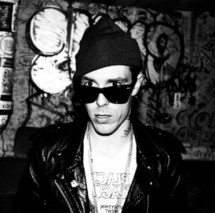 "Jingle Lady" Linda November and composer-arranger-producer Artie Schroeck with an eight-piece orchestra will present "An Evening with Cole Porter" on June 10 at 7 p.m. at Independence Hall, 2460 Hampton Road, in Sun City Anthem. Tickets are 21 or $18 if purchased before June 3; contact ladyjingle@earthlink.net.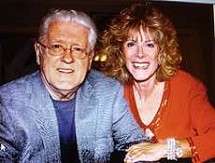 Palms Pool & Bungalows at the Palms will host Cabanas for a Cause every Monday, beginning on May 23. Weekly the community-driven project will donate all cabana sales for the day towards a different non-profit charity. Cabanas will be specially priced at $100 each, upon availability and special guest DJs will entertain from 11:30 a.m. to 4 p.m.
The Las Vegas Hilton's Knight Gallery closed after a successful year in residence inside the hotel's north tower retail corridor. Although the gallery is gone, many of Knight's famous images continue to be displayed at the Tremolo Bar inside the Hilton Theater, and at various locations throughout the property.
The largest and fastest-growing children's shoe brands in the United States, Henderson-based pediped® footwear, will open its first brick-and-mortar store in Henderson, 1191 Center Point Dr., on Saturday, May 21.
Five-foot-tall, three-dimensional, hand-painted "human" hearts created by local professional artists are on display throughout Las Vegas to help raise awareness and funds for the Las Vegas Chapter of St. Jude Children's Research Hospital. This live interactive art exhibit will be on public display until the St. Jude Gala "An Affair of the Heart" on May 21.
HEFNER NAMES CLAIRE SINCLAIR 'PLAYMATE OF THE YEAR'
Playboy founder and legend Hugh Hefner, along with fiancée Crystal Harris and the 2010 Playboy Playmates, held a celebration at Moon Nightclub at the Palms on May 6 when October Playmate 2010 Claire Sinclair was named the winner of "Playmate of the Year 2011." Sinclair appears on TV's "Holly's World," has made guest appearances in "Crazy Horse Paris" at the MGM, and now has a role in "Absinthe" at Caesars Palace.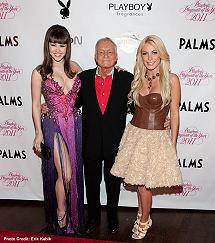 As the winner, Sinclair received $100,000 in prize money, a Harley Davidson® 1200 Custom with H-D1™ factory customization, and a collector's item – a one-of-a-kind set of Playboy Fragrances with Swarovski Elements.
PRIMM VALLEY RESORTS FEATURE MUAY THAI BATTLE
Primm Valley Casino Resorts in association with Lion Fight Promotions will host its second Full Rules Muay Thai Battle in the Desert, May 14 at 5 p.m. The evening's match ups will have Brazilian Muay Thai super star Cosmo Alexandre and top American Muay champion Cyrus Washington face each other in a Super Fight bout. In addition, other top professional and amateur fighters will take the ring at Buffalo Bill's Star of the Desert Arena and battle for one of the coveted WBC and WBC interim world titles.
VANS WARPED TOUR® VISITS PLAZA DOWNTOWN
Renowned for bringing skate/punk/action sports and youth culture to the forefront on a global scale, the Vans Warped Tour® 2011 is bringing its notorious music and lifestyle festival to Las Vegas on Thursday, June 30 at the Plaza Hotel parking lot downtown at 11 a.m. Tickets are $28, call 702-474-4000.
Main stage artists 3OH!3, A Day To Remember, The Devil Wears Prada and Asking Alexandria will join an eclectic mix of hotly-tipped artists in punk, indie, metal and hardcore, to rock, pop, electronic, reggae and hip-hop. For the full list of confirmed artists, visit: www.warpedtour.com/bands.
i♥burgers LAUNCHES BOOKS AND BURGERS IN MAY
To celebrate National Hamburger Month and Get Caught Reading Month, i♥burgers at The Shoppes at The Palazzo has launched Books and Burgers for the month of May. Guests who donate a new or used book receive a free slider with their donation. Up to 12 books per person per day will be accepted. Guests who donate 12 books at a time will receive a "booker's" dozen of sliders in exchange. At the end of the month, all books will be donated to The Shade Tree.
BLUE MAN GROUP HOLDS 'SUMMER STOCK UP' FOOD DRIVE
In support of the nonprofit organization Three Square, Blue Man Group is hosting the Summer Stock Up food drive where people can bring nonperishable food items to the Blue Man Group Theatre inside The Venetian from 10 a.m. to 2 p.m. on Saturday, May 21. In exchange for their donations, Blue Man Group will offer one complimentary ticket to either the 7 or 10 p.m. performance the same evening and a 15 percent off coupon to the Blue Man Group retail store. Tickets start at $59. For information, visit www.blueman.com/threesquare or call 702-414-9001.
RC BOAT RACING TAKES OVER LAKE LAS VEGAS
Hundreds of Members of North American Model Boat Association (NAMB), which will celebrate a 40-year anniversary this summer, will descend on Lake Las Vegas for a weekend of remote controlled boat racing, May 14 and 15 at 8 a.m. There's no cost to watch the races and there will be an "open water" practice on Friday, May 13. There are up to 16 classes of boats at any one race weekend with 35-40 boats per class.
Column Continues Below Advertisement
CONTINUE ON TO...:
>THIS WEEK'S LAUGHLIN NEWS
>LAST WEEK'S LAS VEGAS NEWS
>VEGAS VIEWS FULL NEWS ARCHIVES
>Return to "Heard Around Town"
>Return to Las Vegas Leisure Guide