Country superstar Clink Black will take the stage at the Flamingo Outdoor Amphitheater on May 10 at 8 p.m. Tickets are $30, $35 and $40; call 1-800-435-8469.
Black, one of four boys, stole one of his brother Brian's harmonicas at age 13 and taught himself to play it. Two years later, the teenager learned the rudiments of guitar. Then he dropped out of high school to play bass in his other brother Kevin's band. Within three years, he was doing solo gigs. A 1981 booking in Houston's Barton Springs led to eight solid years of playing on the local club circuit. It was during an apprenticeship that Black met guitarist Hayden Nicholas and co-created classics.
Clint was 25 when a chain of events suddenly brought him to Nashville to play a tape in Joe Galante's RCA Records office. At the time, Nashville was just beginning to flex its "young country" muscles. In this climate, Black's arrival raised eyebrows by incorporating his band members into his recording sessions, stunning everyone with his composing prowess and bowling Music Row over by scoring five No. 1 singles from his debut album, a feat then unprecedented in any field of music.
Triple Platinum and each successive release also became a million-seller. By the end of 1990, Black was headlining his own concert tour and collecting CMA, ACM, ASCAP, TNN and AMA honors by the shelf-full. That December, he played a triumphant hometown show in Houston at The Summit. Backstage, he met Houston-bred actress Lisa Hartman, whom he wed.
Blues legend B.B. King, who is on his "80th Birthday Celebration Tour," will headline Harrah's Rio Vista Outdoor Amphitheater on Thursday, May 18, at 8 p.m. Tickets are $30; call 1-800-447-8700.
King, who won his first Grammyr in 1970, again won the "Best Traditional Blues Album" prize at this year's Grammy Awards ceremony in Los Angeles. This was the ninth time that the "King of the Blues" landed the award in that category and his 14th Grammy Award. His "Live At The Regal" album was also inducted this year into the Grammyr Hall of Fame.
In honor of his 80th birthday last Sept. 16, King celebrated the occasion with a few of his musical compatriots on the new studio album of duets.
Illusionist Franz Harary will be starring at Don's Celebrity Theatre at the Riverside, May 10-14. Tickets for his 8 p.m. shows are $25; call 1-800-227-3849, ext. 616.
In the history of magic, Harary, who was born and raised in Ann Arbor, Mich., is the first world-class magician ever to design and create all of his own illusions, as well as perform them live. This was best demonstrated on an NBC-TV special in November 1994, when Harary vanished the Space Shuttle before a live audience at Kennedy Space Center. Since the fall of 1991, Harary has been fascinating audiences throughout Asia.

TOP OF NEXT COLUMN
The third annual BBQ and Bluegrass event is back at the Ramada Express outside in the Victory Plaza, May 12-14, from 5-9 p.m. The BBQ is $8.99 per person and the free bluegrass music is being provided by two award-winning bluegrass bands, The Rarely Herd and The Lost & Found play each night The Rarely Herd is known worldwide as one of the premier bluegrass music groups. In 2003, they received the Grand Masters Gold Award at the National Bluegrass Music Awards in Nashville, Tenn. This award was given to the band in honor of their 10 consecutive wins as "Entertaining Band of the Year," a feat unequaled in the history of these awards.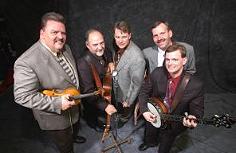 The Lost & Found was founded in 1973. They were a group of guys "lost" on other kinds and styles of music until they "found" each other. They were asked to do a local cable TV show and had to quickly come up with a name. They decided to use the name The Lost & Found until they could think of a better one. That was in 1973, and now the name is one of the most respected and recognized names in bluegrass music.

Annually from Easter through Labor Day, the Club Flamingo Showroom turns into The Comedy Stop, featuring three new stars of today and tomorrow each week. Some former members of the Comedy Stop include, Tim Allen, Drew Carey, Ray Romano and Rosie O'Donnell. Two shows are performed nightly at 7 p.m. and 9 p.m. Tickets are $11.95 and $12.95; call 1-800-435-8469.
Next week's cast, May 8-14, will be Joe Delion with Hal Spear and Peter Gray, followed, May 15-21, by Mike Donovan with Adam Leslie and Mitchell Walters.
Delion has carved a niche as one of comedy's most unusual performers and been described as having more sides than the combinations to a Rubik's cube.
He has been a master magician since age nine when he did his first professional shows. Through the years, he's done everything from eating fire to sword swallowing to sleight of hand to hosting his own regular magic show. He's escaped from tons of ice, and freed himself from a straightjacket while hung by his ankles from a crane 20 stories above the ground.
In his current comedy format, Delion is circus-of-the-mind with sarcasm in its most devastating form, and insanity on reasonable terms.
The Monster Trucks and Extreme Freestyle Motor Sport Spectacular will take place on May 13 and again on Nov. 11 in the Special Event Area north of the Avi casino. Tickets for the 7:30 p.m. show are $12 in advance, $15 at the gate, $12 for kids from 4-12 years of age, and free under 4 years old.
From May 18-21, you can enjoy the River Cruizers Car Show in the south parking lot. There will be a Show 'n' Shine, food, and music throughout each day. The cars on display will be free to view. For information on entering a car, call River Cruisers Neal or Velma at 928-788-2174.
Chloride and Oatman are two historic mining towns located in Arizona and a short drive from Laughlin. Chloride is a 1860s mining town located four miles off Arizona State Hwy 93. It's the site of the oldest post office in the state and home of the Tennessee Silver Mine. Oatman was born in 1906 as a tent camp for miners. It's located in the Black Mountains some 18 miles east of Bullhead City. This town is known for the burros that roam the streets. Both are fun getaways.
CONTINUE ON TO...:
>THIS WEEK'S LAS VEGAS NEWS
>LAST WEEK'S LAUGHLIN NEWS
>VEGAS VIEWS FULL ARCHIVES
>Return to "Heard Around Town"
>Return to Las Vegas Leisure Guide