Wynn Resorts broke ground on its newest expansion, Encore, on the site of the original Desert Inn. The resort will be erected adjacent to Wynn Las Vegas on the north side of the property and is scheduled for completion in December 2008.
The Encore April 28 groundbreaking commemorated a memorable date in Las Vegas history with both the opening of the Desert Inn and Wynn Las Vegas. On April 28, 2000, Steve Wynn and the newly formed Wynn Resorts acquired the Desert Inn property. Exactly five years later, Wynn Las Vegas opened its doors on April 28, 2005. Over its 56-year heritage, this site has embraced a resort philosophy with golf and spa coupled with entertainment as well as gaming.

Column Continues Below Advertisement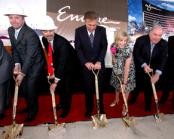 Encore will be developed and mark the second full-scale hotel to occupy a portion of the company's 240-acre assembly of real estate in Las Vegas. The expansion of the resort will be fully integrated with neighboring Wynn Las Vegas, containing all the usual elements that complete a resort experience; including additional rooms, convention and meeting space, more casino space, restaurants, nightclubs, spa and salon, retail outlets and swimming pools.
VH1 Classic and Live Nation are joining forces to bring the summer tour of rock legend bands Def Leppard and Journey to the Mandalay Bay Events Center on Friday, Aug. 18, at 8 p.m. Tickets are $85, $65 and $45 plus applicable service charges and taxes; call 702-632-7580.
With more than 65 million albums sold worldwide, Def Leppard is arguably Great Britain's premier arena rock band and their spectacular live shows are filled with powerful, melodic rock anthems. Def Leppard has been honored by the Recording Industry Association of America (RIAA) with two prestigious Diamond Awards for their albums "Hysteria" and "Pyromania," and achieving album sales more than 10 million in the United States.
Journey was founded in San Francisco in 1973 by Santana band-members Neal Schon and Gregg Rolie. The band's storied legacy, spanning more than 30 years, includes 19 U.S. album releases, the most recent being the critically acclaimed "Generations" (Sanctuary Records, 2005). Four of the band's albums landed in the Top 10 of Billboard's Top 200 Albums chart including 1981's "Escape," which reached No. 1. Journey has sold more than 75 million albums worldwide making them the 29th best-selling music group in history.
Gordie Brown, after headlining at the Golden Nugget downtown, has signed a multi-year agreement to bring his edgy mix of music, comedy and impressions to The Venetian beginning in August. Accompanied by a live band, Brown will perform his raucous act in a newly constructed, 800-seat theater in The Venetian.
Gordie Brown at The Venetian will be presented by Bernie Yuman, the longtime manager of Siegfried & Roy, and produced by BASE Entertainment, which is also currently producing "Phantom - The Las Vegas Spectacular" at The Venetian, and Bernie Yuman Management.
Bilingual singer-songwriter Shakira will bring her "Oral Fixation Tour" to the Mandalay Bay Events Center, Saturday, Aug. 12. Special guest Wyclef Jean is scheduled to open the show and perform with Shakira on the hit single, "Hips Don't Lie." Tickets are $100, $75, $55 and $19.50 plus service charges and taxes; call 702- 632-7580.
Shakira is an artist whose work crosses borders and has broken a number of records. Her first English-language album, "Laundry Service," sold 13 million copies. "Fijación Oral Vol. 1," the first of her new two-album collection, was released in June 2005 and sold more than 157,000 copies in the first week of its United States release. This was the highest first-week-sales in history of a Spanish-language album and it debuted at No. 4 on the U.S. album sales charts. The album also debuted at No. 1 in all Latin American territories and Spain and was the first Spanish-language album to reach No. 1 in Germany. Last February, Shakira won a Grammy Award in the category of "Best Latin Rock Album" for "Fijación Oral Vol. 1."
Shakira's second greatest work to date, "Fijación Oral Vol. 2," was released in November 2005.
The Cannery located off I-15 in the northwest will present a Star Spangled Weekend with multi-Platinum, multi-Grammy winning Trisha Yearwood on Sunday, July 2, at 8 p.m. inside The Club. Tickets are $49.99 and $59.99 plus tax and fees; call 866-287-4643.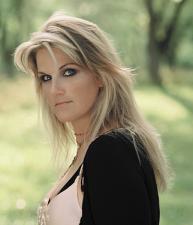 Yearwood's self-titled debut album was released in 1991, and the lead single, "She's in Love With the Boy," rocketed to the top of the country charts, making her an instant star. The album had the single, "Like We Never Had a Broken Heart," co-written by Garth Brooks, with whom she toured as his opening act. As a result, she became the first female country singer to sell one million copies of her debut album, and eventually went on to sell two million.
The District at Green Valley Ranch, located at the southwest corner of I-215 and Green Valley Parkway in Henderson, will host a free weekend "Festival of the Arts," in conjunction with the official grand opening of the expansion of The District on Saturday, May 20, from 10 a.m. to 6 p.m. and Sunday, May 21, from 10 a.m. to 5 p.m. For information, call 702-564-8595.
Returning for its eighth season, the Green Valley Festival of the Arts will transform The District's Main Street into an art-walk atmosphere as regional artists fill the street with a wide variety of fine art including paintings, sculpture, pottery, jewelry and more. A special "Kidz Art Park" with planned activities will be set up on "The Green" next to Whole Foods Market in the newly expanded area of The District.
Following the day's festivities, free musical entertainment will be presented on Saturday from 6 p.m. to 10 p.m. Melanie Moore & Friends will perform in the Courtyard at the District and Ricardo Griego will entertain on The Green.
The Young Guns of Comedy will return to the Aladdin Theatre of the Performing Arts for Memorial Day weekend on Sunday, May 28. Dubbed the Young Guns of Comedy, D.L. Hughley, Arnez J, Anthony Anderson, Kevin Hart and Tarome "Cool-Aide" Wright will entertain audiences with their urban comedy examinations of everyday life. Tickets or the 8 p.m. show are $75.50, $55.50, $45.50 and $40.50 plus service charges and tax; call Ticketmaster at 702-474-4000.
D.L. Hughley appeared on his own show "The Hughleys" for five seasons, countless comedies including "Scary Movie 3," and most recently as the host of the late night talk show "Weekends at the DL."
Arnez J, aka "the black Jerry Lewis," is becoming one of the most talked about comedians and is currently a co-host of the number one radio show in Chicago on WGCI.
Anthony Anderson is a proven comic force with roles in "Scary Movie 3," "Barbershop," "King's Ransom" and his own TV-show "All About the Andersons."
Kevin Hart became a professional comedian after winning five consecutive talent competitions in his hometown of Philadelphia. Since 2001, he has been appearing a in many hit comedies including "Barbershop," "Scary Movie 3 and 4," "The 40 Year Old Virgin," and "Soulplane."
Tarome "Cool-Aide" Wright from Detroit is known as the funny man with flavor. He was named BET's Comic View All-star.
Robby Love, aka The Roller Rapper, a Hollywood, Calif., resident, is a performing artist who will kick off his record breaking, roller skating tour of the entire length of historic Route 66 in Chicago on July 6. The Roller Rapper's Route 66 skating marathon will make a stop in Las Vegas and end in L.A. in mid-August. The adventure coincides with the 80th year anniversary of the famous highway.
A movie and a music video for his new single "Skate" will be shot during his exciting experience and daily video blogs will be posted on the Web site www.rollertour.com. His performances along Route 66 are aimed at a celebration of giving and love on a tour that will benefit St. Jude Children's Research Hospital and 16 other local charities along the way. The famous and beautiful Love Girls will accompany the Roller Rapper.
Fifty-percent of online sales of the newly released Roller Rapper CD will go directly to Saint Jude Children's Research Hospital. The Roller Rapper will visit children hospitals during every tour stop and give out Roller Rapper Teddy Bears.
A new production of "Ain't Misbehavin'" highlighting the music of jazz legend Fats Waller has opened downtown in the Plaza Showroom.
The Monopoly game maker is planning a new version called Monopoly Here & Now with plans for it to be in stores this August. The idea is for the new board game to represent 22 of America's greatest destination cities and Las Vegas is one of them. Now through May 12, Monopoly fans are asked to vote online at www.monopoly.com from among three landmarks picked to represent each destination. For Las Vegas, the choices are Hoover Dam, "The Strip" and Tropicana Avenue. The favorite top vote getter nationwide will occupy the coveted Boardwalk position.
Master magician and illusionist David Copperfield is adding extra performances, May 29-31, at the MGM Grand's intimate 740-seat Hollywood Theatre. The extended engagement will now offer scheduled performances May 29 - June 14 and June 20 - July 5. Show times are 7:30 p.m. and 10 p.m. nightly with additional matinee shows on May 28 and Saturdays at 3 p.m. Tickets are $97 inclusive; call 800-929-1111.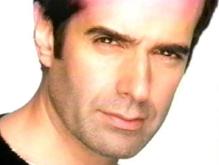 "Menopause The Musical®," the show that is a celebration of women who are on the brink of, in the middle of, or have survived "The Change," will be adding an 11th show to their 10-show lineup at the Las Vegas Hilton. Effective May 8, there will be a 7 p.m. show every Monday. The hit show recently celebrated its 100th performance with two casts sharing the work schedule.
Bryan Adams, who will headline at the Las Vegas Hilton, May 10-11, recorded an album that was initially released only in Japan, called "Live! Live! Live!" It was a concert album drawn from his 1988 Belgium show.
Tabú ultra lounge at the MGM Grand continues to break new ground with technology that stimulates the senses. Tabú is introducing patrons to five interactive tabletops and the "Human Locator" system.
This new-layered interactive technology, exclusively by Realisations, Inc., allows the club to manipulate any image or video projected on the tabletops to become a playful element of the nightlife experience. Using infrared technology, the system reacts to body heat sensitive motion sensors to bring to life the image or video reflected on the tabletops.
Gerry McCambridge, aka "The Mentalist," who opened a two-week run at the Rampart in northwest Las Vegas last summer, stretched it into a 47-week gig. He will be closing at the Rampart on June 1 and will open at the Stardust on June 2.
The Los Angeles Lakers have announced a multi-year relationship with The Mirage Hotel as the official destination hotel of the Lakers in Las Vegas. The Mirage will host the Lakers from Oct. 16 - 19 as part of the 2006 pre-season schedule when the Lakers play a pair of games at the Thomas & Mack Center. In addition, The Mirage will serve as the entertainment center for the Lakers when the NBA All-Star game is played in Las Vegas next February.
Murphy Beds Elite (MBE) is presenting the artwork of glass and metal art master Toni Craft throughout the month of May. Craft will make a personal appearance at MBE on Sunday, May 21 from 12:30 p.m. to 3:30 p.m. for a meet and greet. The store, situated in the heart of the Southwest furniture district at 1226 S. Rainbow Boulevard, will hold a meet and greet with a featured artist on the third Sunday of each month. For information, call 702.870.6446.
CONTINUE ON TO...:
>THIS WEEK'S LAUGHLIN SEGMENT
>LAST WEEK'S LAS VEGAS SEGMENT
>VEGAS VIEWS FULL ARCHIVES
>Return to "Heard Around Town"
>Return to Las Vegas Leisure Guide