NEXT TOWN-WIDE CONCERT FEATURES ALAN JACKSON

Country super stars Reba McEntire and Rascal Flatts were the first to headline the new Laughlin Event Center and Alan Jackson is up next on Saturday, May 17 at 8 p.m. Jackson, who is known for blending honky tonk and mainstream country music, has recorded 14 studio albums, had 35 No. 1 hits, and received two Grammy Awards, 16 Country Music Awards, and 18 Academy of Country Music Awards. Jackson is also known as one of the most-nominated artists in CMA Awards history.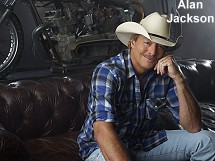 Jackson is also one of the most successful and respected singer-songwriters in music. He is in the elite company of Paul McCartney and John Lennon who are among songwriters who've written more than 20 songs that they've recorded and taken to the top of the charts. His songwriting has earned him the prestigious ASCAP Founders Award and an induction into the Nashville Songwriters Hall of Fame as a 2011 Songwriter/Artist inductee.
Jackson's current album, "The Bluegrass Album," was released Sept. 24 and debuted at No.1 on Billboard's Bluegrass Albums Sales Chart. Jackson has sold nearly 60 million albums worldwide.
The new outdoor Laughlin Event Center is an entertainment venue with comfortable concert seating for up to 9,300, state of the art audio/visual, VIP Skyboxes and permanent restroom facilities.
JOHN CAPARULO WILL BRING STAND-UP TO THE RIVERSIDE
John Caparulo, known to many as "Cap," will headline Don's Celebrity Theatre, May 22-25. Tickets for his 8 p.m. shows are $30.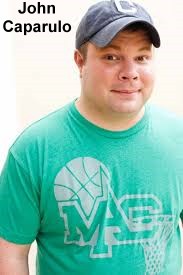 Caparulo got his first big breaks appearing at the 2003 Just for Laughs Festival in Montreal where he was offered a sitcom, and on "The Late Late Show with Craig Kilborn." Since then, he has appeared on "The Tonight Show," was featured on "Blue Collar Comedy Tour: The Next Generation" hosted by Bill Engvall, and was one of the comedians documented on "Vince Vaughn's Wild West Comedy Tour." Caparulo intermittently hosts "The Mad Cap Hour" radio show with his wife Jamie Caparulo, and comedian Mark Ellis on Sirius XM, toadhopnetwork.com, and iTunes. Although he is currently touring nationally, he also regularly appears on the E! show "Chelsea Lately," and voices the character of "Headphone Joe" on Disney's "Fish Hooks." Caparulo released his second album titled "Come Inside Me" in August 2013.
JACK WILLHITE AND DAVID TESTROET HEADLINE THE EDGEWATER
Comedians appear at the Edgewater Showroom every Friday through Sunday at 7 p.m. Tickets are $10 and there is a $2 discount for veterans on Sunday.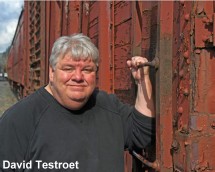 Upcoming "Comedy on the Edge" acts include two different comedians each week. The future lineup includes: Rickey Shackleford and Justin Berkman May 23-25; and Manny Maldonado and Steve Natarelli May 30-June 1.
Jack Willhite and John Hilder are on the roster May 9-11. Willhite presents a fast-paced show blending music, observational humor, parody, sheer madness and crazy characters. He delivers stand-up fueled by more than 30 dead-on classic rock, blues, 80's hairbands, and country music impersonations. The party atmosphere is reinforced with Willhite portraying Rick James, David Lee Roth and Billy Idol as the Lion, The Scarecrow and the Tin Man from the "Wizard of Oz." Next, he may break into Tom Jones and Goofy at a singles bar. He can top things off with his signature Halloween visit to Axel Rose, Jim Morrison's or Ozzy Osborne's houses. Not knowing what may come next, he may give his version of ZZ Top, Alice Cooper and Robert Plant as TV sitcom stars. Willhite is a cast member and head writer on the cable television program "Anything and Everything."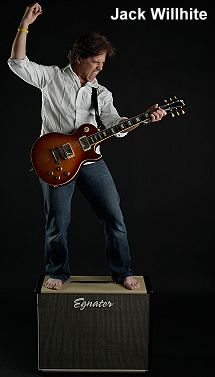 David Testroet and Eric Henderson will appear May 16-18. Testroet aka "The Big Guy" is truly a comedy veteran. A finalist in the Seattle comedy competition Testroet's comedy has taken him all around the world. His material twists from Darwin to grizzly bears with harmonica interludes from rock 'n' roll to his original songs like the "Big Guy Blues." Testroet is an established harmonica player and has incorporated it into his show. Testroet has performed in Comedy Clubs and theaters across the United States, Canada and made five different tours to entertain the U.S. Military. He has appeared on Showtime, FOX, CBS and the Comedy Channel.
PAT BENATAR, NEIL GIRALDO AND JOAN JETT UNITE AT EVENT CENTER
Pat Benatar, Neil Giraldo and Joan Jett with special guest Berlin will present a three-prong concert at the Laughlin Event Center on Sunday, May 25 at 8 p.m. Tickets start at $35.
Pat Benatar has always been a rule-breaker and a trail-blazer. She remains a bold and distinctive artist who after more than three decades in rock 'n' roll is a bonafide living legend.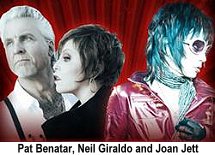 Neil "Spyder" James Giraldo, has been a professional musician, producer, arranger and songwriter for more than four decades. He changed the face of the pop charts throughout the 1980s with his collaborator, muse and wife, Pat Benatar. More than just an explosive steel-bending guitar player, Giraldo's innovative vision helped create the signature Benatar sound. Giraldo and Benatar's vision merged explosively on her 1979 debut album, "In The Heat Of The Night," that went platinum with hits like "Heartbreaker" and the Giraldo-penned "We Live For Love."
Joan Jett established a brand of punkish hard rock 'n' roll that inspired millions of barroom sing-alongs and influenced a generation of female rockers. She was one of the most surprising success stories of the 1980s and the leader of the all-female teenage hard-rock group the Runaways. Her second solo LP, "I Love Rock 'N' Roll," had a No. 1 single with its title track and went platinum.
AQUARIUS OFFERS FREE LINE DANCING LESSONS
The Aquarius is offering free line dancing lessons inside the newly renovated Splash on the following Sundays: May 18, 25 and June 1, 8 from 3 to 5 p.m. Country KFLG (94.7 FM, 95.9 FM, and 106.7 FM) personalities, Craig Powers or Jessi Reed, will be on location each week hosting the party, along with a country dance instructor.
TOP OF NEXT COLUMN
'PHINS TO THE WEST' IS PARROT HEADS EVENT AT AVI
"Phins to the West" will take place May 15-18 at the Avi Grand Ballroom, Lagoon Pool and other sites. This year is the 11th annual event with Parrot Heads from across the country celebrating TropRock and the Jimmy Buffett lifestyle and music. From Thursday–Sunday, there will be events throughout the day and night including pool games, contests, a boat trip to Pirate Cove, kayak trip, tubing on the river and a dozen live bands.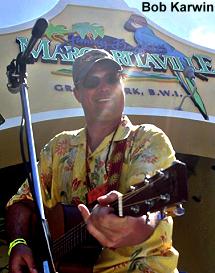 Some of the entertainment lineup includes: Michael "Crawdaddy" Crawley; John Frinzi; Jerry Gontang; Bob Karwin; Brittany Kingery; Rob Mehl; Sam Rainwater; Sunny Jim; CalypsoNuts; Tall Paul & Kristie Bobal; Stars on the Water; and Ramajay Intercoastal.
NEW SPLASH AT AQUARIUS OFFERS LIVE ENTERTAINMENT
The Aquarius' newly remodeled Splash offers free live entertainment and is available for private parties and events. The updated venue featuring a spacious entrance from the casino floor has increased seating, new tables and chairs and a reconfigured stage. It was officially unveiled last month and has a cool new water-inspired color scheme.
Entertainment at Splash features popular bands with no cover charge and no drink minimum. The ultimate 60's tribute band, The Sixties Sensations, take the stage on Friday and Saturday nights in May from 8 p.m. to 1 a.m., performing favorites from The Beatles, The Rolling Stones, Paul Revere and the Raiders, The Byrds, The Monkees and more. The Sixties Sensations will also have an encore performance on Sunday, May 25 for Memorial Day weekend.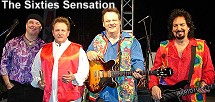 WINGS & WILDLIFE IS FREE FAMILY EVENT AT PYRAMID CANYON
The Wings & Wildlife is a celebration of the outdoors taking place on Saturday, May 10 from 9 a.m. to 1 p.m.at Pyramid Canyon Park and Trails at the base of Davis Dam. The free event will feature a wide variety of activities including birdhouse painting, wildlife treasure hunt, bird-watching and kite building and flying. All materials will be provided. A popular attraction will be the live reptile collection of National Park Service Volunteer Bill Garrett and his son Evan, which includes a Desert tortoise and several varieties of snakes and lizards.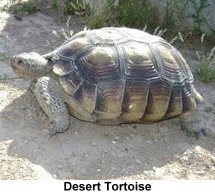 Drawings for prizes will take place at 12:30 p.m. Free raffle tickets will be obtained by participating in any or all of the day's activities.
Wings & Wildlife happens to coincide with International Migratory Bird Day, a global event designed to enlighten humans as to the benefits birds provide the earth and its ecosystems.
AQUARIUS PLANS FOUR MAJOR TOURNAMENTS
The Aquarius Casino Resort has four big tournaments on the drawing boards from August through December for a total of more than $100,000 on the line. Note all prizes are paid in cash or promotional chips.
The first is the $30,000 3 Card Poker Tournament on the weekend of Aug. 2 and 3. To enter this tournament, players need to get a flush or higher on a live game.
The next event will a $15,000 Blackjack Tournament where all ace | PLAY™ members get one free entry. This tournament will be held on Saturday, Sept. 13.
More money is on the line Nov. 1 and 2 with the $30,000 Crazy 4 Poker Tournament. To enter, players need to get a flush or higher on a live game.
The last challenge will be Dec. 13 and 14 with a $30,000 Let it Ride Tournament. To enter, players need to get a flush or higher on a live game.
WEDDINGS IN LAUGHLIN
There are many places to say "I do" in Laughlin from in a chapel or outdoors to on a steamboat or in a banquet room. Plus you can select a theme and plan a wedding to suit any budget. For the special day, the Riverside features its own decorated wedding chapel with seating for up to 24 guests. Private banquet rooms can accommodate small and large weddings and receptions. The U.S.S. Riverside luxury tour boat can accommodate weddings up to 119 people.
SOME FAST NEWS
There will be Memorial Day Fireworks in the sky above the Colorado River at the Avi on Sunday, May 25 at dusk.
Tom & Sharon's Dance Party at The Dance Club inside the Riverside will take place again on May 17 and 31 from 1:30 - 4 p.m. Dances go from swing and country to ballroom and Latin. There is an admission fee. For information, call 928-444-4067.
Aquarius team members collected a record breaking $5,265 in support of the recent fifth annual We Care Cancer Support Duck Race fundraiser held at Community Park in Bullhead City. Funds were raised two ways by either "adopting" ducks to float down the river donating $5 and wearing the "Casual for a Cause" T-shirt for the day. Overall, Aquarius team members raised $3,115 through duck sales and $2,150 through casual dress days.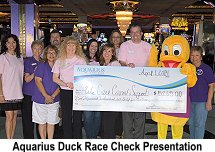 LAUGHLIN OFFERS LAND, WATER AND AIR TOURS
There are a number of ways to enjoy the desert beauty and the wide open area surrounding Laughlin.
By land, an option is Dirt Road Tours in two-passenger Polaris RZR 900 UTVs. There are three tour destinations in nearby Arizona mountains: near Mount Nutt Wilderness Area into Secret Pass Wash; Thumb Butte area; and Black Mountain area near Union Pass. All tours are three to four hours and lead by an experienced guide. Tours include transportation from Laughlin casinos Aquarius, Pioneer, Colorado Belle and Edgewater. For information, call 702-420-3808.
Air tours conducted by Sheble Aviation give a bird's-eye view of the local area via airplane and glider tours. Sites include aerial views of petroglyphs, Lake Mohave, the Black Mountains and the river. Tours are 20-minute and 40-minute rides for single or two passengers. For information, call 928-768-3176.
Capt'n Doyle's Fun Fishing Guide Service and River Excursions offers six-hour guided fishing trips. The tours of Topock Gorge are in a small six-passenger cruiser boat. For information, call 1-866-284-3262 or 928-768-2667.
A day-trip to Lake Havasu City and the famous London Bridge can be accomplished on the London Bridge Jet Boat tour. The round-trip, six-hour jet boat excursion from Laughlin includes a two-hour layover at the London Bridge. Boats are enclosed during colder weather. Tours depart from the Pioneer, Edgewater and Harrah's. For information, call 1-866-505-3545 or 702-298-5494.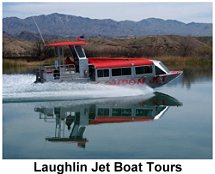 Two companies offer canoe and kayak trips. Desert River Kayaks offers self-guided kayak trips on the Colorado River and area lakes. For information, call 928-754-5320 or 1-888-KAYAK 33. Jerkwater Canoe & Kayak also has self-guided canoe trips of Topock Gorge and other areas of the Colorado River. For information, call 1-800-421-7803.

Believe it or not, there is scuba diving in the area. Lake Mohave Scuba features guided services for scuba divers of local dive areas focusing on Lake Mohave and Willow Beach area below Hoover Dam. For information, call 928-758-3483.

CONTINUE ON TO...:

THIS WEEK'S >LAS VEGAS NEWS
LAST WEEK'S >LAUGHLIN NEWS
>VEGAS VIEW FULL ARCHIVES
Return to >"Heard Around Town"
Return to >Las Vegas Leisure Guide