AEG AND MGM BREAK GROUND ON NEW LAS VEGAS ARENA!

Las Vegas Arena Company, owned by AEG and MGM Resorts International (NYSE: MGM), broke ground on a world-class, privately funded, $375 million indoor arena set to open in spring 2016. Located west of the Las Vegas Strip, between New York-New York and Monte Carlo resorts, the new 20,000-seat arena will host boxing , UFC and other sporting events, major headline entertainment, awards shows and special events. WBC Welterweight World Champion Floyd Mayweather was at the groundbreaking.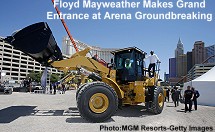 Expected to host more than 100 events annually, the arena designed by industry-leading architect Populous, will house multiple locker facilities, premium dressing rooms, complete broadcast facilities and a variety of staging innovations that will bring the biggest stars and most important events to Las Vegas' newest landmark. Designed to meet the U.S. Green Building Council's standards for LEED® Gold Certification, the arena will feature 50 luxury suites, more than two dozen private loge boxes and other specially designed exclusive hospitality offerings.
Column Continues Below Advertisement
DELANO OFFERS FIRST LOOK AT ELEVATED HOTEL EXPERIENCE
Delano Las Vegas, which is replacing THEhotel, will come to life at Mandalay Bay later this year and is now accepting room reservations starting Sept. 1. The sophisticated non-smoking, all-suite boutique hotel will have 1,100 guest suites and dramatic public spaces. The Grand Arrival will have a striking walkway featuring colors and textures inspired by the layered landscape of the Mojave Desert. Entering through an oversized etched wooden doorway, guests will see an inviting pathway of stone surrounded by towering columns enveloped in Delano's iconic white sheers and statement mirrors. At the end of the corridor, a stunning piece of artwork comprised of small rocks suspended from the ceiling with a sculpted opening will reveal a glimpse of what lies beyond. A sleek black reception desk highlighted by a golden patchwork art piece overhead will welcome guests.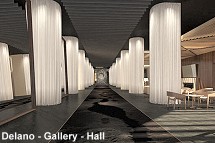 Situated just off the main lobby, 3940 Coffee + Tea will provide guests with a space to meet and mingle from day to night. Located steps from the lobby, a new culinary destination yet to be named will create an essence of "historic farmhouse meets urban kitchen." An eclectic lounge with a sophisticated vibe, Franklin will feature nightly entertainment including special live performances and sounds from up-and-coming DJs in an intimate environment perfect for socializing. The lounge will incorporate gold lighting accents, deep shades of blue and bronze hues with navy sheers that drape from the ceiling and sparkle with glistening lights to create the illusion of fireflies in the evening sky.
Situated on the 64th floor, Delano will boast extraordinary views of the Strip. Rivea will serve French and Italian cuisine from internationally celebrated chef Alain Ducasse. The adjacent lounge also with panoramic views has indoor nooks and an expansive outdoor patio. This space is currently miX.
CHEF DE LAURENTIIS REVEALS ELEMENTS OF GIADA AT THE CROMWELL
Emmy Award-winning celebrity chef and New York Times best-selling author Giada de Laurentiis will open her first-ever restaurant just in time for summer at The Cromwell, the first stand-alone boutique resort on the Strip, and is sparing no detail. From the food to the dishware to the view, every item in GIADA's has been carefully curated to bring to life the De Laurentiis vision.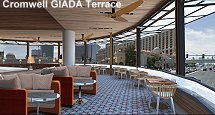 Located on the second floor of The Cromwell, De Laurentiis believes it is imperative to make sure the interior is as dynamic as the scenery. Incorporating elements from her travels around the world and hand-selecting each item; there was no detail too small to be considered. The first feature guests will experience as they enter the bar/lounge space is a custom antipasti bar that encompasses separate pizza and bread ovens and a pasta stand where chefs will be rolling homemade pasta.
De Laurentiis loves gold and rose gold so guests will be greeted by a hand blown, rose gold tinted chandelier, which not only lights the room but serves as an art piece. Rose gold can also be seen in the hand-selected dishware and lining the custom-made dessert cart. GIADA will feature framed family portraits and a selection of movie posters from De Laurentiis' grandfather, Dino De Laurentiis' career.
SLOTZILLA AT FREMONT STREET EXPERIENCE PARTIALLY OPENS
Unique zipline SlotZilla built over the past 14 months at a cost of $12 million is opening in two phases downtown with the lower Zipline now open and the upper Zoomline opening later this spring. The attraction features two thrill levels, a lower Zipline and an upper Zoomline. Flyers on the Zipline take off from the lower tier of the tower, 77 ft. high and zip in a traditional seated-harness position on an 850 ft. flight – half the length of Fremont Street Experience. Flyers on the Zoomline will be launched from 114 ft. high and zoom in a horizontal position 1,700 ft. across the entire length of Fremont Street Experience.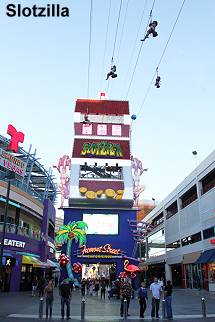 ROYAL INDIA BISTRO OPENS AT THE RIO
Royal India Bistro shakes it up with the newly-designed restaurant inside the Rio. Formerly known as the celebrated Gaylord India Restaurant, the restaurant features bold culinary offerings of authentic North Indian cuisine.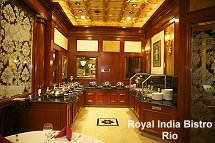 FREMONT EAST DISTRICT LAUNCHES WEDNESDAYS DOWNTOWN
Wednesdays Downtown will debut in the Fremont East Entertainment District on May 7. The weekly event will bring local businesses together to transform the area into a festive block party featuring a Food Truck Village, Painters Lounge, the "World's Greatest Happy Hour" and more from 6 p.m. to midnight. The inaugural spring series will be held every Wednesday through May 28.
The Food Truck Village will be located directly west of Park on Fremont. Each week the village will feature a celebrity chef food truck. Chef Nina Manchev of Forte European Tapas Bar and Bistro will headline on May 7. At 9 p.m. will be the Downtown Dirty Bar Fight hosted by the Modern Mixologist Tony Abou-Ganim. Bartenders will compete by creating delicious beverages from minimal ingredients under the gun.
The Painters Lounge, located at Fremont Street and 6th Street, will be a guided painting class for participants of all skill levels. The class will inspire creativity and all aspiring artists will go home with a unique masterpiece. The class is $30 per person with two sessions offered 7 to 8:30 p.m. and 9:30 to 11 p.m. For reservations, visit http://www.iloveintuition.com/painters-lounge or call 702-527-4166.
DAPPER FACTORY - FIRST GARMENT MANUFACTURING COMPANY OPENS
A ribbon cutting is being held May 8 for the new Dapper Factory, the first and only garment manufacturing company in Las Vegas offering custom tailoring, bridal wear, sportswear, formal wear, swimwear, uniforms, leather and "cut & sew" by boutique local fashion designers. Dapper Factory will feature a showroom storefront for local designers to showcase and sell an exclusive selection of locally-made fashion. All designers subscribe to the Vegas Fashion Project (VFP), which is a local organization comprised of both emerging and established designers who deliver limited quantities that are manufactured in the USA. The mission is to create an opportunity for Las Vegas designers to display their fashion lines including sportswear, casuals, formals and fashion accessories to local, national, and international buyers.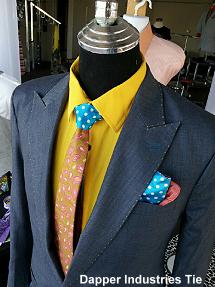 'LEGENDS IN CONCERT' CELEBRATES 31 YEARS
"Legends in Concert," the pioneer of live tribute shows, celebrates a phenomenal 31 years in Las Vegas on Monday, May 5 with the debut of a new performance schedule at the Flamingo. The new schedule is Sunday and Monday at 7:30 p.m. and 9:30 p.m., Tuesday at 9:30 p.m. and Wednesday, Thursday and Saturday at 4 p.m. and 9:30 p.m.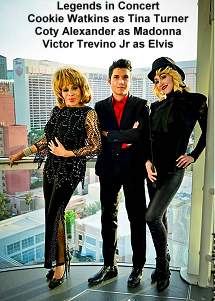 The show features an ever-changing all-star cast. The current lineup presents entertainment icons Tina Turner, Elvis Presley, Marilyn Monroe, Michael Jackson and Shania Twain, accompanied by a supporting cast of singers, dancers and musicians.
SUPER SUMMER THEATRE 39TH SEASON REVEALS SHOW LINEUP
The outdoor season will open with a "Tribute to the Tony Awards" May 16-17. Monty Python's "Spamalot" will run June 11-28, followed by "A Funny Thing Happened on the Way to the Forum" July 9-26, "Shrek the Musical" Aug. 6-23, and "Arsenic and Old Lace" Sept. 4-20. Regular season show tickets are available in advance for $12.95, visit www.supersummertheatre.org.
TOP OF NEXT COLUMN
POPERAZZI PERFORM BENEFIT SHOW AT SANTE FE
Seasoned Las Vegas performers Janien Valentine, George Demott and Cody Shawn Gay known collectively as Poperazzi return from worldwide performances to entertain locals at Sante Fe for a one-time charity performance to benefit The Gateway Foundation on Saturday, May 10 at 7 p.m. Tickets are $15 at the Sante Fe Box Office.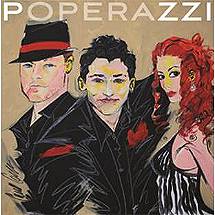 The three members of Poperazzi combine classical and popular music. They have performed in premiere opera houses worldwide, aboard award-winning luxury cruise ships, and in top shows on the Las Vegas Strip.
The Gateway Foundation has transformed previously tagged buildings into canvases for murals created by local artists. This continuing art collection began as a solution to the problem of tagging in the Las Vegas area and the positive results are evident in the form of neighborhood beautification and pride.
PETER PAVONE ENTERTAINS IN THE PARLOUR AT EL CORTEZ
Peter Pavone is now performing at the El Cortez in The Parlour Bar stage as Frank Sinatra every Wednesday from 8 p.m. to midnight and Thursday from 6 to 10 p.m. He recently returned from a six-week engagement in Kyoto, Japan. He sold his CD "Cool Hot & Swingin' that was released in 2008. His latest release "Sinatra Style" is available on iTunes.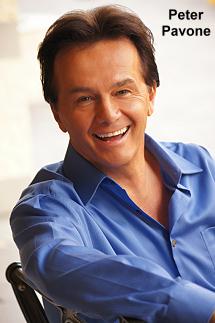 Pavone moved to Las Vegas on Memorial Day Weekend in 2011 to play three shows at the Rampart that were sold-out. He decided to make Las Vegas his home base for performing. He's only been performing at Sinatra for three years. In 2011 and 2012, he performed in all of the Rat Pack shows in Las Vegas, now he's producing his own shows.
NEW BANNERS HIGHLIGHT CULTURAL CORRIDOR
New banners in the Cultural Corridor are part of the Downtown Dynamos cleanup. The banners strengthen the corridor's identity. The banner design depicts a section of the colorful pedestrian bridge, "Vegas Arabesque," that was designed by artist David Griggs. The LED-lit public art bridge traverses Las Vegas Boulevard, connecting the Natural History Museum and the Las Vegas Library, and has become an iconic image for the Cultural Corridor since its completion in June 2011.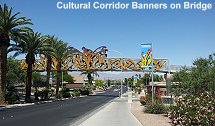 The banners begin at the corner of Las Vegas Boulevard and Washington Avenue. Continuing along the "Cultural Corridor Trail," the banners are displayed south along Las Vegas Boulevard to Bonanza Road and along Bonanza as the trail travels west to Casino Center and then north to Stewart Avenue, ending near the Mob Museum. The Cultural Corridor extends for 12 city blocks along the urban trail that leads to the area cultural institutions.
VEGAS' AVALON LANDING MAKES FINAL ROUND OF HARD ROCK RISING
Hard Rock's Global Battle of the Bands Competition gives Las Vegas' own Avalon Landing the chance to take the stage in Rome. With more than 10,000 bands entered worldwide, 418,000 votes submitted and 750 bands competing in live battles at 70+ Hard Rock Cafes around the world, the results are in and Avalon Landing has made it to the final round. The grand prize is an all-expenses paid trip to Rome, Italy, to perform at the first Hard Rock Live Rome music festival this summer. Second and third prize winners will each receive new music equipment and gear valued at $10,000. Fans can vote on the Hard Rock Cafe Las Vegas Facebook or by visiting www.hardrock.com/LasVegas.
MERCADITO HOSPITALITY EXPANDS TO GREEN VALLEY RANCH
Following the expansion news to Las Vegas at Red Rock Resort, Chicago-based Mercadito Hospitality will make its way also to Station Casinos' sister luxury resort, Green Valley Ranch, with the Mercadito flagship restaurant and a Tippling Hall location, the group's second location of its newest beverage concept.
The menu for the family style meals blends traditional Mexican fare with creative interpretations of local and seasonal ingredients.
CELEBRITY ESTATE LIQUIDATORS HOLDS AUCTION
On Saturday, May 10 from 11 a.m. - 3 p.m. with a preview at 10 a.m., Celebrity Estate Liquidators will be holding an auction at 7770 S. Dean Martin Drive, #307. There is no minimum bid or reserve on most items. Featured jewelry items that will be up for sale include Rolex, Patek Phillipe, Cartier, Chanel, Prada, and Gucci. Along with these designer pieces, colored diamonds and silver, gold, and platinum items will be auctioned off. There will also be authenticated original art from well-known masters. There will be more than 1,000 items available for sale at the May 10 auction. In addition, anyone who purchases an item will receive a free Mother's Day gift.
BLUE MAN GROUP OFFERS BEHIND-THE-SCENES EXPERIENCE
Blue Man Group at Monte Carlo now offers an in-depth exploration of its award-winning show with the new all-inclusive Onstage Experience for $299. Hosted by cast and crew members, guests take a 90-minute onstage tour of the show's wild instruments and props. During the tour, patrons receive a one-of-a-kind music lesson on the show's signature PVC instruments; learn how to master Blue Man Group's famous marshmallow toss and much more. In addition, the package includes one Category A: Premium View ticket to any available performance, post show backstage experience with a private meet-and-greet, one complimentary drink inside the theater, one show T-shirt and one signature Blue Man Group luminescent souvenir.
MAXVEGAS ROLLS OUT EXCLUSIVE CLUB CRAWL PARTY EXPERIENCE
The most recent addition to the Las Vegas nightlife scene is MaxVegas, a new party bus that comes complete with a fully-stocked bar and plenty of room for dancing. The bus embarks on an all-night club crawl adventure every Thursday through Sunday, allowing partiers to skip long lines and high admission fees and receive VIP entry into the hottest spots on the Strip. Each night at 9 p.m., MaxVegas revelers convene at a predetermined location. The party bus goes until 3 a.m. making four stops throughout the course of a night, starting at PBR Rock Bar & Grill, followed by Rockhouse, and then heading down the Strip to two popular Las Vegas nightlife destinations, which could include LAVO, TAO, 1OAK, The Bank, PURE, HAZE, Chateau Nightclub & Rooftop, FIZZ and LAX. Cost is $49.99. For information, visit www.maxvegas.com.
NEW GAME SHOW ON HISTORY CHANNEL WILL FEATURE THE 'PAWN STARS'
A brand new game show airing on HISTORY this summer is searching for contestants to compete against the stars of the hit series "Pawn Stars" including Rick Harrison, Corey Harrison and Austin "Chumlee" Russell. Test your history and trivia knowledge for your chance to appear on the show and win cash and prizes. Auditions were held last Saturday, but you can still submit your profile at: https://docs.google.com/forms/d/1-37M_4ZIvXHtcVOzqZh bntphRyjR78luEBUbKYqCX6E/viewform.
YUMZ GOURMET FROZEN YOGURT® CELEBRATES GRAND OPENING
Yumz Gourmet Frozen Yogurt©, a self-serve frozen yogurt store with thousands of sweet combinations opened at 6135 S. Fort Apache Road, Suite 400. It's the company's first Western United States location. Its frozen yogurt is available in four forms: tart, regular, no sugar added, and sorbet. Each frozen yogurt variety is packed with live and active culture probiotics and rotating more than 55 flavors and more than 75 toppings on a regular basis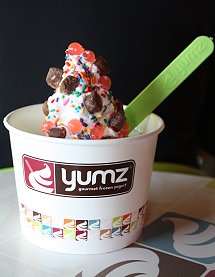 UGANDAN ORPHANS CHOIR PERFORM FREE CONCERT MAY 17
The public is invited to a free performance by the Ugandan Orphans Choir Saturday, May 17 from 3 to 4 p.m. at the West Las Vegas Library Theatre at 951 W. Lake Mead Blvd. The choir with five girls and five boys ages 9-12 is from the Ssese Islands in Uganda's Lake Victoria. The children sing, dance and play drums and other instruments. They will perform traditional African folk songs as well as contemporary Christian songs in English.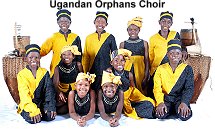 In addition, there is a free a meet-and-greet reception with Ugandan Orphans Choir members Friday, May 16, from 5:30 to 7:30 p.m. at the West Las Vegas Arts Center at 947 W. Lake Mead Blvd. Admission is free but RSVP by calling 702-229-4800.
JUNIOR LEAGUE PRESENTS 'ALIVE FROM THE SANDS COPA ROOM'
The Junior League's second event of the Sands Copa Connection Program Series "Alive from the Sands Copa Room" will be a three-part event with a lecture, concert and reception. The free lecture by historian Dr. Michael Green is Friday, May 9 at 5:30 p.m. in the Lowden Theater of the Performing Arts at Las Vegas Academy High School. The subject is "The Rat Pack and the Sands." At 7 p.m., a concert will follow with the Las Vegas Academy Jazz Bands with featured vocalist Marlena Shaw. Tickets are $8 at the door. A complimentary post-concert reception will be hosted by the Junior League at the Historic Morelli House at 861 East Bridger Avenue.
CHARITY GOLF EVENT
The Las Vegas Chapter of Speedway Children's Charities will host its 12th annual golf tournament, Drive for Charity Presented by Insomniac, on Monday, June 9 at TPC Las Vegas. Entry fee for a foursome is $800 and $200 for a single. To register, call 702- 632-8242 or email panderson@lvms.com.
Column Continues Below Advertisement
CONTINUE ON TO...:
THIS WEEK'S >LAUGHLIN NEWS
LAST WEEK'S >LAS VEGAS NEWS
>VEGAS VIEW FULL NEWS ARCHIVES
Return to >"Heard Around Town"
Return to >Las Vegas Leisure Guide