<!A-- Left Column -->

Boz Scaggs will take center stage at Harrah's Rio Vista Outdoor Amphitheatre on May 17. Tickets start at $30.
He was born William Royce Scaggs in Canton, Ohio, the son of a traveling salesman. The family eventually moved to Texas, where a schoolmate gave him the nickname "Bosley." Soon, he was just plain Boz.
After leaving school, Scaggs briefly joined the burgeoning rhythm and blues scene in London and sang in bands such as The Wigs and Mother Earth. He traveled to Sweden as a solo performer, and in 1965 recorded his solo debut album, Boz, which was not a commercial success. Scaggs also had a brief stint with the band The Other Side with fellow American Jack Downing and Brit Mac MacLeod.
Returning to the United States, Scaggs promptly headed for the booming psychedelic music center of San Francisco in 1967. Linking up with Steve Miller again, he appeared on the band's first two albums. After being spotted by Rolling Stone publisher Jann Wenner, Scaggs secured a solo contract with Atlantic Records in 1968.
In 1976, he linked up with session musicians who would later form Toto and recorded his smash album Silk Degrees. The album reached No. 2 on the U.S. charts and No. 1 in a number of countries across the world.
Scaggs continued to record and tour sporadically throughout the 1980s and 1990s. He has semi-retired from the music industry, and now owns the San Francisco nightclub, Slim's. He tours each summer, has a loyal cadre of fans, remains hugely popular in Japan, and released a DVD and a live CD in 2004.
The man whose name can't be said without mentioning his signature tune God Bless The USA will headline at the Tropicana Express in the Pavilion Showroom on May 24 at 8 p.m.
Few artists have ever written a song that has become more a part of America's cultural landscape than Lee Greenwood's God Bless the USA. If he'd never written or recorded another hit, Greenwood would have secured his place in music history with that powerful inspiring ballad.
God Bless the USA has been voted the most recognizable patriotic song in America, taking the top honor over God Bless America and the National Anthem, but it is only one of the many hits that have propelled Greenwood's successful career.
Along the way, he has won numerous accolades including two Male Vocalist of the Year awards from the Country Music Association and the CMA Song of the Year honor in 1985 for God Bless the USA.
Early on, Greenwood lived in Los Angeles and recorded for Paramount Records, but admits those were lean years. Tired of struggling, he opted for the bright lights of Las Vegas where he became a popular entertainer. Famed country music manager Larry McFaden discovered Greenwood and brought him to the attention of MCA Records Nashville where he teamed with acclaimed producer Jerry Crutchfield to record his groundbreaking country debut album, Inside Out.
After more than a dozen years of relentless touring, Greenwood made the decision to scale back and spend more time with his family. These days he's most excited about two new recording projects. He's currently finished an album of pop standards entitled Proven.

TOP OF NEXT COLUMN
The tribute band The Australian Bee Gees will perform at Don's Celebrity Theatre at the Riverside, May 20-25 at 8 p.m. This group has reproduced the "look" of the brothers Gibb, and become renowned for stunning audiences worldwide with their incredible voices and harmonies. Tickets are $25.
From their first shows in 1997, Stayin' Alive has played to capacity houses throughout the world, in Australia, South East Asia, The Middle East, New Zealand and South America the United Kingdom and Europe gathering the accolades they deserve as the world's leading Bee Gees tribute group.
The Aquarius will host a performance with country music superstar Trace Adkins on Saturday, May 10 at 8 p.m. in the Aquarius Outdoor Amphitheater. Ticket prices are $34.95 for general admission and $44.95 for premium seating.
Adkins is quite simply, country music's Alpha male. His instantly recognizable baritone voice has been cutting through airwaves and energizing concert hall speakers for well over a decade. Adkins' repertoire has been marked by both good-time anthems and soul-stirring slices of life lyrics. Adkins will wow concertgoers with smash hits including Ladies Love Country Boys, Rough and Ready, Honky-Tonk Badonkadonk and Every Light in the House among many more.
The Pointers Sisters, one of the greatest pop acts of all time, will perform on Saturday, May 17.
Tom & Sharon's Ballroom, Latin and Swing Dance Party will be held on May 17 and June 21 from 1:30 to 4:30 p.m. For details, call 928-754-2097.
The town-wide Laughlin Weekend of Wheels will be held, May 9-11. This will be a first-time event featuring cars galore with a Show 'n' Shine, various competitions, drawings, music and vendors on Friday and Saturday.
The "Total Combat Cage Fighting" - Mixed Martial Arts will take over Harrah's Rio Vista Outdoor Amphitheater on May 10 at 8 p.m. This will be a live, mixed martial arts cage fighting event and you must be 18 years or older to attend. Tickets start at $30.50.
The Riverside Resort Classic Auto Showrooms, located on both the street level and on the casino's third floor in the South Tower, feature more than 70 unique, classic and rare automobiles, trucks and motorcycles, as well as antique slot machines and vintage gaming tables. Admission is free.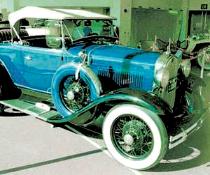 Laughlin's only working railroad "The Gambling Train of Laughlin," Old No. 7, is a replica of the Genoa turn-of-the-century steam train. Train enthusiasts also enjoy the train memorabilia displayed throughout the Tropicana Express. Old No. 7 offers free train rides around the 27-acre property.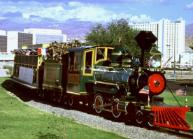 There's an interesting walking tour of the Gold Road Mine located 2.5 miles north of Oatman, Ariz. The 45-minute tour is guided and includes a history of the mine as well as mining in general. Visitors can actually see gold as it appears in the rock within the mine. There's also a small restaurant and gift shop. Call for tour information, 928-768-1600.
CONTINUE ON TO...:
>THIS WEEK'S LAS VEGAS NEWS
>LAST WEEK'S LAUGHLIN NEWS
>VEGAS VIEW FULL ARCHIVES
>Return to "Heard Around Town"
>Return to Las Vegas Leisure Guide