The Flamingo has announced that Donny and Marie Osmond will take over the Flamingo Showroom as headliners with a multi-year contract beginning Sept. 9. Presented by Danny Gans and Chip Lightman of GansLight Entertainment, the 90-minute extravaganza will highlight America's favorite siblings, Donny and Marie, with their greatest hits in a multimedia spectacle presented on a custom-designed stage with multiple video screens and a large cast of dancers. This will mark the first time in 29 years that they will have performed an extended residency engagement in Las Vegas. In addition, Marie doesn't classify Las Vegas as Sin City; she prefers to call it "Sincere City."
The "a little bit country, a little bit rock 'n' roll" duo took the country by storm with the debut of the Donny & Marie variety show in 1976, becoming the youngest primetime hosts in television history. After multiple solo successes, the pair teamed up once again in 1998, hosting the hit nationally syndicated daytime talk show Donny & Marie. On Mother's Day, they will be hosting America's Favorite Mom, an NBC primetime special.

Column Continues Below Advertisement


Tickets for their variety show are $85, $99, $115, and $250 for VIP packages, which includes a special after-show commemorative photo with the stars. For tickets, call 702-733-3333 or 800-221-7299.
From May 13 through June, Harrah's comedy headliner Rita Rudner is taking the world by storm with the launch of her newest book, the national airing of her PBS special, the launch of her first DVD, a new movie and her very first play.
Rudner's newest book titled, I Still Have It... I Just Can't Remember Where I Put It, published by Random House, will hit shelves May 13, and features a collection of comedic essays.
Coming in June, Rudner and her husband, Martin Bergman, will launch their first play, Room 776, at The Little Theatre in Las Vegas from June 13-29. The play is based on two strangers who are double-booked in a Las Vegas hotel room for the weekend and will be directed by Bergman. Tickets are on sale now, call 702-362-7996.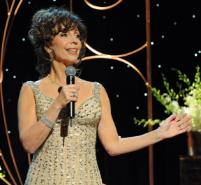 Also in June, Rudner will continue to make history with PBS when her stand-up special, Rita Rudner: Live From Las Vegas, that premiered locally in Las Vegas in March - a PBS first-ever comedy segment - airs nationally expanding Rudner's infamous humor and her unique take on Las Vegas coast-to-coast. Vegas PBS was thrilled with the response it received from the special - their pledge dollar per minute rate was $178 compared to their average of $34.
Rudner's first DVD - a DVD version of her PBS special - includes 25 minutes of extra concert footage plus a 30-minute bonus track of Rudner's Reports from Las Vegas. The DVD will hit stores June 24.
Rudner is also bringing her comedic talent to the big screen as she shoots the movie, HangingOutHookingUpFallingInLove, by Barra Grant. The romantic comedy began filming in Los Angeles in mid-April and has an ensemble cast featuring Richard E. Grant, Carrie-Anne Moss, Janeane Garofalo, Jenna Elfmann, Camryn Manheim, Caroline Aaron, Johnny Pacar... and Rudner.
Creator and co-producer Mark Lapidos and his wife Carol will host Beatles fans from across the universe for the second Las Vegas Fest for Beatles Fans at The Mirage, June 29 through July 1. The three-day festival from 2 p.m. to midnight in the Grand Ballroom complex will feature all things Beatles, including music, guest speakers, art, photo and fashion exhibits, contests and games, memorabilia and much more. Each night, The Fest will culminate with concerts from artists who performed with, worked with or were great friends of the Beatles. Advance tickets are $52 per day through June 13. For more details, visit www.thefest.com or call 1-866-THE-FEST.
The Fest for Beatles Fans first began in 1974 to commemorate the 10th anniversary of the Beatles arrival in the United States. Lapidos and his wife remain the driving force behind the festival, which takes place three times a year in New York, Chicago and Las Vegas.
Among this year's notables will be model / actress / photographer Pattie Boyd, who was married to George Harrison, followed by rock legend Eric Clapton. Legendary singer, songwriter and guitarist Donovan will make his first public Las Vegas performances on Monday and Tuesday, and will be speaking all three days about his friendship with the Beatles and his visit to India with them, of which 2008 marks the 40th anniversary.
Also performing will be Billy J. Kramer, who, along with his band The Dakotas, was also managed by Beatles manager Brian Epstein and had four big hits written by John Lennon and Paul McCartney.
Additional participants include Ringo Starr's former producer Mark Hudson and Ken Mansfield, former U.S. manager of Apple Records who recently released his memoirs The White Book: The Beatles, The Bands, The Biz- An Insider's Look at an Era. Nancy Lee Andrews is an accomplished photographer and former girlfriend of Starr. Jude Southerland Kessler will be showcasing her book Should Been There, an 800-page look about the life of Lennon from 1940 to 1961.
Additional highlights include the Giant International Beatles Marketplace; photography from Paul Saltzman who took photos of the Beatles in India and produced a corresponding book; Bruce Spizer, the leading expert on Beatles U.S. recordings; A Beatles museum and art contest; and a Battle of the Beatles Bands, sound-alike, trivia, art and "Name That Tune" contests, among other activities.
Hawaiian Tropic™, the global sun care brand, will mark the 25th Anniversary of its world-renowned Miss Hawaiian Tropic International Model Search, May 6-10, in Las Vegas.
This year's competition with models from across the globe will be themed Silver and Gold. Silver, representing the 25th year of the model search, and gold honoring the host hotel, the Golden Nugget downtown.
The best models in the world will vie for the title as well as a share of $25,000 in cash plus prizes awarded to the top 10. Additionally, there will be cash and prizes awarded by sponsors Earthcam, Yamaha, artist Bill Mack and Bennett productions for future modeling and appearance contracts worth tens of thousands of dollars.
The Miss Hawaiian Tropic International model contestants will have a week-long schedule of activities. The preliminary swimsuit contest will be held May 9 at 6 p.m. at The Tank, the Golden Nugget's spectacular pool and 200,000-gallon shark aquarium, and will be open to the public.
All of the week's events and activities lead up to the Miss Hawaiian Tropic International Final Model Search finals on May 10 at 8 p.m., which will be viewed live by thousands at the Fremont Street Experience's First Street Stage. The event will include a live performance by the multi-platinum and Grammy-nominated band Everclear, including songs from their newly released album The Vegas Years. The competition will be filmed and a one-hour show will be broadcast this summer.
Award-winning guitarist Jesse Cook will return to the Henderson Events Plaza, located at 200 S. Water Street, for a special performance on Friday, May 16 at 7 p.m. The event is free and open to the public. Toronto-based Cook performed at the Henderson Live! MusicFestival in 2006. Cook is touring the U.S. to promote his new 13-song album Frontiers, which centers on the discovery and evolution of music.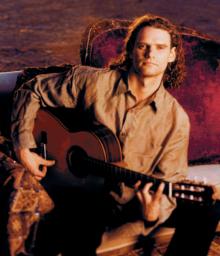 Now in his forties, Cook continues to sell out concert halls and major events like the Montreal Jazz Festival. He has collaborated and performed with some of the world's best musicians including B.B King and Ray Charles and has sold more than one million albums worldwide. In 2000, Cook won a Juno Award for his album Free Fall and was nominated this year for two Juno Awards.
For the second year at the JW Marriott, a weekend concert series is being staged in The Backyard, J.C. Wooloughan's outdoor arena. The series will begin May 16 and 17 at 9 p.m. until the wee hours. Joshua Tree, a renowned U2 cover band, will be putting on these concerts throughout scattered summer weekends: June 27-28; July 25-26; and Aug. 29-30, which will include a bonus celebration for J.C. Wooloughan's 9th anniversary.
Tickets are sold at the pub for $10 and include a complimentary pint of special brew. For information, call 702-869-7725.
Phoenix, a rock band that has been together since 2004 featuring Jimmy Crespo (former lead guitarist of Aerosmith), has kicked off Thursdays Live! at the Las Vegas Hilton. Phoenix concert performances in the Hilton Theatre are at 8 p.m. Tickets are $19.99, call 702-732-5755 or 1-800-222-5361.
The Las Vegas Hilton's new "Group Therapy Thursdays" in the Tempo Lounge from 5:30 - 9:30 p.m. is a concept that features live jazz by Nova, drink specials by Sex Vodka, cozy blackjack tables and drawings for cash and prizes for players. After 10 p.m., the music continues with Def Tal DJ's.
The newest musical to hit the Strip, Jersey Boys, celebrated its opening night on May 3 with a star-studded event at the Palazzo.
The Mega Bubble Show at the Steve Wyrick Theater in Miracle Mile Shops at Planet Hollywood has changed the show's name back to the original title, Gazillion Bubble Show and introduced a new show time schedule: Thursday-Sunday at 3 p.m.; plus Saturday at 11 a.m. and 1 p.m.; and Sunday at 1 p.m. The Gazillion Bubble Show was created by Fan Yang, 16-time Guinness World Record Holder.
AGO, the elegant Italian trattoria named after its celebrated executive chef partner, Agostino Sciandri, is upping the ante by offering guests "Ago After Dark," a new weekend happening that features live music by the consummate and talented entertainer, Jeremy Cornwell, as well as an open bar and complimentary hors d'oeuvres. "Ago After Dark" from 10 p.m. - 1 a.m. is every Friday and Saturday night. For information, call 702-693-5000.
MAMMA MIA! has marked another milestone as the longest-running Broadway musical on the Strip by celebrating its 2,000 successful performances on May 4 at the Mandalay Bay Theatre. Slated to run through January 2009, MAMMA MIA! recently marked five record-breaking years in Las Vegas. Since the show premiered in February 2003, it has used 600 yards of spandex and more than 150,000 sequins to create costumes for The Dynamos.
Tickets are on sale for the new touring stage version of the phenomenally popular Disney's High School Musical. Performances will run June 4-8 at the Theatre for the Performing Arts at Planet Hollywood.
The annual Louis Prima Award ceremony and luncheon is taking place on Sunday, May 4 at the Suncoast in the Madrid Room. This year's 2008 honorary is outstanding entertainer and local favorite Clint Holmes. Lena Prima, the daughter of Louis Prima, will present the award.
The glass-enclosed, floor-to-ceiling chocolate fountain at Jean Philippe Pâtisserie in the Bellagio displays a wonderful series of melted chocolate cascades. This free-standing spectacle is approximately 27-feet tall and circulates nearly two tons of melted dark, milk and white chocolate at a rate of 120 quarts per minute. Official measurements have been taken to try and establish a Guinness World Record for the World's Tallest Chocolate Fountain.
The Company American Bistro at the Luxor has announced new happy hour specials inside the lounge, Monday - Friday from 4 p.m. - 6 p.m. Guests can sip on one of Company's signature cocktails for half-off, as well as receive 20 percent off the bar menu.
Hogs & Heifers Saloon downtown will be hitting the road with the third annual Hog Wild for Kids, a charity motorcycle ride and event being held Sunday, May 18. After breakfast at 10:30 a.m., participants will cruise the scenic back roads through Red Rock and visit The Mountain Springs Saloon for a rest stop and group photo before returning to Hogs & Heifers. Registration fees are $20 per rider and $10 per passenger due at check-in and include the after party and $5 for non-ride participants.
Harrah's is giving the gift of theater this Mother's Day. For performances through May 11, guests may get a free ticket to HATS! with the purchase of a regularly priced ticket. The 75-minute musical is inspired by the fun-loving lifestyle encouraged by the Red Hat Society, and celebrates the journey of womanhood. Tickets for HATS! are $49.95, call 702-369-5111.
The PGA Tour's 26th annual Las Vegas event, the Justin Timberlake Shriners Hospitals for Children Open is taking place Oct. 13 - 19, at TPC Summerlin. The event is expected to draw some of the top names on the PGA TOUR and will offer a $4.1 million purse with the winner taking home $738,000.
The tournament is looking for volunteers to donate their time to make the 2008 event a success. There is a $40 volunteer uniform fee that covers the cost of the volunteer's official Tournament hat, golf shirt and jacket. Each volunteer will receive complimentary lunch on the days they work, a week-long tournament badge and two tickets to the volunteer kickoff party. Combined with the volunteer uniform, this package has a retail value of more than $200. For information, contact Mike Zampini at 702-873-1010.
Justin Timberlake is a singer-songwriter, record producer and actor. He came to fame as a member of *NSYNC and has won six Grammy Awards as well as an Emmy Award. In 2002, he released his debut solo album, Justified, which sold more than seven million copies worldwide. He will appear in the upcoming film The Love Guru, co-starring Mike Myers and Jessica Alba, due out in theatres June 20.
The Hofbräuhaus, America's only authorized replica of the original Hofbräuhaus in Munich, is establishing a spring tradition with its annual unveiling of its prized Maibock brew.
For the fourth year in a row, Maibock, one of Munich's oldest beers, has been brought back to Las Vegas for a limited time into early June. Maibock is one of the originals in the family of Bock beers and was originally created in 1614 by Hofbräuhaus Brew Master, Elias Pichler. The beer was produced in response to the public's call for a newer, stronger beer.
CONTINUE ON TO...:
>THIS WEEK'S LAUGHLIN SEGMENT
>LAST WEEK'S LAS VEGAS SEGMENT
>VEGAS VIEW FULL ARCHIVES
>Return to "Heard Around Town"
>Return to Las Vegas Leisure Guide