PAUL RODRIGUEZ HEADLINES AT THE TROPICANA EXPRESS
Actor and comedian Paul Rodriguez will headline at The Pavilion Theater at the Tropicana Express on May 8 at 8 p.m. Tickets are $29 and $38, call 800-431-193 or 800-243-6846.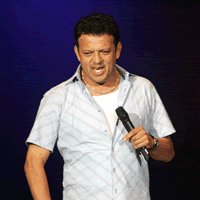 Rodriguez's career includes starring roles and featured appearances in more than 40 films and countless television series and comedy specials. Several of his hit projects include: the comedy concert film "The Original Latin Kings of Comedy," which he executive-produced and starred in along with Cheech Marin, George Lopez and Carlos Mencia; "A Million to Juan," a comedy he wrote, directed and starred in; and six comedy specials for HBO including "Loco Slam, Live in San Quentin" and "Idiots and Armadillos," which he also executive produced.
Rodriguez's latest stand-up concert DVD "Comedy Rehab" was released nationwide in February 2010. As executive producer, Rodriguez once again introduces America to some of the hottest comedians in Latino comedy.
Most recently, Rodriguez is starring in the upcoming summer movie "Cats & Dogs: The Revenge of Kitty Galore," with Chris O'Donnell and can also be seen in the upcoming independent films "The Deported" and "I'm Not Like That No More" with comedian Felipe Esparza.
PAM TILLIS AND LORRIE MORGAN TEAM UP AT THE AQUARIUS
On Saturday, May 22, Pam Tillis and Lorrie Morgan will appear together at the Outdoor Amphitheater at the Aquarius. Tickets for the 8 p.m. show are $24.05 and $34.95, call 800-435-8469.
Together their careers include numerous Top Ten hits and multiple Female Vocalist of the Year awards. Lorrie Morgan's string of hits includes timeless country standards like "Something in Red" and "What Part of No." Pam Tillis' greatest hits include "All The Good Ones Are Gone," "Maybe It Was Memphis," and many more.
THE EDGEWATER PROVIDES LAUGHS WITH 'COMEDY ON THE EDGE'
The Edgewater is continuing with ongoing "Comedy on the Edge" in Kokopelli's Showroom every Friday, Saturday and Sunday at 7 p.m. Upcoming acts are: May 7-9—Warren B. Hall and Patrick Bucher; May 14-16—Joe Giovanni and Jennifer Murphy; May 21-23—Howard G. and Keith Lenart; and May 28-30—Bob Jay and Jeremy Greenberg. Tickets are $10 at the Edgewater Casino Cage or the door.
Warren B. Hall is a veteran of the syndicated radio "Bob & Tom Show" and commercials. Hall has also opened for comedy superstars Tommy Davidson, Lewis Black and Brett Butler in venues across America. He has four overseas tours to his credit, entertaining troops stationed in Iraq, Kuwait and Afghanistan.
TOP OF NEXT COLUMN
EARTH, WIND & FIRE PERFORM AT HARRAH's AMPHITHEATER
Earth, Wind & Fire will headline at the Rio Vista Outdoor Amphitheater at Harrah's on Saturday, May 15. Tickets are $50, $60, $70 and $80, call 800-447-8700.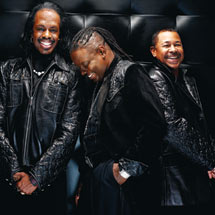 One of music's most celebrated groups, Earth, Wind & Fire has entertained fans since the early 70s. The band has released 30 albums filled with hits such as "Let's Groove Tonight," "Serpentine Fire," "Boogie Wonderland," 'Got To Get You Into My Life," "That's the Way of the World," and "September." In 2008, the band's hit "Shining Star" was inducted into the

Grammy Hall of Fame. In the summer of 2009, the band reunited for a 30-city tour with Chicago. This year, Earth, Wind & Fire members were nominated for the Songwriters Hall of Fame.

QUICK CLIPS

The special event "Rock 'n' Ribs" will take place May 28-30 on the Riverwalk between the Colorado Belle and Edgewater with music, food, carnival games, and ribs in all styles as featured food. Hours will be Friday 2-9 p.m., and Saturday –Sunday from noon-9 p.m. Admission will be free with food and drink sold separately.

For Sunday, July 4, the town will once again feature "Rockets Over the River" – the annual 4th of July fireworks display after dusk in the sky above casino row.

River Jetz Tours, which offers land and water excursions, is now offering ticketing and boarding services at the Avi. The other two locations are the Golden Nugget and Aquarius.

On May 30, the Avi will hold a Memorial Day weekend fireworks display above the beach area just after dusk. The free event is produced by fireworks experts the Zambellis.

Tom & Sharon's Ballroom, Dance Party will take place at the Riverside on Saturdays, May 8, 22, and June 12, 26 from 1:30 – 4 p.m. Admission is free. For details on parties or dance classes, call Tom and Sharon Craddock, 928-754-2097

RIVERSIDE GOES SEXY WITH 'AMERICAN STORM'

The male dance revue "American Storm" will appear in Don's Celebrity Theatre at the Riverside, May 12-13. Tickets for the 8 p.m. show are $25, call 800-227-3849, ext 616.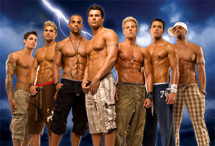 "American Storm" was named "Best Male Strip Show 2008" by the "Las Vegas Review Journal." The show is fully costumed and choreographed with hard-bodied performers acting out every woman's fantasy from a lonely cowboy to proud men in uniform. Most of the cast orgianted as the winners of VH1's "StripSearch" reality show, and have been featured
CONTINUE ON TO...:
>THIS WEEK'S LAS VEGAS NEWS
>LAST WEEK'S LAUGHLIN NEWS
>VEGAS VIEW FULL ARCHIVES
>Return to "Heard Around Town"
>Return to Las Vegas Leisure Guide