ASTON HOTELS & RESORTS BUYS MONTELAGO VILLAGE RESORT
The new owner of the MonteLago Village Resort at Lake Las Vegas in Henderson is Aston Hotels & Resorts. The resort is the Hawaii-based hotelier's first property in Nevada, adding to its collection of more than 27 hotels and condominium resorts located in Hawaii, South Lake Tahoe, California and Sun Valley, Idaho. The property is being renamed Aston MonteLago Village Resort.
Column Continues Below Advertisement
'DAO – THE ASIAN CELEBRATION' WILL OPEN AT THE RIVIERA
Direct from China, "DAO - The Asian Celebration" will open at the Riviera in the Mardi Gras Theater on May 12 and highlight acrobatics, dance and martial arts along with costumes, stage design and music. The show will run Wednesday through Monday at 8 p.m. and tickets are $39.99, $59.99 and $69.99, call 877-892-7469.
Artistic Director, Hou Chunyan left his home of Wu Qiao, People's Republic of China to tour and perform in numerous productions including the premier of Disney Studio's animated film classic "Mulan," the United Nations Peace Summit and several shows in Las Vegas.
M RESORT's DAYDREAM POOL CLUB IS OPEN
Angel Management Group is operating the 12,000-square-foot DayDream Pool Club at the M Resort Friday-Monday from 11 a.m. to 7 p.m. and Saturday from 9 p.m. to 3 a.m. Among Angel Management Group's clients are Wet Republic, Tabu and Studio 54 at MGM Grand, Vanity Nightclub at Hard Rock, and Rok Vegas at New York-New York.
ARSHIEL CALATRAVA MAKES VEGAS DEBUT WITH SOCIETY OF SEVEN
Society of Seven at the Gold Coast will be introducing 15-year-old Arshiel Calatrava from Hawaii in their May 7, 8 and 9 shows. Calatrava will sing medleys popularized by Celine Dion, Mariah Carey and Whitney Houston. "American Idol" star Jasmine Trias is off May 7-9 due to a prior engagement.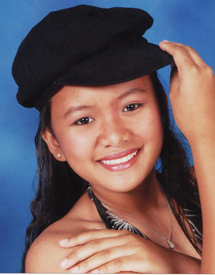 Calatrava, who began singing at age 4, performed alongside the legendary Don Ho twice a week at the Beachcomber Hotel in Waikiki. In November 2008, Calatrava's video was picked for a cameo slot on Oprah Winfrey's "Most Talented Kids." At the celebration of Hawaii's 50th Statehood in August 2009, she delivered a powerful rendition of the "Star Spangled Banner,"
In addition, the show will be dark May 14-16 and Society of Seven's last show at the Gold Coast will be May 30.
PIAZZA COLORI WILL AGAIN BE PART OF ARTFESTTM OF HENDERSON
Piazza Colori will return to the annual ArtFest of Henderson for the second year, May 8-9 at the Henderson Events Plaza, 200 S. Water Street, from 10 a.m.-5 p.m. More than 80 local amateur and professional artists will create chalk art masterpieces during the two-day event and compete for cash prizes in three categories: Best Professional, Best Amateur and People's Choice decided by the public. Spectator admission is free.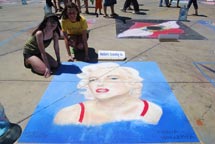 Piazza Colori organized by the Green Valley Rotary Club is the group's version of an Italian street painting festival. The temporary public art display will cover the entire Henderson Events Plaza.
Donovan Fitzgerald will participate this year as a featured artist. He began creating chalk art four years ago and often recreates works produced by classical masters. Fitzgerald's work can be seen throughout the valley, adorning the walls of churches, schools and homes of Las Vegas' elite.
AMERICA PERFORMS AT THE CANNERY
Folk-rock band America will perform at the Cannery in North Las Vegas on Saturday, May 15 at 8 p.m. America has enjoyed nearly four decades of success. Tickets range from $14.95 up to $79.95, call 702-507-5757.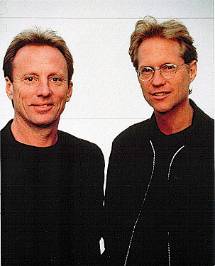 America's debut self-titled album was initially released without the track "A Horse With No Name" and only enjoyed mild success. When the band re-released the album adding the single, they quickly became a household name. The group struck gold again with the release of another top 10 hit, "Ventura Highway" from their sophomore album "Homecoming" and earned a Grammy Award for Best New Artist in 1972.
PALMS HOSTS 2ND LOVE FESTIVAL OVER MEMORIAL DAY WEEKEND
The Palms and 9 Group will host the 2nd Love Festival on Memorial Day Weekend from Thursday, May 27 through Sunday, May 30. Tickets for the nighttime events at Rain Nightclub and Palms Pool & Bungalows allow access to both venues.
On May 27, ghostbar will host its monthly event Soundbar with resident DJs. Rain Nightclub will host the retro-inspired roller skating disco party Down and Derby. Entry is $5 in advance and $15 at the door. Quad skates will be available to rent for $5 or guests can bring their own roller skates. To RSVP, visit www.downandderby.org.
On Friday the day begins at noon with Ditch Friday, a poolside party with Hip-hop mastermind Rev Run, hip-hop musician DJ Ruckus and DJ Scotty Boy. Tickets start at $25. That evening, Rain Nightclub will present "Z-Trip's Revolution" featuring resident mix-master DJ Z-Trip and DJ Greg Lopez opening and closing. Outside at Palms Pool & Bungalows, will be a nighttime party at 10 p.m. Tickets start at $30.
On May 29, Billboard top-100 chart-topper Jason Derulo will host Skinny Dip poolside Derulo and perform a special musical set while DJ Zen Freeman works the turntables during a three-hour set. Doors open at 10 a.m. and tickets start at $25. That night, Rain Nightclub will hold its weekly Saturday production "Paul Oakenfold Presents: Perfecto Las Vegas – WHITE PARTY" with guests wearing stylish whites. Trance vocalist Jes Free will sing two songs with Oakenfold and two with DJ Markus Schulz. Nightclub music icon Louis Puig will perform the opening set. Outside at the pool will be DJ Danny Love and a three-hour set by Grammy-winning house DJ and producer David Morales. Venue opens at 10 p.m. and tickets start at $40.
On Sunday, the Palms Pool & Bungalows will present the official 2nd Annual Love Festival lineup, which includes performances by: Keith Evan, soulful electronic DJ Miguel Migs, progressive sound and electro-influenced DJ Franco Fabi and beat-mixed dance DJ Danny Tenaglia. Doors open at 10 a.m. and tickets start at $25.
At 9 p.m., the talent at Rain Nightclub will include: Jordan Stevens, DJ Reza, DJ Armin Van Buuren and one of the top ten DJs, Gareth Emery. Outside will be reality TV star and New Jersey's favorite DJ Pauly D spinning his mash-up. Tickets start at $50.
TOP OF NEXT COLUMN
LAS VEGAS HELLDORADO DAYS SCHEDULED DOWNTOWN, MAY 13-16
Las Vegas Helldorado Days featuring a rodeo, carnival, contests, parade and fireworks will be held downtown, May 13-16. Gates will open at 5 p.m. daily at the downtown rodeo grounds. Carnival admission is $3, or free with purchase of a rodeo ticket, which runs from $10 to $25 and can be purchased at the El Cortez, Plaza and Fitzgeralds downtown. The parade from 7-9 p.m. on Saturday, May 15, will be held on Fourth Street with fireworks following.
SMASH' MAGAZINE PRESENTS: ROCK THE BLOCK DOWNTOWN
Smash Magazine Presents: Rock The Block featuring A Day To Remember on Thursday, May 6, at 6 p.m. along with Silverstein, August Burns Red, Enter Shikari, and Go Radio. Tickets are $20 in advance, $23 day of show, call 800-734-3000. The event will take place downtown at the Fremont East Entertainment District.
Rising from the punk rock hotbed of Florida in 2003, the group A Day To Remember was formed. Their debut album on Indianola records sold 8,000 copies with little promotion and attracted the attention of Victory Records, who signed them in 2006. Their breakthrough album, "For Those Who Have Heart," in 2007 took A Day To Remember global.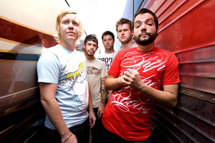 QUICK CLIPS
The city of Las Vegas will present the Global Light Objects (G.L.O) Festival as part of First Friday on May 7 from 6 to 10 p.m. in the downtown Arts District. This free event, a celebration of light, visual arts, music, performance and great company, will take place along with other regularly scheduled First Friday events. For more information, visit www.firstfriday-lasvegas.org/.
Loews Lake Las Vegas is offering Sushi & Sake Skool every fourth Saturday of every month at 3 p.m. Held in the Marssa restaurant, classes are taught by Master Sushi Chef of Loews Hotels, Chef Osamu "Fuji" Fujita. Cost is $50 for the two-hour, hands-on learning and tasting class, call 702-567-6000, ext. 51.
Reggae music icon and renowned rapper Sean Paul will host the season kickoff of Ditch Friday at the Palms Pool & Bungalows, a three-acre outdoor playground, with a special live performance on Friday, May 7, at 3 p.m. Ditch Friday is open from noon to 7 p.m. and admission is $25 per person, local ladies are free. Must be 21.
The Terra Verde Italian restaurant inside Green Valley Ranch in Henderson is offering Wined Up Fridays, a new wine and appetizer event. On the patio, patrons can sample "all-you-can-drink" featured wines while enjoying appetizers for only $20 every Friday evening from 5 to 7 p.m. Through May, Wined Up Fridays is featuring Italian and California wines by Ste. Michelle Winery.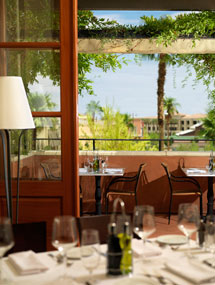 DC's top motocross athletes in town for the 2010 Monster Energy AMA Supercross finals will hold an autograph signing at the DC store located in the Miracle Mile Shops at Planet Hollywood on Thursday, May 6, from 5-6:30 p.m.
Amy Rubin's hit talk show "Amy's Heart After Dark" was recently launched with a red carpet blast at the Eleven Spa in Town Square. Relationship diva Rubin's show airs every Wednesday at 6 p.m. on XRadio (www.xradio.biz) and has already captured more than 1.2 million listeners worldwide. Rubin moved to Las Vegas four months ago and her Web site is www.amysheartafterdark.info.
Reminder – the popular off-Broadway production "Girl's Night: The Musical" will make its Las Vegas debut at the Hollywood Theatre inside MGM Grand for a limited engagement May 6 - 26. Show will be Thursday through Sunday at 7:30 p.m.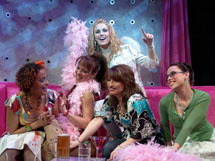 On Friday, May 7, Caesars Palace will host great chefs at Vegas Uncork'd Presented by "Bon Appétit," for the signature Grand Tasting event. More than 50 restaurants, 30 vintners and distillers from around the world will provide samplings poolside at the resort's all-new, five-acre Garden of the Gods. Tickets are $175 in advance or $195 at the door, visit www.harrahs.com/uncorkd.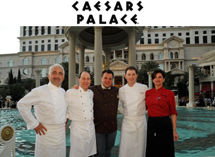 The semi-annual San Gennaro Feast held in honor of the Saint, San Gennaro, will take place May 5-9 at a new location, the Silverton parking lot located off I-15 at Blue Diamond Road. There's food, lots of it, entertainment, amusement rides, games and live entertainment.
The 5th Annual Hog Wild for Kids charity motorcycle ride will take place Sunday, May 16, from registration at 8 a.m. to the after ride party at Hogs & Heifers Saloon at 201 Nr. 3rd Street downtown. Registration is $20 per rider and $10 per passenger, which includes continental breakfast and the BBQ, call 702-676-1457 or visit www.hogsandheifers.com.
The "Fabulous Divas of Broadway" is coming to the Onyx Theatre, May 20-23, after a successful off-Broadway run at St. Luke's Theatre. The tongue-in-cheek show with notable costumes has star and creator Alan Palmer paying tribute to 32 theatrical divas. Tickets are $30.
The Stratosphere is hosting an all day-and-night, wet and wild Cinco de Mayo Fiesta on Wednesday, May 5 at the Level 8 Pool starting at 11 a.m. Cover is free.
Pete's Dueling Piano Bar will be celebrating Cinco de Mayo with drink specials and live entertainment from 8 p.m. to 2 a.m. Jose Cuervo tequila shots will be $3, margaritas $5, and beers such as Corona, Corona Light and Does Equis $3.
The 8th annual High Rollers MC Poker Run, sponsored by the Ultimate Fighting Championship (UFC) and Red Rock Harley-Davidson, will take place Sunday, June 6, at 10 a.m. The event will kick off at Red Rock Harley-Davidson, located at 2260 S. Rainbow Blvd., and conclude with a party at the Orleans pool. All proceeds from the event will benefit The Caring Place. Register online at www.HRMCLV.com. Cost is $25 per rider, $15 per passenger.
If you bring up to three pair of old jeans to Ensemble at Encore, Mojito's at Wynn or Rock & Republic at Encore through May 10, you can receive 20-percent off your purchase. This is an Earth Day promotion and the donated denim will be recycled into insulation to help rebuild communities in need.
The Swingin' Pedestrians, who bring the 1950s into the 21st century, appear live monthly on the following Wednesdays: May 26, June 23 and July 21, at the Freakin' Frog, 4700 S. Maryland Parkway, across from UNLV. This is a fun joint.
Column Continues Below Advertisement



CONTINUE ON TO...:
>THIS WEEK'S LAUGHLIN NEWS
>LAST WEEK'S LAS VEGAS NEWS
>VEGAS VIEWS FULL NEWS ARCHIVES
>Return to "Heard Around Town"
>Return to Las Vegas Leisure Guide