Country superstar Clint Black will take center stage at the Flamingo Outdoor Amphitheater on Saturday, May 20 at 8 p.m. Tickets are $30, $35, and $40, call 1-800-435-8469.
Black's first album went Triple Platinum and each successive release also became a million-seller. By the end of 1990, Black was headlining his own concert tour and collecting CMA, ACM, ASCAP, TNN and AMA honors by the shelf-full. That December, he played a triumphant hometown show in Houston at The Summit. Backstage he met Houston-bred actress Lisa Hartman, whom he wed.
In 1991, Black joined the cast of the Grand Ole Opry and began collaborating with country legends like Merle Haggard and Roy Rogers. In 1993, "Playboy" named his "Black and Wy" national tour with Wynonna its Concert of the Year. Their summer duet "A Bad Goodbye" became an omnipresent radio hit and paved the way for the back-to-back successes of "No Time to Kill" and "State of Mind."
"Billboard" magazine named Black the Most-Played Country Radio Artist of 1994. That was the year he staged his acting debut in TV's "Wings" and the movie "Maverick." "A Good Run of Bad Luck," performed for the "Maverick" soundtrack, became Black's first directing job on a music video. He made history with his next two by creating them as the first clips shot on large-format, 65mm film. He sang for a TV audience of 50 million at the National Memorial Day Celebration in Washington, then for a viewer-ship of one billion at Superbowl XXVIII. But instead of following the industry trend of bigger and more spectacular concerts, he stripped things down to an "Up Close" series of performances that put him in intimate theater settings for intensely personal two-hour showcases.
The Riverside is celebrating Cinco de Mayo with an all-new show, "Latino Celebration," in Don's Celebrity Theatre, May 2-7 at 8 p.m. "Latino Celebration" embraces everything Latino from Flamenco to Mexican Folkloric to Salsa with a production featuring 26 singers, dancers and musicians. Tickets are $30, call 1-800-227-3849, ext. 616.
Ines Zak has toured and recorded with artists such as Fascinante, Chao, Ulises and Luis Arcaraz. Remy Palacios is a young Latin performer who sings, dances, models and composes. He performed as a soloist in the production "Storm" at the Mandalay Bay in Las Vegas. Enrique Logo is a prolific performer on stage. He has choreographed production shows all over the world and appeared in movies, commercials and television shows.
Mariachi Jalba is a group of gentlemen who exemplify the tradition of Mexican music and have performed throughout the United States. Ballet Folklorico De Tepuchcalle is a Mexican culture group of Nevada headed my Jose Fajardo. His troupe ranges in ages from 20 to 30 years old.
On May 5 and 6, the afternoon will highlight Mariachis from 1:30 to 2:30 p.m. in the South Tower promotional area followed by John Encinio and the Full House Band performing Tex Mex music from 3-7 p.m. There's no charge to see this band presenting a unique blend of Mexican and Country music.
Vietnam Veteran and Kingman, Ariz., resident, Mike Hartley will share his poetry at the free American Veterans Program on Tuesday, May 2 at 7:30 a.m. in the Santa Fe Room at the Ramada Express. Hartley's poem "My Soldier Man, My G.I.," is a story of a little girl who lost her family when their village was destroyed. Hartley served with the 62nd Engineering Battalion in Fort Leonard Wood, Mo. In September, 1965 the battalion was sent to Vietnam.

TOP OF NEXT COLUMN
The Colorado Belle is marking the 300th anniversary of the year of Benjamin Franklin's birth with a promotion worth over $40,000. April 30 through May 25, the "It's All About the Benjamins" promotion is featuring drawings for cash, the Prize Patrol distributing cash and prizes, and providing a chance to earn T-shirts, appetizers, microbrews and more by earning One Club points.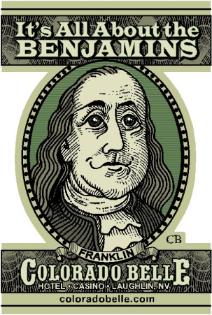 A total of $18,000 will be given away in three prize drawings held each night, Sunday through Thursday. "Three Benjamins" - $300 - will be given away in each of the 6 p.m. drawings.
The "It's All About the Benjamins" Prize Patrol promotion begins May 5. To participate, players earn tri-cornered hats similar to the hats America's patriots wore during the American Revolution (limit one hat per account), then wear them each Friday through Sunday in May while playing their favorite games with their One Club cards inserted in the machine card reader. Players at machines wearing tri-cornered hats will be eligible to receive a share of over $20,000 in cash and prizes from the Prize Patrol as it cruises the casino.
Other great prizes including promotion T-shirts with Benjamin Franklin quotes, free microbrews and free two-night stays will be given to players as they accumulate One Club points each day. There are a variety of ways to earn tickets from checking into the hotel to gambling.
Celebrate Cinco De Mayo at the Ramada Express and enjoy a three-day festival complete with a Mexican dinner, slot tournament, gift, and live band Friday-Sunday, May 5-7. The complete package is $20 per person, or $8.99 for the dinner only. The party starts at 5 p.m. each day outdoors in Victory Plaza. The music is free with the band Rumbaney performing Latin favorites for dancing from 5-9 p.m.
The Cinco de Mayo package includes two, 10-minute sessions in the $2,400 daily slot tournament. Play times are from 11 a.m. to 5 p.m. Friday, Saturday, and Sunday. The prize money is $500 for first place; $100 for second; $75 for third; and $25 each for 4th-72nd place. To enter, call VIP Services at 1-800-343-4533. As a welcome gift, you will receive a colorful Mexican blanket.
The Comedy Stop will open on May 1 at the Flamingo in the showroom and run through Sept. 3 featuring three stand-up comedians each night at 7:30 and 9:30 p.m. Tickets are $11.95 and $12.95.
Singer Johnny Lee, a member of the Texas Country Music Hall of Fame, will perform at the Avi Resort's River Garden Pavilion on May 12 at 7 p.m. Tickets are $12.
In 1968, Lee began a 10-year working relationship with Mickey Gilley, both on the road and in the nightclub in Pasadena, Texas. In 1979, Lee's first screen role was in a 1979 TV Movie, "The Girls in the Office," starring Barbara Eden and Susan St. James. He was then asked to perform in the film, "Urban Cowboy," which starred John Travolta and Deborah Winger, and for hich he also recorded several songs used in the soundtrack. "Lookin' For Love," from that same soundtrack, became Lee's first Gold Record.
CONTINUE ON TO...:
>THIS WEEK'S LAS VEGAS NEWS
>LAST WEEK'S LAUGHLIN NEWS
>VEGAS VIEWS FULL ARCHIVES
>Return to "Heard Around Town"
>Return to Las Vegas Leisure Guide