GEORGE LOPEZ PERFORMS AT RIVERSIDE AMPHITHEATER

Multii-talented George Lopez will perform at the Riverside Amphitheater at 8:30 p.m. on Saturday, May 12. Lopez's career encompasses television, film, stand-up comedy and late-night television. Lopez voiced the character "Rafael" in the animated blockbuster movie "Rio" and "Grouchy Smurf" in "The Smurfs" but his Riverside show is for adult audiences 18 years and older. "Time" magazine named him one of the 25 Most Influential Hispanics in America. Tickets start at $65.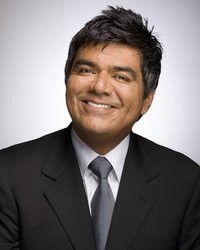 PAUL ANKA WILL APPEAR AT THE E CENTER
Singer, songwriter and actor Paul Anka will headline at The E Center at the Edgewater on May 12 at 8 p.m. In 1957, Anka rocketed to fame when he was 16-years-old as a teen idol with his number No. 1 hit "Diana." Over the next decade, he wrote many hit tunes including "You Are My Destiny," "Lonely Boy" and "Put Your Head on My Shoulder." He also wrote the Academy Award-nominated theme for the 1962 movie "The Longest Day" in which he also appeared, "The Tonight Show" theme song for Johnny Carson, and "She's A Lady" for Tom Jones. Hits kept coming especially "My Way," which he wrote for Frank Sinatra. Tickets range from $35 to $95.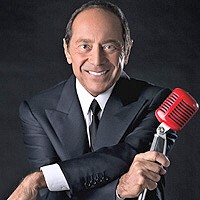 TONY BENNETT VISITS HARRAH's
Tony Bennett, now 85, will be performing at Harrah's Rio Vista Outdoor Amphitheater on Friday, May 4, and will be joined by his daughter Antonia Bennett as special guest. Bennett's identifiable voice has allowed him to be a major music force for six decades. His son Danny Bennett has created and produced "The Zen of Bennett," which is an insider's look at the icon as he records his latest duets collection and it will be shown at the Tribeca Film Festival. Tickets range from $41 to $76.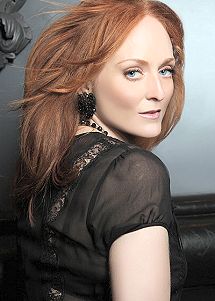 Bennett has won 17 Grammy Awards including a Lifetime Achievement Award presented in 2001, two Emmy Awards, been named an NEA Jazz Master and a Kennedy Center Honoree. He has sold more than 50 million records worldwide.
CINCO DE MAYO AT TROPICANA INLCUDES MALO AND EL CHICANO
On May 4 and 5, two bands Malo and El Chicano will perform at 8 p.m. for the Cinco de Mayo weekend party in The Pavilion Theater at the Tropicana. Tickets are $25.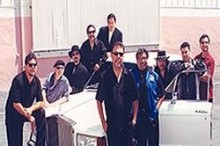 Malo is an enduring and energetic Latin rock band celebrating its 40th anniversary this year. Their 1972 hit single, "Suavecito" is a Hispanic love song that four decades later is still one of the most played oldies tracks on classic radio. They have performed all over the world and shared the stage with such groups as the Rolling Stones and Queen. Malo has at least 11 albums to their credit.
El Chicano's initial hit, "Viva Tirado," was a jazzy soul rock rendition of Gerald Wilson's original song about a bullfighter. The song did very well on Los Angeles radio and remained No. 1 for 13 straight weeks. Other notable tracks recorded by El Chicano are the funky "Tell Her She's Lovely" and a cover of Van Morrison's 1967 hit, "Brown Eyed Girl." El Chicano continues to be active with a combination of original and new members.
Over those same two days, the "Cinco de Mayo Car Show" will take place in the North Parking Lot at the Tropicana. The Show 'n' Shine trophies for "Classic Car," "Classic Low Rider," "Classic Muscle Car," and "American Made Motorcycle." will be awarded at noon on Saturday. There will be music by DJ Cholo both days. Cost is $25 to enter a car and free for viewing and there will be vendors.
AVI HOLDS PARROTHEAD GATHERING
The 9th annual "Phins to the West" Parrothead gathering with all things Jimmy Buffett on the schedule including bands, parties, giveaways, and more at the Avi's Beach Overlook, the Lagoon Pool and other venues will take place May 18-20. In the past years the event has attracted well over 500 people. Another event that has been planned again for this year is the Kayak Adventure down the Colorado River on Thursday and Friday.
MICHAEL JACKSON TRIBUTE GIVES REFLECTION AT HARRAH's
"Moonwalker: The Reflection of Michael," a tribute to Michael Jackson starring Michael Firestone, will take place in the Fiesta Showroom at Harrah's, May 15-20. Moonwalker takes the audience on a musical journey into Michael Jackson's genius. Tickets are $25, $30 and $35.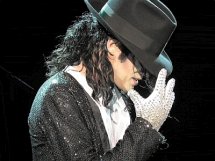 The show features Firestone who brings Jackson to life. He learned to imitate every move and vocal vibration of Jackson performing shows throughout his adolescence. Once Firestone became an adult, he moved to Las Vegas and began a career impersonating the "King of Pop." He has performed as a Michael Jackson tribute artist in live shows such as "MTV Magic" and "Around the World" in Asia, for "Legends in Concert" in Myrtle Beach, plus "La Cage" and "Masquerade" in Atlantic City. Firestone also did guest appearances on "Larry the Cable Guy's Christmas Spectacular" and the Asian variety show "The Bon Show."
TOP OF NEXT COLUMN
JOHNNY CASH TRIBUTE IS SET AT THE RIVERSIDE
The "Man In Black" show in Don's Celebrity Theatre at the Riverside will offer a retro look, sound and feel into the performance of American Icon Johnny Cash, May 9-13. The show features hits made famous with June Carter Cash and goes beyond the look of a younger Cash, to feature his music right up to his death in September of 2003. Shawn Barker is considered the pre-eminent Cash tribute artist with an uncanny resemblance to the younger star as well as being an accomplished musician and singer songwriter. Tickets are $33.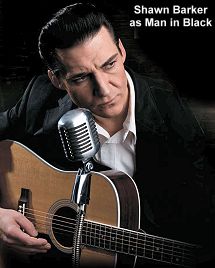 CASINOS WILL BE SHOWING MAYWEATHER VS. COTTO FIGHT
Floyd "Money" Mayweather, seven-time world champion and boxing superstar will be challenging three-division and WBA Super Welterweight World Champion Miguel Cotto in the main event of the May 5 fights.
In addition, Shane Mosley, the former Pound-For-Pound King and 3-Division Champion will challenge Mexico's biggest boxing star, Junior Middleweight titleholder Saul "Canelo" Alvarez in a spectacular Cinco de Mayo bout.
These championship fights will be shown throughout the Edgewater Casino, in the Colorado Belle's Pints Brewery & Sports Bar, and Aquarius Pavilion.
E CENTER LINES UP MIXED MARTIAL ARTS FIGHTS
The King of the Cage "Future Legends 6" live Mixed Martial Arts fights will be held on May 19 at the Edgewater's E Center. The 10-match fight card will feature Kurt Crum versus Ray Cooper III as the main event. Tickets start from $25. The fights start at 6 p.m. and you must be 16 or older to attend.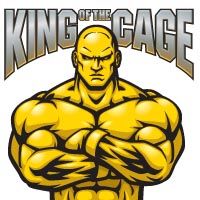 MOTHER's DAY DINING AT THE AQUARIUS
Aquarius chefs are pulling out all the stops for moms on May 13 and will highlight three different menus in several restaurants including a three-course fine dining option at Vineyard Ristorante, the endless selection at the buffet with mothers dining for half price, and the simplicity of dining at Cafe Aquarius.
EDGEWATER FOCUSES ON COMEDY
"Comedy on the Edge" at the Edgewater lines up two different stand-up comedians every Friday through Sunday to headline at 7 p.m. in the Inferno Nightclub/Edgewater Showroom. Comedians on the future lineup include: Bob Kubota and Keith Ellis May 4; Russ Rivas and Erik Clark May 5-6; Jimmy Della Valle and Corey Sweeney May 11; and Todd Johnson and Tim Smallwood May 12-13. Tickets are $10 at the Edgewater Casino Cage or at the door.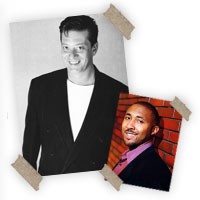 Russ Rivas working on May 5 and 6 was born and raised in Chicago and is a U.S. Army veteran. He's a clean comic who has competed on the "Latino Laugh Festival" on Showtime and performed on HBO's "Loco Comedy Slam." He's paired with Erik Clark, who has opened for Dave Chapelle, D.L. Hugley, Adele Given, Corey Holcomb and others.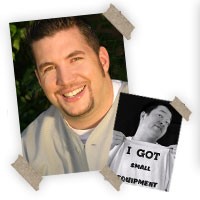 Jimmy Della Valle aka "Jimmy D" and Corey Sweeney will headline on May 11. Jimmy D was born and raised in New York, which accounts for his streetwise edgy flare and macho vulnerability. Most recently, Jimmy D was on the hit summer NBC show "America's Got Talent" three times where Judge Piers Morgan said, "I wanted to hate you with every bone in my body, but I loved you. You have the greatest comedic timing and delivery, I have ever seen in my life. You are hilarious!"
NEWSY CLIPS
Aquarius Casino Resort team members donned shovels, rakes and gloves and pitched in to help tidy a mile of shoreline along the Colorado River as part of the Bullhead City/Laughlin Colorado River Clean Up on Saturday, March 31. This is the fifth time in the past four years Aquarius team members have pitched in to beautify the riverbank and surrounding areas for various clean up events.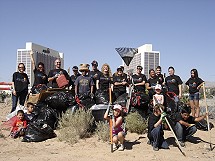 A sit-down dinner show featuring a tribute to Elton John and Billy Joel will take place in the Avi Grand Ballroom on Friday, May 25, from 6-9 p.m. Cost is $15 with beverages not included in the price.

For those who like to dance, Tom & Sharon's Dance Party will be held at the Riverside again on May 12, 19 and June 9, 30 from 1:30 - 4 p.m. The gathering features dances from swing and country to ballroom and Latin. For details on the admission fee and on parties or dance classes, call Tom and Sharon Craddock, 928-754-2097.

The Avi will be holding Memorial Day Fireworks by Zambelli on Sunday, May 27, at dusk. Food and beverages will be sold at the Beach Overlook.

The "Avi Island Paradise Luau" taking place on Saturday, June 16, will feature Polynesian entertainment from 7 to 10 p.m. The luau dinner is $15 with beverages being extra.

More fireworks will take place in Laughlin in the sky above the Riverwalk on June 30 and July 4 with "Rockets Over The River." It will be two nights of fireworks at 9:30 each evening.


CONTINUE ON TO...:


>THIS WEEK'S LAS VEGAS NEWS
>LAST WEEK'S LAUGHLIN NEWS
>VEGAS VIEW FULL ARCHIVES
>Return to "Heard Around Town"
>Return to Las Vegas Leisure Guide